1928 Steinway Piano
Kontakt VST/ AU / AAX

Also available in Soundpaint with 127 Velocity Layers
Deep-Sampled 1928 Scoring Grand Piano
11,095 samples
10.7GB of Samples

Two Microphone Positions (Close & Player)
Custom Convolution Reverbs (+40)
Advanced Release Triggers
NEW Superlative Presets (23)
NEW Bonus: 8 Piano Blending Options
Delivered by Download
Kontakt 5.8.1

 

Full Retail

 

(or later) Required
READ MORE
READ LESS
A Grand Era

Welcome to The 1928 Scoring Piano, one of the most precious and sought-after instruments in the history of pianos. Namely, a specific series of ivory covered Scoring grands produced in Germany in 1928. This particular series and era are known to be one of the best, with a build quality that remains unmatched to this day. We were lucky enough to record a model that had the full set of original strings from 1928.

It is the perfect piano for soundtrack composers, songwriters, and people looking for an advanced emotional and resonant piano. The instrument was recorded with two sets of microphones (close/internal and ambient/player), so users can adjust the sound to their liking.

We also added a variety of controls (ex. pedal volume, release volume, noise reduction, EQ etc) and a visual velocity editor, so you can fully sculpt the piano to your liking. The library also includes a great selection of convolution reverbs and convolution effects as well as a bonus selection of morphing patches (Guitars, Caisa, Marimba, Rhodes, Crotales, Bowed Percussion, Glass Marimba, and Glockenspiel) that can be blended directly with the piano.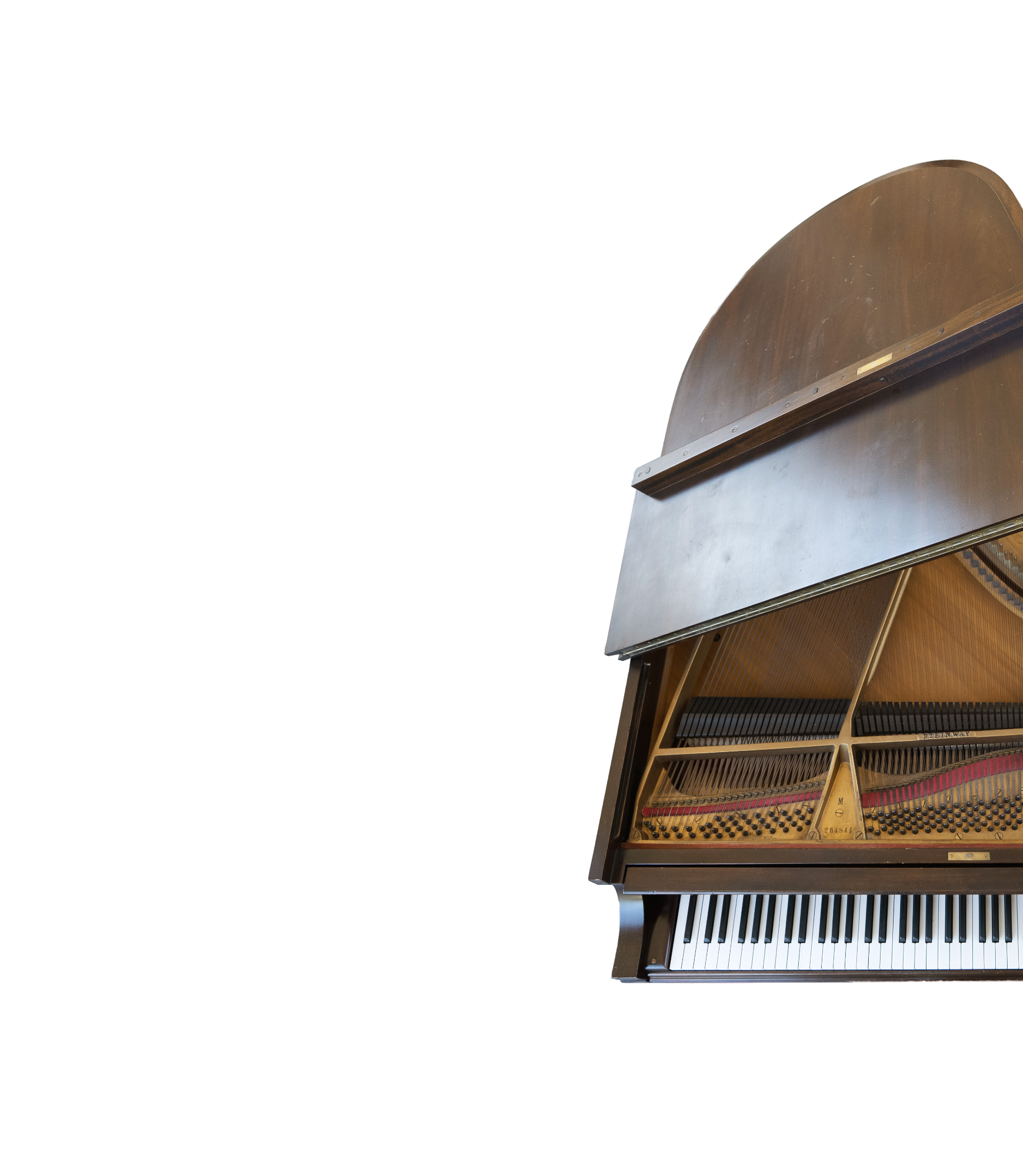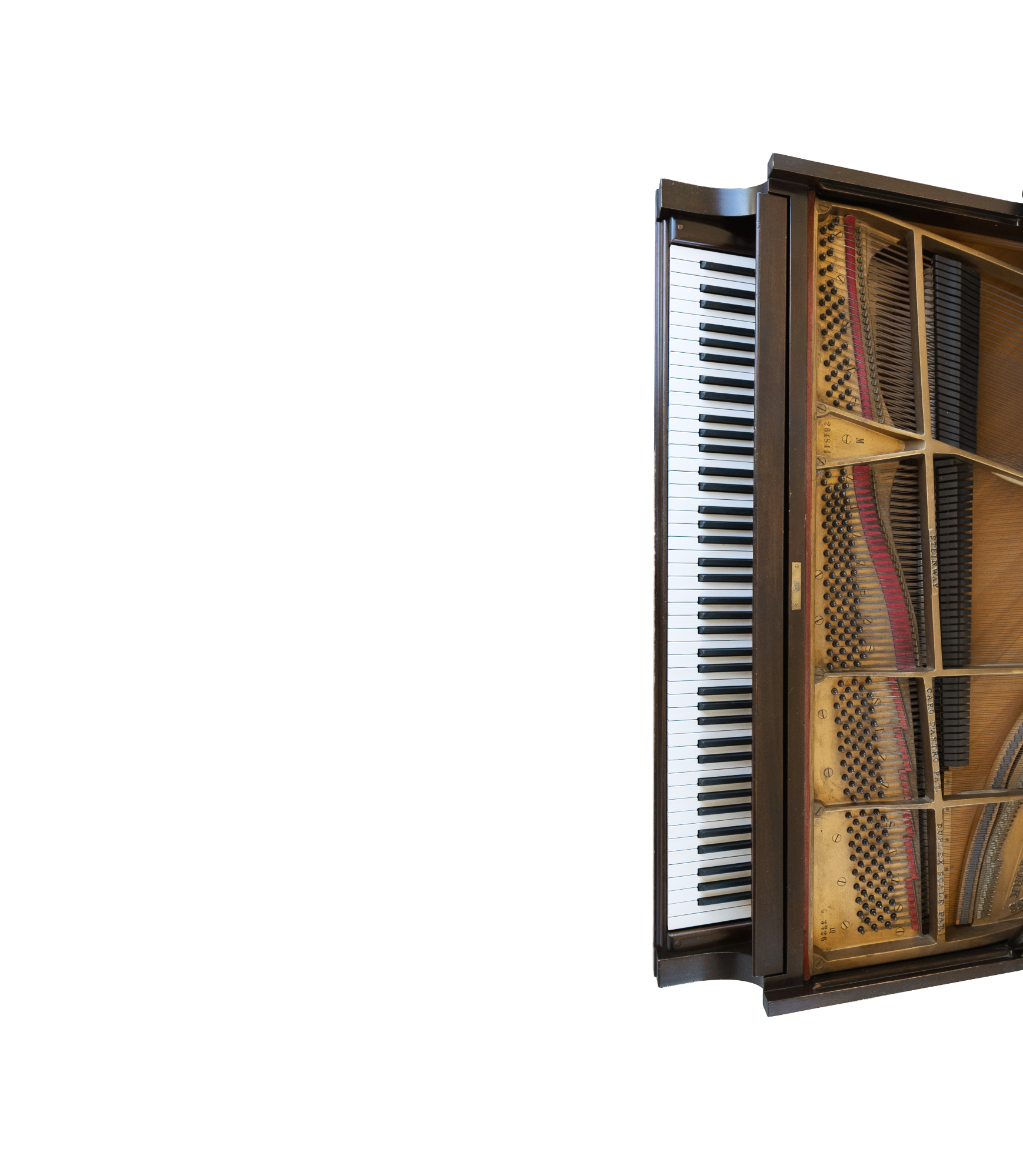 Microphone Options
The 1928 Scoring Piano contains over 11,000 samples and two different microphone perspectives, including a Close Microphone and Player Microphone, which was a mix of 8 Neumann Microphones run through a NEVE console. The close position consists of microphones close to the soundboard of the piano, highly intimate and with a clear sensation of the resonance.
Piano Blending Option
The 1928 Scoring Piano contains a variety of custom piano morph options, so you can blend the piano with a selection of instruments and create completely new instruments with a single click. The instruments you can blend include Guitars, Caisa, Marimba, Rhodes, Crotales, Bowed Percussion, Glass Marima, and Glockenspiel.
Articulations
The 1928 Scoring Piano is the first ever to have round-robin based sustains and round-robin based staccatos in combination. The round-robin sustains allow you to get a hyper-natural variation in the sound, even when playing slow and with the pedal down. The staccatos were recorded separately, since the attack of a short note on a piano differs from a sustain.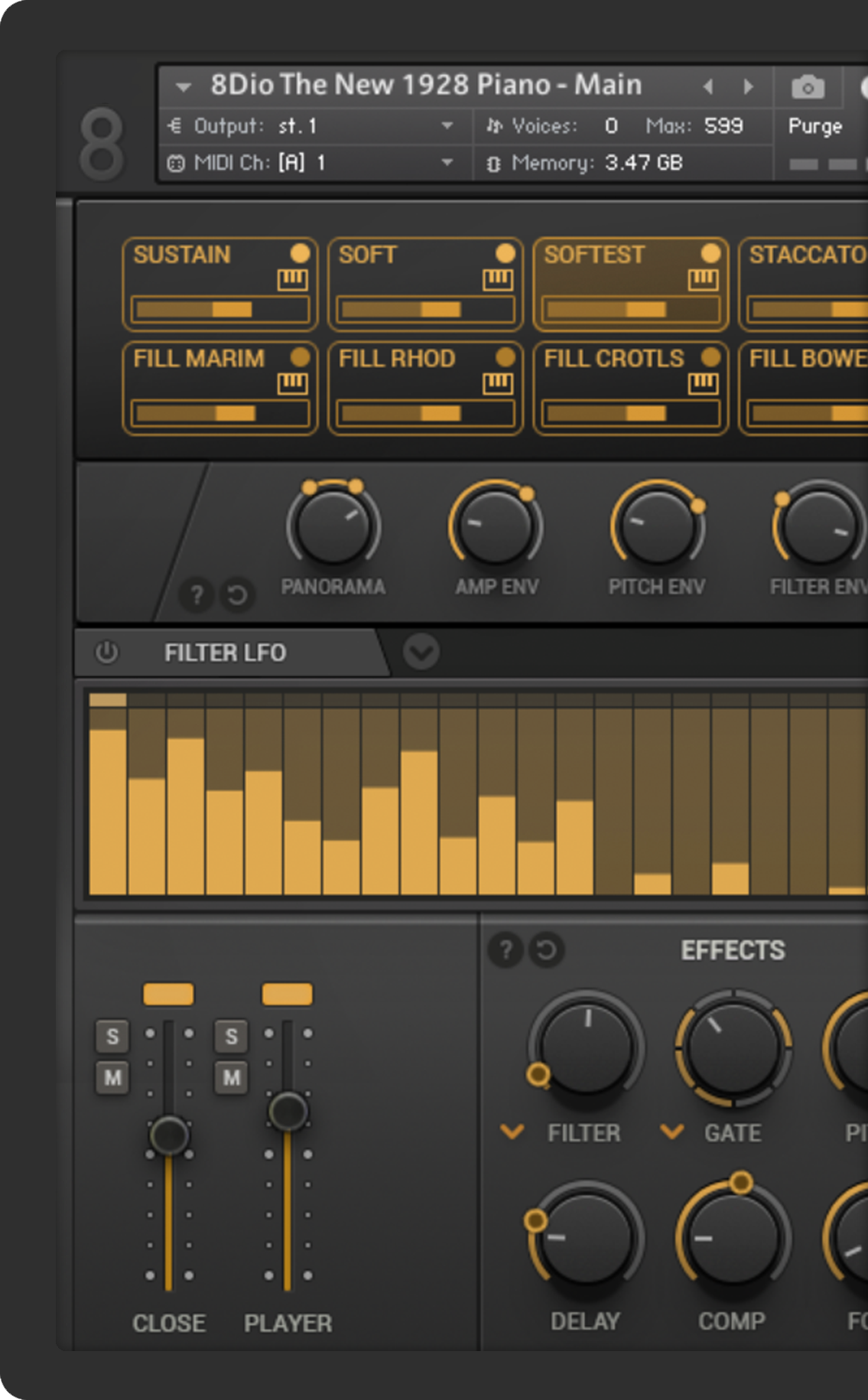 ARTS, SPECS AND REQS
Features
Deep-Sampled 1928 Legacy Scoring Grand Piano
2 Microphone Positions (close/internal & ambient/player perspective)
Round Robin Sustains (x 3 round robin pr. note & velocity layer)
Round Robin Staccato (x 6 round robin pr. note & velocity layer)
Advanced Release Triggers
Pedal Noises and Pedal Noise Volume Control
Custom Convolution Reverbs (+40)
Bonus: 8 Piano Blending Options

Guitars
Caisa
Marimba
Rhodes
Crotales
Bowed Percussion
Glass Marimba
Glockenspiel

Several Custom Convolution Reverb(s) / Impulses
11,095 samples
12 GB installed
24 bit / 44.1 kHz stereo .NCW Compression Format
Format(s): Kontakt / .NCW Compression
Options:
Uniquely sampled Pedal Up and Pedal Down
Live Keyswitch
Pedal Volume Control
Release Triggers of Hammer Action
Release Triggers (Time based for both Tail of the sound and the immediate resonant buzz associated with damping a piano string)
Requirements:
Full Retail version of Kontakt 5.8.1 or later required
Not compatible with the Free Kontakt Player
1928 Legacy Piano requires 12GB of hard drive space
Minimum: Mac OS X® 10.4 / 10.5, G5 2.0 GHz or Intel Core Duo 2.00 GHz, 4 GB RAM or Windows® XP (32 Bit) or Windows Vista® (32/64 Bit), Pentium® or Athlon XP 2.0 GHz, 4 GB RAM. 4 GB of RAM or more is highly recommended