1985 Passionate Piano
Kontakt VST / AU / AAX
Also available in Soundpaint with 127 Velocity Layers
66,000 samples, 23.6GB
Up to 10 Velocity Layers
6 Pro Mics (Mix, Close, Ears, Bottom, Mid, Far)
5 Round Robin Repetitions
Custom Convolution Reverbs (+100)
Sound Design Patch w/ Independent Piano Elements
Advanced Chaos Effects Systems
Kontakt 5.8.1

 

Full Retail

 

(or later) Required

Delivered by Download
READ MORE
READ LESS
Passionate and Bright

The 1985 Passionate Grand Piano is an ultra-deep-sampled piano library – featuring over 66,000 samples, up to 10 velocity layers, 5 round-robins, a wealth of flexible articulations, and all across 6 microphone positions. Whether it is getting close to the strings, listening from the player's position, the darker tones underneath the piano, or more ambient perspectives using room microphones. We used the finest Neumann microphones (U87, Um57) and a wealth of other high-end studio microphones.

Equally important is the elegant playability. The 1985 Passionate Piano plays fluently across all velocities – with a beautiful, warm, and wide sound of a mature grand. You will not notice these are samples, but rather a real instrument at your fingertips. Full of life, personality, natural resonance and harmonics.

The Passionate Grand Piano contains both deep-sampled Sustains, Una Corda (felt piano), Staccatissimo and Staccato. The short note staccatos were recorded with 5 RR pr. velocity layer – offering you the ability to play incredibly fast licks with clear definition on the attack of the sound. This feels and plays completely realistically. The Passionate Piano also contains our latest Chaos FX designed for sound design. We included many of our new custom Textural Convolution Delays, which gives the instrument the ability to delay textures from other non-piano sound sources.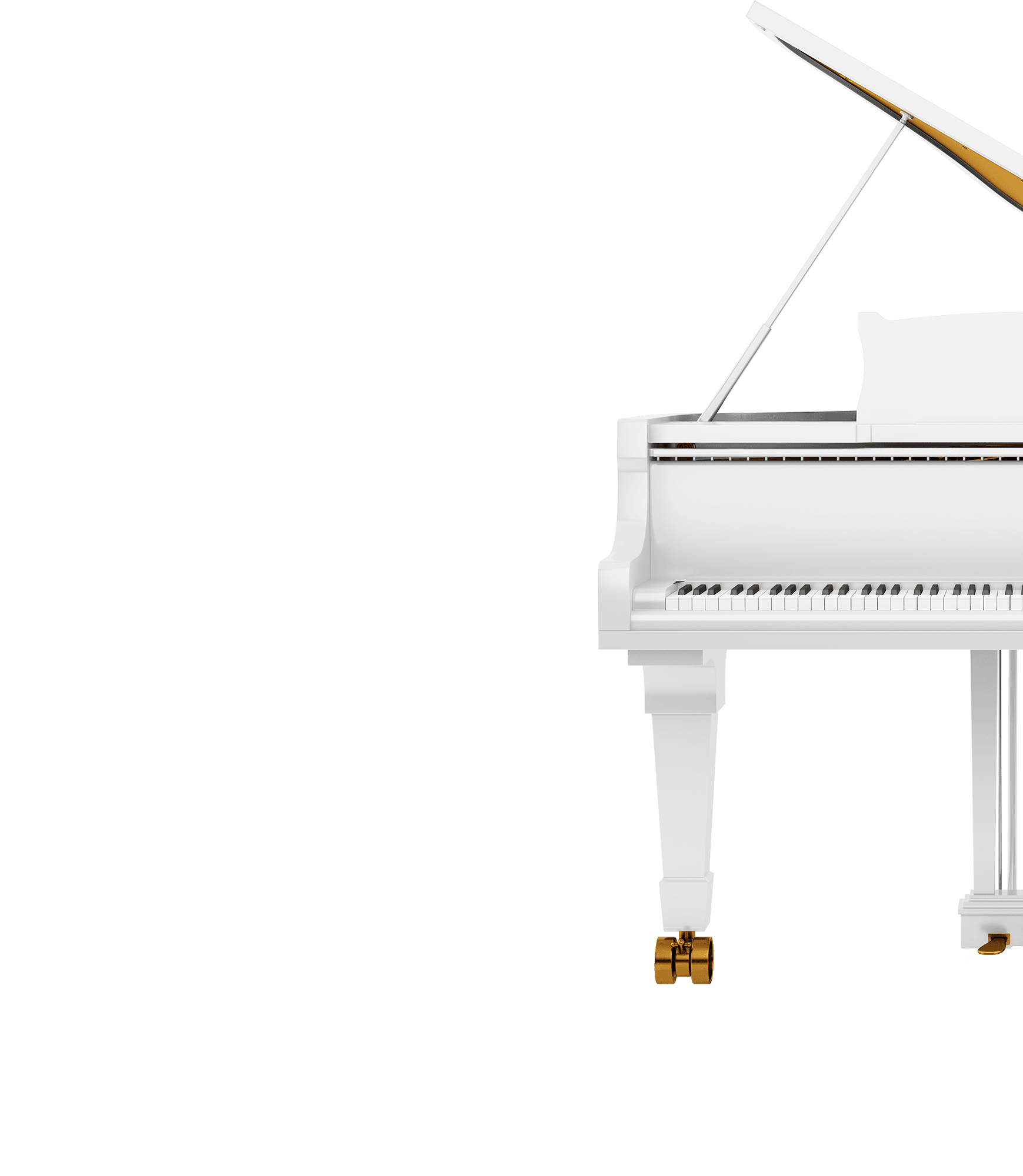 DEEP SAMPLING
The 1985 Passionate Grand Piano contains over 66,000 samples and a functional and familiar user interface. Everything was deep-sampled at a modern European studio, offering you a deeply expressive and emotional instrument.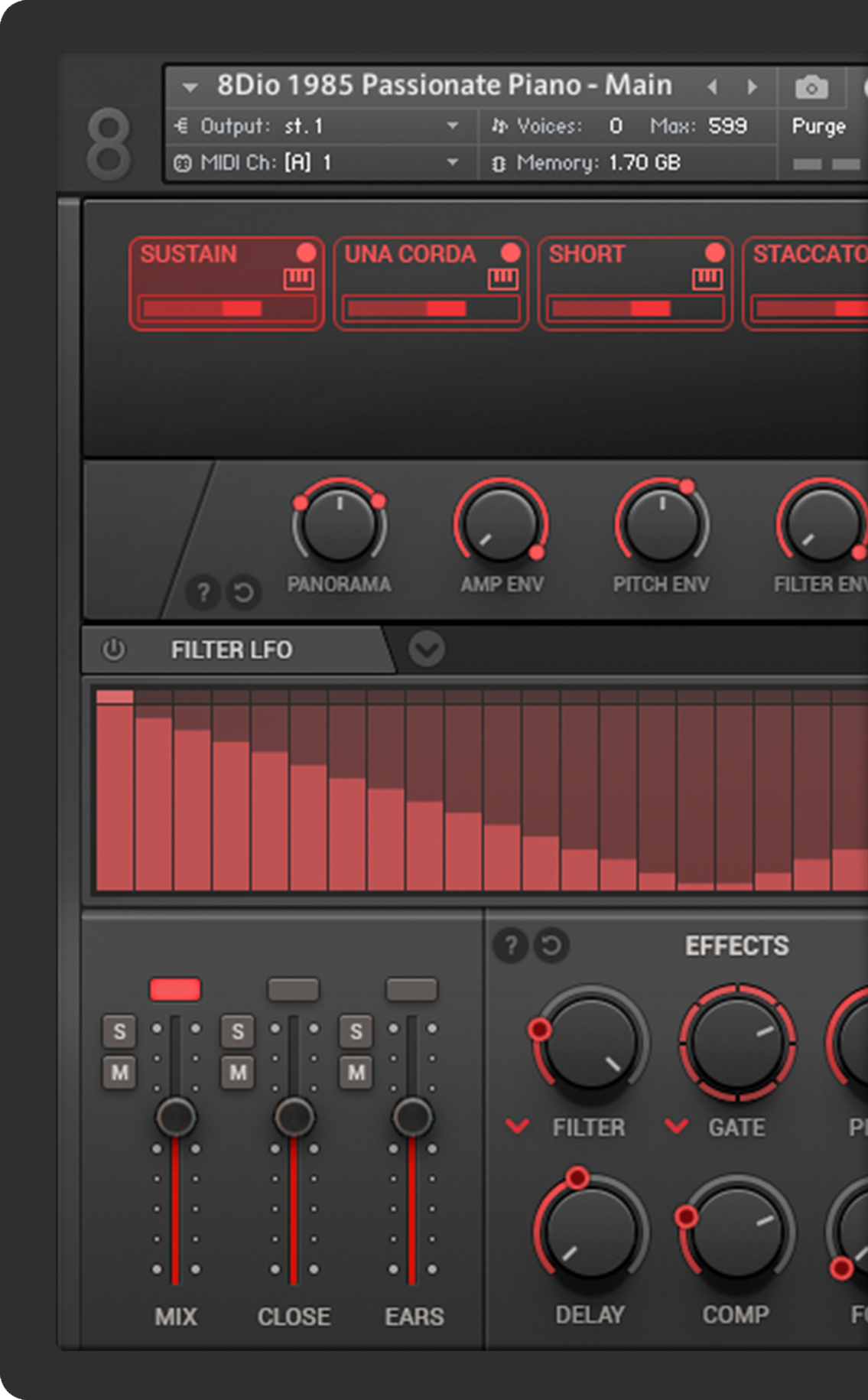 DEEP OPTIONS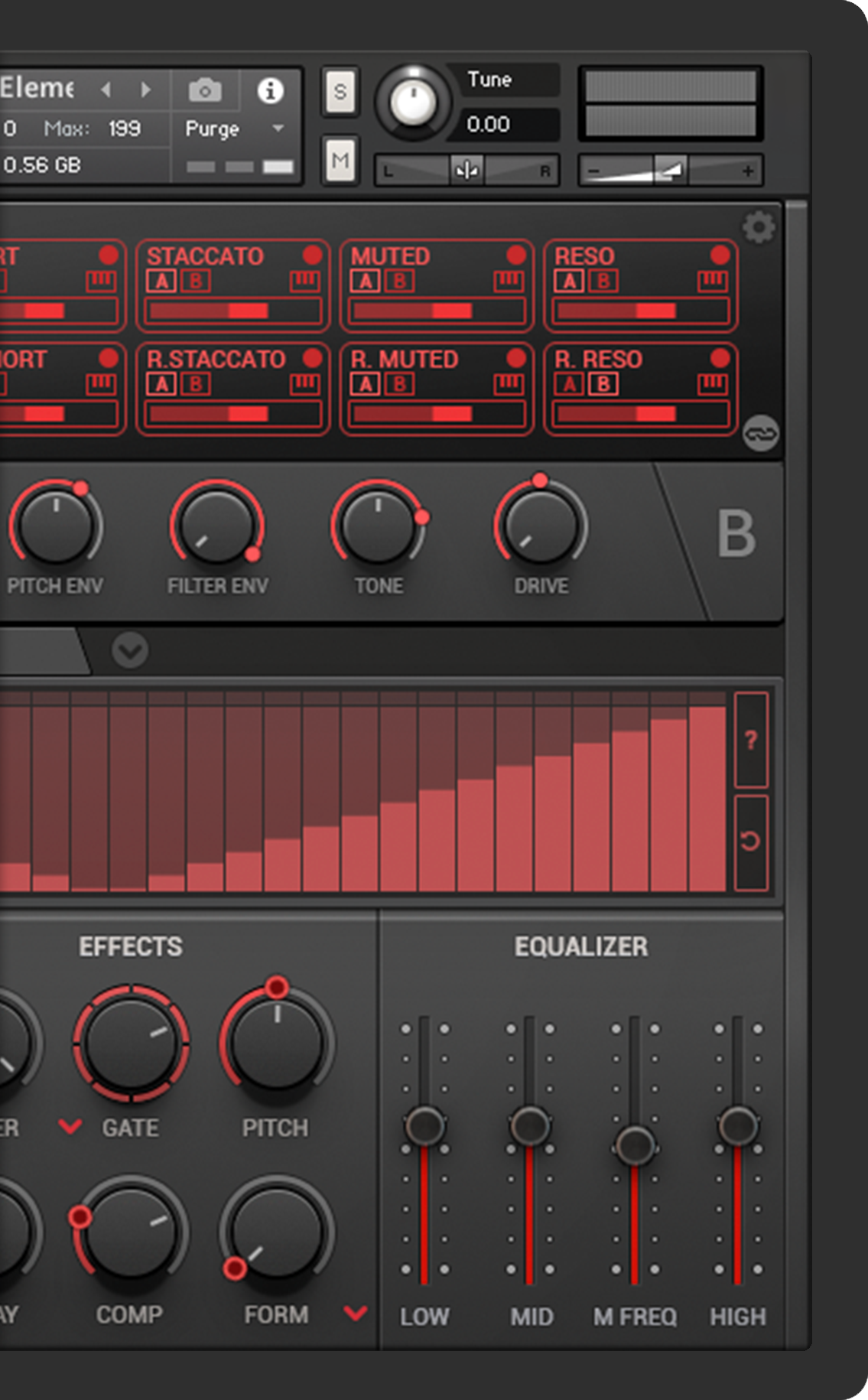 The 1985 Passionate Grand Piano includes a wealth of features, allowing you to dial in precisely the sound you want. We also included unique sound design elements for all articulations, so you can mangle the piano into new directions.
WORLD CLASS MICROPHONES
The 1985 Passionate Grand Piano offers you access to 6 high-end studio microphones (including Neumann U87, Neumann UM57, AKG414, and even custom home-made microphones) in 5 positions: close, ears, bottom, mid, and far.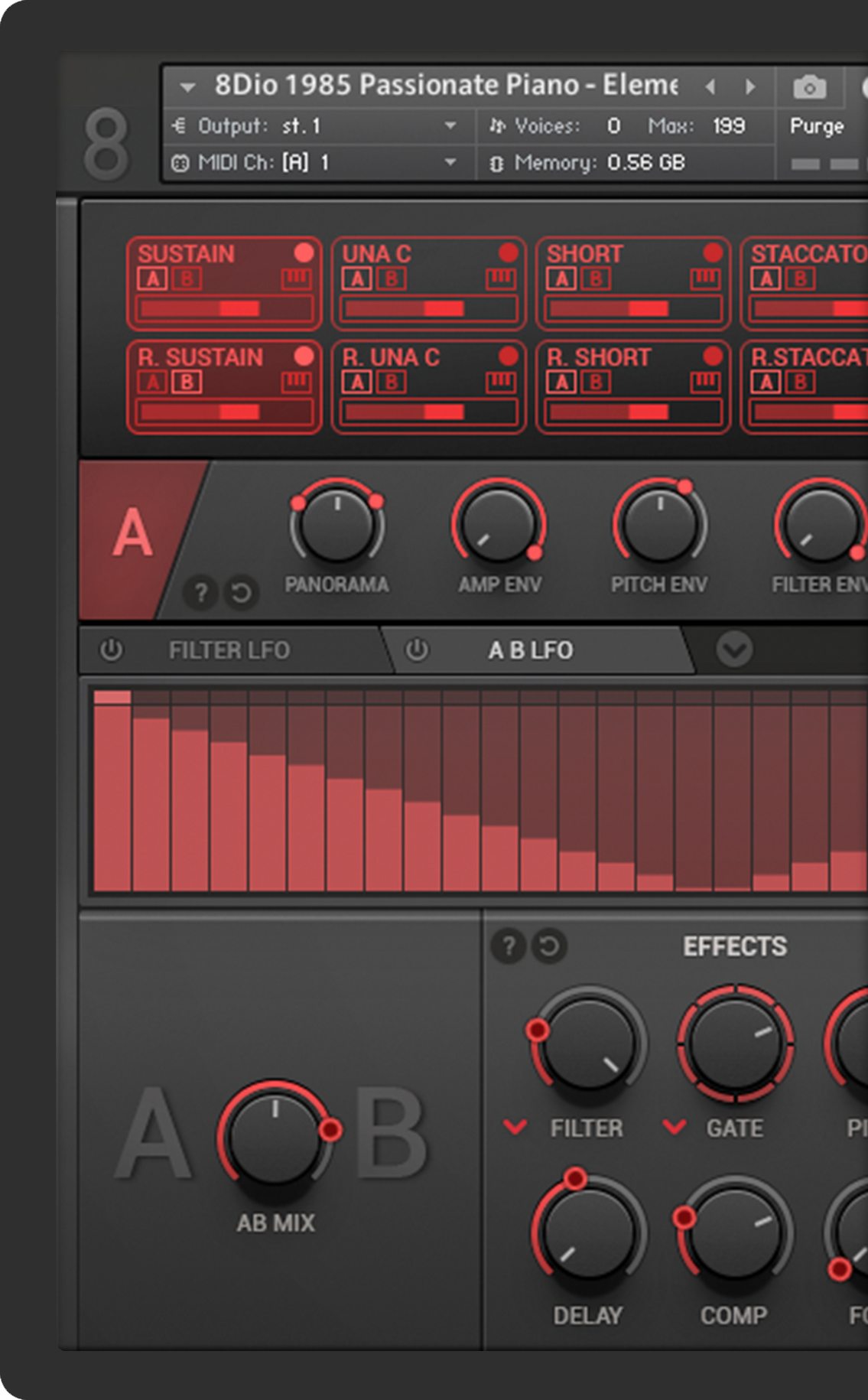 ARTS, SPECS AND REQS
Articulations:
Core Articulations:
Sustains (up to 10 velocities)
Una Corda
Short / Staccatissimo (5 round-robin)
Staccato (5 round-robin)

Sound Design Piano Elements:
Sustain
Una Corda
Short
Staccato
Muted Attacks
Resonance
Sustain Reversed
Una Corda Reversed
Short Reversed
Staccato Reversed
Muted Attacks Reversed
Resonance Reversed

Presets (15):
80s
Bass
Bouncing
Come and Go
Delayed Bass
Driven Spots
Growling
Happy Gate
Late Night Scoring Piano
Longest
Metallic
Misfit Bass
Misfit Spiccato
Mittens
Nostalgic Pad
Reborn
Retro Vintage
Short Valse
Spatial Cembalo
Spatial
Vocal
Microphones:
Recorded at a large soviet era scoring stage. All microphones can be loaded/unloaded and include Volume, Solo and Mute functions:
Mixed Microphone (processed Mix of all mics)
Neumann™ UM 57 Microphones
Neumann™ Km 184 Microphones
Sennheiser™ MKH 40 Microphones
Lomo™ Vintage Soviet Microphones
Aston™ Spirit Microphones
Requirements:
Full Retail version of Kontakt 5.8.1 or later required
Not Compatible with Free Kontakt Player
22 GB / 66.507 Samples
PC Quadcore / 2.4GZ+, 8GB ram
MAC Quadcore / 2.6Ghz, 8GB ram