Caisa Drum
Sample Aid library

Kontakt VST / AU / AAX
Also available in

 

Soundpaint

($15)

with 127 Dynamic Layers
Deep Sampled Caisa Drum
Advanced Aura Architecture for Ultra-Realism
1341 Samples / 0.7GB
3 Microphone Positions (Close, Mid, Room)

8 Custom Designed Presets
New Front-Face FX and Mod-Sequencer
Aura-Sample Dynamic Control on Modwheel
Delivered by Download
Kontakt 5.8.1

 

Full Retail

 

(or later) Required
READ MORE
READ LESS
Exotic, Mystical Percussion

The Caisa is a convex steel drum that is designed to be played with hands or short mallets and sonically resembles a Pantam or Steel Drum but with a more rounded tone.

The 8Dio Caisa Drum contains 7 unique articulations and 3 microphone positions all easy-accessed from our front-facing browser. The Caisa Drum was meticulously recorded with four different playing styles including mallets, sticks, brushes, fingers, and rolls. So imagine playing a unique Caisa with brushes or sticks, the ability to choose which type of mallet widens the usability of the library.

We've also included our dual-layered FX system. The first part is our front-face FX system that gives you control over dynamics, filters, pitch and micro-pitch, delay, bit-resolution, and our new textural convolution delay. The new textural delay allows you to take and use them as delay components, so the instrument will delay other sounds than just itself.

The Caisa Drum is featured from our Studio Exotic Percussion library which contains 5 deep-sampled percussion instruments including the Caisa Drum, Aluphone, Tubaphone, Sixxeen, and the Scaffaphone. It has always been our mantra to push forward in sample realism and playability. The Studio Percussion Series is the first series to utilize our proprietary Groove Sampling™ technology and we really think it is going to make compositions richer and easier to create.

Note: This library is also included with Studio Percussion Exotic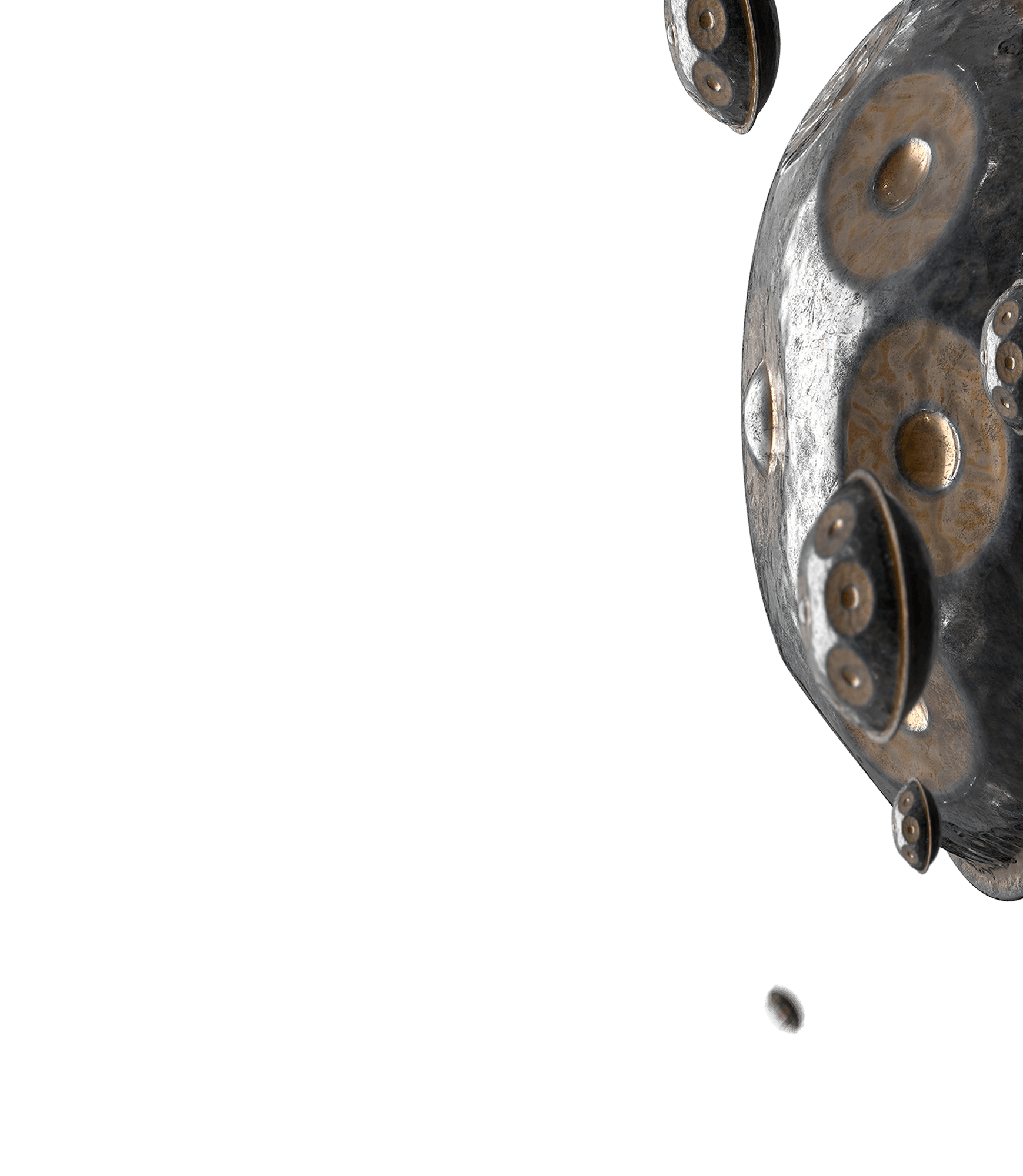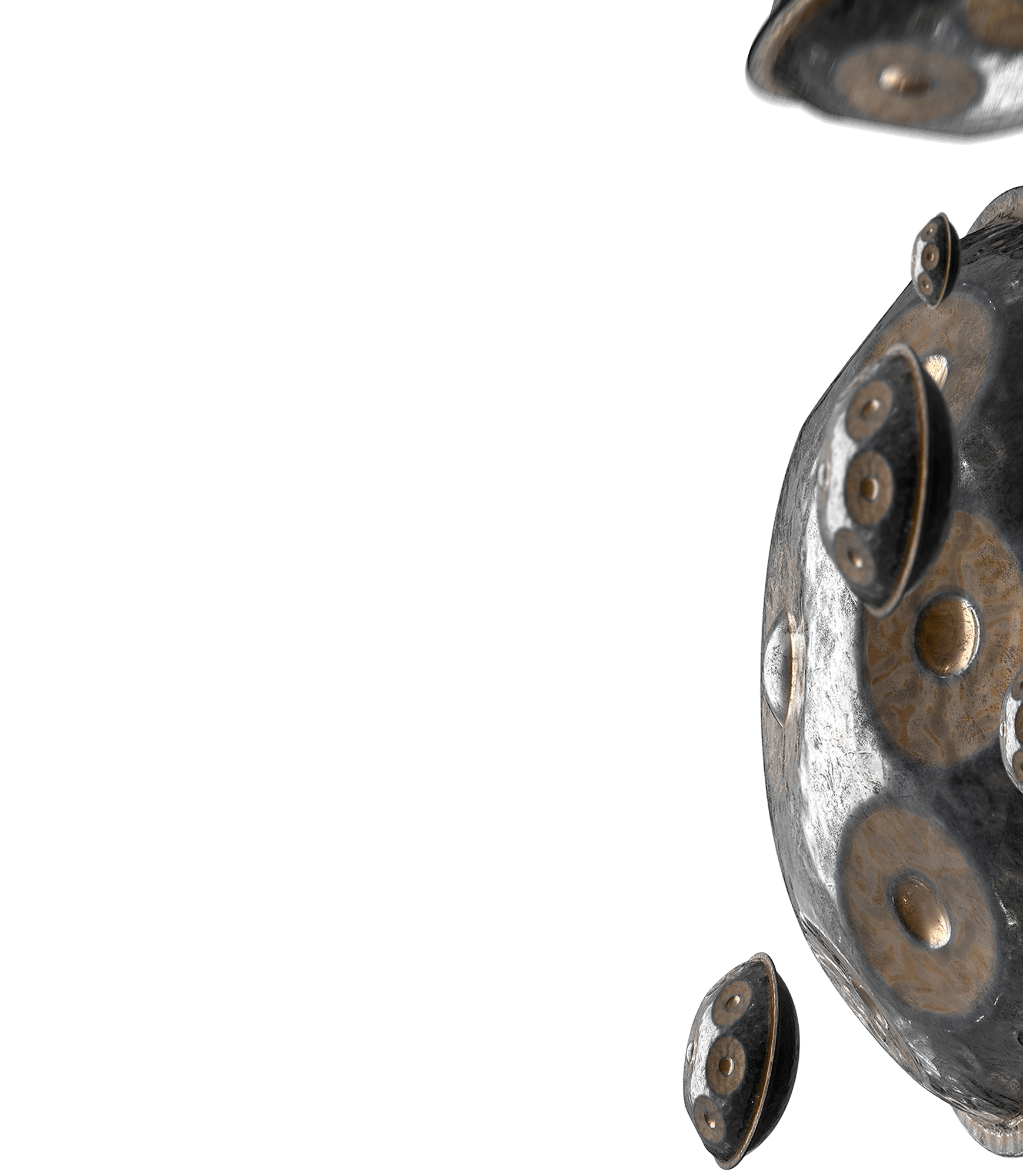 The New Groove Sampling™
The core of the 8Dio Caisa Drum is our new, patent-pending Groove Sampling techniques™. The Caisa Drum comes with traditional multi-samples in addition to groove samples, so you can play and mix them side by side. The Groove Samples can be controlled on your modwheel or via our new Mod-Sequencer. You will never go back after trying them!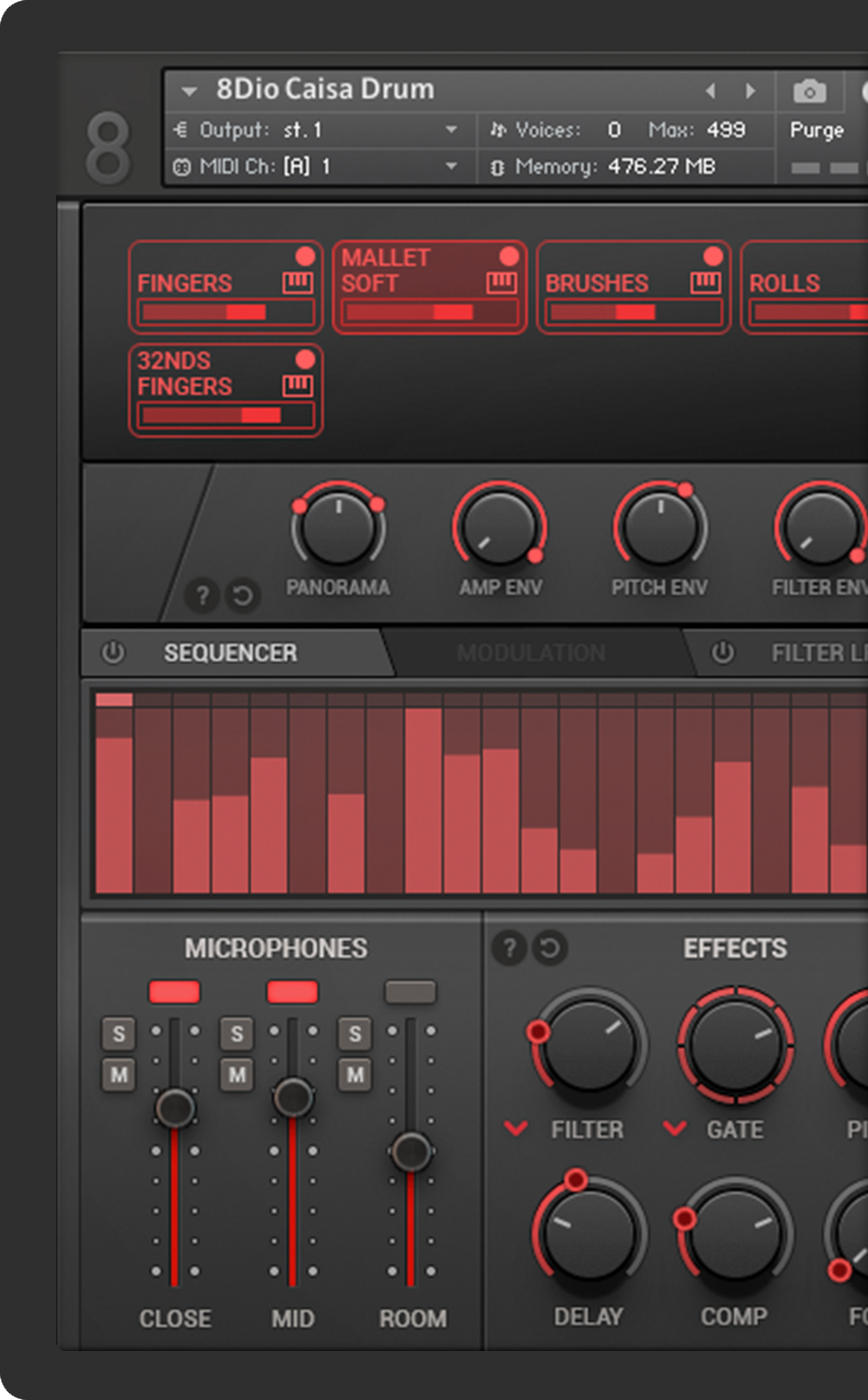 Internal Browser and Textural Convolution
The Caisa Drum comes with a custom-designed browser, offering you immediate access to all the included articulations and front-facing effects with a single click. We want to simplify the journey from your first thoughts to your final creation. One-click and you are set.
New Front-Faced FX and Chaos 3.4 FX
The Caisa Drum contains two parallel FX systems: our new Front-Faced FX, which allows you to control the most fundamental effects from the front panel, and our new Chaos FX system, which includes Step-Based Filtering, EQ, Bit-Crusher, Distortion, Dual Stereo-Delay, and more!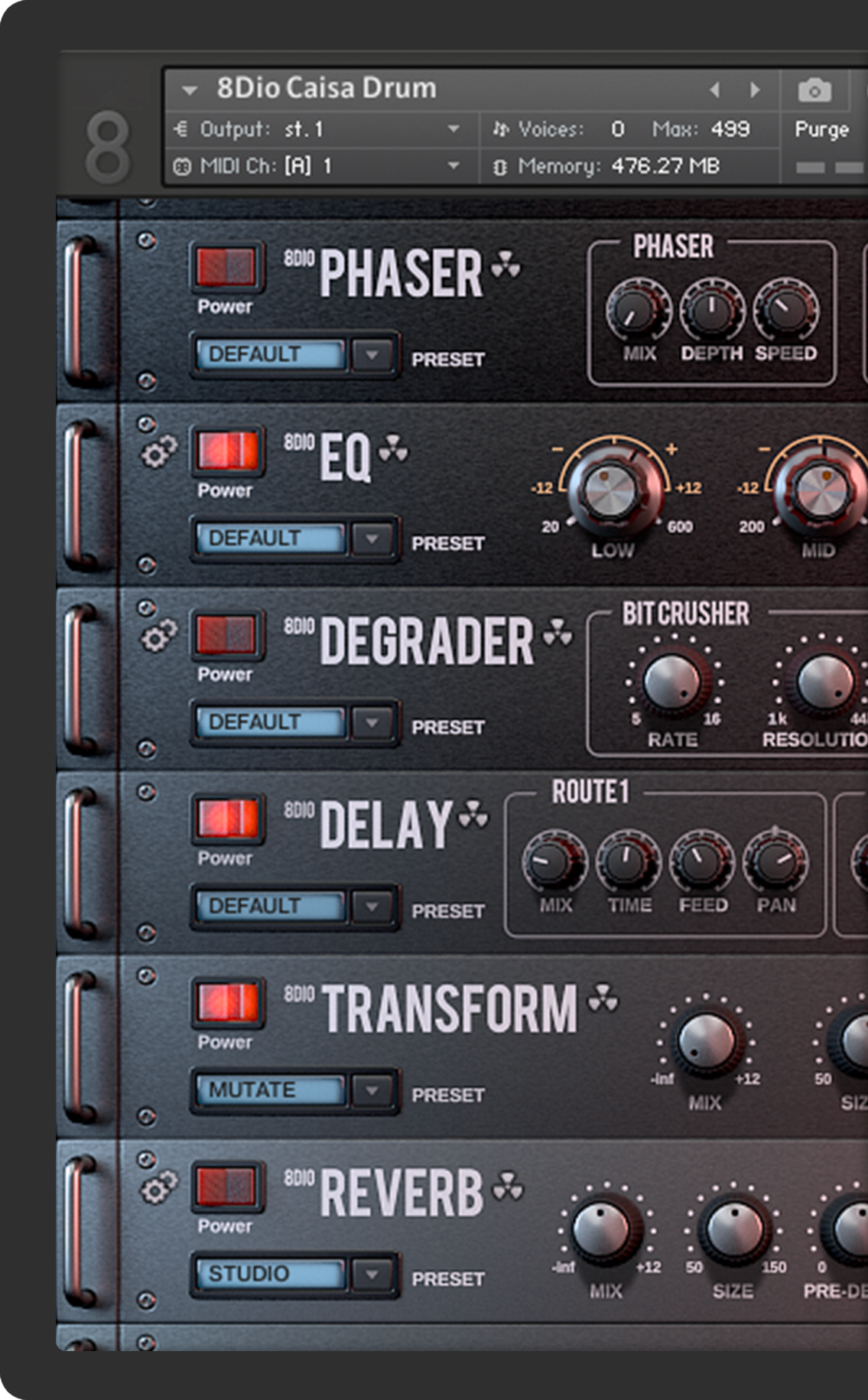 ARTS, SPECS AND REQS
Articulations:
Fingers
Mallets Soft
Brushes
Rolls
8ths Fingers (Double and Triple Time)
16ths Fingers (Double and Triple Time)
32nds Fingers (Double and Triple Time)
Presets:
Caisa Drum – 8th Fingers MW
Caisa Drum – 16th Gated MW
Caisa Drum – 32nd Fingers MW
Caisa Drum – Brushes MW
Caisa Drum – Delayed MW
Caisa Drum – Finger Wonder
Caisa Drum – Sequenced MW
Caisa Drum – Textures MW
Requirements:
Full Retail version of Kontakt 5.8.1 or later required
Not compatible with the free Kontakt Player
Minimum: Intel Core i5 or equivalent CPU. For TMPro Patches, i7 or equivalent is recommended.
8Dio Caisa Drum Requires 1.4 GB of Hard Drive Space
8 GB of RAM or more is highly recommended