Legion Series - 33 Drummers Batucada
21.06GB / 97,680 Samples

Deep Sampled Batucada Percussion Ensemble
11 Instrument types sampled solo and in sections
Up to 33 Drummers playing in unison
Multiple Rhythmic Variations
Samba reggae, Samba, Pagode, & Funk Styles
Multiple Microphone Positions
Advanced UI with 4-part XY Effects Engine
Delivered by Download
Kontakt 5.8.1

 

Full Retail

 

(or later) Required
READ MORE
READ LESS
Brazilian Percussion of All Sizes
In our efforts to push the limit of ensemble percussion sampling, we have traveled to Latin America to sample an outstanding Batucada ensemble. Legion Series: 33 Drummers is not only comprised of a massive ensemble of 33 drummers playing in unison, but also the ensemble split into sections, summing up to 88 drums. 5 Timbas, 9 Tamborims, 6 Guaches, 11 Chocalhos, 12 Caixas (snares), 12 Repiniques, 12 Surdos (4 Bass Players, 4 mid Players, and 4 high Players), 11 Dobras, and 10 Cowbells were sampled in independent sections along with two solos, making this library the most in-depth dedicated Batucada library you will ever find.
The Batucada is a Brazilian band composed exclusively of percussion instruments, traditionally accompanied by marching in a parade of costumed dancers and floats in the Brazilian Carnivals. The sound of a Batucada is incredibly powerful and could give even the loudest rock bands a run for their money. The discipline required to organize and maintain this style of tight, seamless drumming is astounding and it was an absolute joy to work with these percussive experts.
The Batucada utilizes our familiar Legion UI and features a range of front-facing options, giving easy access to control the instruments. These options include Attack, Release, Pitch, Glide, Sample Offset, Reverse, Chaos, and Stack. The Batucada also includes our custom Chaos FX system as well as our highly intuitive 4-part XY Effects Engine for even more in-depth sound design options.
Read the Reviews:
Pro Audio Files -
13 Best Ethnic and World Instrument Libraries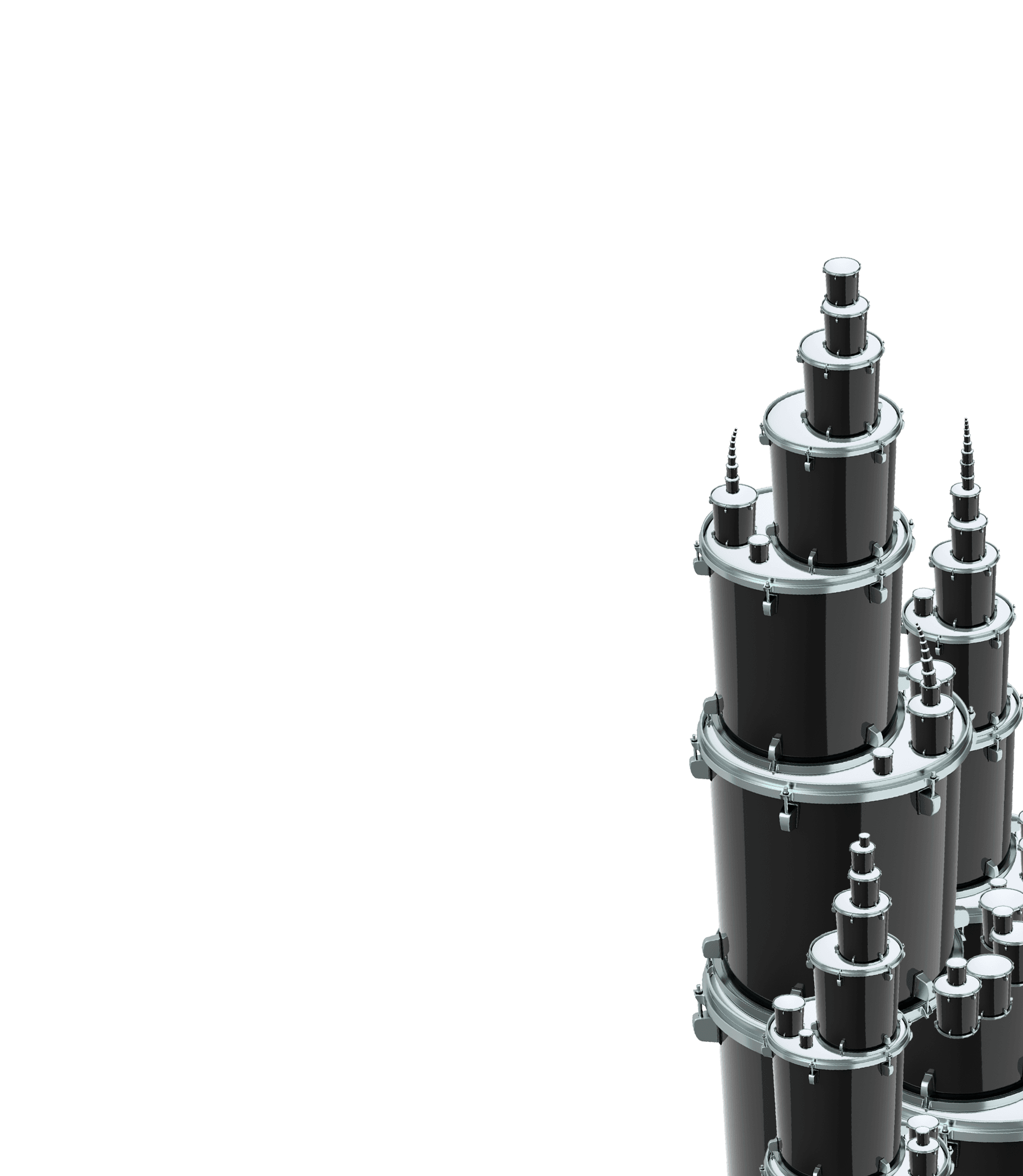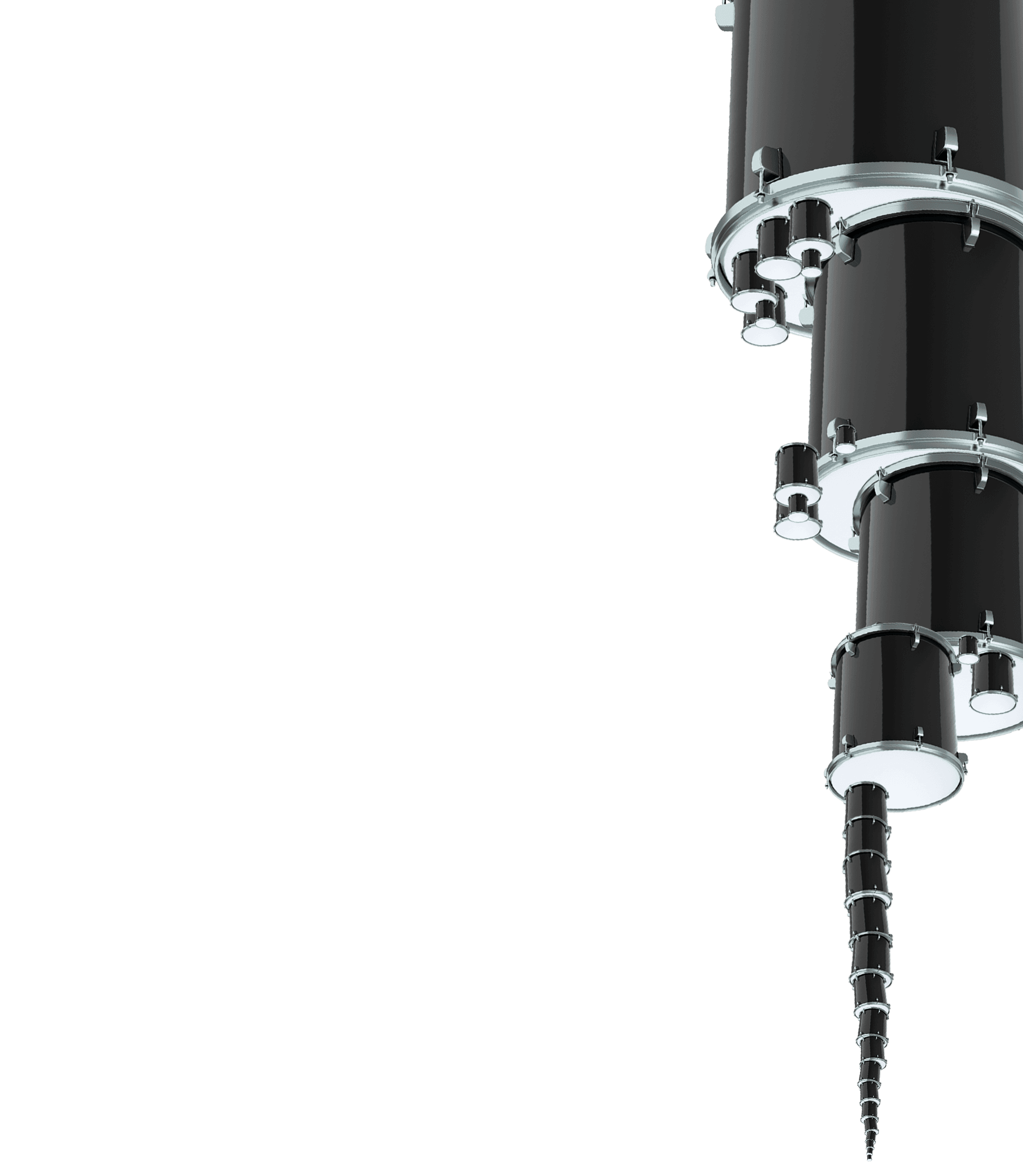 Meet the Players
The Timba is a long drum that produces low tones, played with the hands. The Tamborim is a small frame drum with a head typically made of nylon; it is the soul of samba music. The Dobra is the mid-range drum (known as the melody drum) and usually plays intricate patterns. The Surdos in a standard Batucada exist in three sizes (Low, Mid, and High) and commonly provide the heartbeat and power of the ensemble.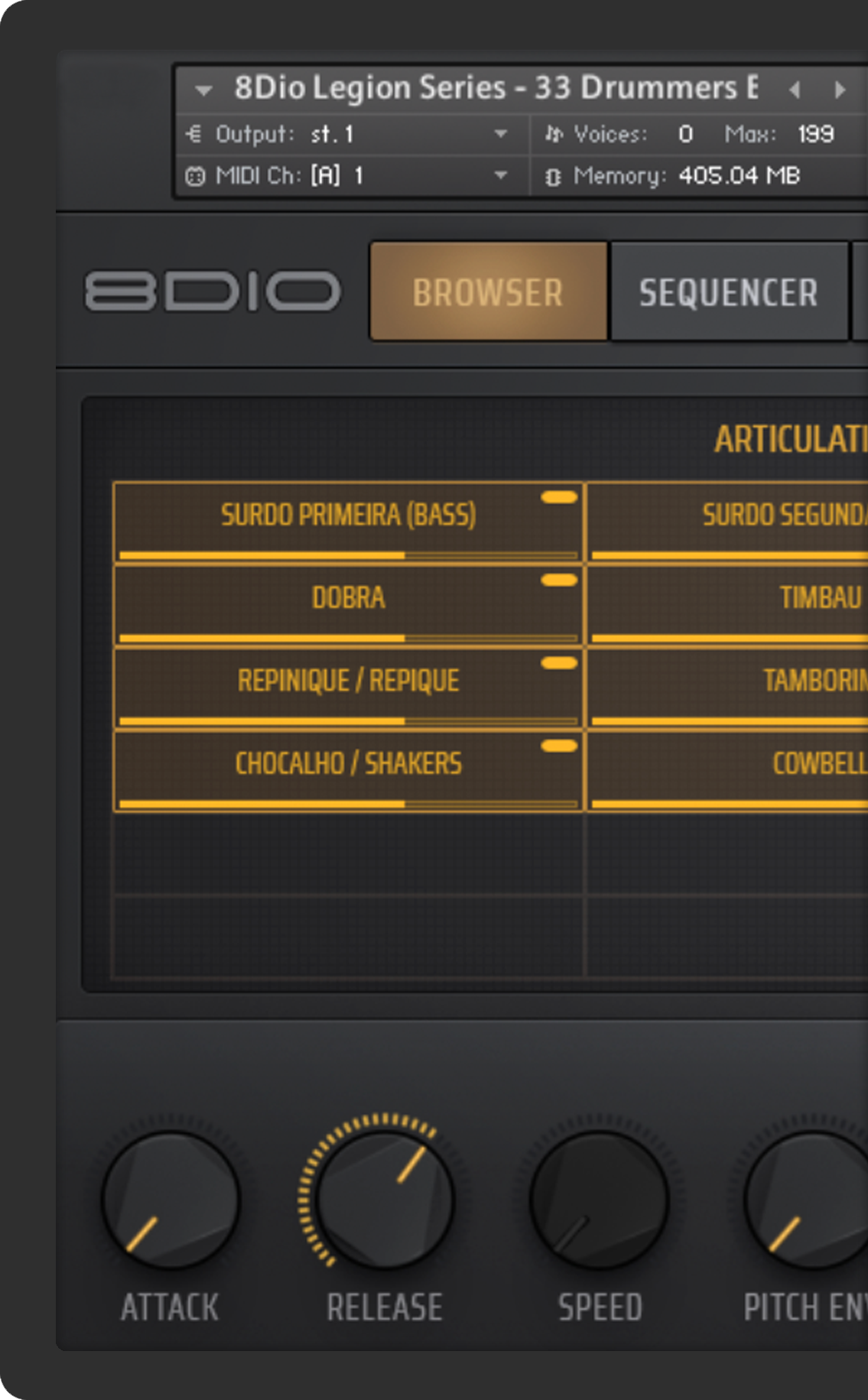 Meet the Players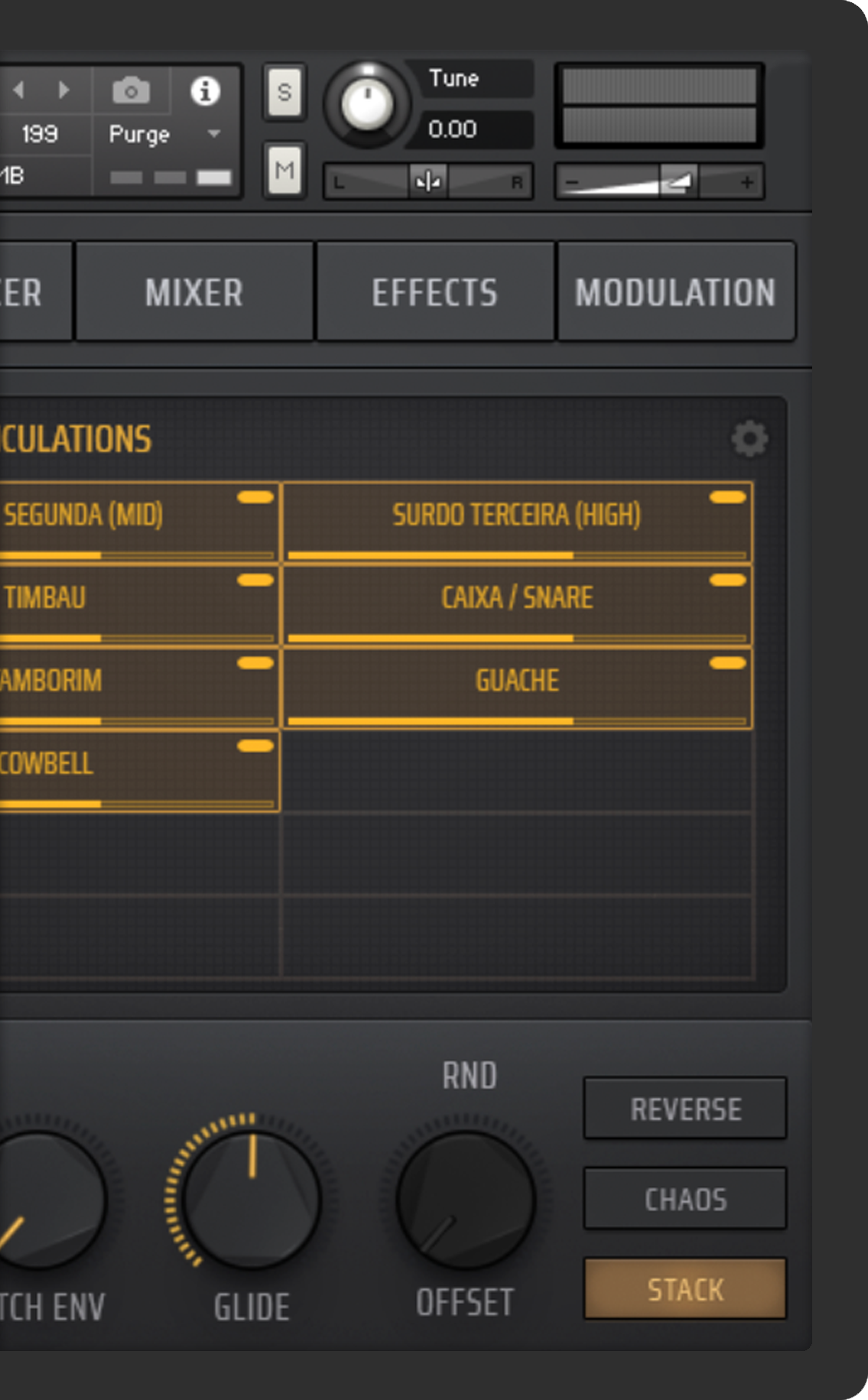 The Guaches are metallic shakers filled with various types of beads and seeds. Chocalhos are two-handed metallic shakers (formerly bottle caps). The Caixa, played with two wooden sticks, keeps the bright character of the Batucada alive. The Repinique is a high-pitched tom-tom that helps fill in the breaks of the lower instruments. The Cowbells or Agogô provide some of the highest tones of the Batucada.
4 Part Effects Engine
Batacuda also contains our familiar 4-part Effects Engine for extreme and easy sound processing. Each of the 4 effect modules includes an X/Y Matrix that can be assigned to any effect and mapped to any MIDI CC, so you have total control over each effect. The familiar UI also includes both a Sequencer and Modulation tab which allow you to further manipulate the samples.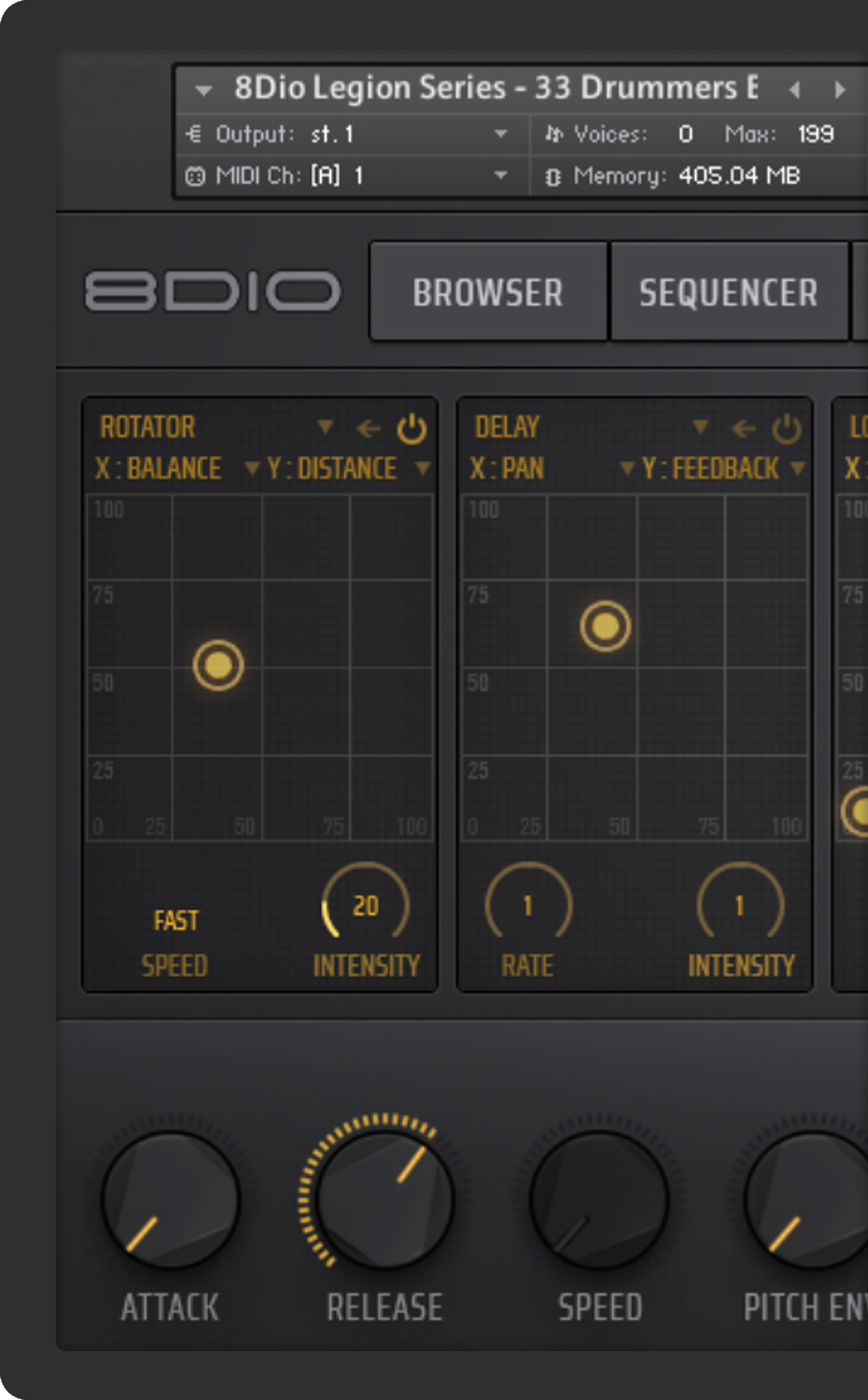 ARTS, SPECS AND REQS
Batucada Ensemble:
33 Players in unison playing tempo-synced rhythms:
Samba Reggae
Intro 
Rhythmic Loops (Main, Variations, individual sections) 
Outro / Ending 

Pagode
Intro
Rhythmic Loops (Main, Variations, individual sections) 
Outro / Ending

Samba
Intro
Rhythmic Loops (Main, Variations) 
Outro / Ending

Funk
Intro
Rhythmic Loops (Main, Variations) 
Outro / Ending

Screams Claps & Mallets
All Men/Women
Individual screams
Claps and Mallets
Bass Percussion:
Surdo Primeira (Bass) – (2-player Section, 2 isolated):
Center Mallet
Edge Mallet
Center Hand
Muted with 1 Hand 
Muted with 2 Hands 
Muting Hand
Rim

Surdo Sedunga (Mid) – (2-player Section, 2 isolated):
Center Mallet
Edge Mallet
Center Hand
Muted with 1 Hand 
Muted with 2 Hands 
Muting Hand
Rim

Surdo Terceira (High) – (2-player Section, 2 isolated):
Center Mallet
Edge Mallet
Center Hand
Muted with 1 Hand 
Muted with 2 Hands 
Muting Hand
Rim

Dobra – (9-player Section, 2 isolated):
Center Mallet
Edge Mallet
Muted Mallet
Muted double Flam
Muted with Hand 
Muting Hand

Timbau – (3-player Section, 2 isolated):
Center Open
Center Muted
Open Slap
Closed Slap 
Open Hit
Muted Hit
Rim
Fist Hit
Two Hand Flam
Mid Percussion:
Caixa – Snare – (10-player Section, 2 isolated): 
Center Hit
Rim Shot
Edge Shot (Open)
Mallet with Roll 
Mallet Long Roll 
Muted
Edge Shot (Muted) 
Side
Roll
Crescendo
Decrescendo

Repique – Repinique – (10-player Section, 2 isolated):
Center Hit (Nylon) 
Rim Shot (Nylon)
Side (Nylon)
Muted (Nylon) 
Center Hit (Wood) 
Rim Shot (Wood) 
Pulled Roll (Wood) 
Pressed Roll (Wood) 
Side (Wood)
Center (Hand)  
Rim (Hand)

Tamborim – (7-player Section, 2 isolated): 
Upside
Upside Muted 
Underside 
Edge
High Percussion:
Cowbell – (8-player Section, 2 isolated): 
Open Bell
Open Mid
Open Base 
Open Side 
Muted Bell 
Muted Side 
Fingers Muting

Chocalho / Shakers – (9-player Section, 2 isolated):
Downwards Move 
Upwards Move 
Short Hit
Lazy Move 
8ths Flat
16ths Flat
Lazy 16ths Flat
16ths Accentuated Magenta  =Lazy 16ths Accentuated 
Tremolo

Guaches – (4-player Section, 2 isolated):
Downwards Move 
Upwards Move 
Lazy-Tight Move 
8ths
16ths
8ths Lazy-Tight 
Slow Circling 
Tremolo
Microphones:
Ensemble Microphone Positions:
Main Microphones:

Mix
Decca
Mid-AB
Mid-Blumlein
Far


Spot Microphones:

Spot 1
Spot 2
Spot 3
Spot 4

Section Microphone Positions:
Solo Player Microphone Positions:
Requirements:
Full Retail version of Kontakt 5.8.1 required
Not compatible with the free Kontakt Player
Minimum: Intel Core i5 or equivalent CPU. 8 GB of RAM or more is highly recommended. For TMPro Patches, i7 or equivalent is highly recommended.
Legion Series 33 Drummer: Batucada requires 19.8 GB of Hard Drive Space