Blendstrument Alive Percussion
Hyper Advanced Instrument Generator

4.77GB
300+ New Textural Convolutions
100,000+ lines of custom code for new FX 3.3 system
Instant Instrument Randomizer
Instant FX Randomizer
Delivered by Download
Kontakt 5.8.1

 

Full Retail

 

(or later) Required
READ MORE
READ LESS
Alive Percussion Pulses

Blendstrument Alive Percussion allows you to create realistic tonal and non-tonal percussion grooves with a single click and with infinite variations. The Blendstrument contains a highly advanced randomization feature – allowing you to create an infinite amount of combinations and can never produce the same instrument twice.

Alive Percussion was created around an advance PULSE architecture that allows the instrument to PULSE between different samples in sync with your DAW Host-Tempo. In addition, it contains over 300 hand-crafted Textural Convolutions that creates a textural delay to the Blendstrument. The Blendstrument also comes with a full REVERSED patch, which gives that backwards feel to the Blendstrument. We also added our newest Chaos FX 3.3 and a brand-new Panorama architecture that allows individual tuning and panning of each sample layer.

The Blendstrument is like an eternal box of chocolates. You never know what you are going to get. But we promise whatever you create will be yours and yours only. It is our intention to offer this tool, so you can create something entirely unique.

So, get Blendstrumenting, have fun and create the most delicious sonic chocolate!

Pulse Architecture
The Blendstrument is designed to be a rhythmic, pulsing instrument that adapts to your host tempo. We designed it in such a way that you can pulse between two different pods, which each contain a fully loaded Blendstrument. The pulse architecture allows you to control all crucial elements, including mix, pan, and speed. Or, you can combine it with our advanced gate function!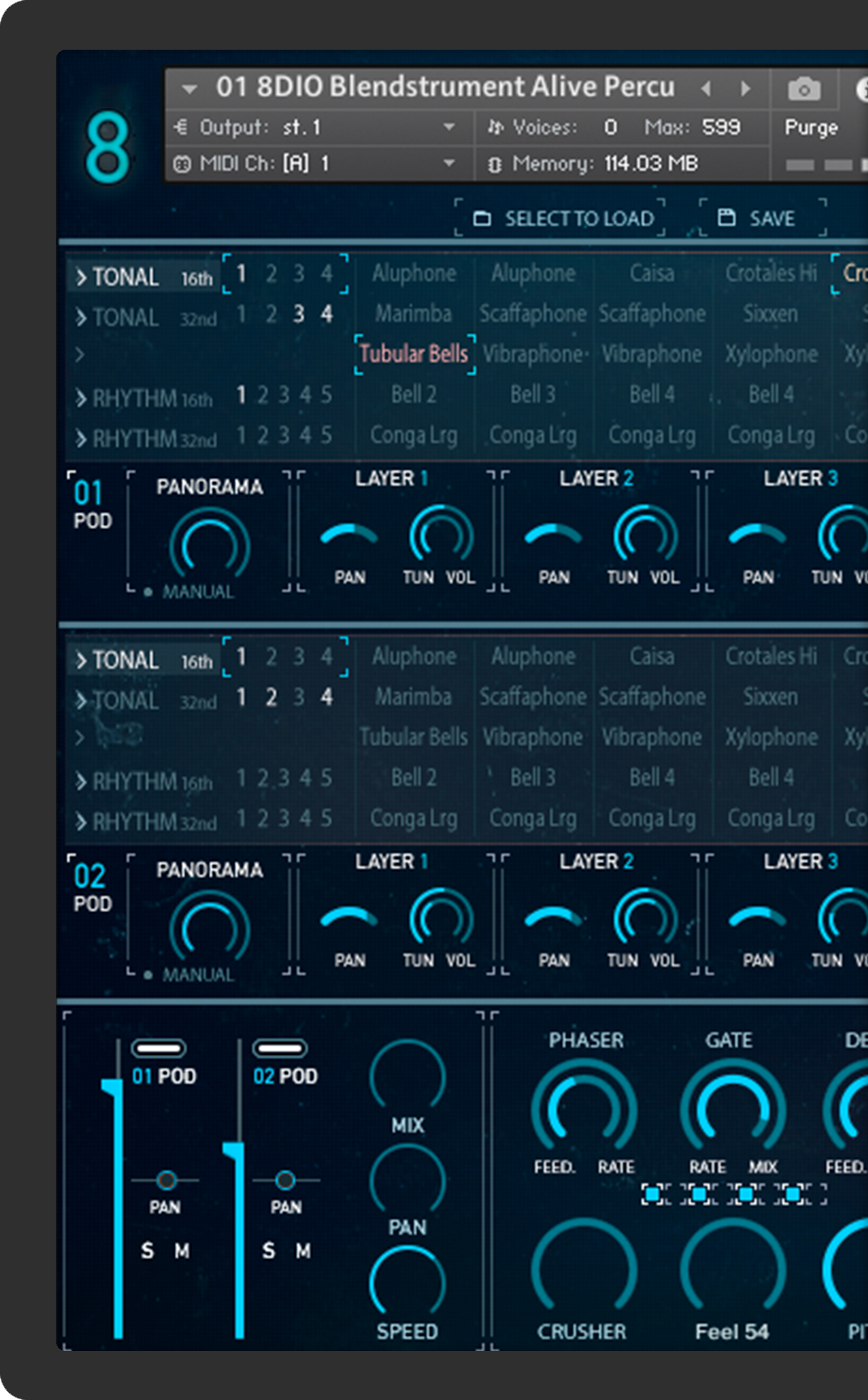 Panorama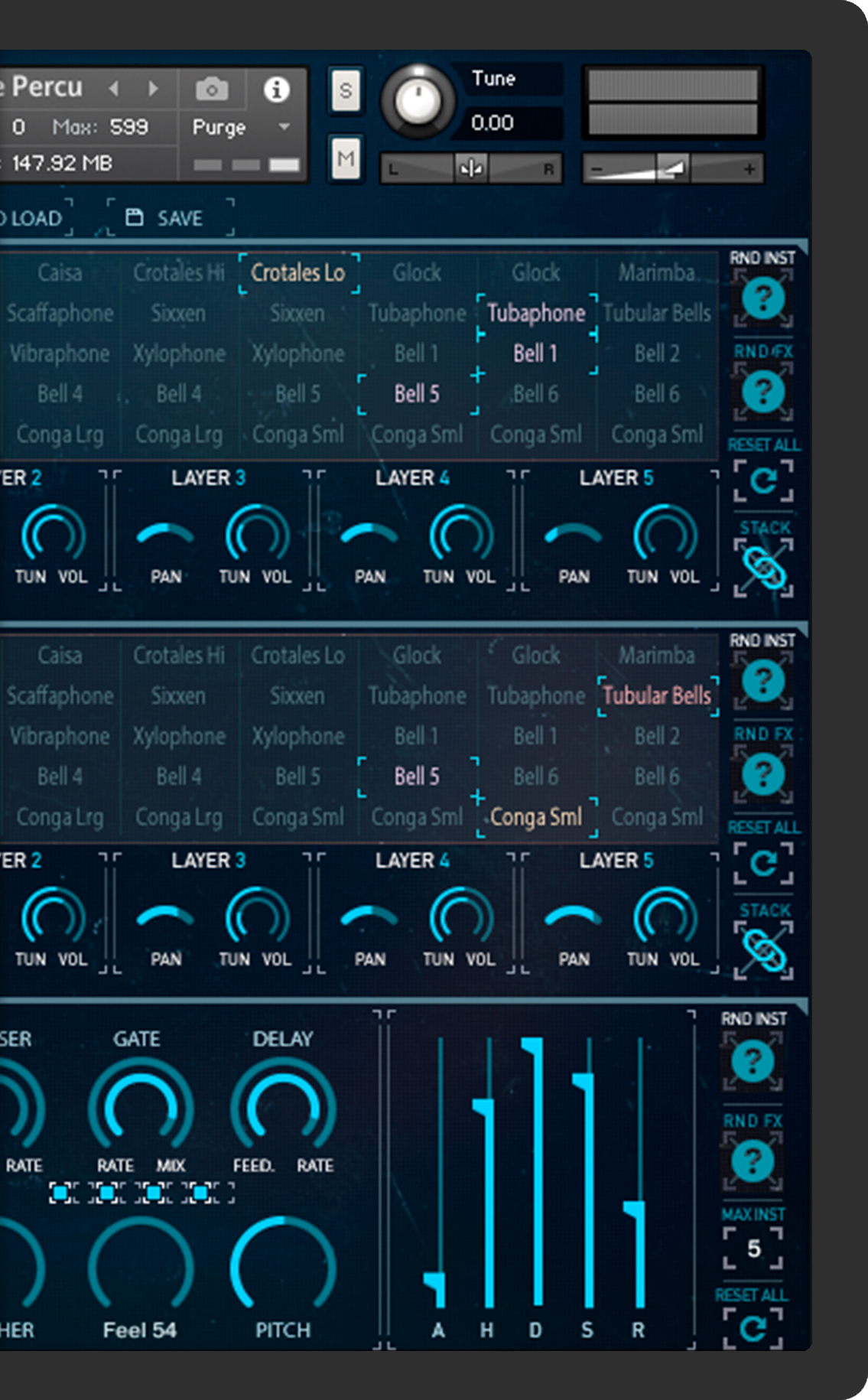 One of the most unique features of the Blendstrument is the fact that each sample comes in 5 completely different variations. You can control each of these variations independently, with their own pan and pitch. The Panorama creates highly advanced poly-rhythmic and adds a poly-panoramic (new word!) feel to the Blendstrument.
Total Randomization & FX
The Blendstrument is designed around the ability to randomize everything and create completely new sounds that no mortal soul has ever heard. This includes the ability to randomize everything, including samples, sample parameters, global effects, and anything that could possibly be randomized. All it takes is a single click!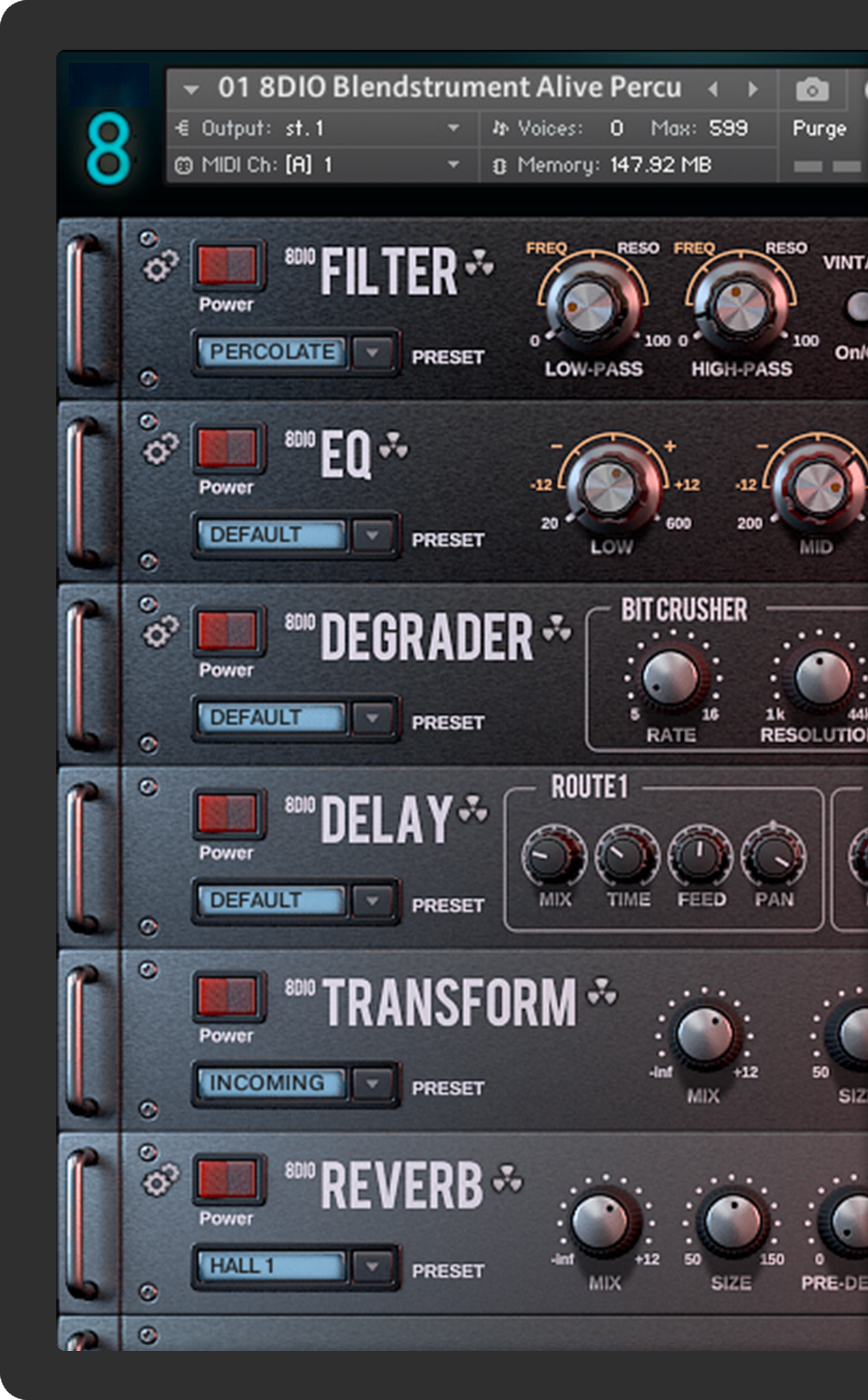 ARTS, SPECS AND REQS
Specifications:
Advanced Pulse Architecture
Two FX Systems. Global FX and Chaos FX 3.3
300 New Textural Convolutions (Tempo-Synced to DAW)
Ability to create an entire instrument with a single click
Ability to load/save individual Blendstruments
Ability to design your own Blendstrument from ground-up
Ability to RANDOMIZE all global FX with a single click
Ability to RANDOMIZE & STACK as many sounds you want
Ability to Pulse Pan each layer using PANORAMA
Reversed Blendstrument – with all samples reversed
Requirements:
Full Retail version of Kontakt 5.8.1 or later required
Not compatible with free Kontakt Player
Blendstrument Alive Percussion requires 4.5GB of hard drive space
Minimum: Mac OS X® 10.4 / 10.5, G5 2.4 GHz or Intel Core Duo 2.00 GHz, 8 GB RAM or Windows® XP (32 Bit) or Windows Vista® (32/64 Bit), Pentium® or Athlon XP 2.0 GHz, 8 GB RAM. 8 GB of RAM or more is highly recommended