Ostinato Woodwinds Volume 2 Oboes and Bassoons
Real Ostinato Patterns


19,000+ Samples / 

11.99GB

Featuring Oboe & Basson

Runs in Major, Harmonic and Melodic scales.

Runs are up and down, long and short, fast and slow

Spiccato, Marcatto, Tuplets and Triplets

4 Mic Perspectives (Mixed, Close, Decca, Far/Wide)

Customizable Articulations in our advanced browser

Everything is Tempo Synced

Built-In Chaos Effects

Kontakt 5.8.1

 

Full Retail

 

(or later) Required
Delivered by Download
READ MORE
READ LESS
Oboes and Bassoons in the Flow

Century Ostinato Woodwinds is the newest add-on in our acclaimed Century Series, offering a new, deep gamma of samples focused on woodwinds. This volume covers the Oboes and Bassoons. Each instrument section was recorded individually, allowing for complete flexibility and customization in the compositional process.

The beauty behind the Century Ostinato series is its live recorded dynamic phrases. Each pattern is available across the entire range of the instrument at multiple dynamics, all while maintaining the same feel and human-like inaccuracies of a real performance, and with host synchronized capabilities.

The entire Ostinato series was painstakingly captured at 96 kHz before being carefully down-sampled to 48 kHz for ease of streaming. Each recording session featured only the very best in recording equipment, ensuring an impeccably maintained analog signal path. This not only preserves and enhances the accuracy and character of each instrument, but helps us to truly honor the sound of these master musicians.

Century is and always will be more than a collection of sample libraries to us. Each one tells the story of our musical journey: emotional, distinct, and undoubtedly one of the most realistic series of instruments ever launched. And with Century Ostinato Woodwinds we have gone beyond realism, bringing you the best that large scale, phrase-based sampling has to offer.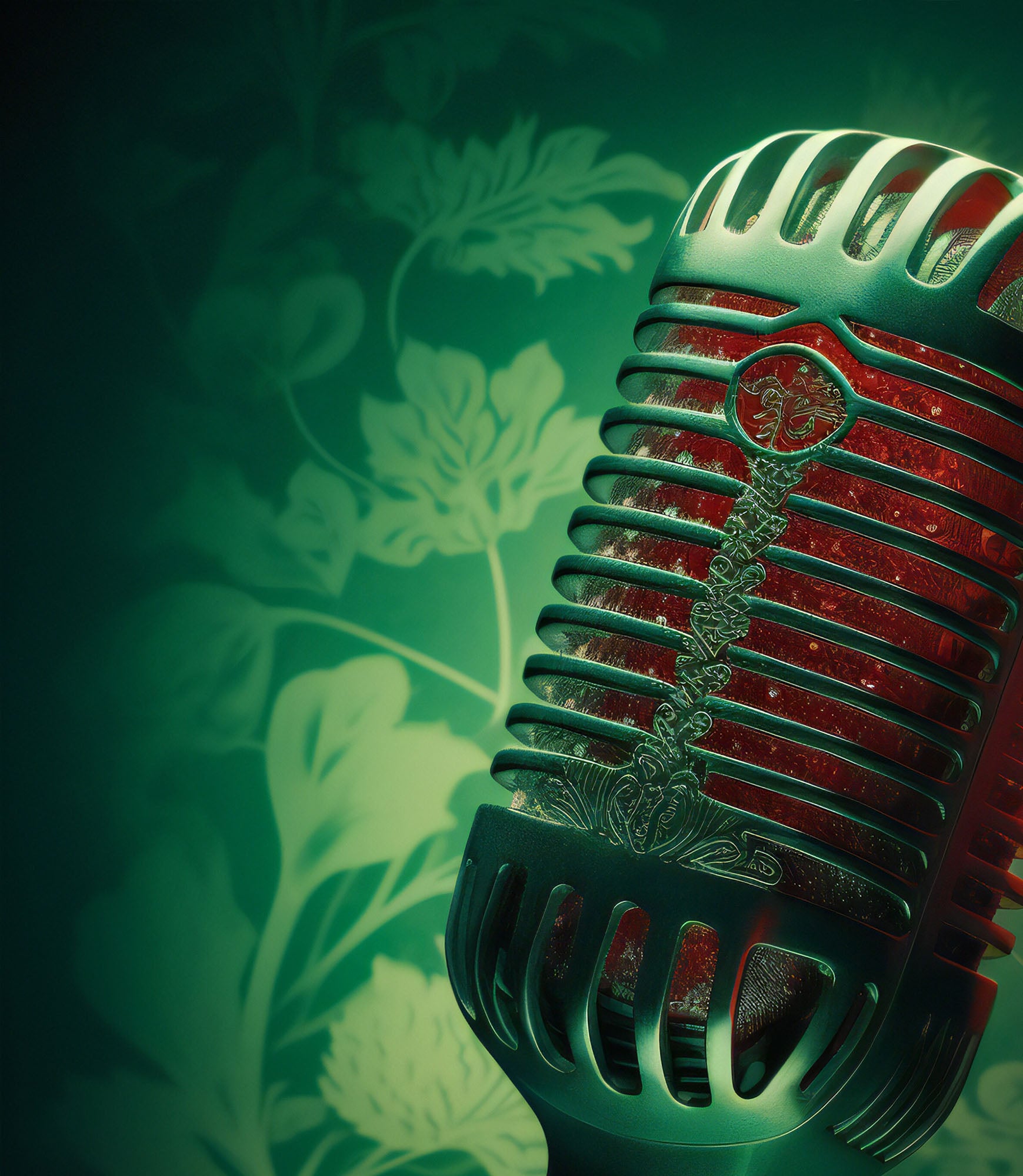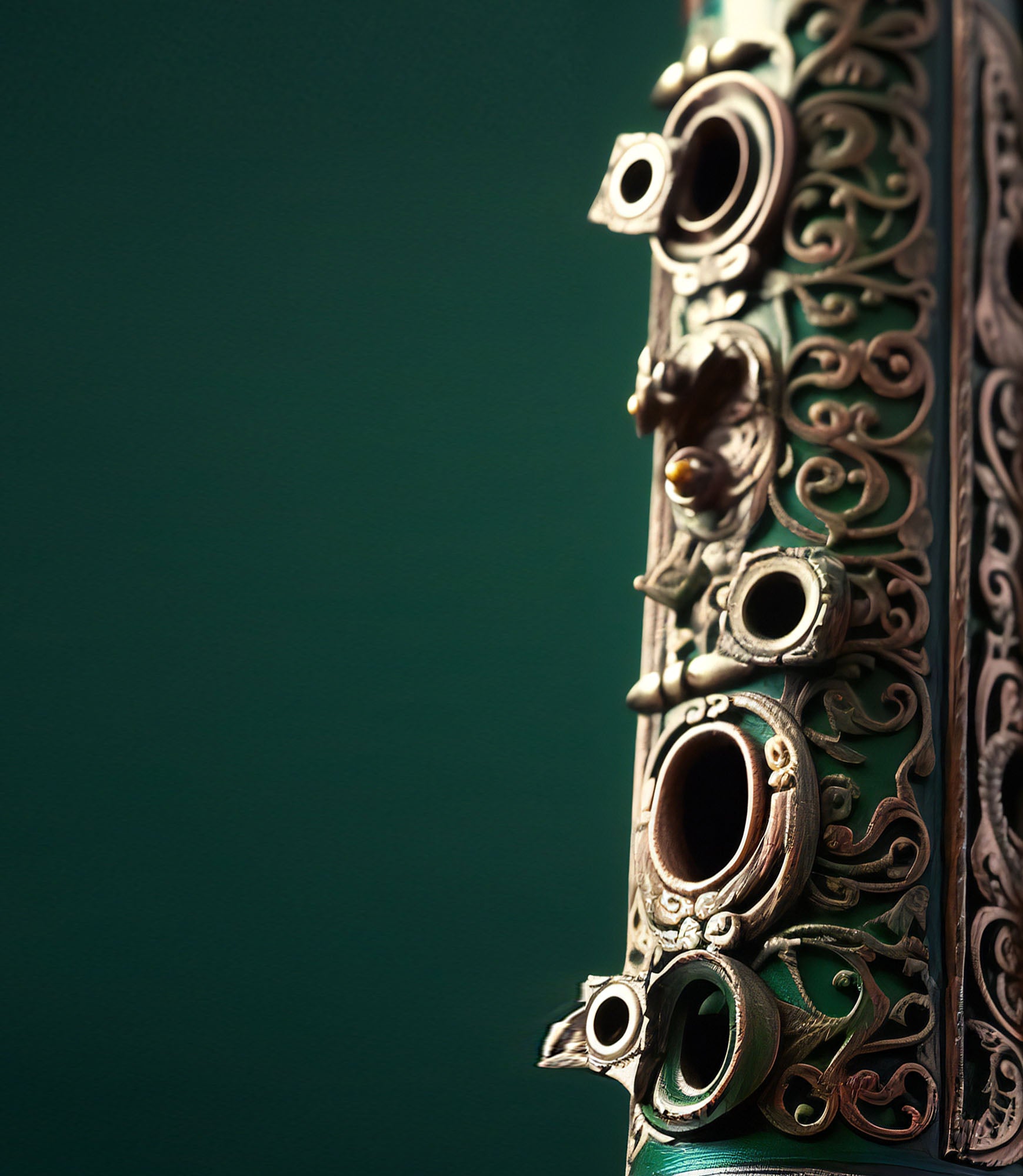 An Army of Runs
We recorded runs in major, melodic, and harmonic scales, fast and slow, short (1 bar) and long (2 bars). Everything syncs to the host tempo. We tailor-made these because we know that no matter how hard you try, nothing can beat the original. You will always be able to write your runs using notes, however, they will never sound as real as a properly played run would.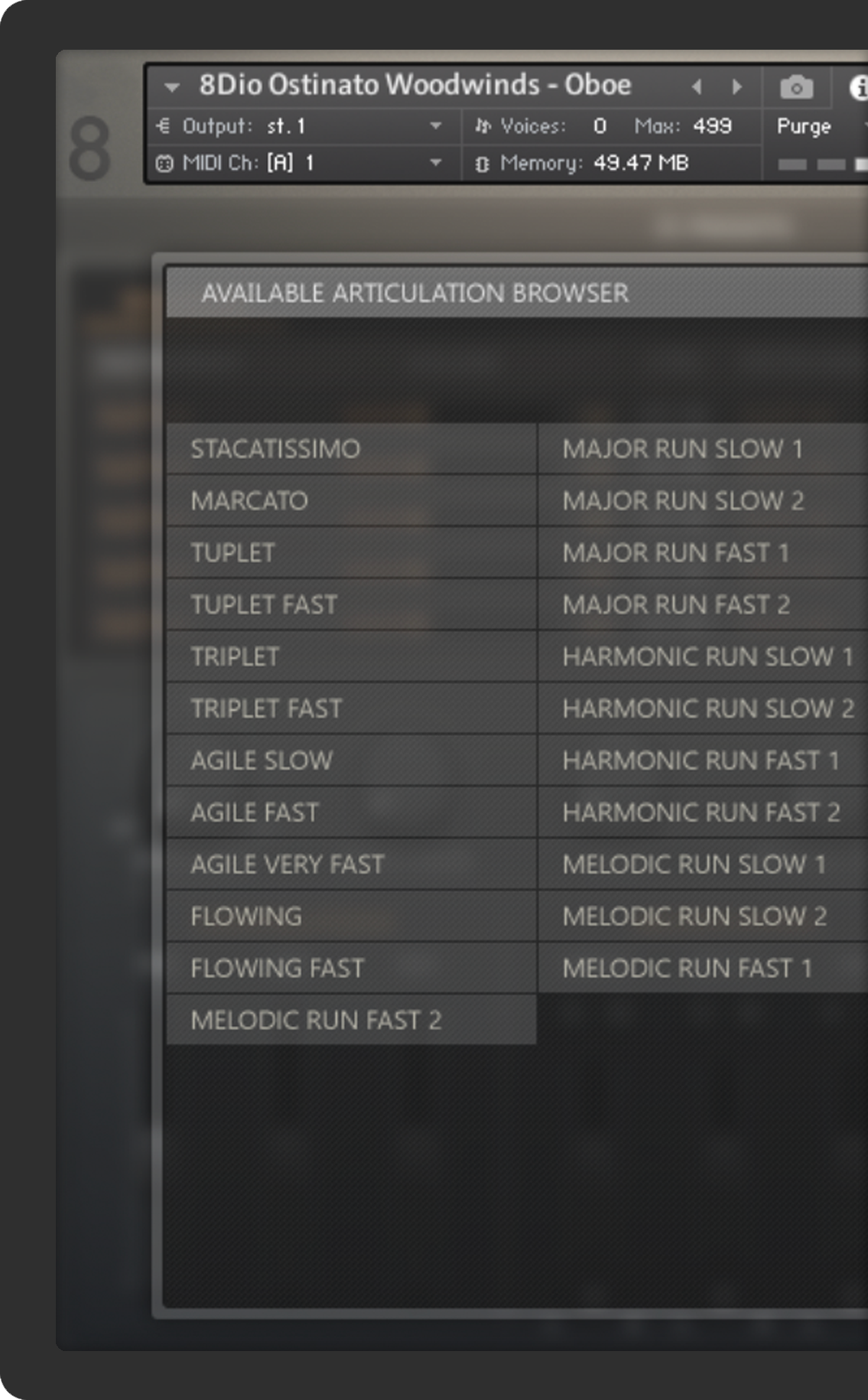 Always in-sync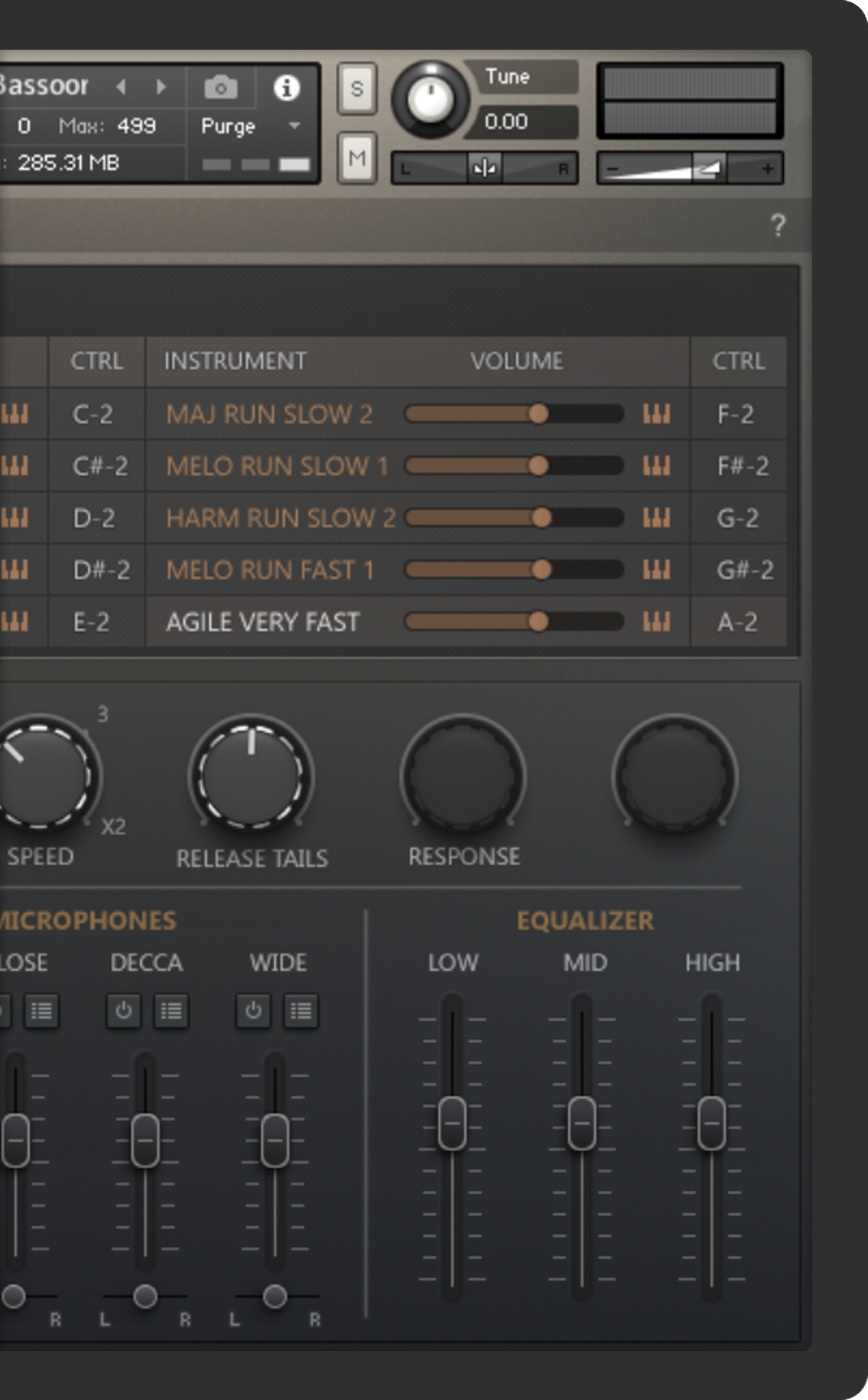 All the instruments of Ostinato Woodwinds have the same articulations at the same tempos, meaning no matter how many instruments you use, they will sound great together. Additionally, Ostinato Woodwinds is fully compatible with Ostinato Brass, meaning you can combine both products and get the best results instantly!
Mix it your way.
As it is normal with our other Century products, Ostinato Woodwinds comes with a prepared Mix microphone perspective that offers a great sound out of the box. Additionally, individual Close, Decca, and Wide microphone positions will allow you to customize your mix, whether it's a very close perspective or a faraway sound, rich in reverb from the beautiful hall.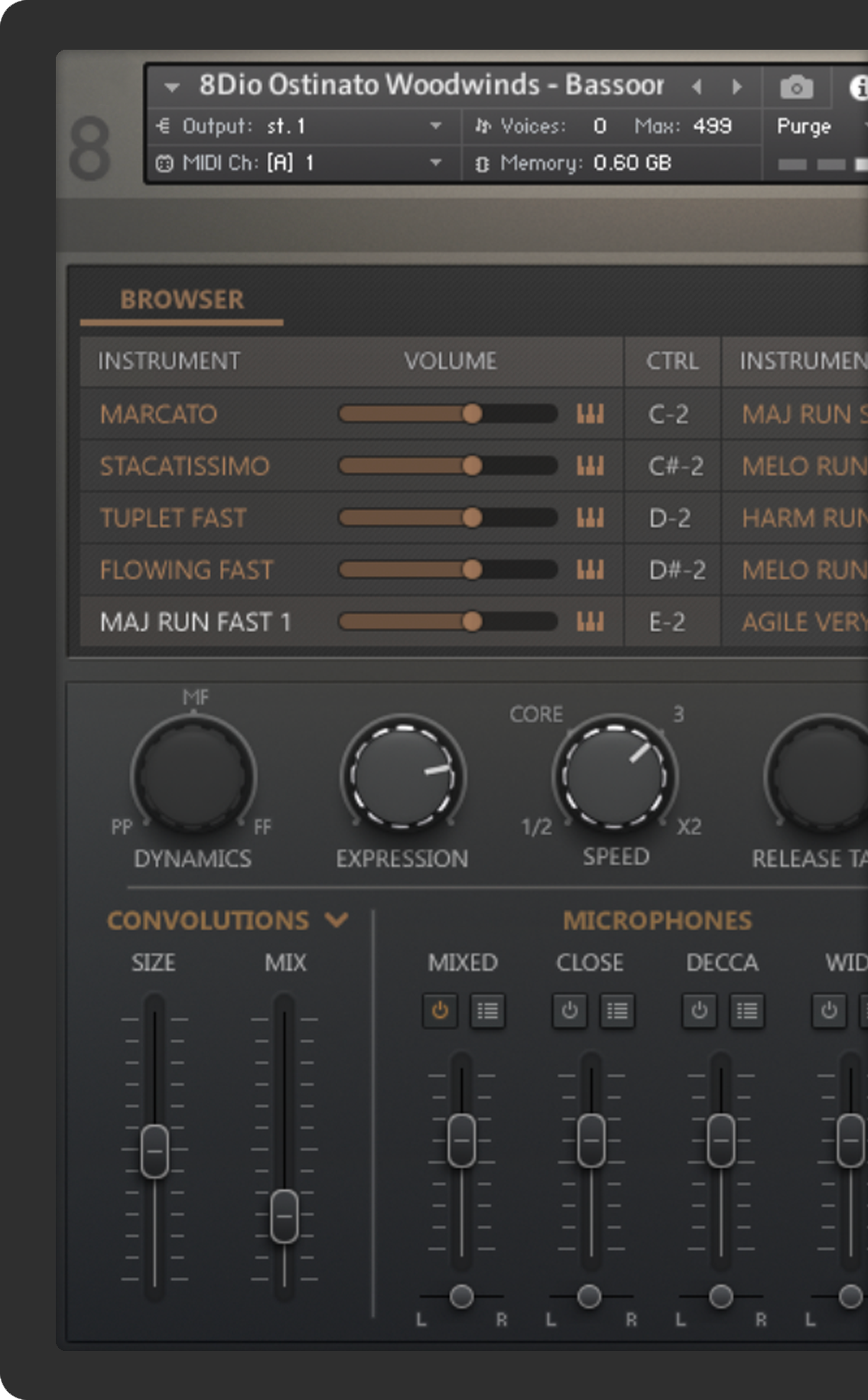 ARTS, SPECS AND REQS
Articulations:
Oboes & Bassoons:
Staccatissimo
Marcato
Tuplet*
Tuplet Fast*
Triplet*
Triplet Fast*
Agile Slow*
Agile Fast*
Agile Very Fast*
Flowing*
Flowing Fast*
Run Major 1 Oct*
Run Major 2 Oct*
Run Major 1 Oct Fast*
Run Major 2 Oct Fast*
Run Harmonic 1 Oct*
Run Harmonic 2 Oct*
Run Harmonic 1 Oct Fast*
Run Harmonic 2 Oct Fast*
Run Melodic 1 Oct*
Run Melodic 2 Oct*
Run Melodic 1 Oct Fast*
Run Melodic 2 Oct Fast*
*Tempo Synced Articulations
Requirements:
Full Retail version of Kontakt 5.8.1 required
Not compatible with free Kontakt Player
The new version of our 8Dio downloader is required for this library
Minimum: Intel Core i5 or equivalent CPU. 8 GB of RAM or more is highly recommended. For intensive instruments, i7 or equivalent is highly recommended.
Century Ostinato Woodwinds requires 11.99 GB of drive space
8 GB of RAM or more is highly recommended
Sample resolution: 48 Khz / 24 Bit stereo .wav format