Century Ostinato Strings
Kontakt VST / AU / AAX

20,700 Samples / 11.83GB
4 Advanced Mics (Mixed, Decca, Close & Far)
Ostinato Control with 4 Types of Ostinatos (Slow to Fast)
Three Types of Spiccato (Single, Double, and Triplets)
6 Violins, 6 Violas, 4 Cellos & 4 Basses
Custom Browser w/ Built-In Articulation Matrix
Custom Convolution, Microphones, EQ and Chaos FX
Delivered by Download
Kontakt 5.8.1

 

Full Retail

 

(or later) Required
READ MORE
READ LESS
Strings in Motion

The library contains four Ultra Deep-Sampled Ostinato sections: Violins, Violas, Cellos and Basses. It was designed to cover all types of Ostinato patterns from the slow and gentle, to fast and forte. The Ostinatos were recorded both as traditional multi-samples and as unique ostinato-samples. The multi-samples contain three types of Spiccato (Single, Double, Triplet), Marcato etc. The Ostinato-samples were recorded at four different tempos slow, medium, fast and very fast – and at multiple dynamics, which is simply controlled on your modwheel.

Century Ostinato Strings contains over 20.700 Ostinato Samples and 4 Microphone positions, including Mixed, Close/Intimate, DECCA and Far/Wide. This gives you complete control over the room and sound. Whether you need a close, chamber like sound or a more rich and full symphonic experience. The Ostinatos were also recorded with the identical players, conductor and same gorgeous hall used for our Century String and Brass collections.

But most importantly Century Ostinato Strings is easy to use, highly playable and infused with life. It breathes a new soul into string writing and allows for completely realistic String Ostinatos like never before.

Short Note Abundance
Century Ostinato Strings is designed to cover filmic short notes in every way possible. We recorded three types of Spiccato and four types of Ostinato Patterns (Slow, Medium, Fast, and Ultra-Fast). The Ostinatos seamlessly adapts to your DAW host-tempo. All the Ostinatos were also recorded dynamically, so you can control the dynamics via the modwheel.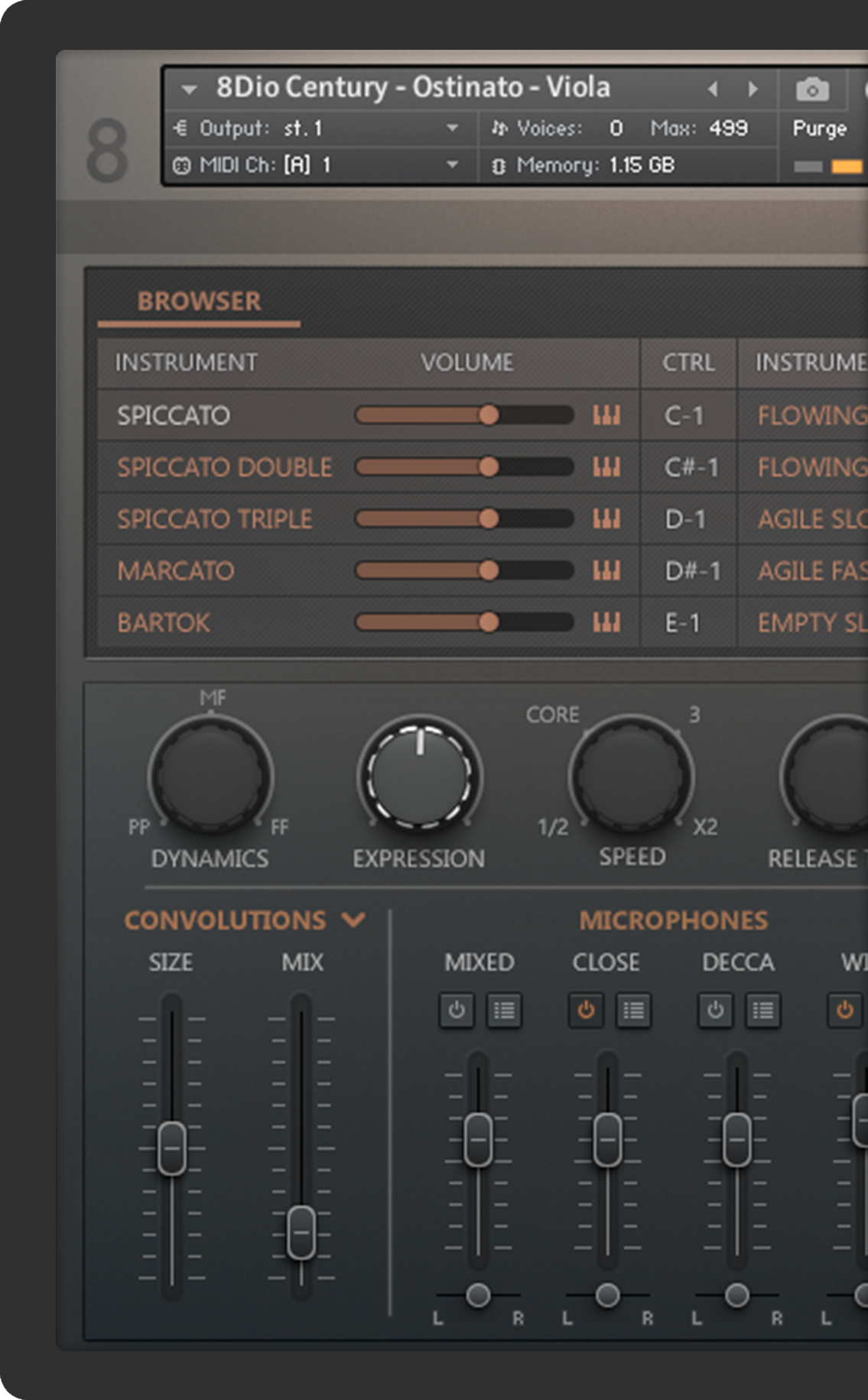 4 Microphone Arrays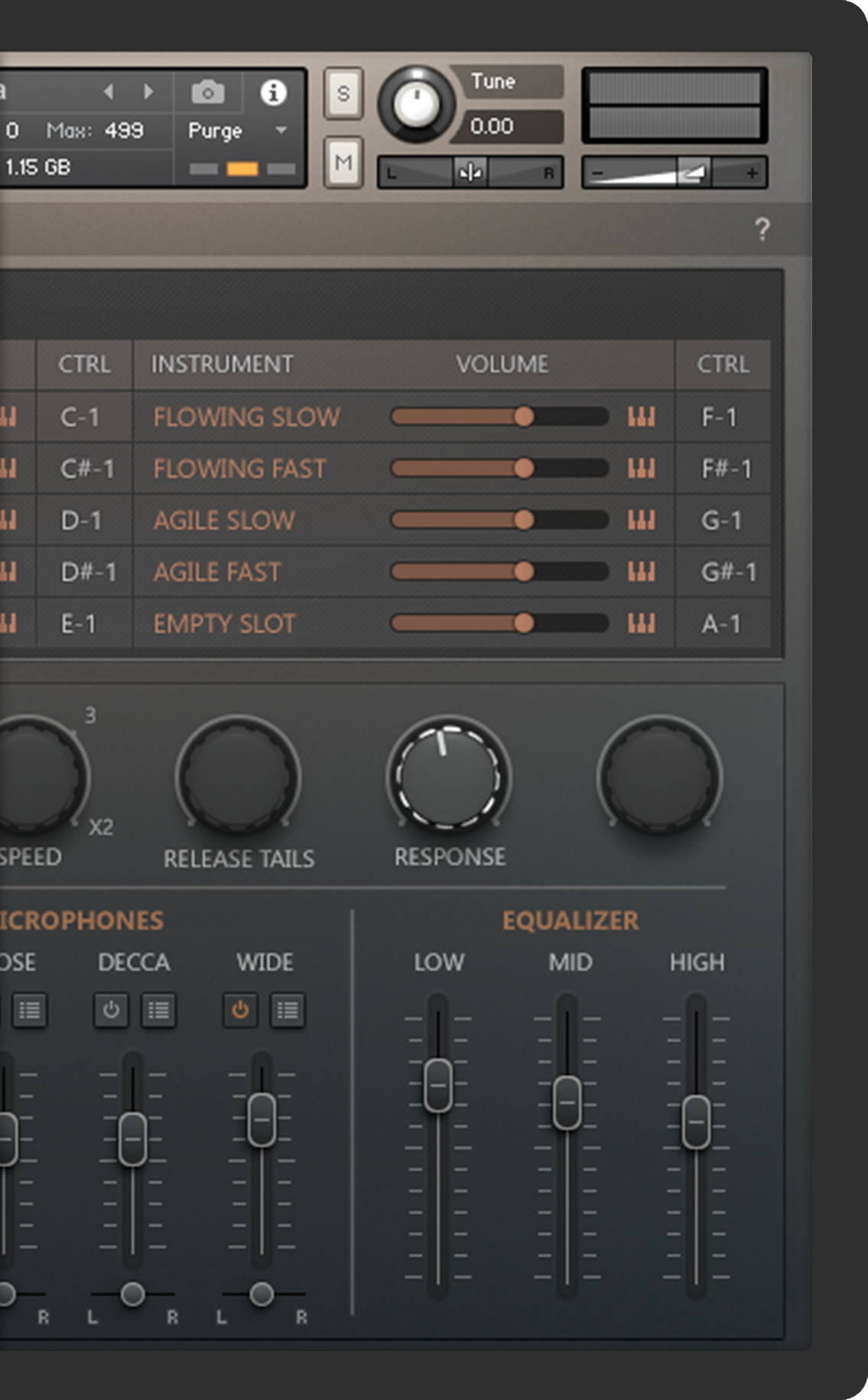 Century has a highly customizable sound with 4 arrays of pristine microphones, offering you any angle you want. The Mix position offers you the sweet spot with all our microphones perspectives. You can pull in the close microphones to get an ultra-tight low end for extremely fast Ostinatos!
Modular Century
Our Century Ostinato Strings were recorded in the same hall as the rest of our Century Series. The same players, same conductor, same engineer, and same microphone positions. All Century libraries are designed to be modular. Everything designed to work together. This way you can build your own modular ensembles!