8DM Edge Volume 1 Bundle
Edge Vol. 1 for Kontakt

Edge Vol. 1 for Maschine
Edge Vol. 1 Wav-pack
EDM Chart Quality
Logical file organization
20 Fully Customizable Groove Kits
EDM Chart Quality
Deep House Samples (.ncw) / 4.22GB
3D Based User-Interface
Unique 8DM 3.0 FX Engine
Kontakt 5.8.1

 

Full Retail

 

(or later) Required

Delivered by Download
READ MORE
READ LESS
Edgy Grooves and Synths

8DM Edge Groove Edition Vol. 1 for Kontakt, Maschine, and Sample-Pack is a massive collection of explosive and knife-cutting EDM samples. Edge Vol. 1 was produced by Top 10 Beatport DJs and includes a crazy collection of production-ready Kicks, Snares, Hats, Bass Synths, Lead Synths, FX Synths, Risers, Growl Synths, and more.

8DM Edge for Kontakt comes with everything neatly laid out in a beautifully rendered 3D Interface. 8DM Edge for Maschine is all programmed, so you can literally get up and going seconds. The 8DM Sample Packs contains Single Shot Samples, Mixed Loops and Loops of every individual component with matched BPM etc. The Sample Pack alone contains over 3GB of EDM awesomesauce!

8DM Edge contains both side-chained and non-side chained synths, so you have ultimate control over all the samples. 8DM Edge is a mixture of Electro house, Dubstep, Moombahton and Drumstep. It is all there. Easy, super-flexible, playable, and with an unrivaled and polished top-40 sound.

MASCHINE
8Dio Edge Vol. 1 Maschine Edition is a completely new take on the Native Instruments Maschine Platform. You can create a smacking groove in seconds using our intuitive layout and color-coding or get into more specific details such as macro-controls and real-time FX. This new take on Maschine will surely win you over!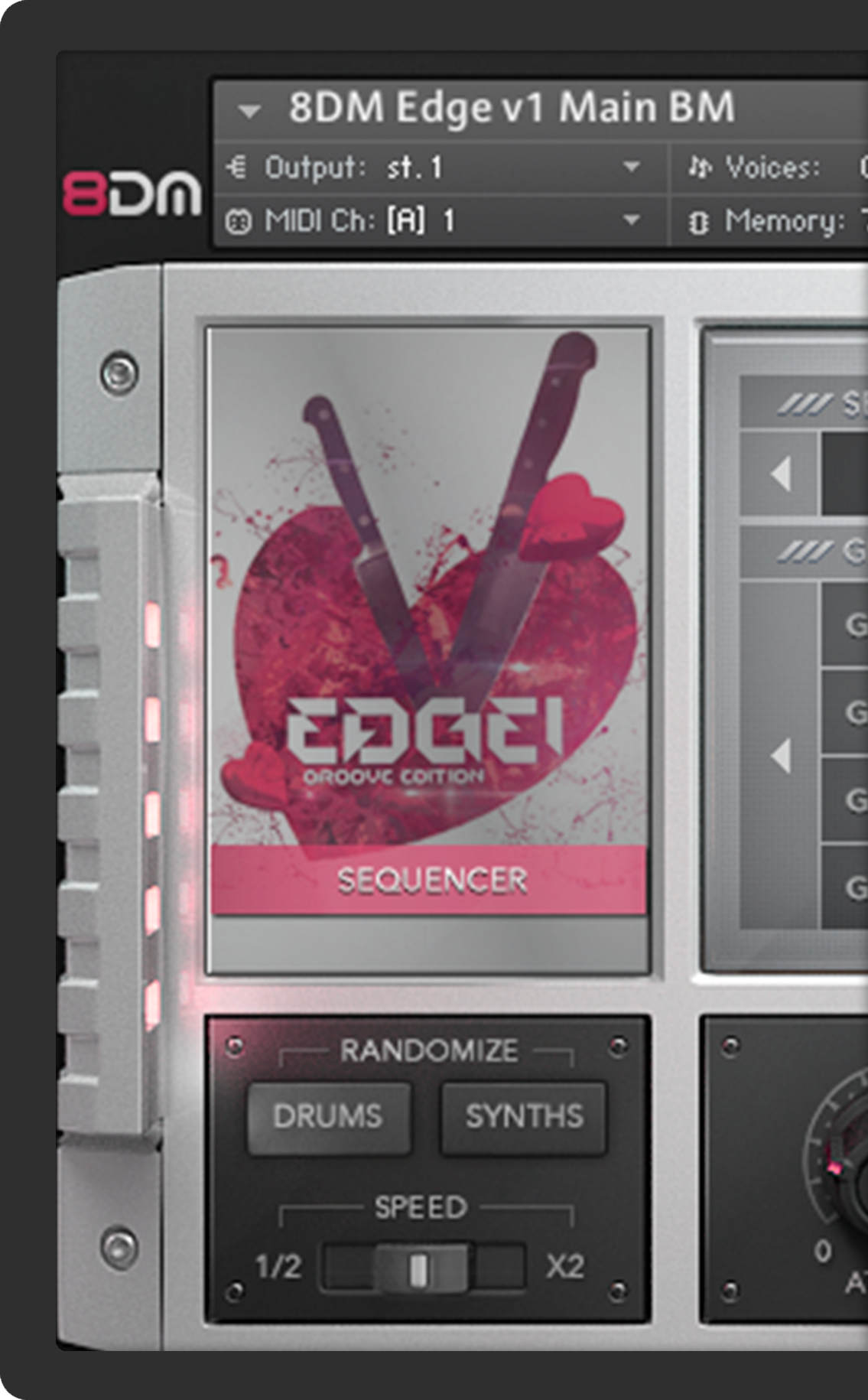 KONTAKT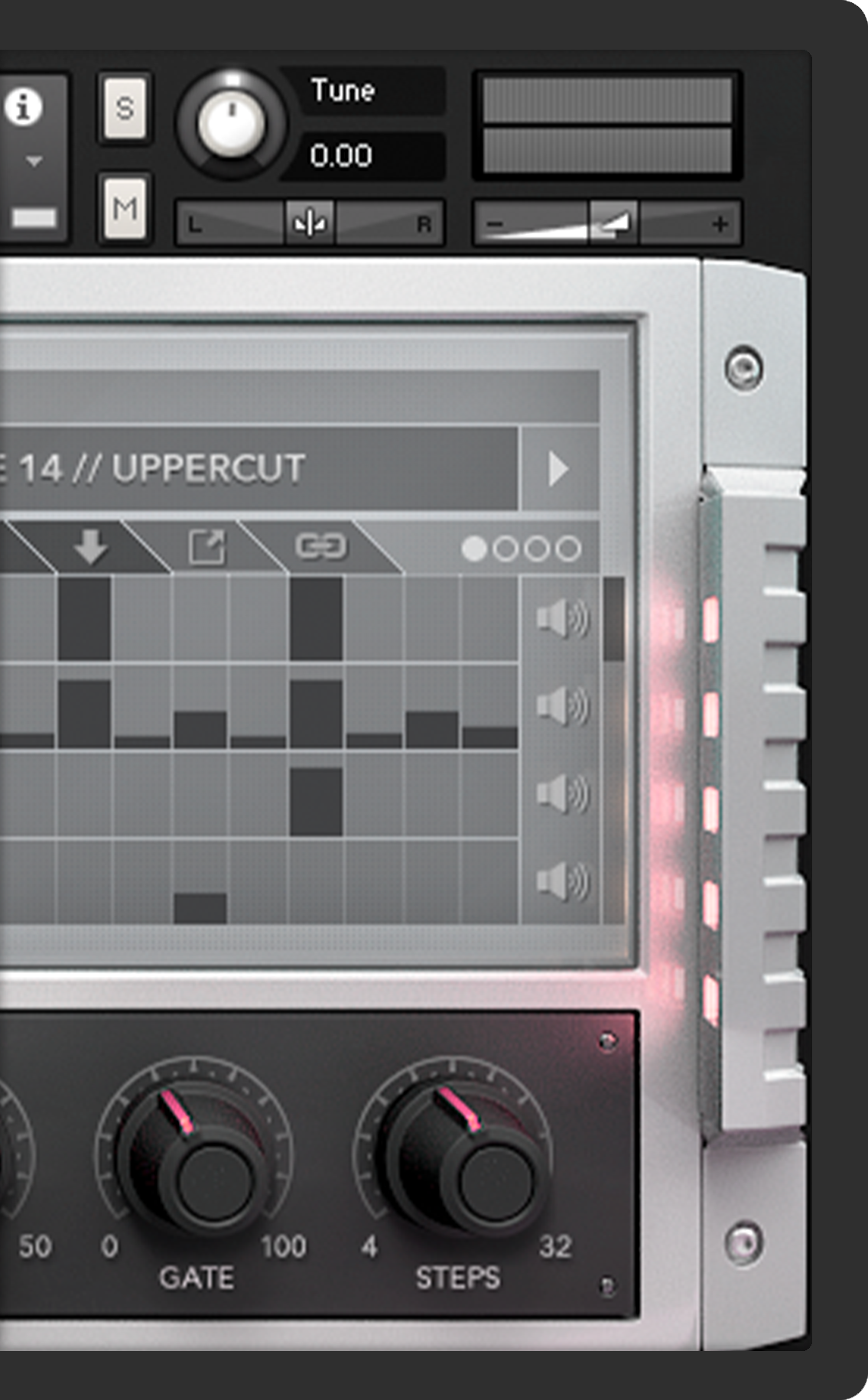 8Dio Edge Vol. 1 Kontakt Edition utilizes all the knowledge we have from our industry-leading 8Dio sample collection. You can control everything from the keys (pitch, real-time FX), and our logical file organization makes everything extremely easy to use. We also integrated our brand-new CHAOS FX 3.0 system!
WAV Pack
8DM Edge Vol. 1 Wav-Pack is designed for the DJ/producer that just wants the raw wave files for their own environment. We spend quite some time labeling everything correctly, so whether you need BPM information or instantly need to find a kick, snare, cymbal, bass synth, or lead synth, it's all there for immediate and intuitive access.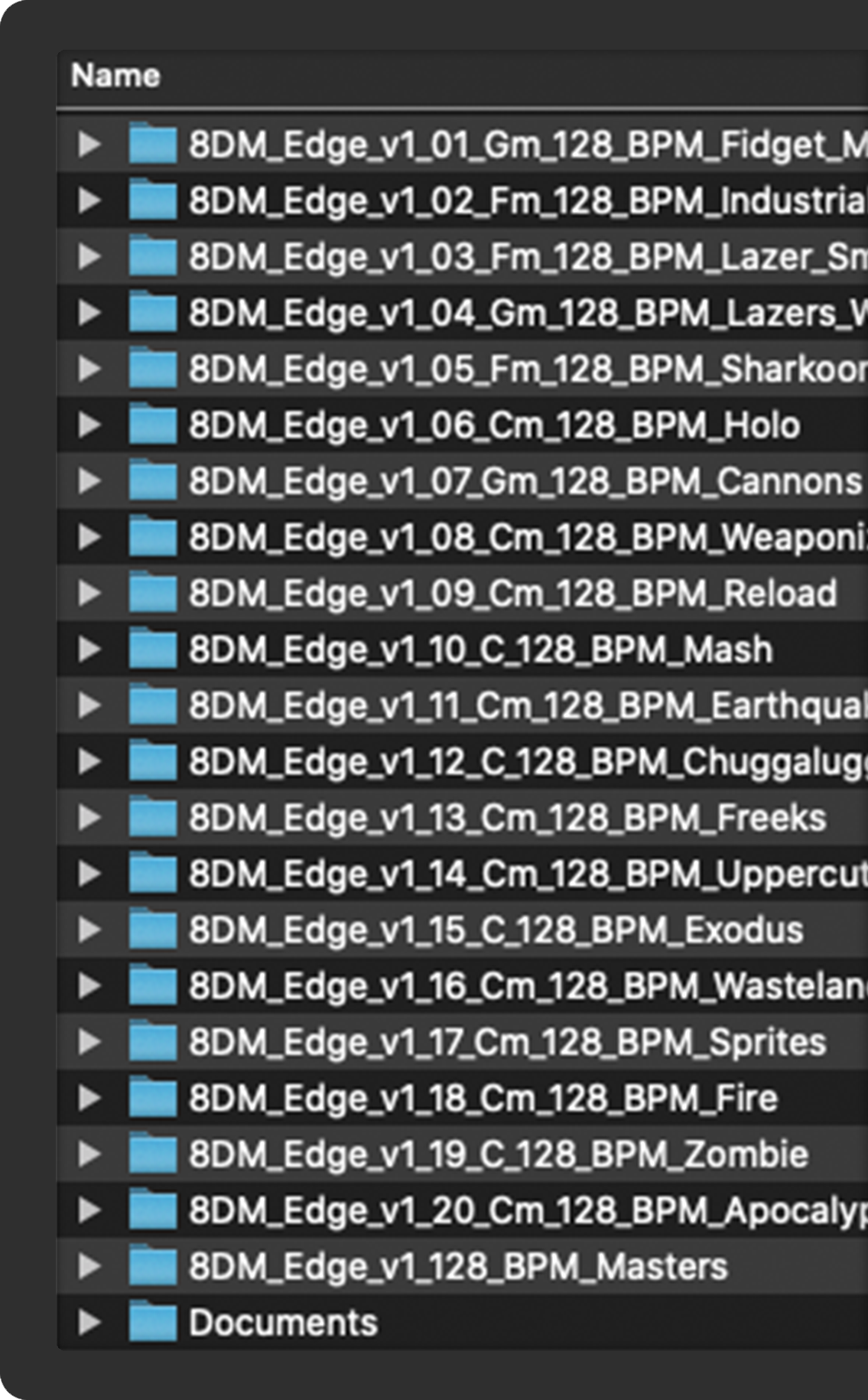 ARTS, SPECS AND REQS
Kontakt Pack:
Size 1.1+ GB
20 Fully Customizable Groove Kits
EDM Chart Quality
700+ Samples
3D Based User-Interface
Unique FX Engine
Logical file organization
One shot samples & Loops
Requirement: Kontakt 5.8.1 (Full Retail) or later
Maschine Pack:
20 Fully Customizable Groove Kits
EDM Chart Quality
300+ Samples (.wav)
High intuitive layout – all set up
Mastering Chain Already Done
Logical file organization
Oneshot samples & Loops
Bonus: 22 Maschine Project Grooves
Requirement: Maschine 2.0 or later
8DM Maschine Video Installation Guide Here
Wav pack:
20 Fully Customizable Groove Kits
EDM Chart Quality
700+ Samples
Logical file organization
Oneshot samples & Loops
Master Examples