Greek Percussion
Kontakt VST / AU / AAX

26,120+ Samples 3.87GB
5 Mics (Front, Rear, Overhead, Semi-Close & Room)
Daouli 18" and Daouli 22" Drums
Small and Large Toubeleki Drums
Bendir 22" Drum
Epirousian Tambourine and REK Tambourine (AKA Riq)
Small Secondary Perc. (Koboloi, Spoons, Tiny Cymbals)
Advanced Custom Micro tuning Options
Delivered by Download
Kontakt 5.8.1

 

Full Retail

 

(or later) Required
READ MORE
READ LESS
Comprehensive Greek Drums & More

8Dio Greek Percussion (+26.000 samples) contains a wide selection of beautiful, historical Greek percussion instruments, including 18″ and 22″ Daouli Drums, small and large Toubeleki Drums, 22″ Bendir Drum, Epirousian Tambourines, Rek Tambourines, and additional auxiliary percussion.

For this library, we have selected the most characteristic and important percussion instruments used in today's folklore not only in greece, but also in the countries surrounding it.

To make the Greek Percussion sampling even deeper, we have also decided to sample secondary percussions , which are basically stuff unrelated to music which are used to keep rhythm – Such are the the Wooden Spoons, the Zilia (very small cymbals) and the Komboloi.

The library contains 5 different microphone positions, including Close Front, Close Rear/Back, Overhead, Semi-Close and Room mics. The result is a staggering 26,000+ samples and the most comprehensive sets of Greek Percussion ever sampled.

Our CHAOS engine has also been added to multiply the textures and possibilities this library has to offer. We hope you enjoy using this library as much as we enjoyed making for you.

Microphone Positions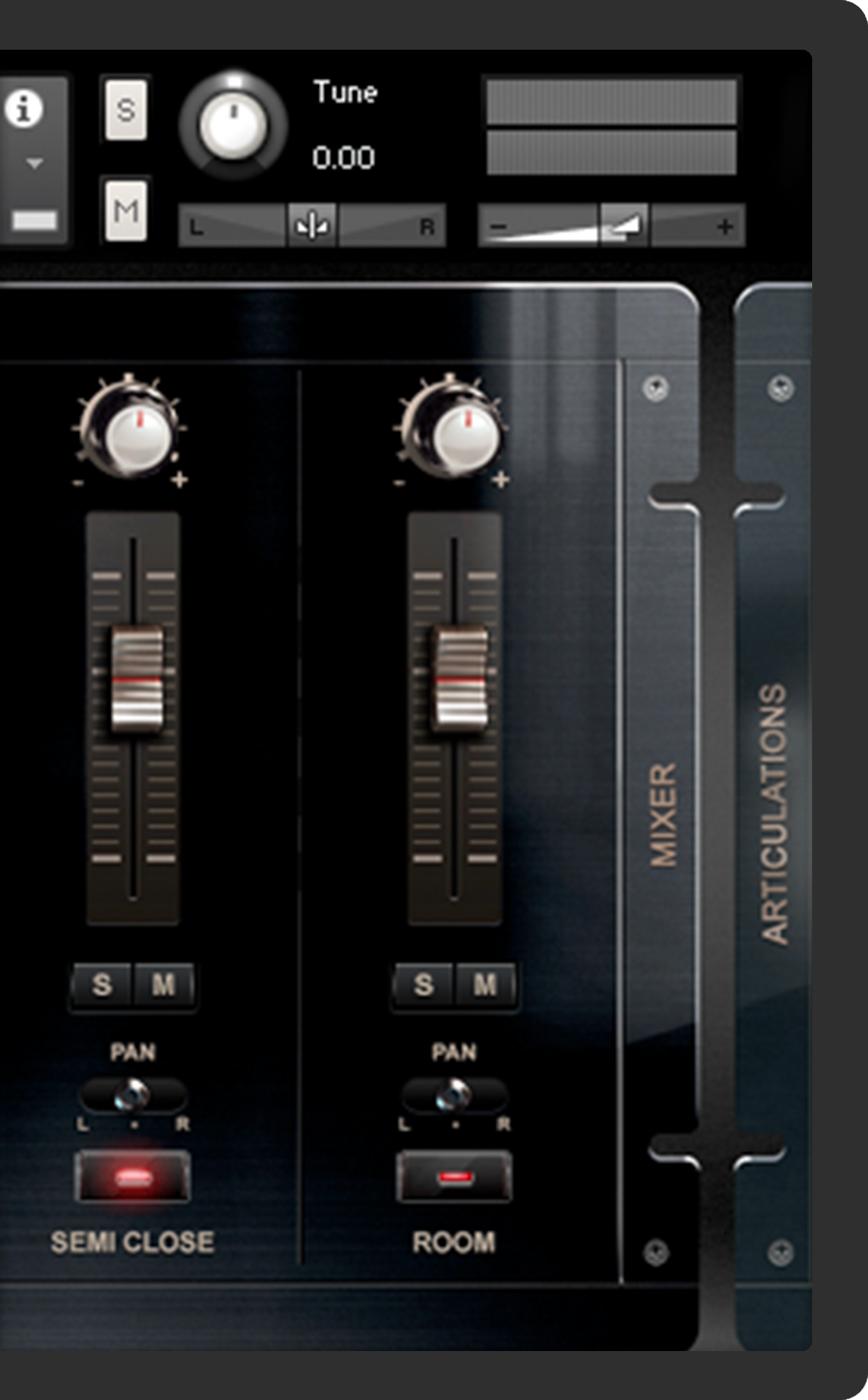 Greek Percussion comes with five different microphone options, including Contact, Overhead, Close, Semi Close, and Room Microphones. The front and rear microphones give a unique perspective into the resonating body of the instrument. You can dial in the exact microphone perspective needed for your composition.
Chaos FX
Greek Percussion is also supported by our latest Chaos FX engine, which allows you to virtually do anything you desire to the Greek Percussion. You can redesign the layout by key-control, create a step-based filter sequencer, precision dial EQ, bit-crush or distort, stereo-delay, or mess around with dual convolution reverbs.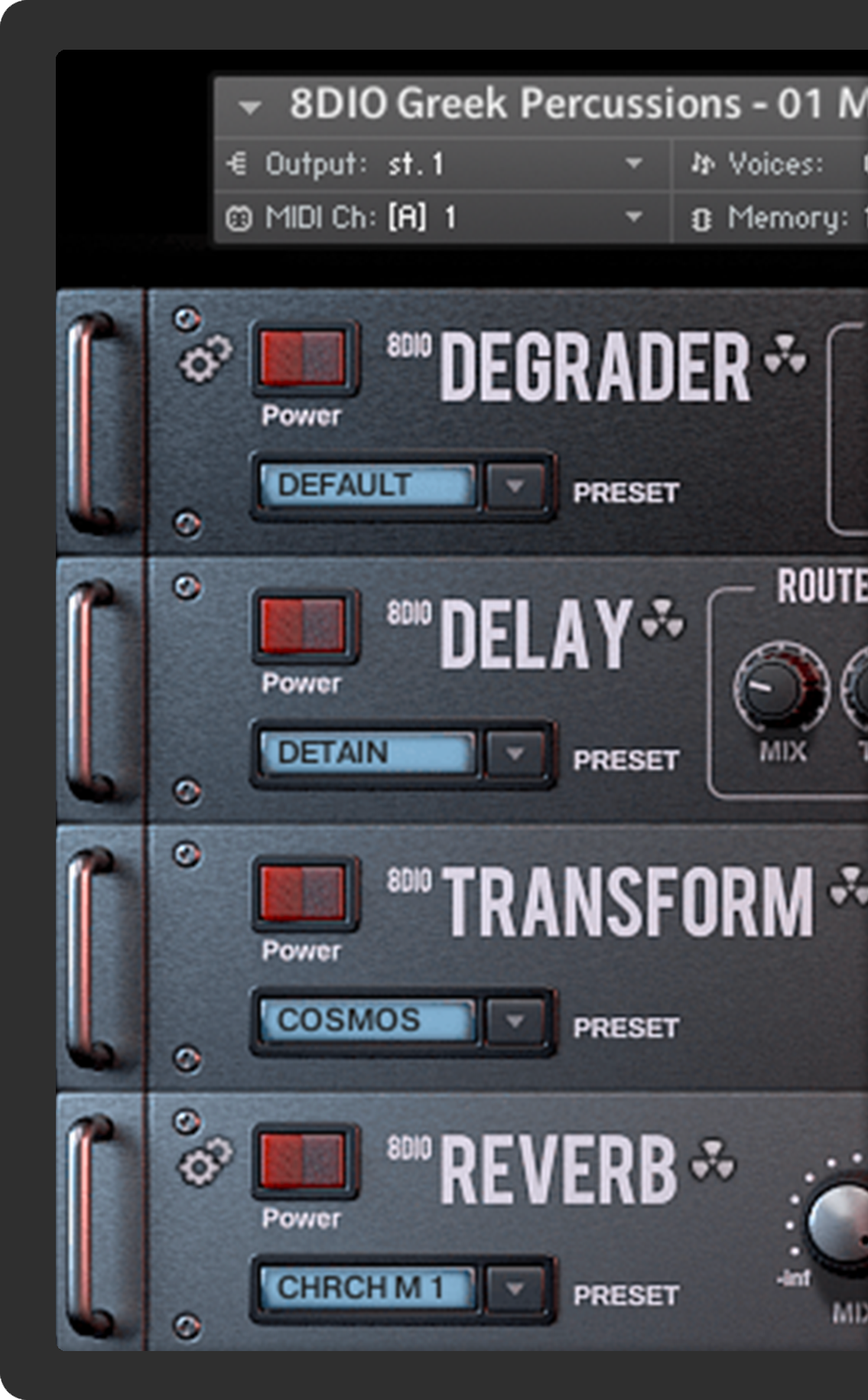 ARTS, SPECS AND REQS
Instruments:
22" Bendir
Epirousian Tambourine
Popular Tambourine (REK)
Small Percussions (Spoons, Koboloi, Cymbals)
18" Daouli
22" Daouli
Small Toubeleki
Large Roubeleki
Experimental Tonal
Articulations:
Varying Bass Hits
Varying Treble Hit
Rolls
Effects
Muted
Multiple hand and finger positions
Requirements:
Full Retail version of Kontakt 5.8.1 or later required
Not compatible with free Kontakt Player
Greek Percussion requires 4 GB of hard drive space
Minimum: Mac OS X® 10.4 / 10.5, G5 2.4 GHz or Intel Core Duo 2.00 GHz, 8 GB RAM or Windows® XP (32 Bit) or Windows Vista® (32/64 Bit), Pentium® or Athlon XP 2.0 GHz, 8 GB RAM. 8 GB of RAM or more is highly recommended