Hybrid Tools - NEO II
True Analog Designed Hybrid Cinematic Instruments


Kontakt VST / AU / AAX

Similar Cinematic Instruments Available in

 

Soundpaint
8.22GB  and over 6,000 hand-curated samples

Thousands of Cinematic Drums and Percussion

Newest Cinematic 808's

Ear Candy & Textural Ambiences

50 x 50 Delicately distorted modern analog power leads

50 x 50 Modern & degraded lo-fi pianos

Fully Tempo synchronized Rhythmic Pulses & Patterns

Built-In Chaos Effects & Embedded Meta-Data

Delivered by Download
Kontakt 5.8.1

 

Full Retail

 

(or later) Required
READ MORE
READ LESS
NEO Ear Candy, Drums, Tick Tocks, & More

Hybrid Tools NEO II is the newest cinematic scoring tool designed based on the latest and emerging scoring trends.

This curated library contains 13 meta-categories, each containing many hundreds of instruments, synths, and musical sound designs.

From multi-sampled analog drums to massive arrays of new-generation epic drums, the sound is clean and massive. NEO II includes a vast array of new hybrid rhythms, tick-tock rhythms, and gritty rhythms which all adapt to your host tempo.

We added several new banks of our highly popular Ear Candy categories, which contain extreme new sound designs, and tons of large scale and moody cinematic ambiences and deep-sampled noises. The collection is wrapped up with a massive assortment of deep-sampled synths, 50 different lo-fi stab pianos, and the most perfect collection of filmic, tonal 808s you may ever hear.

Hybrid Tools Neo II is designed to sit right in your mix without further processing. It took over two years to produce and every sound was treated like a piece of music. The mix is dialed to perfection, so you can just focus on the music.

NEO II offers you everything you need to create the driving force behind your music, adding a sense of production-friendly grit and analog warmth lacking in most digital arrangements.

Cut Through the Mix
Hybrid Tools NEO II contains some of the grittiest, cutting-edge sound design we have ever released. Each sound within NEO II was created from meticulously processing vintage hardware and real-world recordings through a variety of analog equipment. The result is a level of saturation, dirt, and lush overtones that are indispensable to both the lo-fi producer and cinematic trailer composer providing an almost unprecedented level of warmth and character.
Hybrid Design
The advanced features included in the library are all easily accessible through the custom user interface. Quickly adjust or automate the Attack, Release, Speed, and Pitch Envelope of your chosen set of sounds, fitting perfectly within your track. From auditioning to chromatically stretching a sound, the Hybrid Tools interface allows for endless customization.
Your Sound, Your Way
Hybrid Tools NEO II comes with several instrument patches, each with several banks. Hybrid Tools NEO II also comes embedded with deep Meta-Data tagging, allowing you to directly search through the files using your favorite sound file application. At 44.1kHz / 24 Bit .wav, all the sounds within this library are drag and drop ready!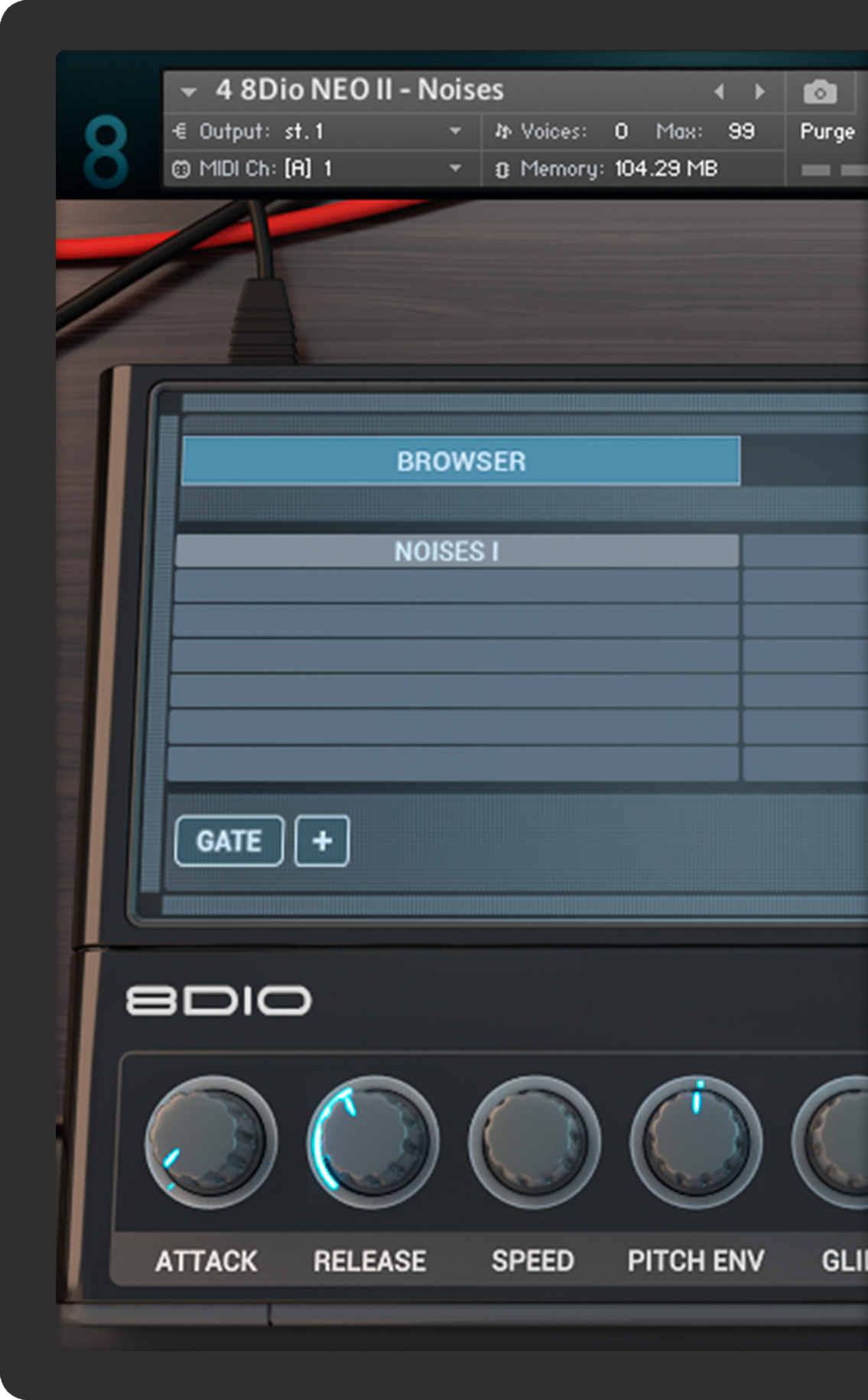 ARTS, SPECS AND REQS
Categories:
Main Core Instrument Categories
Main Core Banks

Analog Drum Kits
Epic Bass Drum Kits
Hybrid Percussion Kits
Modern Tick Tocks
BPM-Synced Hybrid Rhythms
BPM-Synced Tick Tock Rhythms
BPM-Synced Gritty Rhythms)
Ear Candy

Ambiences
Noises
Gritty Analog Synths
Lo-Fi Piano Stabs
Tonal 808's

Main:
Analog Drums (Multi-sampled analog modulars)
Epic Bass Drums (Massive sets of new-gen epic drums)
Hybrid Percussion (Processed acoustic percussion)
Ticks & Tocks (Super produced ticks and tocks)
Hybrid Rhythms (Tempo-Synced Rhythms)
Tick Tock Rhythms (Tempo-Synced Tick-Tocs)
Gritty Rhythms (Tempo-Synced overdriven rhythms)

Ear Candy:
Ear Candy I
Ear Candy II
Ear Candy III
Ear Candy IV

Ambiences:
Ambiences I
Ambiences II
Ambiences III
Ambiences IV
Ambiences Infinite

Noises:
Gritty Analog Synths:
Fallen
Shogun
Guise
Blaze
Lucid
Samurai
Riot
Eon
Crimson
Discord
Steel
Atomic
Galaxy
Void
Nefarious
Aurora
Nuclear
Iridescent
Oblivion
Zero
Scar
Plasma
Paradigm
Wing
Solitude

Lo-Fi Piano Stabs:
Guild
Cannibal
Nebula
Adrift
Disrupt
Swarm
Calculate
Absorb
Mountain
Cage
Tundra
Cloud
Arcane
Cement
Minotaur
Levitate
Viper
Faithless
Cosmic
Fossil
Kraken
Creeper
Deception
Hydra
Crystal

Tonal 808's:
Akimbo
Corkscrew
OX
Elixir
Ghost
Hooligan
Elicit
Magenta
Peruse
Relentless
Vortex
Scope
Guru
Ricochet
Berserk
Cursed
Cobra
Rainmaker
Lizard
Idiom
Zealous
Salamander
Elusive
Phantasm
Hijinks
Requirements:
Full Retail version of Kontakt 5.8.1 or later required
Not compatible with the free Kontakt Player
Minimum: Intel Core i5 or equivalent CPU. For TMPro Patches, i7 or equivalent is recommended.
NEO II Requires 8.22 GB of Hard Drive Space (based on 19.2GB uncompressed material)
8 GB of RAM or more is highly recommended
Sample resolution: 44.1 Khz / 24 Bit stereo .wav format