Legion Series 66 Cellos
Pro-Grade Cinematic Instruments
Professional Cinematic Cellos
Deep-Sampled 66 Player Ensemble
11.33GB / 15,730 Samples
5 Sustain variations and 4 Styles of True Legatos
Range of Arcs and Short Notes
Poly Arcs for seamless voice transition within Arcs
Host-Sync'd Ostinatos
3 Hall microphone perspectives
5 Independent Spot microphone perspectives
Clean & Trailer Mixes for instant cutting-edge sound
Delivered by Download
Kontakt 5.8.1

 

Full Retail

 

(or later) Required
READ MORE
READ LESS
An Army of Cellos

66 Cellos is the latest installment in our Legion series of epic ensembles, a line dedicated to solving the specific need for large-scale ensembles in modern scores.

Recorded in our favorite modern recording hall, 66 Cellos features only the best cellists gathered from across Europe for this once-in-a-lifetime sampling opportunity. Not only did we record a large set of core articulations for the ensemble, such as sustains, legatos, and short notes but we also recorded a substantial collection of ensemble effects such as tuning clusters, seagulls, and Host-Sync'd ostinatos. The range of these articulations and the instantly massive sound available in every option of the library make it a joy to work with and an essential in any cinematic composer's toolkit. The library features 10 different microphone perspectives to best represent the sounds of the space and ensemble.

The range of options included with the library is easily accessible from the familiar 3D-rendered user interface available with all our Legion Series libraries. These options include our 4-part effects engine, expression, gate, and tuning options as well as an intuitive step sequencer. You can also quickly and easily control or automate the playback of the samples with attack, release, speed, pitch envelope, glide and offset controls.

Sampling ensembles of this size comes with unique challenges and with these challenges spark endless creativity, not only in recording techniques used, but also with the textures and styles of articulations that can be created with an ensemble of this caliber. We spared no expense in creating the new standard in epic scoring.

Microphones
66 Cellos contains 10 different microphone perspectives, including 2 microphone mixes (Main and Trailer). The 4 Hall Microphone Positions (Decca, Mixed, Far, Wide) mirror the Hall Microphone Positions from our past Legion Series, and 5 Spot Microphones perfectly capture the closer details of this colossal ensemble.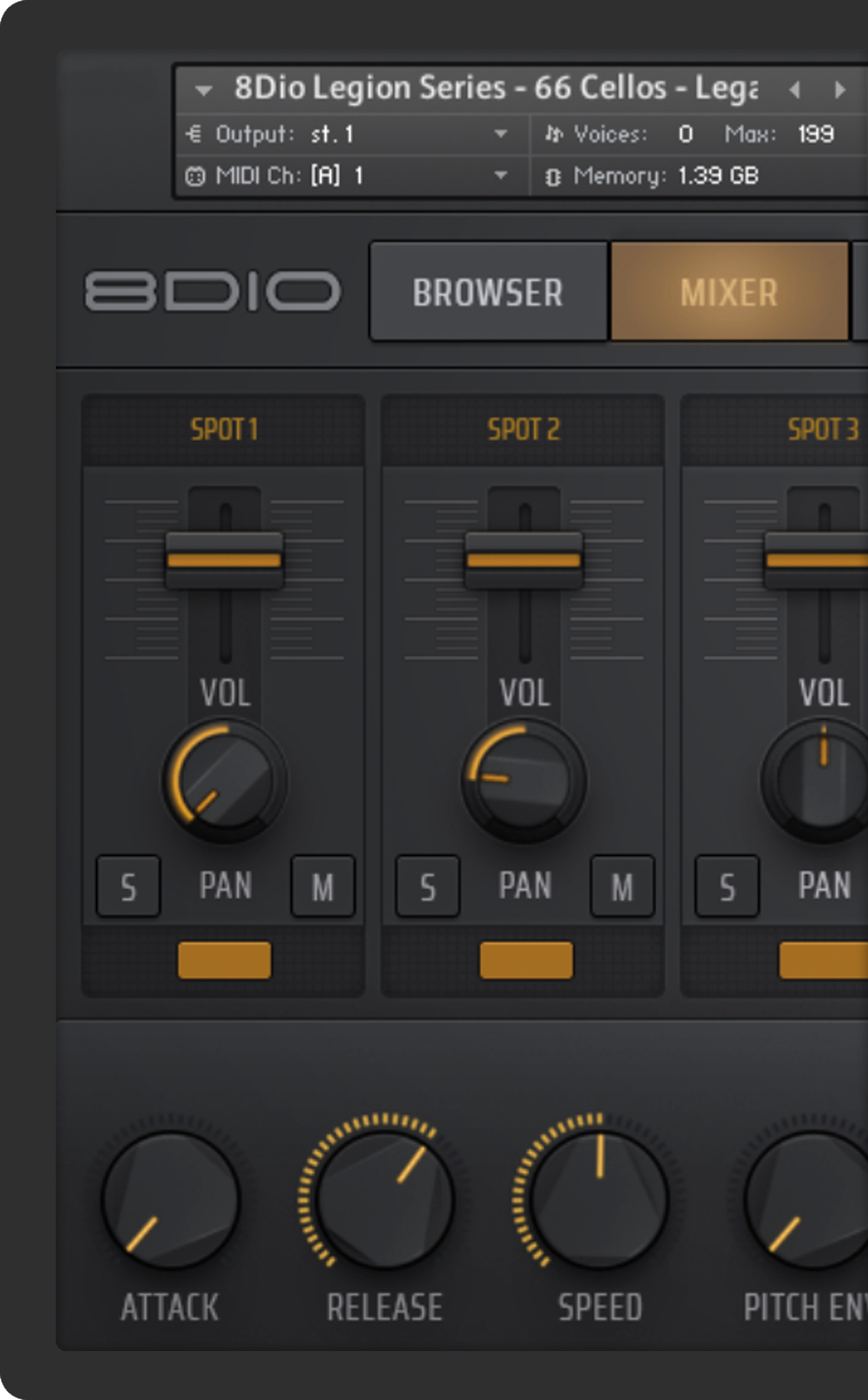 A True Legion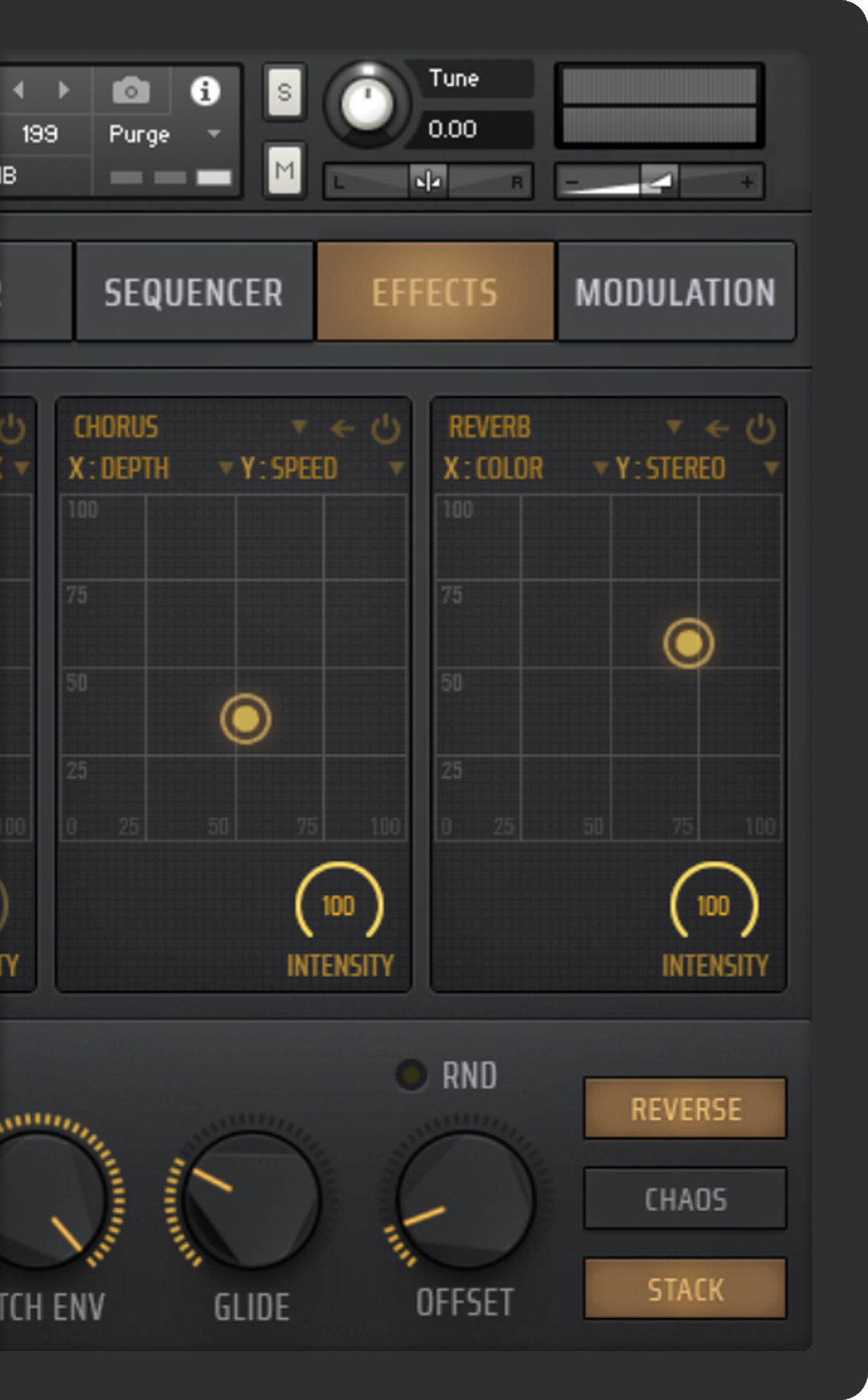 With the introduction of 66 Cellos, the Legion Series is now an army of hundreds of Players! These libraries come together to create a low-end assault of sound catering to the production needs of epic music. Whether you need epic, in-your-face style strings, dynamic low-end effects, or massive spiccatos, the Legion of Cellos will be your go-to epic string library.
About the Ensemble
66 Cellos contains the largest symphonic cello ensemble ever recorded. We removed all chairs and baffles in the hall to enhance the color of the sound. It is the same hall we used for the other members of the Legion Series, Majestica, Lacrimosa, Acoustic Grand Ensembles, CAGE, and many other libraries.