Legion Series: 66 Tubas
Pro-grade Cinematic Super Brass

True 66-Person Symphonic Tuba Ensemble
10,120 Samples / 9.74GB
Sustains, True Legato, and Deep Short Notes
Arcs, Marcatos, Bends, Tons of FX, & Unique Arts
4 Speciality Built SFX Pads + Chaos FX 3.4
Mix, Decca, Wide, Far and Trailer Mix Mic positions
5 Close Spot Microphone positions
All patches come with DFD, TM, & TMPRO options
15 In-House Custom Presets
Delivered by Download
Kontakt 5.8.1

 

Full Retail

 

(or later) Required
READ MORE
READ LESS
...for We Are Many Tubas

66 Tubas is the second creation in our Legion Series, an instrument line dedicated to solving specific needs in epic cinematic music.

We gathered a 66-piece symphonic Tuba ensemble, comprised of musicians from 13 countries across Europe, in our favorite modern recording hall, Zlin. In these once-in-a-lifetime sessions, all the players gave it their absolute best. It shows.

66 Tubas contains all the common articulations (Sustains Types, Short Notes, Arcs, Effects, Note-Bends, etc) as well as a large set of new articulations (Dynamic Waves, Tuning Clusters, BPM-based Ostinatos, Bridge FX, etc).

The library features 10 different microphones, including a new Trailer Mix microphone that offers you the most upfront and aggressive microphone setting, 4 Hall-Based microphones (Mixed, Decca, Far and Wide), and 5 intimate close Spot microphones for a more detailed sound.

66 Tubas also features a new 3D-rendered UI with a new 4-part modulation engine and a whole special section of BPM-based Ostinatos. 66-Tubas cost us over $82,000 to produce and is the second of several in our Legion series. It is the dream of super cinematic brass fulfilled. Strong, Warm, and Deep.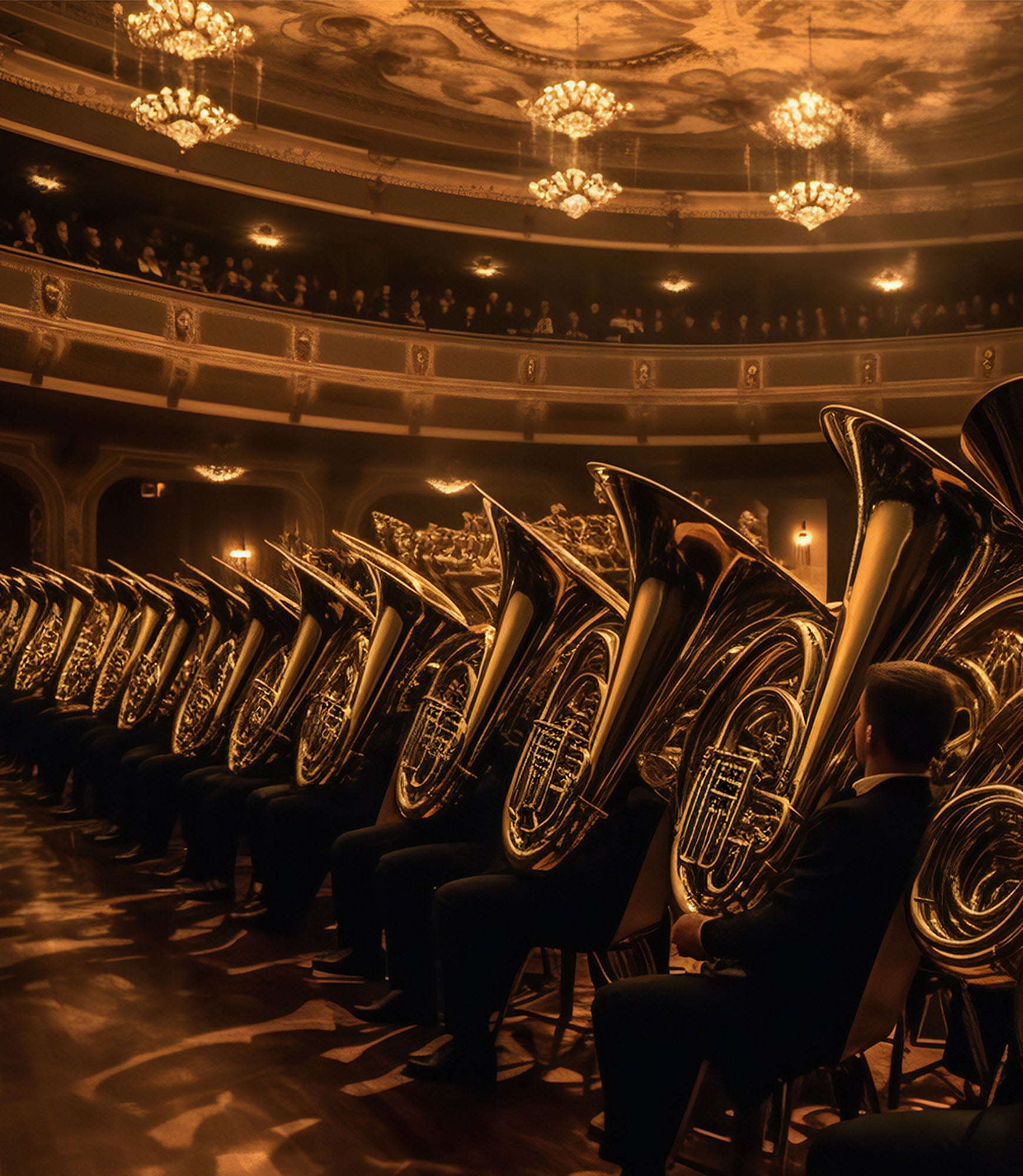 9 Microphones and 1 Binaural
The library contains 10 different microphone positions, including new Trailer Mix microphone, which offer the most aggressive combination of microphone settings. It was designed to make your mixes strong in an instant. The library also includes 4 Hall Microphones (Decca, Mixed, Far, Wide) and 5 Close Spot Microphones.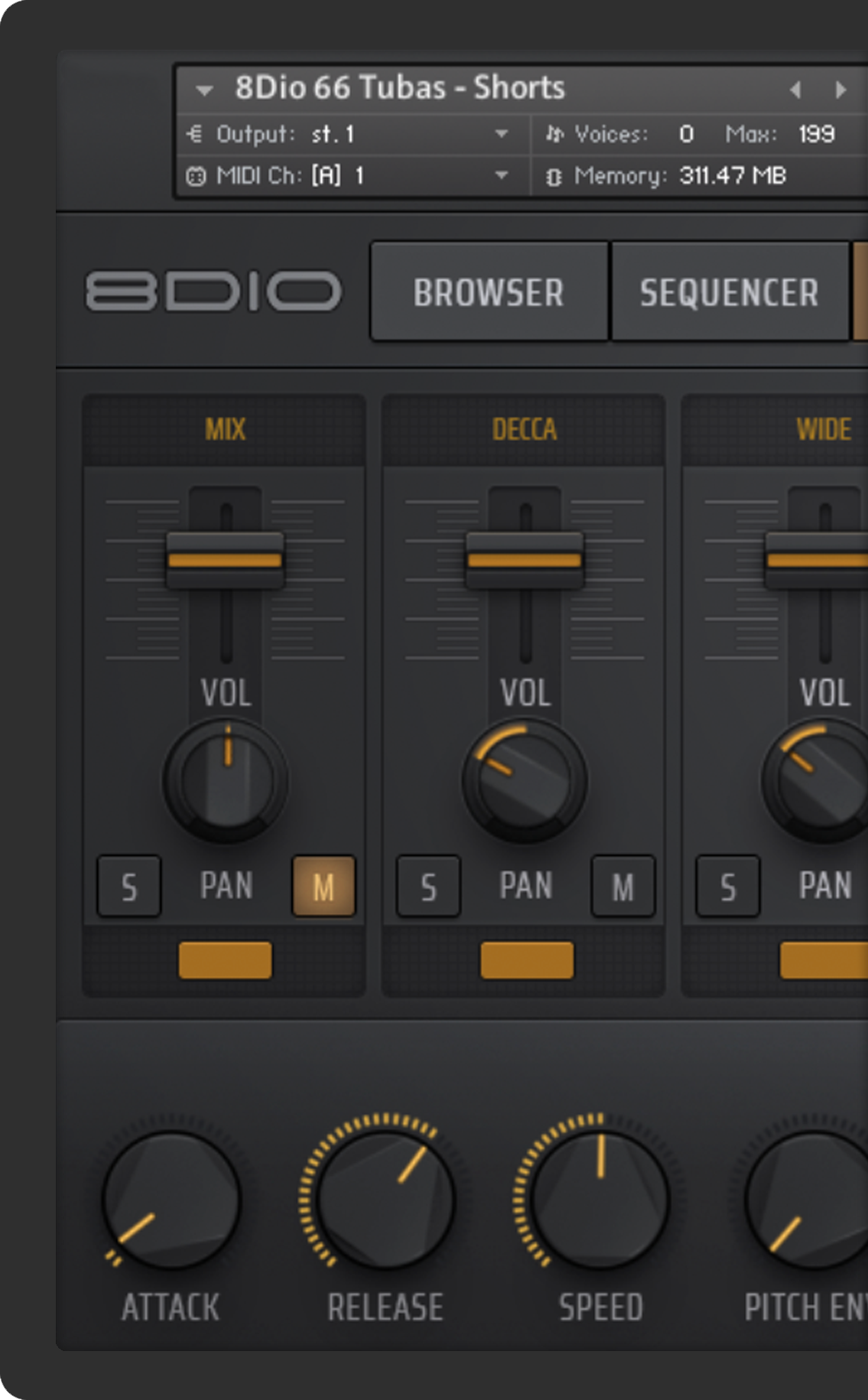 4-Part Modulation Engine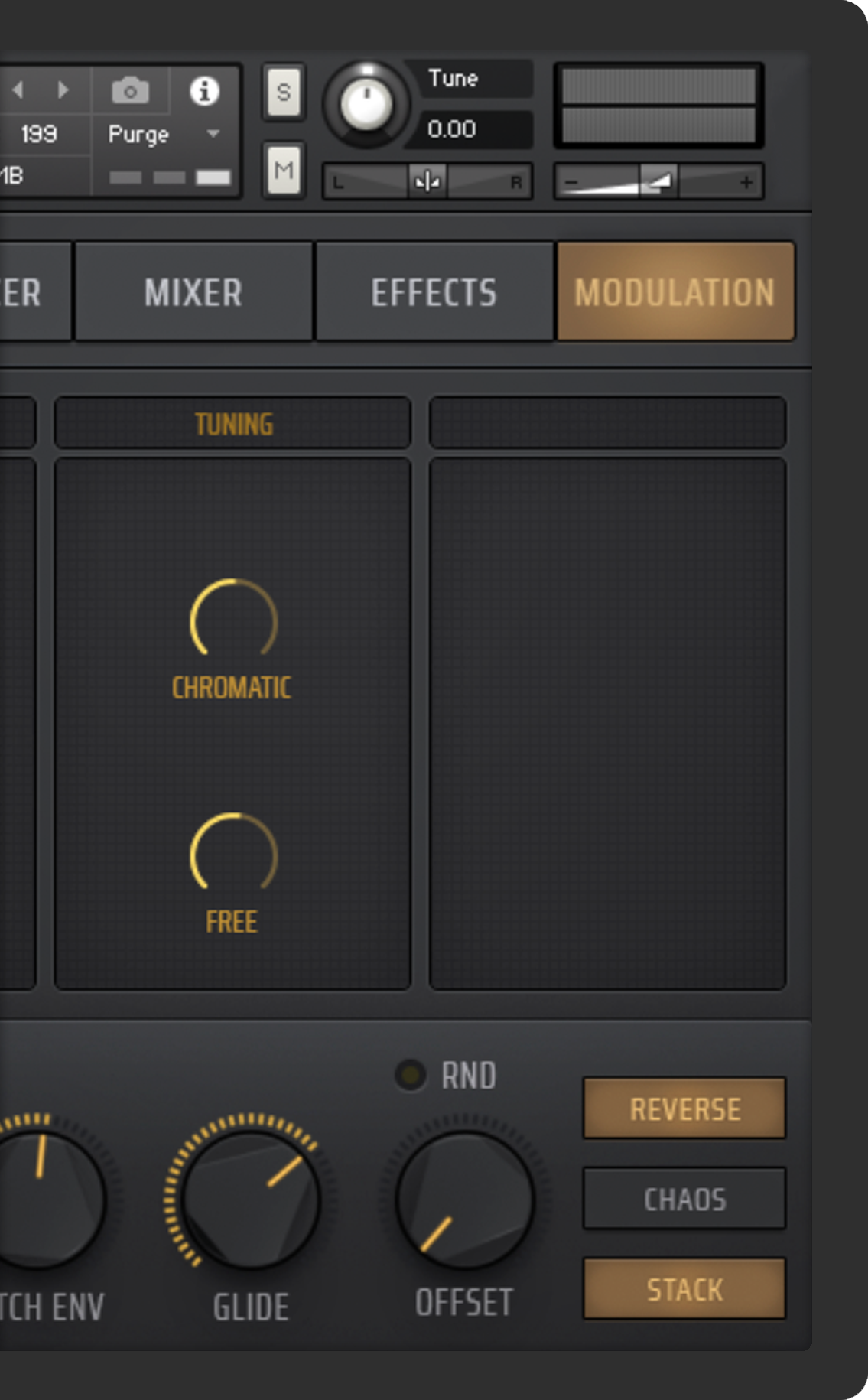 66 Tubas also includes our new 4-part modulation engine for extreme sample and effects work. The 4 modulation engines each contain their own X/Y Matrix grid, and you can assign an FX parameter to both the X/Y values. Powerful functions like reverse and stack are only a click away.
66 Tubas
66 Tubas contains the largest symphonic Tuba ensemble ever recorded. We removed all chairs and baffles in the hall to maximize the reverberation, which lasts over 3 seconds. It is the same hall we used for Majestica, Lacrimosa, Acoustic Grand Ensembles, CAGE, and many other instruments.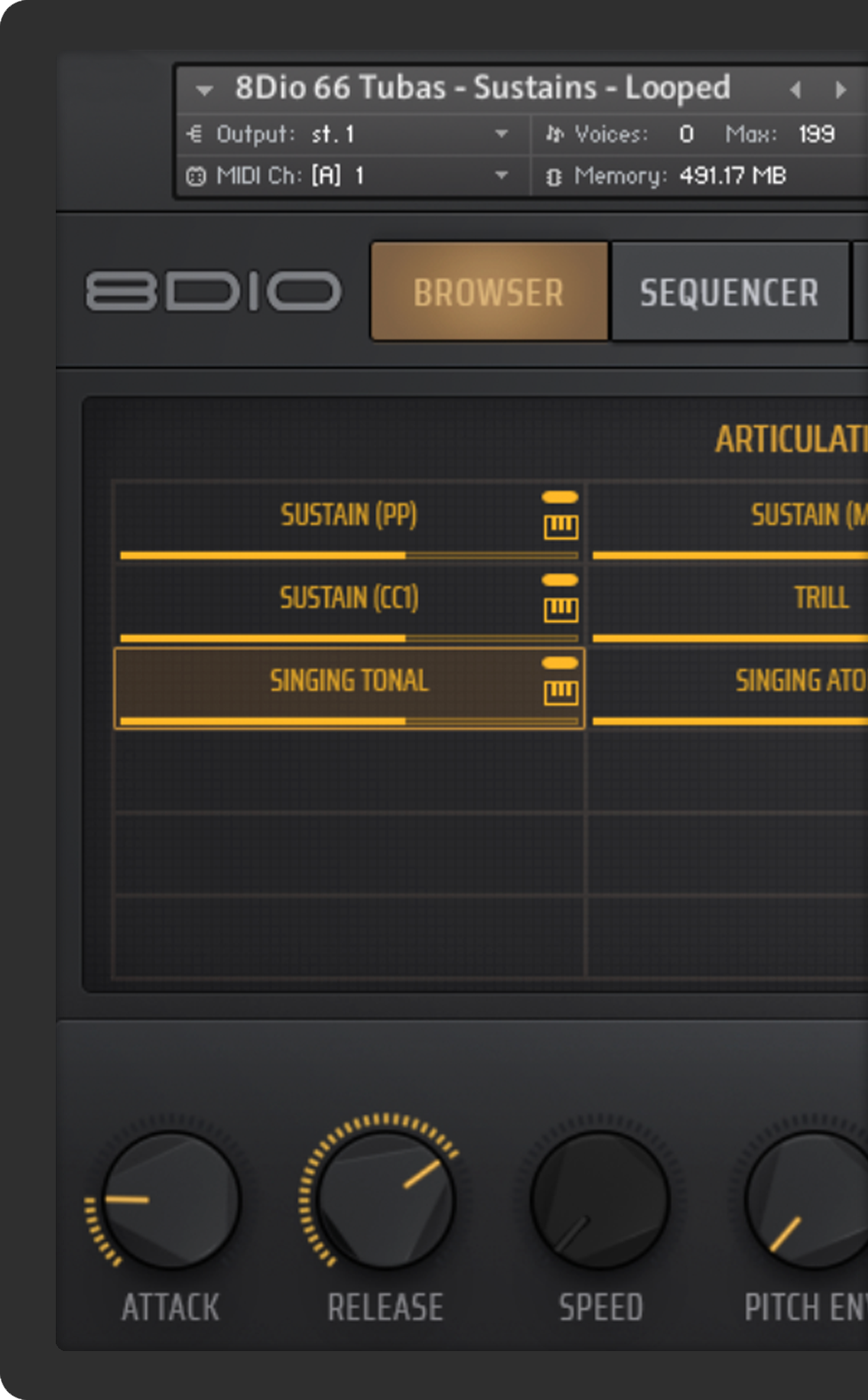 ARTS, SPECS AND REQS
Articulations:
Arcs:
Short p-mp-p
Short p-f-p
Short p-ff-p
Short (CC1)
Short f-p-f
Short f-p-f
Long p-f-p
Long mp-ff-mp
Long (CC1)
Long f-p-f
Bends:
Bend half-tone down
Bend half-tone up
Rips octave up
Bend whole-tone down
Bend whole-tone up
Rips octave down
Legato:
Sustain (CC1)
Sustain Looped (CC1)
Marcato
Trill
Trill Looped
Flutter Tongue (CC1)
Flutter Tongue Looped (CC1)
SFX:
Cluster Rips
Cluster Waves
Cluster Waves Loops
Whale SFX
Cluster Sustains
Cluster Sustains Loops
Cluster Growls
Cluster Growls Loops
Short Notes:
Spiccato
Rhythmic Hits
Legato:
Sustain (CC1)
Sustain Looped (CC1)
Marcato
Trill
Trill Looped
Flutter Tongue (CC1)
Flutter Tongue looped (CC1)
Sustains:
Sustains (pp)
Sustain (mf)
Sustain (ff)
Sustain (CC1)
Trill
Flutter Tongue (CC1)
Crescendo
Decrescendo
Marcato
Crescendo Slow
Decrescendo slow
Double Attack Sforzando
Singing Tonal
Singing Atonal
Sustains looped:
Sustain (pp)
Sustain (mf)
Sustain (ff)
Sustain (CC1)
Trill
Flutter Tongue (CC1)
Singing Tonal
Singing Atonal
Microphone Positions:
Mix
Decca
Wide
Far
Trailer Mix
Spot 1 Independent Position
Spot 2 Independent Position
Spot 3 Independent Position
Spot 4 Independent Position
Spot 5 Independent Position
Requirements:
Full Retail version of Kontakt 5.8.1 required
Not compatible with free Kontakt Player
Minimum: Intel Core i5 or equivalent CPU. 8 GB of RAM or more is highly recommended. For TMPro Patches, i7 or equivalent is highly recommended.
66-Tubas requires 9.1GB of Hard Drive Space
8 GB of RAM or more is highly recommended
Sample resolution: 48Khz / 24Bit stereo .wav, .ncw format