Liberis Choir
Kontakt VST / AU / AAX

45-Piece, Award-Winning Children's Choir
11,832 Samples / 7.84GB
3 Microphones Positions (5.1) (Close, Mid, Far)
True Layered Legato including Portamento
Sustains, Staccato, Marcato
50 Multi-Vowel Phrases (Slow and Fast)
3 Solo Singers (1 Male, 2 Female)
1,000+ Choral Effects
Delivered by Download
Kontakt 5.8.1

 

Full Retail

 

(or later) Required
READ MORE
READ LESS
Angelic Children's Choir

Liberis is our new-generation choir library, featuring the professional 45-Piece, Award-Winning Piedmont's Children's Choir, led by choral conductor Bob Geary. The library represents the most accurate and detailed deep-sampled Children's Choir on the market, including the Full Ensemble Choir and 3 Deep-Sampled Soloists.

In addition to True Layered Legato, which includes both normal and portamento legato based on velocity, the library contains a deep section of over 28 Multi-Vowels for the Ensemble and 22 Multi-Vowels for the 3 soloists. We also included an unrivaled effects section with over 1,000 effects ranging from basic consonants/vowels, clusters, sweeps, whispers, shouts, chirps, children's songss, claps, snaps, and more.

Liberis was exclusively recorded with large arrays of Neumann Microphones in the same A-Frame Shaped Church we used for our Adagio, Agitato, Adagietto, and Anthology String Series. The library includes three distinct microphone (5.1) positions including Close, Middle and Room/Far. Everything was recorded in pristine 24-Bit using some of the best pre-amps and recording devices in existence.

The library also comes in a highly intuitive and playable User Interface, allowing you to freely switch between articulations without loading additional patches. We created additional controls like Amp Env, Pitch Env, and the ability to rhythmically pulse between articulations. We also added new Front-Faced effects, including different filter options, BPM-synced gate, Stereo-Delays, Compression, Textural Convolutions, Experimental Convolutions, and a large set of custom Reverb impulses from our private sample catalog. You can put the choir anywhere you want!

True Layered Legato
Liberis contains a gorgeous, deep-sampled selection of true layered legatos, which are completely smooth and life-like. With layered legato, different types of legatos are triggered depending on how hard you play the keys. Playing softly triggers slurred and portamento-like legatos, while playing hard triggers faster and stronger legatos.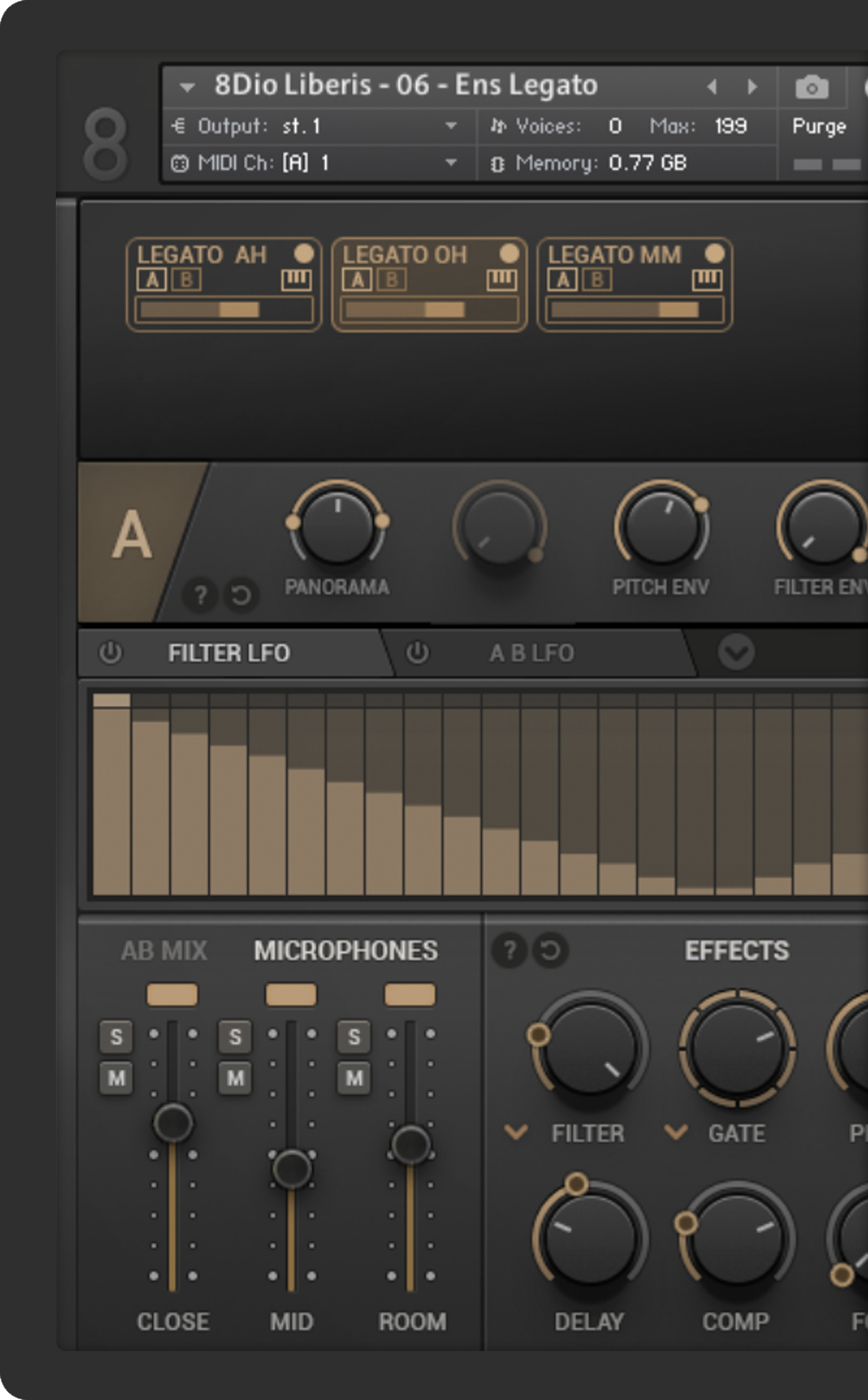 Liberis Soloists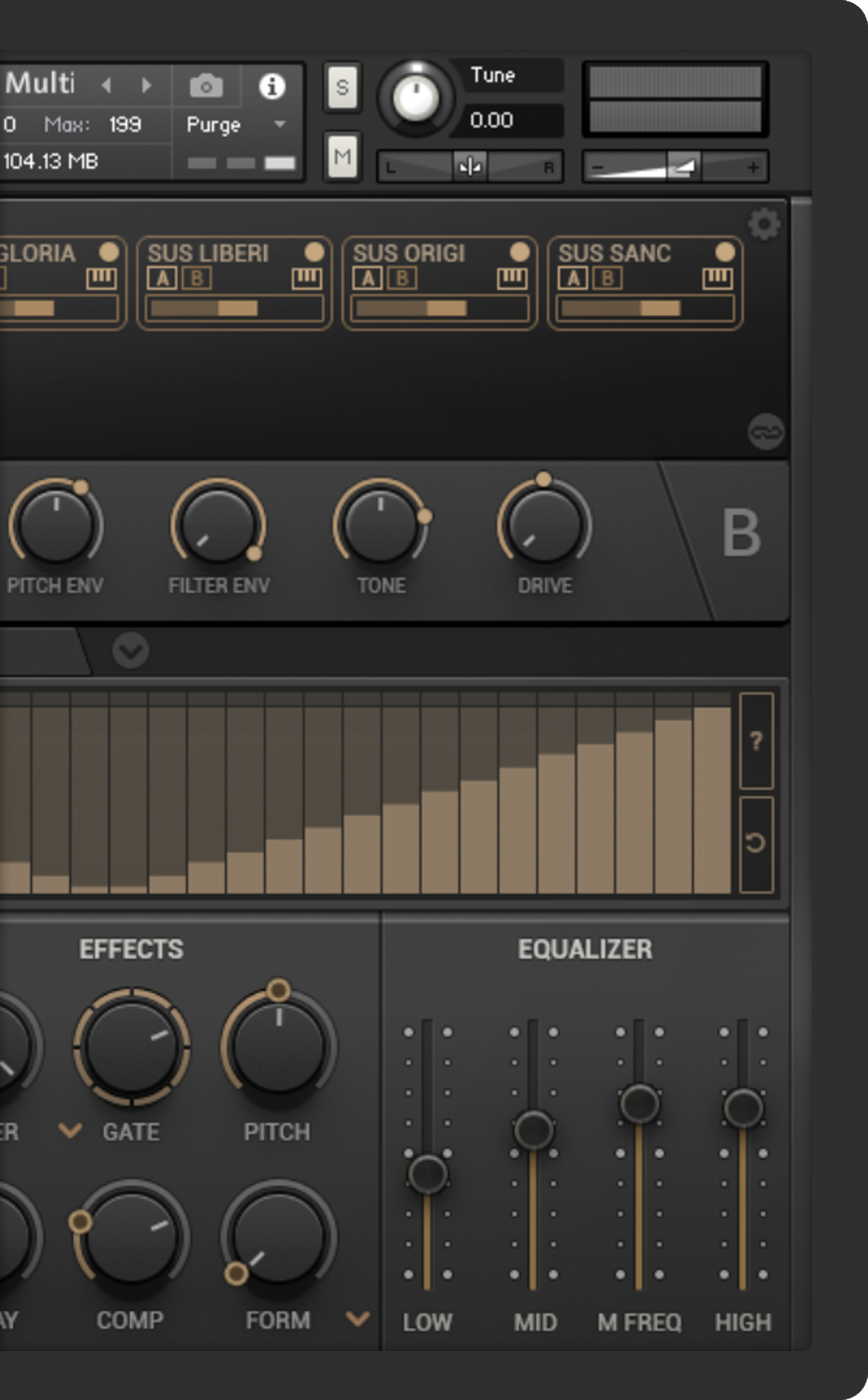 Liberis contains 3 different soloists: one boy and two girl soloists. All the soloists have identical articulations, including 18 Sustains and 22 different Multi-Vowels. In addition, the 3rd girl soloist also has unique true layered legato and portamento articulations.
Staccato & Marcato
Liberis contains a large collection of Staccato and Marcatos that allows you to create advanced words and phrases together. All the Staccatos and Marcatos come pre-loaded, so you can freely switch between them on your key-switches.