Majestica 2.0
240-Piece Epic Orchestra

3 Microphone Positions (Mixed, Decca & Far)
100 Piece Orchestral String Section
60 Piece Orchestral Brass Section
60 Piece Orchestral Woodwind Section
20 Piece Orchestral Percussion Section
Majestic Percussion ($30) also available in Soundpaint
25.41GB / 21,767 Samples
Kontakt 5.8.1

 

Full Retail

 

(or later) Required
Delivered by Ultra-Fast Cloud Download
READ MORE
READ LESS
The Largest Orchestra. Ever.

Majestica 2.0 is the same Majestica you know and love, but better! It has been upgraded to our new user-friendly Century UI. We have also included our Polyphonic Legato and TM Pro Arcs in this iconic library.

Majestica is the largest symphony orchestra ever sampled, containing 240 players divided into 5 sections: strings (100), brass (60), high woodwinds (30), low woodwinds (30), and percussion (20).

Derived from our exclusive V8P sample catalogue, Majestica is designed for composers and producers that desire the ultimate, unrivaled, epic symphonic sound. We spared no expense and there is nothing like this on the market.

Majestica was recorded at 96kHz in the same large, world-class orchestral hall used for exclusive V8P series and 8Dio instruments such as CAGE, AGE, and Lacrimosa Epic Choir. It includes 3 microphone positions (Mixed, Decca and Far). The UI system for Majestica was built from scratch and contains over 35,000 lines of code giving you the ultimate experience in ease, flexibility, and playability.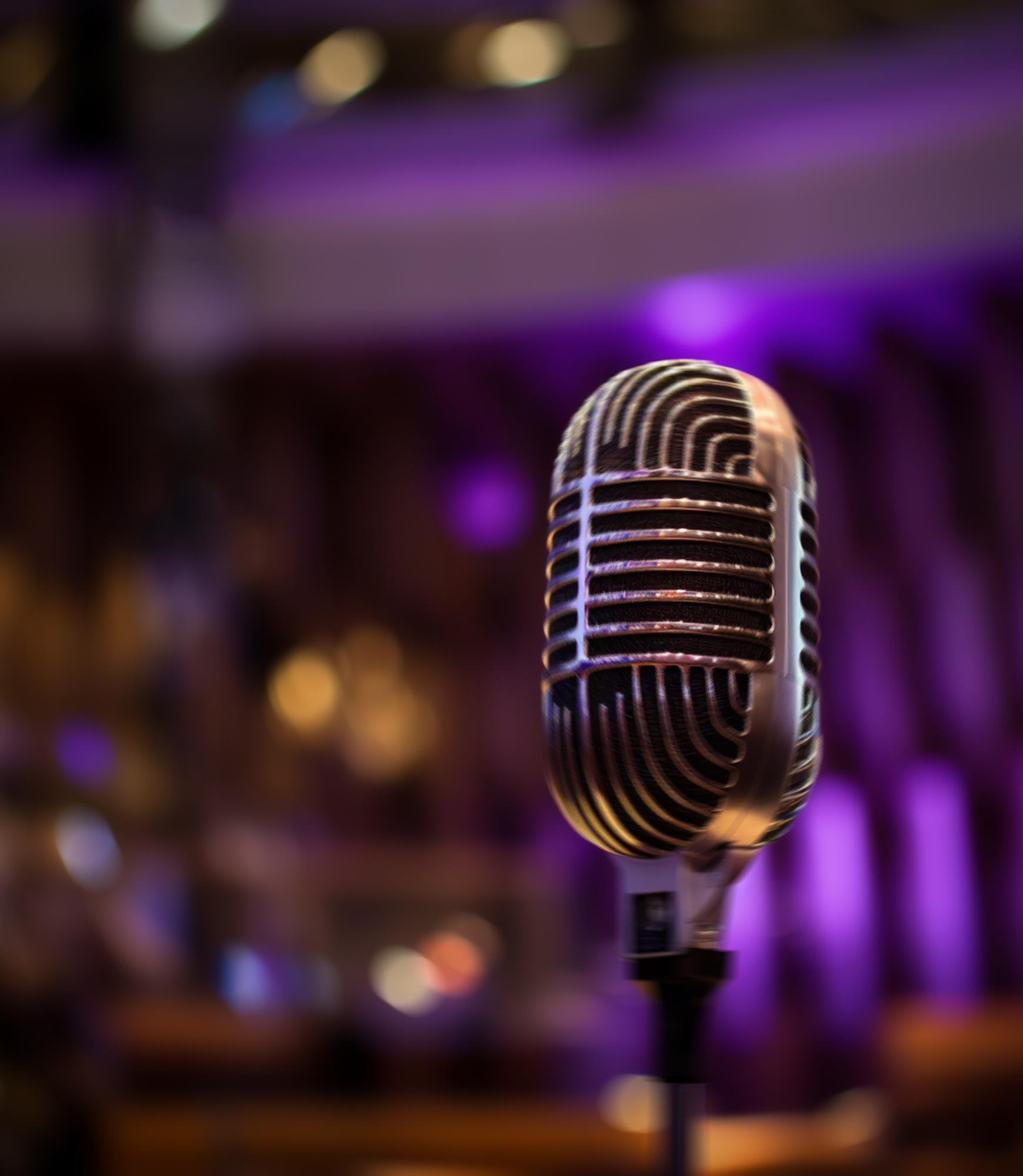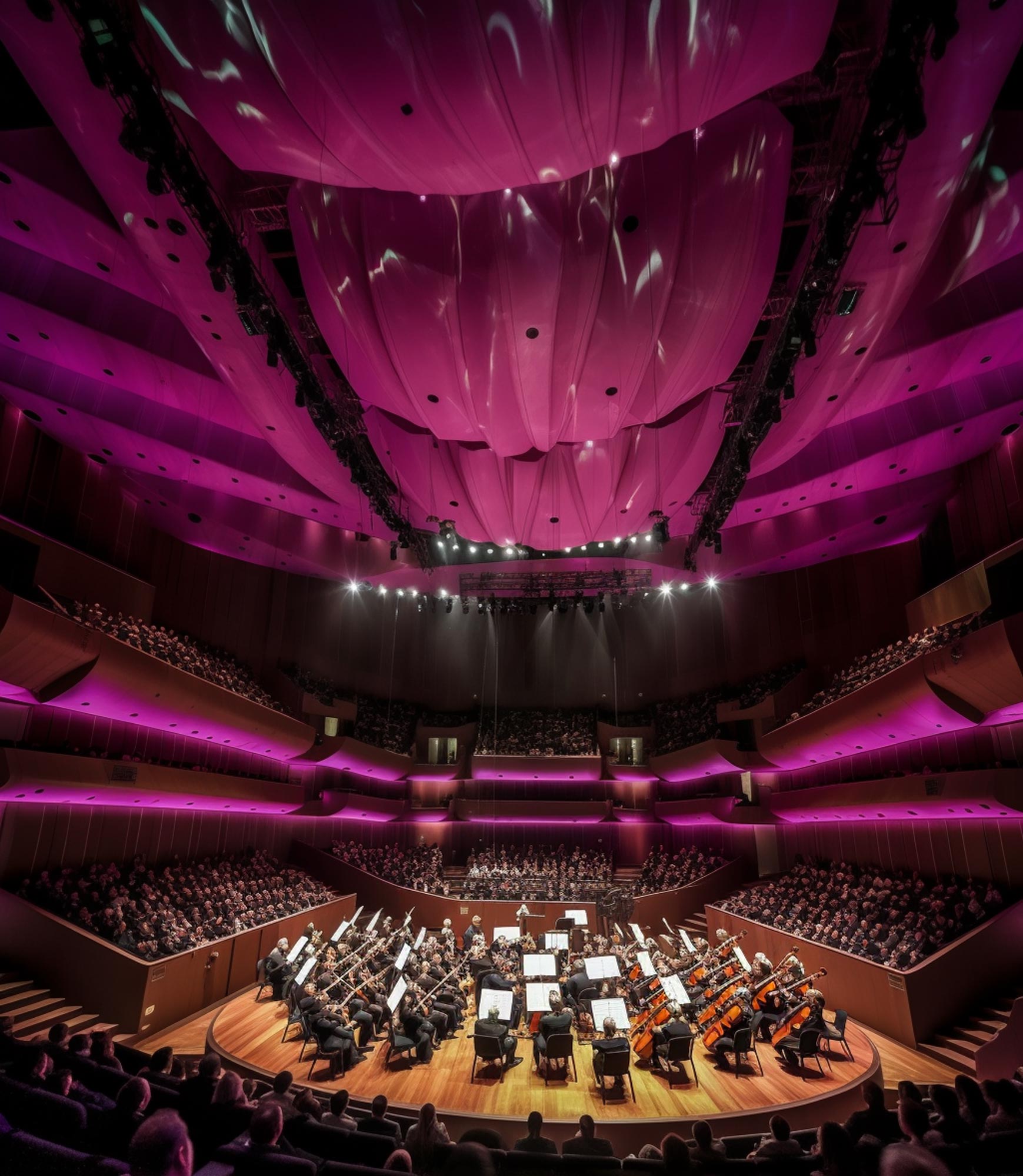 Strings and Brass
The 100-piece string ensemble contains 30 basses, 30 cellos, 20 violas, and 20 violins. The string section has natural legatos, regular and fast spiccatos, marcatos, bartok pizzicatos, col legno, expressive dynamic bowings (arcs) and more. The 60-piece brass ensemble contains 10 cimbassos, 10 bass trombones, 30 French horns, and 10 trumpets, with sustains, staccato, marcato, expressive arcs, rips, woops, bends, and other effects.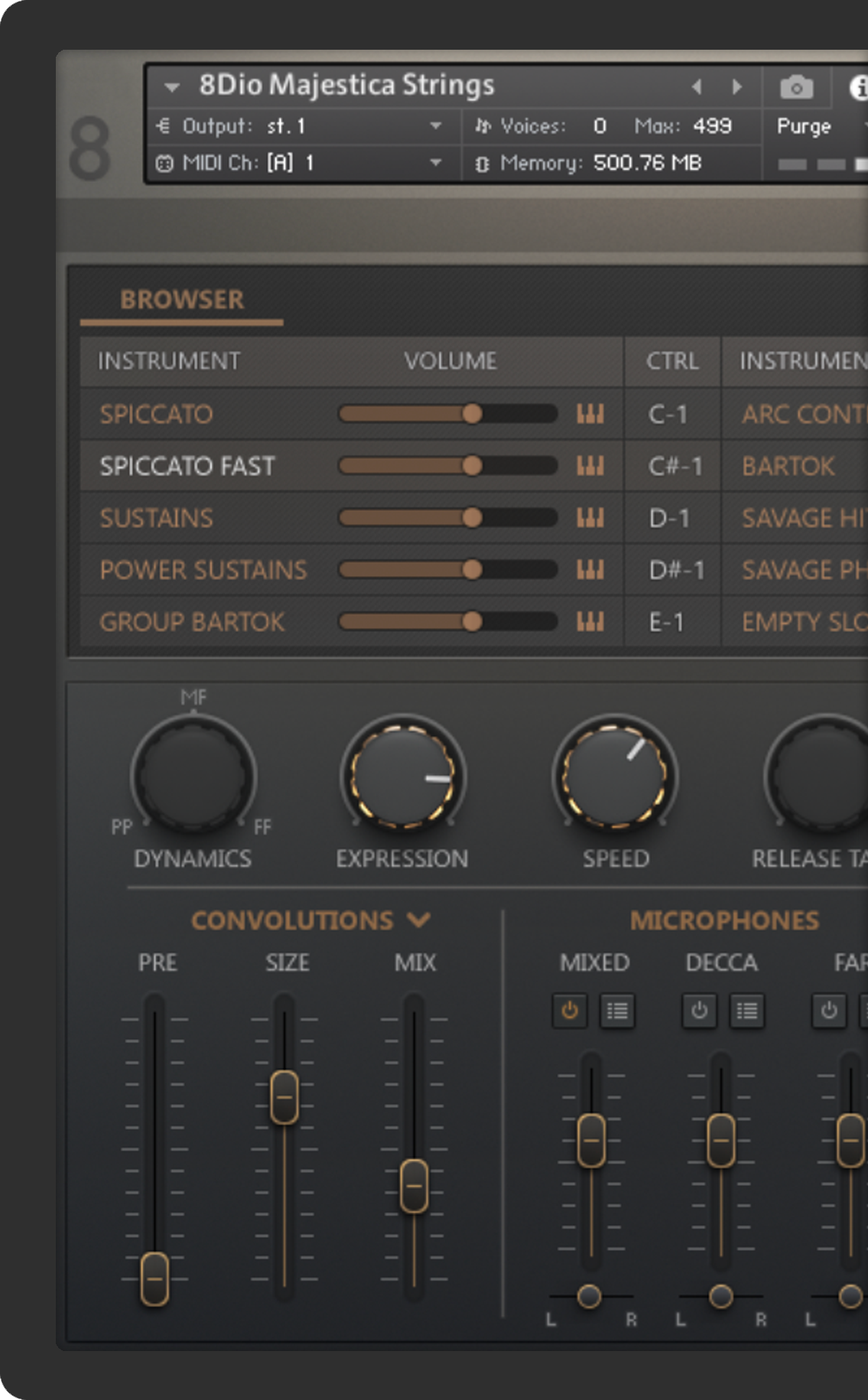 Winds and Percussion
Majestica contains two separate woodwind sections: a low woodwind section comprised of 15 bass clarinets and 15 contra bassoons, and a high woodwind section comprised of 10 alto flutes, 10 flutes, and 10 piccolo flutes. The 20-piece percussion section contains ensembles of tom-toms, gran casas, timpanis, snares, tambourines, anvils, sticks, cymbals, tam-tams and gongs.
Hyper Flexible UI
The next-gen Majestica UI contains a variety of new features, including an advanced articulation browser with assignable controls, articulation sequencer, advanced arpeggiator, and polyphonic step sequencer. With the articulation browser, you can load any articulations you want and create your own, custom patches. Individual articulation patches are also included.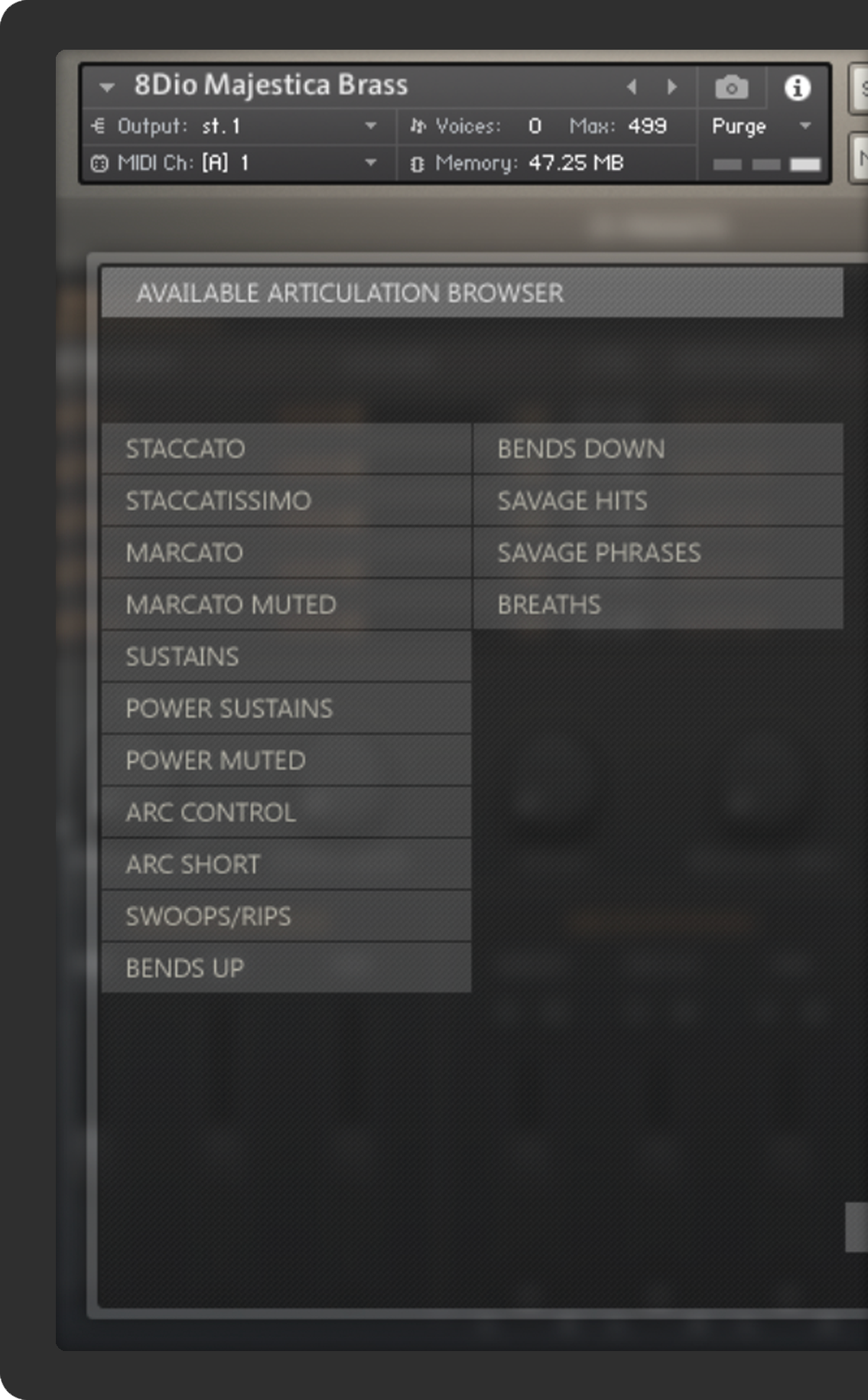 ARTS, SPECS AND REQS
Strings:
Full (100 piece) String Ensemble Legato:


Legato
Legato Med I
Legato Med II
Legato Strong
Legato Marcato




Full (100 piece) String Ensemble Sustains and Arcs:


Sustain MW XFade
Power Sustains
Dynamic Bowing / Arc P-F-P
Dynamic Bowing / Arc MP-FF-MP
Dynamic Bowing / Arc F-FFF-F
Dynamic Bowing / Arc Short MP-F-MP




Full (100 piece) String Ensemble Short Notes:


Spiccato Normal
Spiccato Fast (on bow)
Marcato
Con Legno
Bartok Pizzicato
Brass:
Full (60 piece) Brass Ensemble Sustains and Arcs:
Sustains MW XFade
Power Sustains MW XFade
Power Muted MW XFade
Arc P-MF-P
Arc -P-F-P
Arc Short

Full (60 piece)  Brass Ensemble Short Notes:
Staccato
Staccatissismo
Marcato
Muted Marcato

Full (60 piece) Brass Ensemble Effects
Swoops/Rips
Bends Up
Bends Down
Savage Hits
Savage Phrases
Breaths
Woodwinds:
Full (30 piece) High Woodwind Ensemble Sustains and Arcs:
Sustains
Power Sustains
Arc P-F-P
Arc F-FF-F
Flutter Tongue
Minor Trills
Major Trills

Full (30 piece) High Woodwind Ensemble Short Notes:
Staccatissimo
Double Tongue
Marcato

Full (30 piece) Low Woodwind Ensemble Sustains and Arcs:
Sustain MW XFade
Power Sustains XFade
Arc P-MF-P
Arc MF-F-MF

Full (30 piece) Low Woodwind Ensemble Short Notes:
Staccatissimo
Double Tongue
Slap Notes
Marcato

Full (30 piece) Low Woodwind Ensemble FX:
Savage Phrases Up
Savage Phrases Down
Percussion:
Full (20 piece) Low Percussion Ensemble:
Tom Tom Ensemble
Gran Casa Ensemble
Timpani Hits Ensemble
Timpani Rolls Ensemble
Timpani Crescendo Ensemble
Full (20 piece) High Percussion Ensemble:
Small Snare Ensemble
Large Snare Ensemble
Tambourine Ensemble
Anvils Ensemble
Sticks / Slaps Ensemble
Full (20 piece) Cymbals Percussion Ensemble:
Cymbals Ensemble
Cymbal Scratches Ensemble
Tam Tam Ensemble
Small Gongs Ensemble
Large Gongs Ensemble
Master Percussion Ensemble (all ensembles in one mega-patch)
Requirements:
Full Retail version of Kontakt 5.8.1 or later required
Not compatible with Free Kontakt Player
25.41GB
PC 2.4GZ+, 8GB ram
MAC 2.6Ghz, 8GB ram