Rhythmic Revolution
Kontakt VST / AU / AAX
7.1GB
Quadro-Engine w/ 4 parallel convolution systems
Rhythms w/ Drums, Percussion and Ethnic Percussion
Rhythms w/ Plants, Air and Body Percussion
Rhythms w/ Metallic Objects, Water and Plastic
4,000+ Organic Rhythm Samples
Instant Sample- and Effects Randomizer
Instant Front-Faced Effects
Delivered by Download
Kontakt 5.8.1

 

Full Retail

 

(or later) Required
READ MORE
READ LESS
Instant Modular Rhythms

Rhythmic Revolution is an advanced instrument capable of creating an eternity of new and inspiring materials. Whether you want a Birdman-like drum groove or the grittiest of sound designs, it can be used as a phenomenal tool for filmic action grooves or the most floating and ambient sounds. We see it as the world's most extreme adaptive sample randomizer. Designed to surprise you and be controlled when needed, everything is fully synced to your host tempo.

The heart of Rhythmic Revolution revolves around two different worlds of sounds: the conventional world of drums and percussion, and an unconventional world of custom instruments and extreme sound designs.

Rhythmic Revolution contains a completely new Quadro-Engine with four parallel modular systems. Each module has its own sample pool, its own effects systems, and its own convolution impulses. In addition, it contains over 300 hand-crafted Textural Convolutions that create a textural delay. You can also reverse anything you want with a single click. We also included our newest Chaos FX 3.3 and a brand new panorama architecture that allows individual tuning and panning of each layer.

Rhythmic Revolution contains over 15 GB of content (compressed to 7.1GB) created by Prof. Mario Bajardi, using a complicated chained setup that includes a full KYMA system and the ability to physically draw waveforms in real-time.

Quadro-Engine
Rhythmic Revolution is centered around our new Quadro-Engine. This four-part modular system offers you the ability to control four individual rhythm sections, four convolution reverbs, and four FX systems together at the same time. Each of the four modules can be triggered independently or blended together using a step-based crossfade sequencer. The four convolution reverbs contain hundreds and hundreds of experimental convolution reverbs.
Organic BPM Synced Samples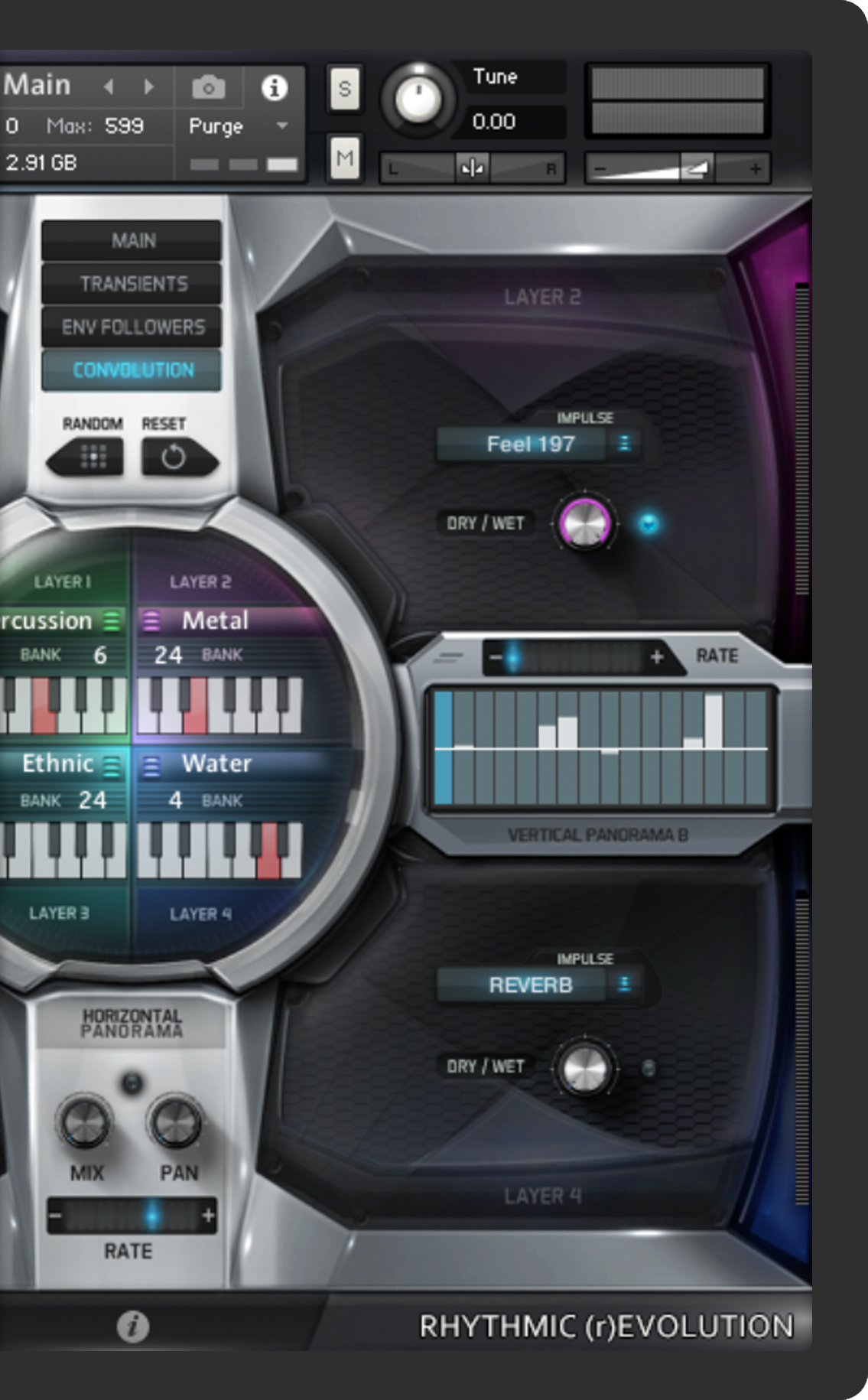 Rhythmic Revolution contains over 4,000 BPM-synced organic samples recorded by Professor Mario Bajardi and Acclaimed Percussionist Nino Errera. The library contains 9 main groups of sounds: Drum Kit, Percussion, Ethnic Percussion, Body Percussion, Metallic Objects, Air, Water, Plants and Plastic.
Textural Convolutions
Rhythmic Revolution contains 4 parallel convolution engines pumped with hundreds of textural convolution impulses. The idea is to use non-conventional impulses to augment the existing sound, so you get extra, unique texture. We hand-crafted over 300 new impulses for the Rhythmic Revolution.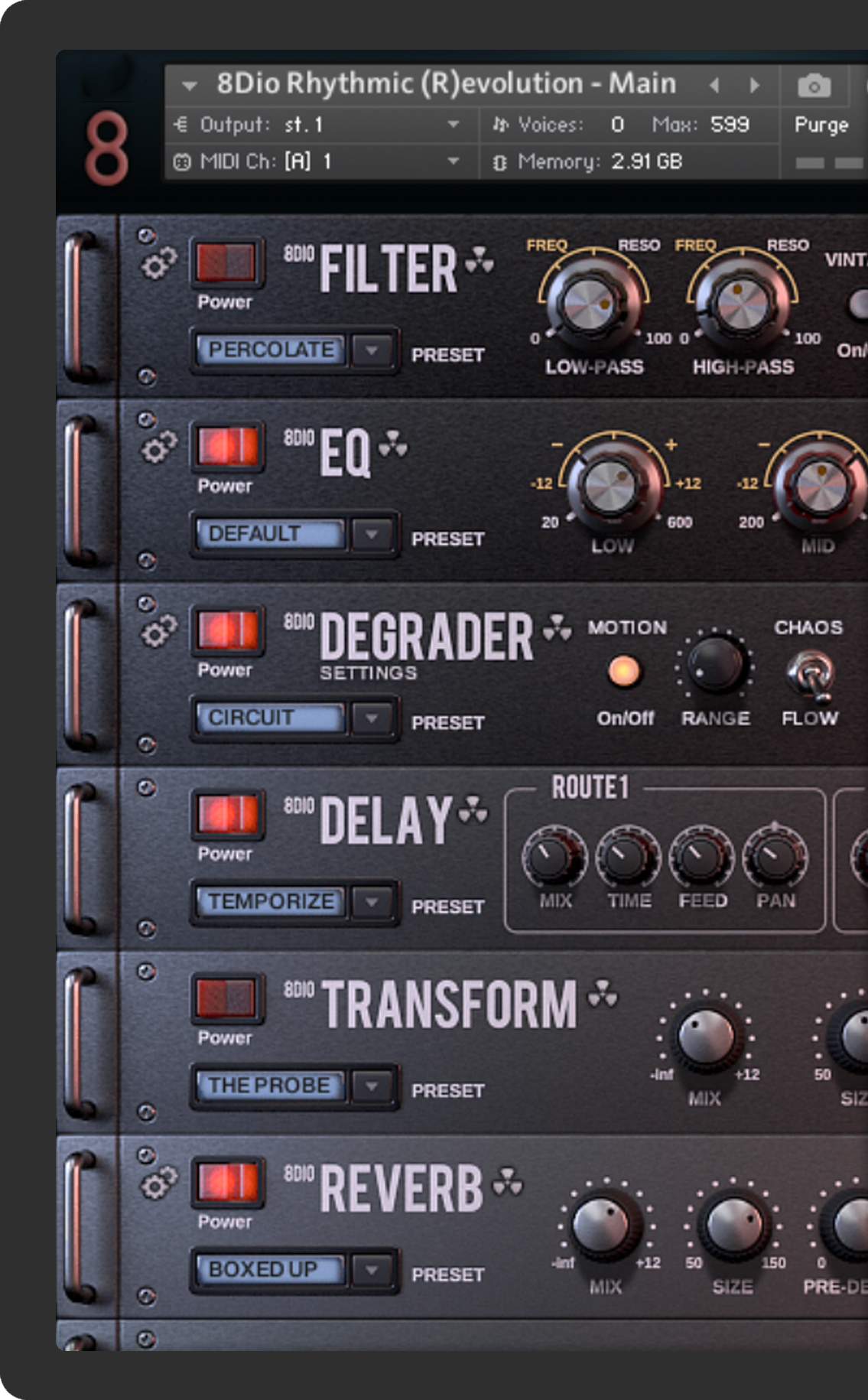 ARTS, SPECS AND REQS
Specifications:
Advanced Groove Architecture w/ BPM Sync
Quadro-Engine with Four Parallel Modules
Four Parallel FX Systems. Global FX and Chaos FX 3.3
Four Parallel Convolution FX Systems
300 New Textural Convolutions (Tempo-Synced to DAW)
Ability to create an entire instrument with a single click
Ability to construct your own grooves from ground-up
Ability to RANDOMIZE all modular FX with a single click
Ability to Pulse and Pan each layer using PANORAMA system
Instant Reverse Option on all modules
Requirements:
Full Retail version of Kontakt 5.8.1 or later required
Not compatible with free Kontakt Player
Rhythmic Revolution requires 7.1GB of hard drive space
Minimum: Mac OS X® 10.4 / 10.5, G5 2.4 GHz or Intel Core Duo 2.00 GHz, 8 GB RAM or Windows® XP (32 Bit) or Windows Vista® (32/64 Bit), Pentium® or Athlon XP 2.0 GHz, 8 GB RAM. 8 GB of RAM or more is highly recommended
Sample resolution: 44.1Khz / 24Bit stereo