Songwriting Guitar
Acoustic and Electric Guitar Strums and Licks

Direct download / Cloud Server System
Delivered by Download
Acoustic Guitar Strums (Major/Minor)
Electric (clean) Guitar Strums (Major/Minor)
Electric (distorted) Guitar Strums (Major/Minor)
Electric (clean/distorted) Solo licks (Major/Minor)
Host-Tempo Synchronization
1.31GB
Kontakt 5.8.1

 

Full Retail

 

(or later) Required
READ MORE
READ LESS
All the Chords You Need

Ever thought about making a song like Coldplay, Oasis or Tracy Chapman? Look no further! The Songwriting Guitar is a sample tool made for songwriters, composers and producers who need instant and authentic guitar strums and licks. We analyzed a variety of top 40 rock and pop songs and identified the most common major and minor chord progressions.

The Songwriting Guitar contains all the essential chords needed to sketch down or build an entire song. The library contains three different types of guitars (acoustic, electric clean, and electric distorted) played in the four most common rhythms used for song writing. All you have to do is to hold down a single key (ex. C) and the tool will play the songwriting chord related to the key. The library fully follows the tempo of your host sequencer and has a variety of built-in effects (ex. delay, lofi, distortion, flanger, phaser, cabinet) that can be triggered instantly from your keyboard.

Songwriting Made Easy
Songwriting Guitar contains chords and licks for fundamental songwriting. Whether you want Acoustic Guitar, Electric (Clean) Guitar, or Electric (Distorted) Guitar, its right there. Everything is fully host-synchronized. We recorded major and minor chords in all 12 keys, so you can get rolling right away.
Easy Controls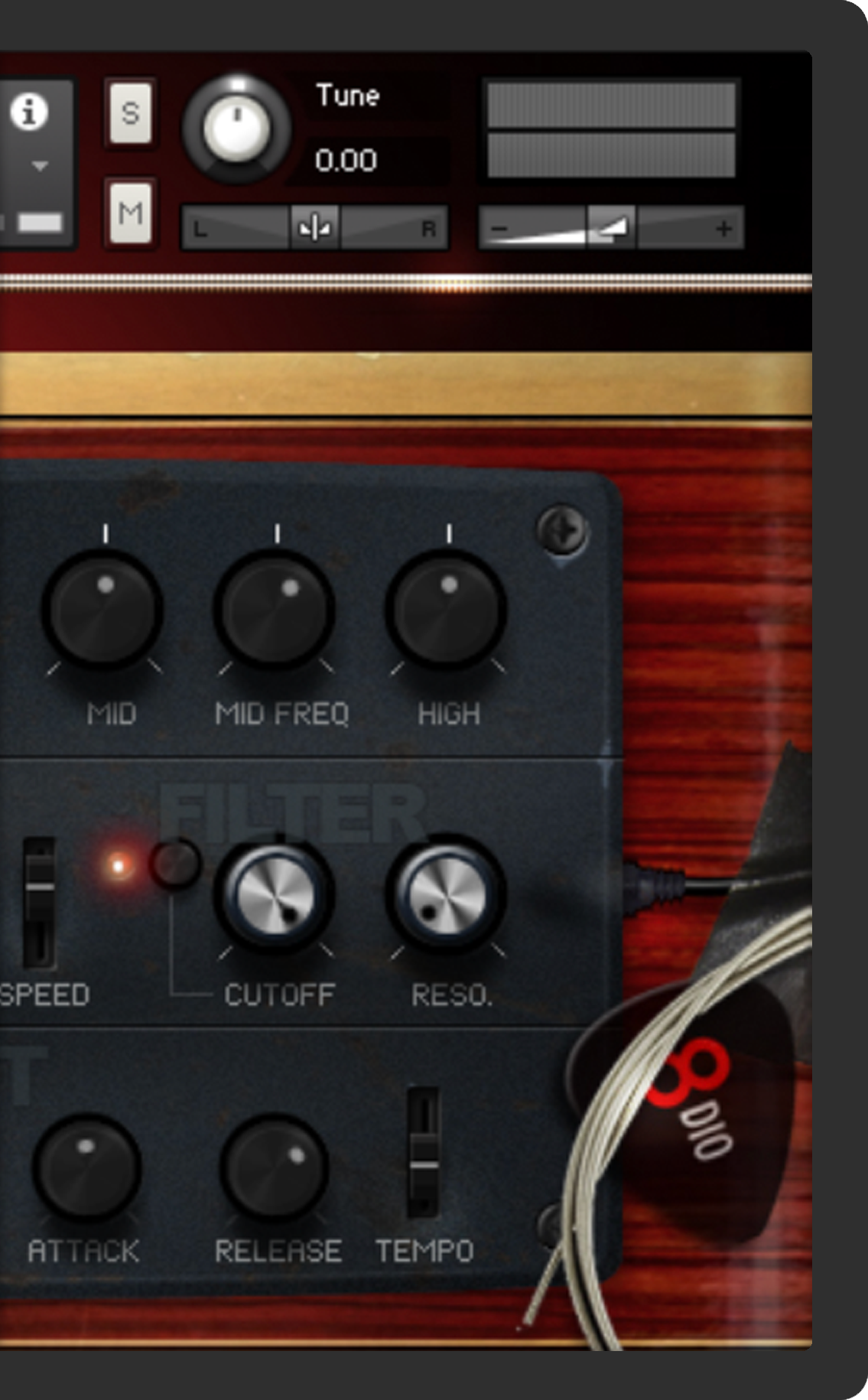 Songwriting Guitar is all about ease and playability. We created a super flexible and easy-to-use interface. We even added an animated smiley face to the user-interface, so you can always see what emotional direction you are going in. You can choose between three different guitars, isolated or mixed together.
Easy Effects
Songwriting Guitar also contains a massive number of real-time effects that can be triggered via key-switches. This allows you to turn on and off the effects in real-time and use them on top of the guitar. We included Bit-Crusher/LOFI, Rotator, Delay, Reverb, Screamer, Distortion, Phase, Flanger, Cabinet, and a large set of custom convolution reverbs.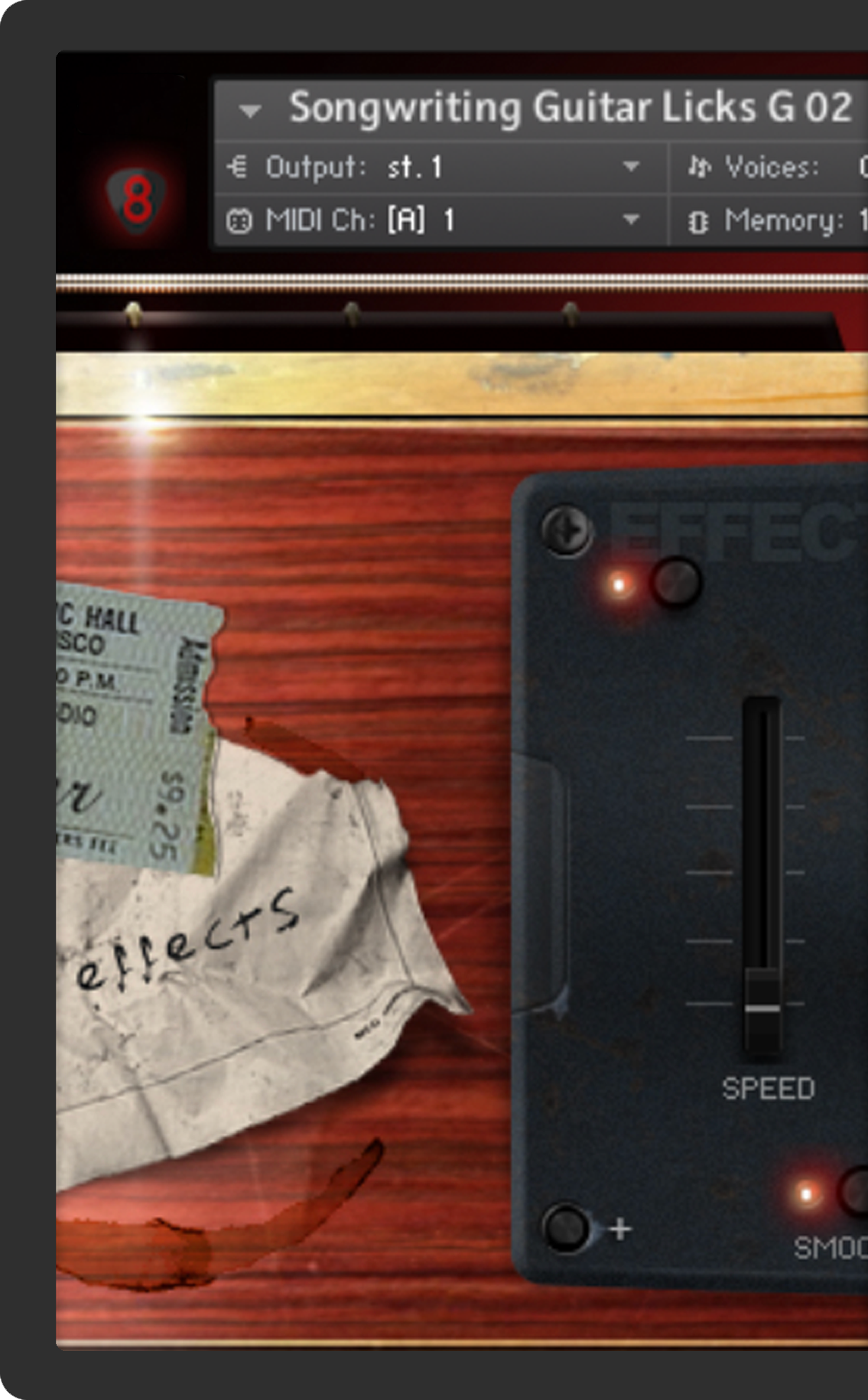 ARTS, SPECS AND REQS
Articulations:
Songwriting Guitar with authentic strums and licks (divided into major and minor)

Acoustic Guitar Strums
Electric (clean) Guitar Strums
Electric (distorted) Guitar Strums
Electric (clean / distorted) Solo licks
Host-Tempo Synchronization (adjust to your sequencer tempo)

Custom convolution reverb
Modwheel control of filter
Pitch-bender control of bit-resolution
Keyboard swithes for all FX:

Flanger
Lo-fi
Rotator
Delay
Convolution
Reverb
Distortion
Phaser
Lowpass Filter
Highpass Filter
Bandpass

Individually programmed for Kontakt 5
Modwheel control of filter (by using custom template)
Specifications:
5 Kontakt .nki files for Kontakt 5 (recommended)
650+ different strums and licks
1.4 GB installed (using NCW compression format – original size 2.3GB)
Sample resolution: 44.1Khz / 24Bit stereo .NCW (Kontakt Lossless Compression)
Format(s): Kontakt
Requirements:
Full Retail version of Kontakt 5.8.1 or later or later required
Not compatible with the Free Kontakt Player
Songwriting Guitar requires 1.4 GB of hard drive space
Minimum: Mac OS X® 10.4 / 10.5, G5 2.0 GHz or Intel Core Duo 2.00 GHz, 2 GB RAM or Windows® XP (32 Bit) or Windows Vista® (32/64 Bit), Pentium® or Athlon XP 2.0 GHz, 2 GB RAM. 2 GB of RAM or more is highly recommended