Soulful Studio Trombone
3.09GB (7,219 Samples)

Deep-Sampled Soulful Solo Trombone
Created from our

 

Intimate Studio Brass
45 Articulations, including Muted Trombone
Advanced Individual Instrument Controls
True Layered Legatos, Arcs, Wealth of Shorts and Effects
Tempo Synced & BPM Measured Ostinato Articulations
Fluent Microphone Control (Near-Field to Ambient)
Delivered by Download
Kontakt 5.8.1

 

Full Retail

 

(or later) Required
READ MORE
READ LESS
The Soul of the Trombone

The 8Dio Soulful Studio Trombone sets a new milestone for flexibility and convenience. The Soulful Trombone is part of 8Dio's pro-grade line of studio orchestral instruments, featuring advanced techniques to achieve a modern, playable, and fully customizable studio sound.

With over 140 hours of session material recorded at Scotland's Premiere Recording Studio, Gorbals Sound, our Soulful Studio Brass collection utilizes the best in modern recording and isolation technologies. Bass Trombone offers peak performance capabilities while also blending seamlessly into any ensemble.

Each of the Soulful Brass instruments features a fully functional mixer, allowing you to fine-tune sound and positioning with the Distance Control, which seamlessly blends between a close, direct signal and a spacious, ambient position. Enjoy access to over 45 advanced and unique articulations, and save your favorite configurations as a custom palette of playing styles that defines your sound.

In addition to the wide range of traditional and esoteric articulations, we've also included sound-sets utilizing various mute types and inspiring sound effect-based techniques, allowing you to add interest and flair to your next composition. These are not large hall brass samples; instead, they capture the unique properties of tight, dry, and intimate studio techniques which are essential for composing in a contemporary style.

Intimate Studio Sound
The Soulful Studio Trombone blends beautifully with the other instruments in the Intimate Studio Brass collection. From the expressive and smooth layered Legatos to the hyper-realistic dynamic flowing Arcs, the Soulful Trombone offers a vast array of playing options with over 45 individually captured articulations per instrument.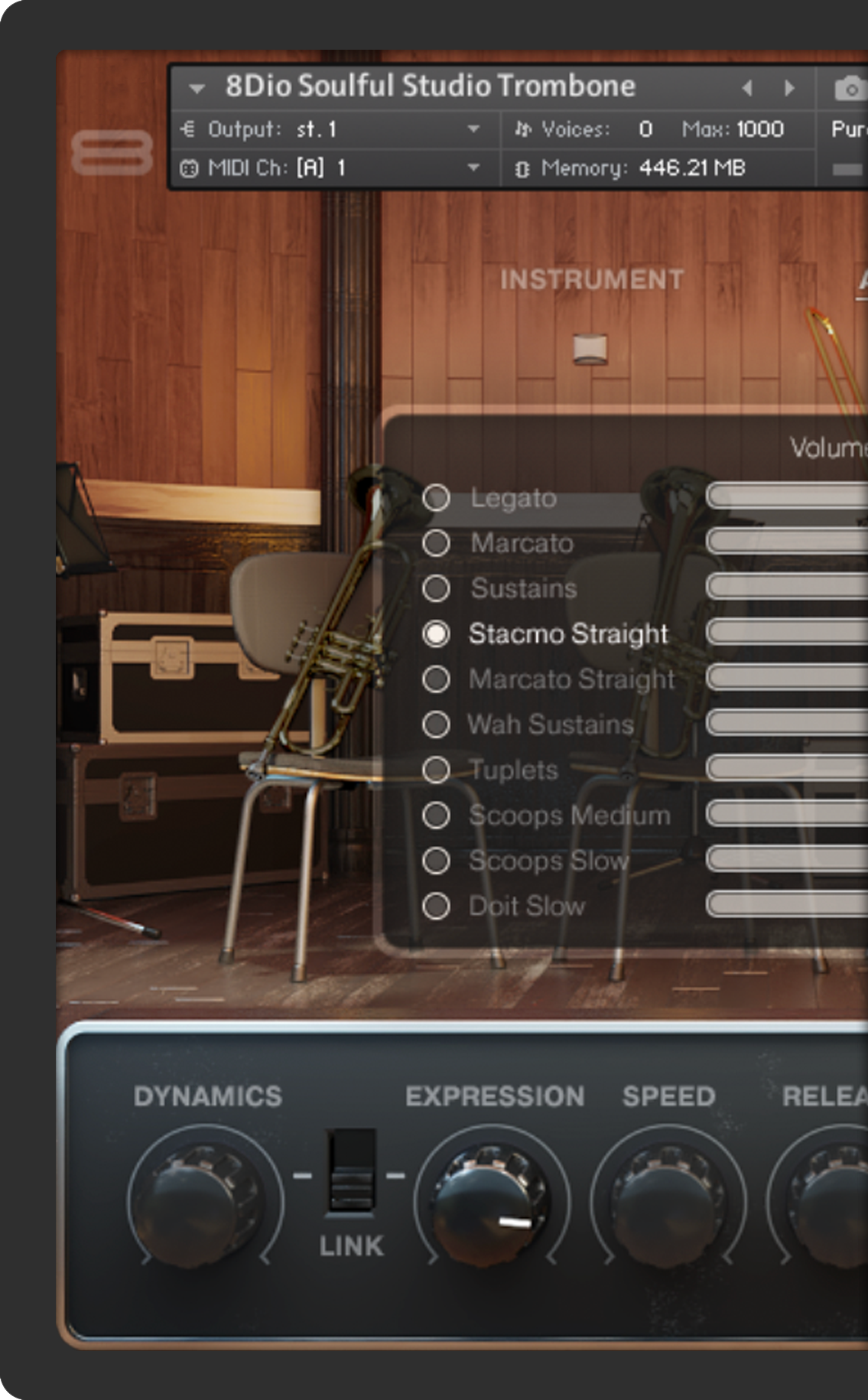 Individual Instrument Mixer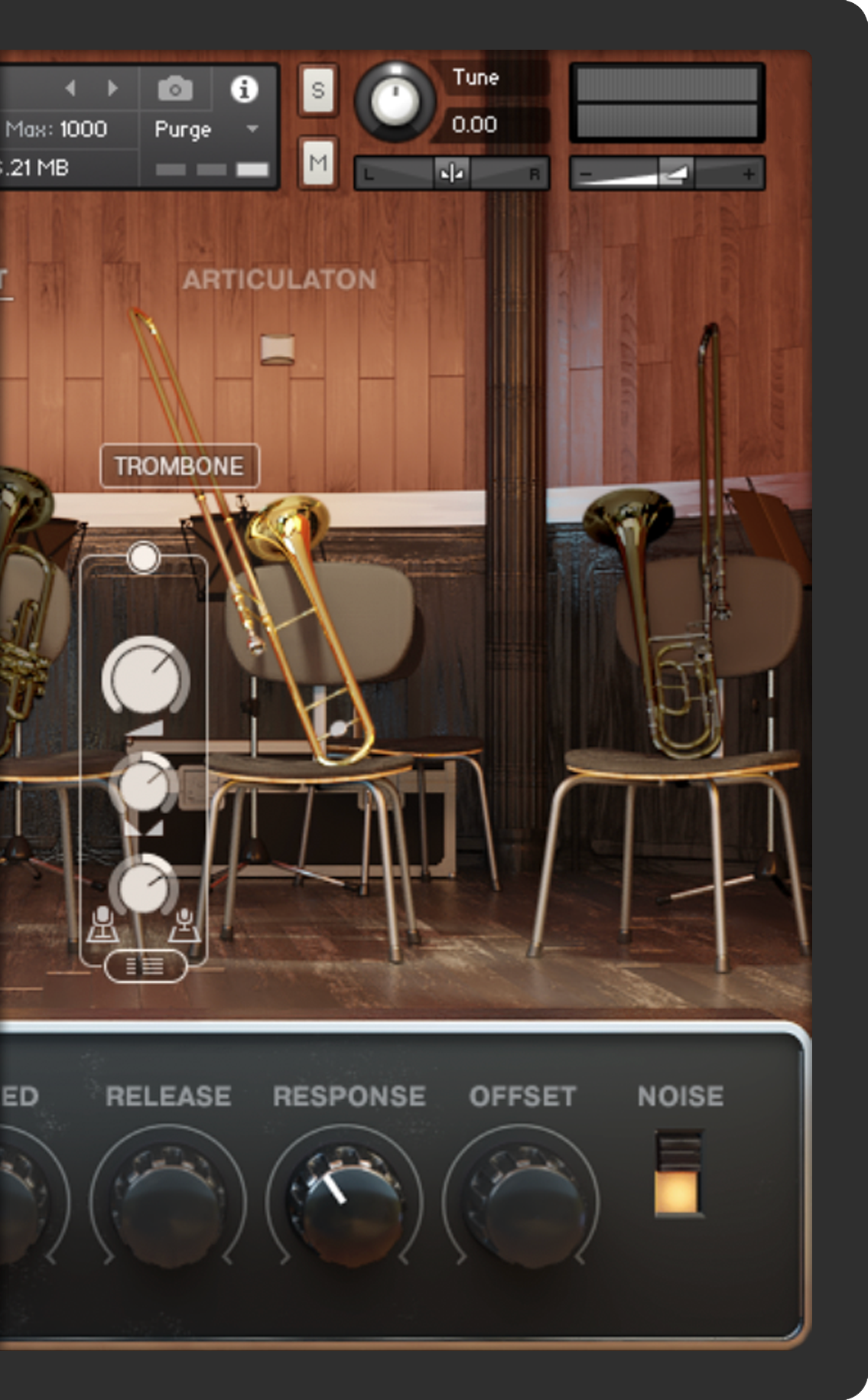 Advancing the concept of ensemble building, the Soulful Trombone gives you the ability to create your very own custom Brass section by combining it with the other instruments in the Intimate Studio Brass collection. To further customize your ensemble, we have also included the ability to adjust the overall balance, panning, and even distance of the instrument.
Intuitive Browsing
The Soulful Trombone allows you to load whichever articulations are needed for your project and save them as custom patches, with dozens of playing styles organized into four core categories: Traditional, Muted, Performance, and Effects. Everything is conveniently housed in one easy to use interface, so you can focus on making music even faster!
ARTS, SPECS AND REQS
Articulations:
Traditional:
Staccato
Staccatissimo I
Staccatissimo II
Marcato
Marcato Sforzando
Sustains
Sustains Vibrato
Legato

Muted:
Staccatissimo Straight
Staccatissimo Harmon
Marcato Straight
Marcato Harmon
Sustains Straight
Sustains Harmon
Wah Short
Wah Long
Wah Sustains

Performance:
Arc Short
Arc Medium
Arc Long
Tuplets
Triplets
Daa Da (Swing Phrase)
Da Daa Da (Swing Phrase)
Measured Tremolo
Runs 5th Slow Up
Runs 5th Slow Down
Runs 5th Fast Up
Runs 5th Fast Down
Runs Oct Slow
Runs Oct Fast

Effects:
Flutter Tongue
Scoops Slow
Scoops Medium
Scoops Fast
Doit Slow
Doit Fast
Fall Slow
Fall Fast
Disco Drop
Rips
Shakes
Shakes Long
Requirements:
Full Retail version of Kontakt 5.8.1 required
Not compatible with the free Kontakt Player
Minimum: Intel Core i5 or equivalent CPU. 8 GB of RAM or more is highly recommended. For TMPro Patches, i7 or equivalent is highly recommended.
Soulful Studio Trombone requires 3.09 GB of Hard Drive Space
Sample resolution: 48Khz / 24Bit stereo .wav, .ncw format