Supercluster
Instruments made w/ true sounds from our Universe

Also Available in Soundpaint ($20) with 127 Dynamic Layers
Kontakt VST / AU / AAX
5.18GB of Universe samples
Play Comets, Constellations, Exoplanets, Galaxy Cores
Play Suns, Nebulas, Neutron Stars, Pulsars and Quasars
Play Gravity, Rocket Engines, Andromeda, Quark Stars
Play Moon, Pluto, Mercury, IO and 100s others
10 In-house custom presets
Built-in CHAOS 4.1 Effects
Kontakt 5.8.1

 

Full Retail

 

(or later) Required
Delivered by Download
READ MORE
READ LESS
Sounds of the Universe

Imagine having all the ambient sounds from space at your fingertips. Create music with the sounds of asteroids, moons, planets, suns and nebulas. Be inspired by the musicality of cryo volcanos, background radiation, rocket engines, and exo-planets. Since the dawn of mankind, humans have looked up to the stars and wondered about the universe and everything it encompasses. Eventually, we realized how insignificant we are in the timeline of existence.

As a tribute to mankind's race to space exploration and everything it has signified for our technological growth, 8Dio has created Supercluster, a sound library of samples with a hint of sci-fi, space, and the universe.

From the darkest collisions to the most gorgeous nebulae, Supercluster is your direct path into the universe. Let yourself be immersed in the life of the universe and feel instant inspiration for new cosmic music!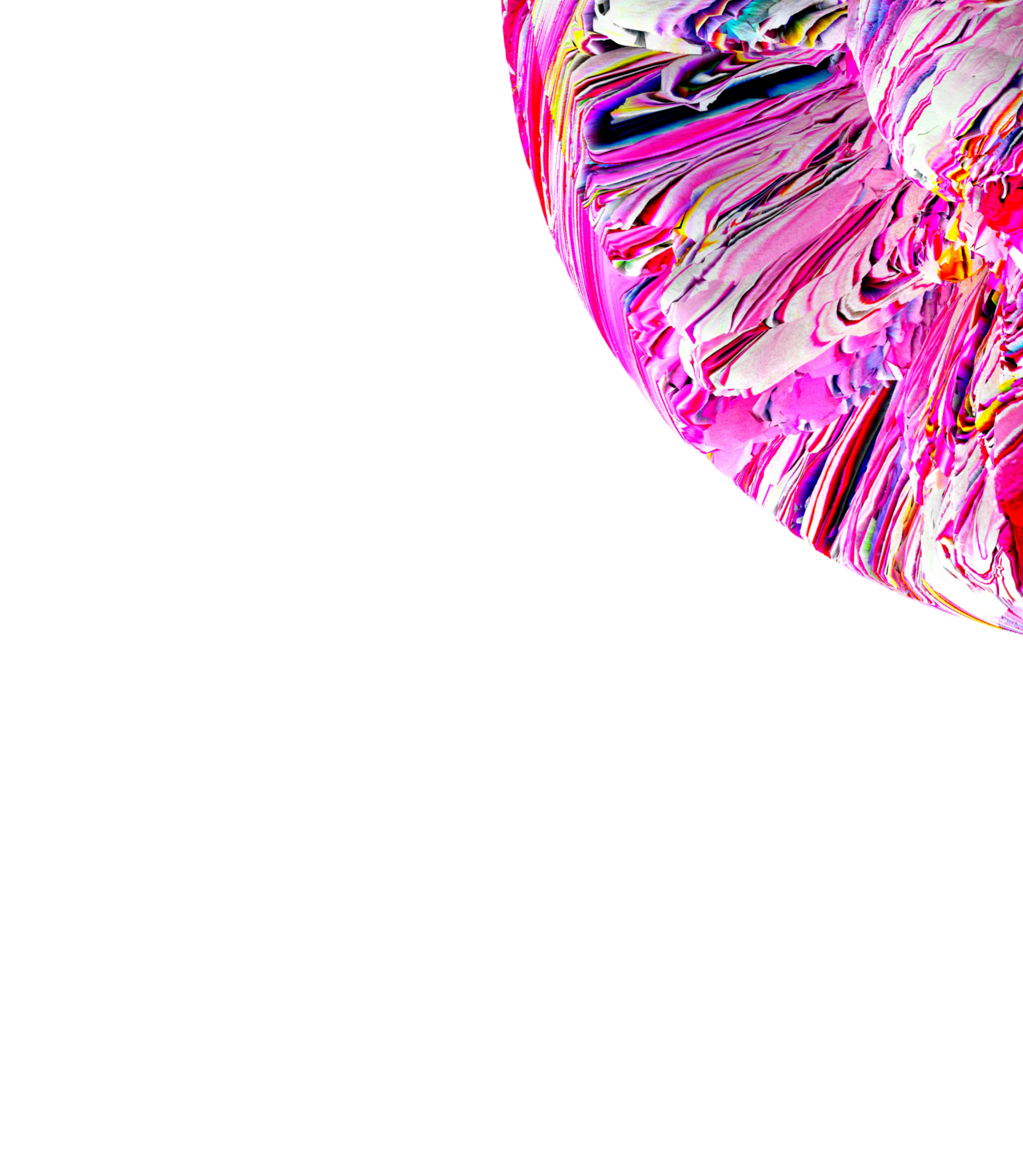 A Universe of Sounds at your fingertips
The intuitive user interface allows you to access the wealth of sounds immediately. All categorized core banks come pre-loaded in the internal browser so that you can try the ranges of sounds without any extra load time. The UI features some great front-facing effects, allowing you to combine as many banks as you want using our stack function, reverse and randomize anything with a single click. It is all simple, easy, and fast.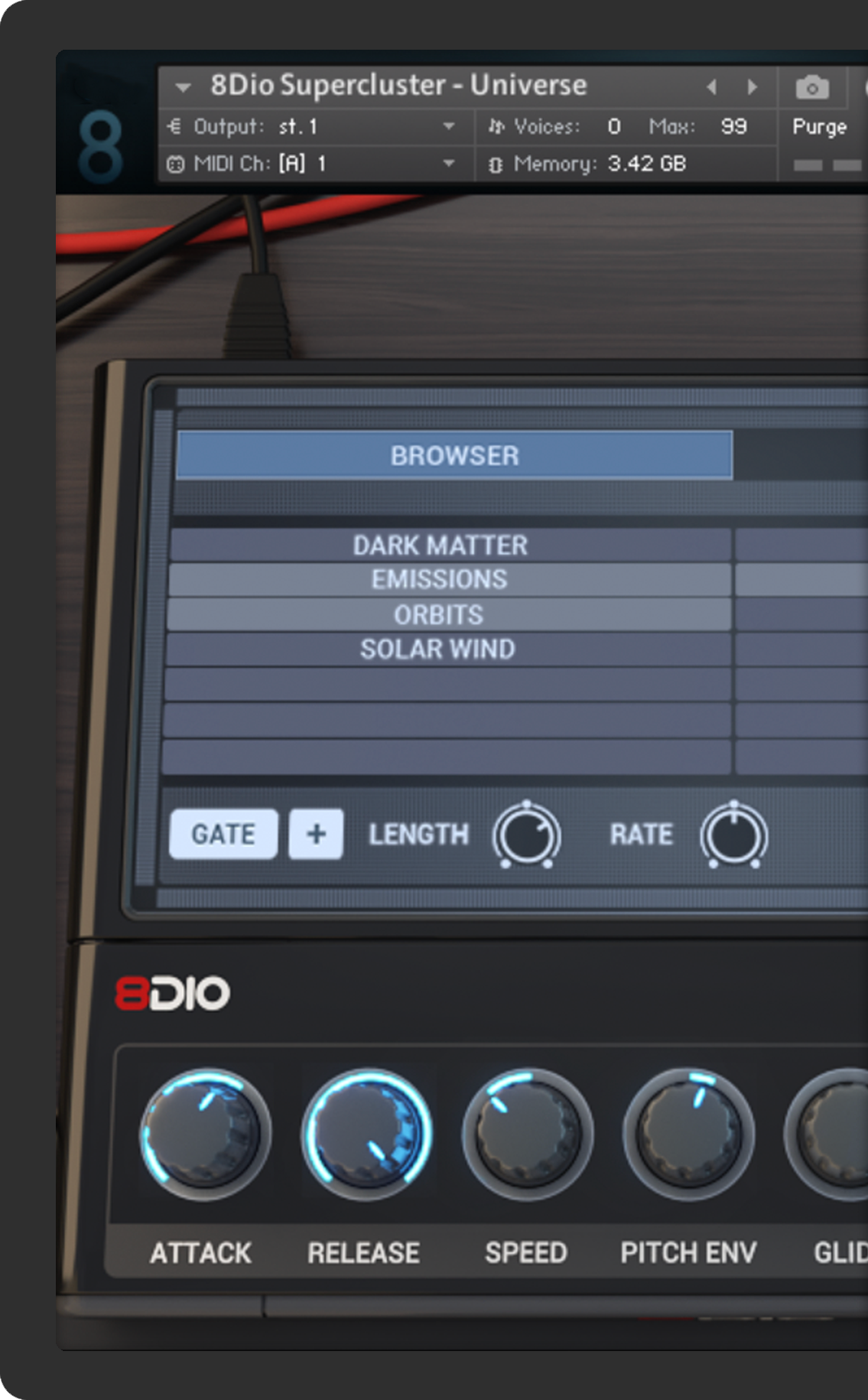 The Laws of Time are mine...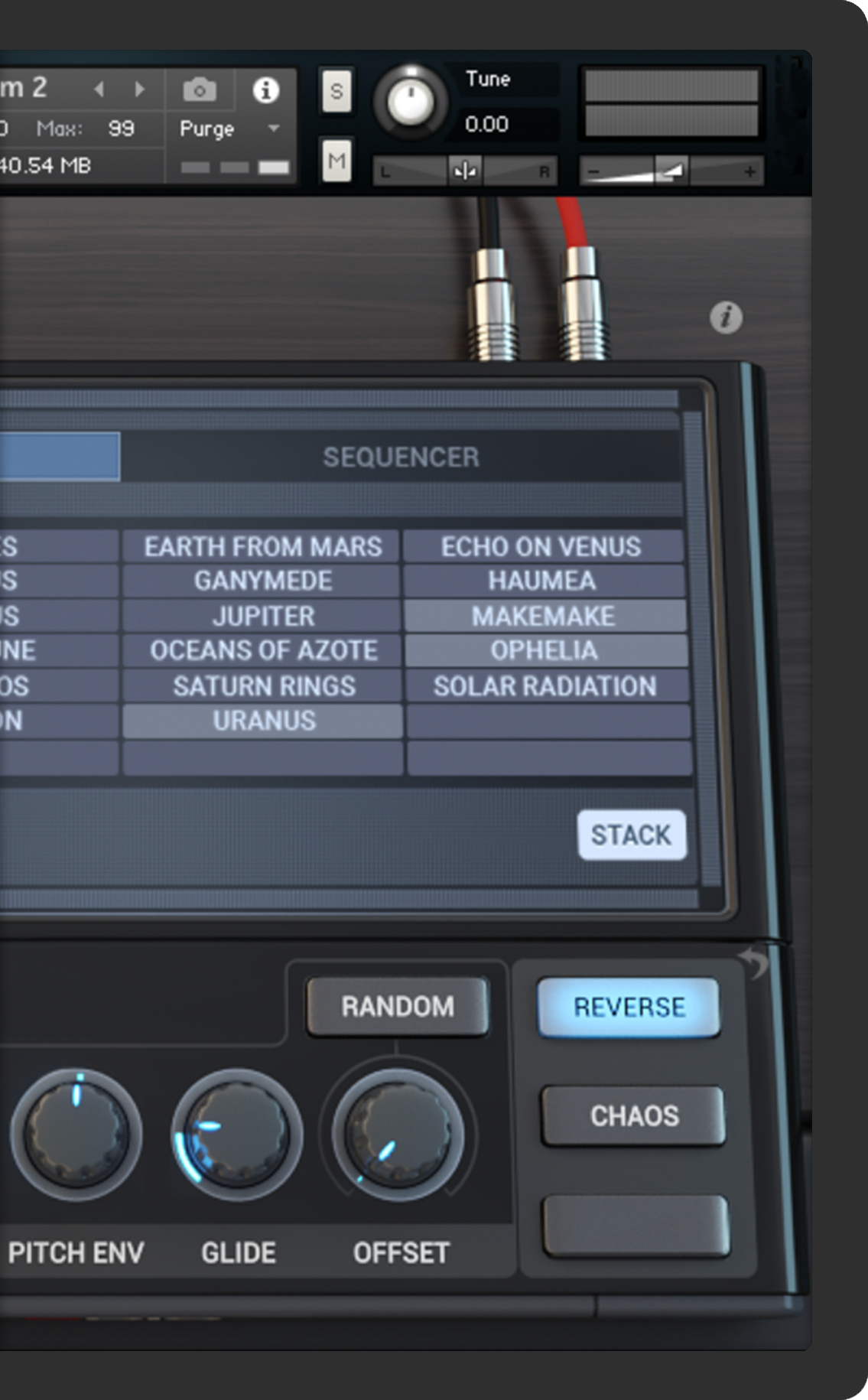 Control space-time with the ability to stretch the sample. Manipulate the Attack, Release, Speed, Pitch Envelope, Glide, and Offset. Stretch a sample over the entire keyboard with the Stretch feature. Supercluster is inspired by the exploration of space, so let exploring these sounds inspire you.
Infinite CHAOS
Supercluster features our newest Chaos FX system, which gives you an infinite resource of FX. You can create a step-based filter sequence, precision dial EQ, bit-crush & distortion, stereo-delay, or play with dual convolution reverbs, with our latest range of Impulse Responses and Textural convolutions.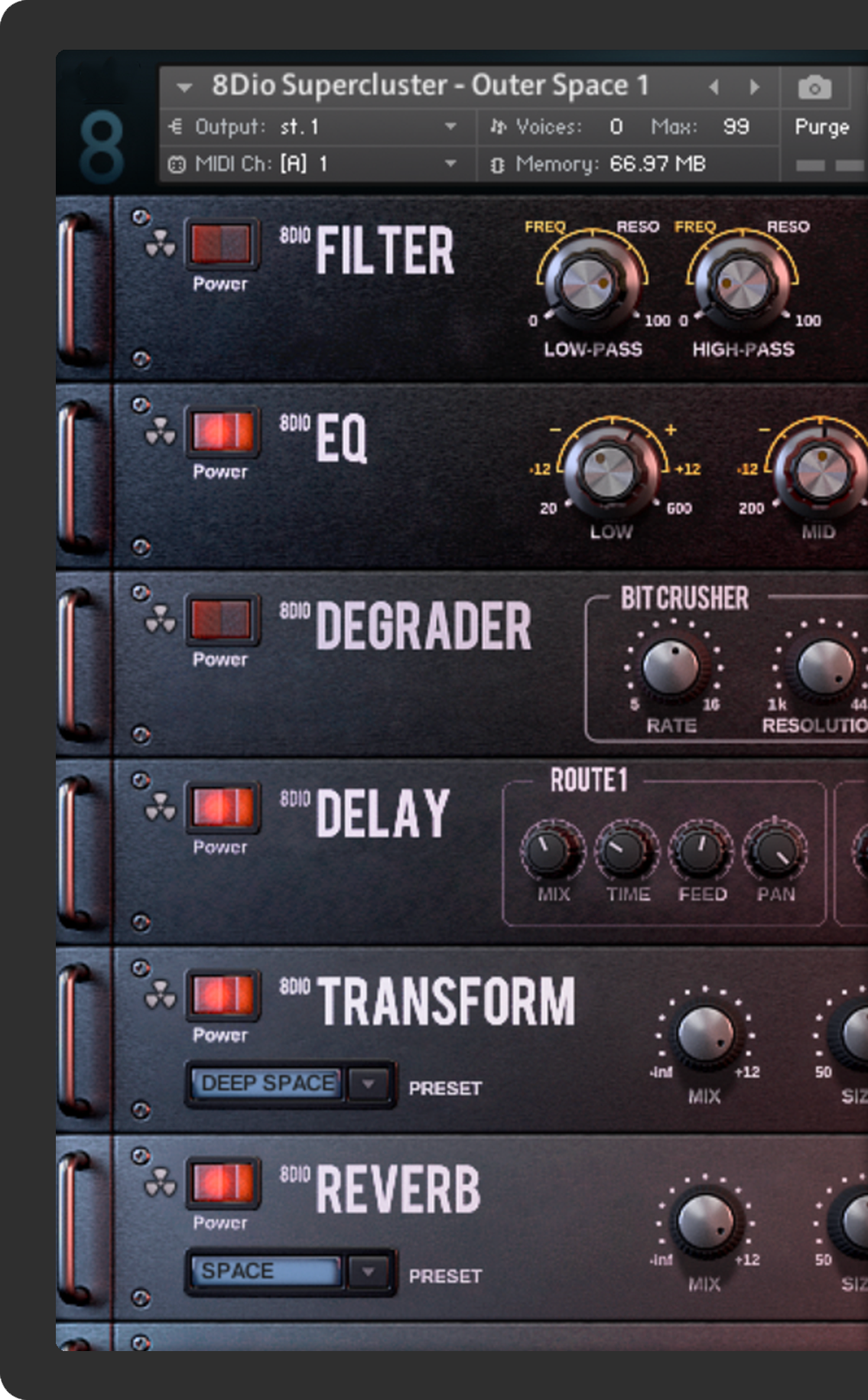 ARTS, SPECS AND REQS
Outer space:
Outer Space 1
Amalthea
Ariel
Atlas
Comets
Constellation
Corona Borealis
Dark Neutrino
Dust
Event Horizon
Exoplanet
Galaxy Core
Gamma Rays
Gravity
Halo
Helium Emission
Hydrogen Cloud
Iss
M87
Magellanic Clouds
Medusa
Mz1
Nebula
Neutron Star
Out Of Star System
Prominence
Protoplanet
Pulsar
Quasar
Radio Emissions
Roentgen Star
Signals
Southern Owl
Star Forming
Supervoid
The Attractor
View In Hubble
Voyagers
Warping Matter

Outer Space 2
Abell 39
Andromeda
Apophis
Cmbr
Connections
Dark Barions
Edge
Gravity Lens
Interstellar
Laniakea
Matter Vibrations
Orbits
Oumuamua
Outer Space
Quark Stars
Supercluster
The Great Grb Wall
Transmission
Twin Jet
Waves Of Gravity
Solar System:
Solar System 1
Atmosphere
Bow Shock
Callisto
Charon
Cryo Vulcan
Dysnomia
Enceladus
Eris
Flight Of Cassini
Frozen Oceans
Heliopause
Hydra
Hyperion
Iapetus
Io
Kuiper Belt
Mercury
Mimas
Moon
New Horizons
Nix
Oberon
Oort Cloud
Orcus
Phoebe
Pluto
Quaoar
Rhea
Saturn
Sedna
Solar Wind
Styx
Titan
Too Close To The Sun
Venus
Winds On Mars

Solar System 2
Asteroid Belt
Ceres
Earth From Mars
Echo On Venus
Europa
Fetus
Ganymede
Haumea
Himalia
Janus
Jupiter
Makemake
Mars
Neptune
Oceans Of Azote
Ophelia
Pasiphae
Phobos
Saturn Rings
Solar Radiation
Tethys
Triton
Uranus
Universe:
Universe (Available as TM Pro & DFD)
Dark Matter
Dust
Emissions
Engines
Orbits
Radiation
Solar Wind
Transmissions
Presets:
A Creepy Star
Across the Galaxy
Alien Artifact
Awaiting for Collapse
Epic Lead
Extincted Worlds
Nebula Pulse
Radiation Aura
Sub Drones
Warping Matter
Features:
CHAOS 4 FX
Double Filter (Low And High Pass)
Triple Band Eq
Degrader-distortion Combo
Double Delay
Transform (Including Our Tempo-synced Impulse Response Technology)
Convolution Reverb
Phaser-flanger Combo
All the effects can be loaded in any order, re-assignable and interchangeable.
Requirements:
Full Retail version of Kontakt 5.8.1 or later required
Not compatible with free Kontakt Player
Minimum: Intel Core i5 or equivalent CPU. 8 GB of RAM or more is highly recommended. For TMPro Patches, i7 or equivalent is highly recommended.
Supercluster Requires 4.82GB of Hard Drive Space
8 GB of RAM or more is highly recommended
Sample resolution: 48Khz / 24Bit stereo .wav, .ncw format