Copperphone
40 New Presets!!!
Copperphone Hard and Soft Mallet
Copperphone Wooden Stick and Muted
Copperphone played with Finger Nails
15 Copperphone Ambiences
8x Round Robin
Custom Convolution Reverbs
1.36GB hard-drive space
Kontakt 5.8.1

 

Full Retail

 

(or later) Required
Delivered by Download
READ MORE
READ LESS
Play the Pipes

The Copperphone is a custom instrument made from modified Copper pipes. This 12-pipe instrument sounds somewhere between pristine bells and a metallic marimba of sorts. The Copperphone contains five core deep-sampled articulation types, which were made by playing the instrument with a hard mallet, soft mallet, wooden mallet, muted, and with fingernails. The hard mallet, wooden mallet, and fingernails have the most pronounced attack, whereas the soft mallet has a more smooth and relaxed tone. The included muted articulation adds a non-sustained sound.

The Copperphone also contains 15 custom ambiences that were made entirely from the Copperphone, allowing the ambiences to seamlessly blend with the Copperphone itself. All the core patches were deep-sampled extensively, including several velocity layers and up to 8 round robin repetitions per layer.

Immediate Access and Stack Function
The Copperphone comes with 5 core Articulations and 15 Ambiences. Everything is neatly built into our custom browser, so you have immediate access to a large and diverse pool of effects. We also added our unique Stack function, which allows you to layer as many articulations as you want for larger effects.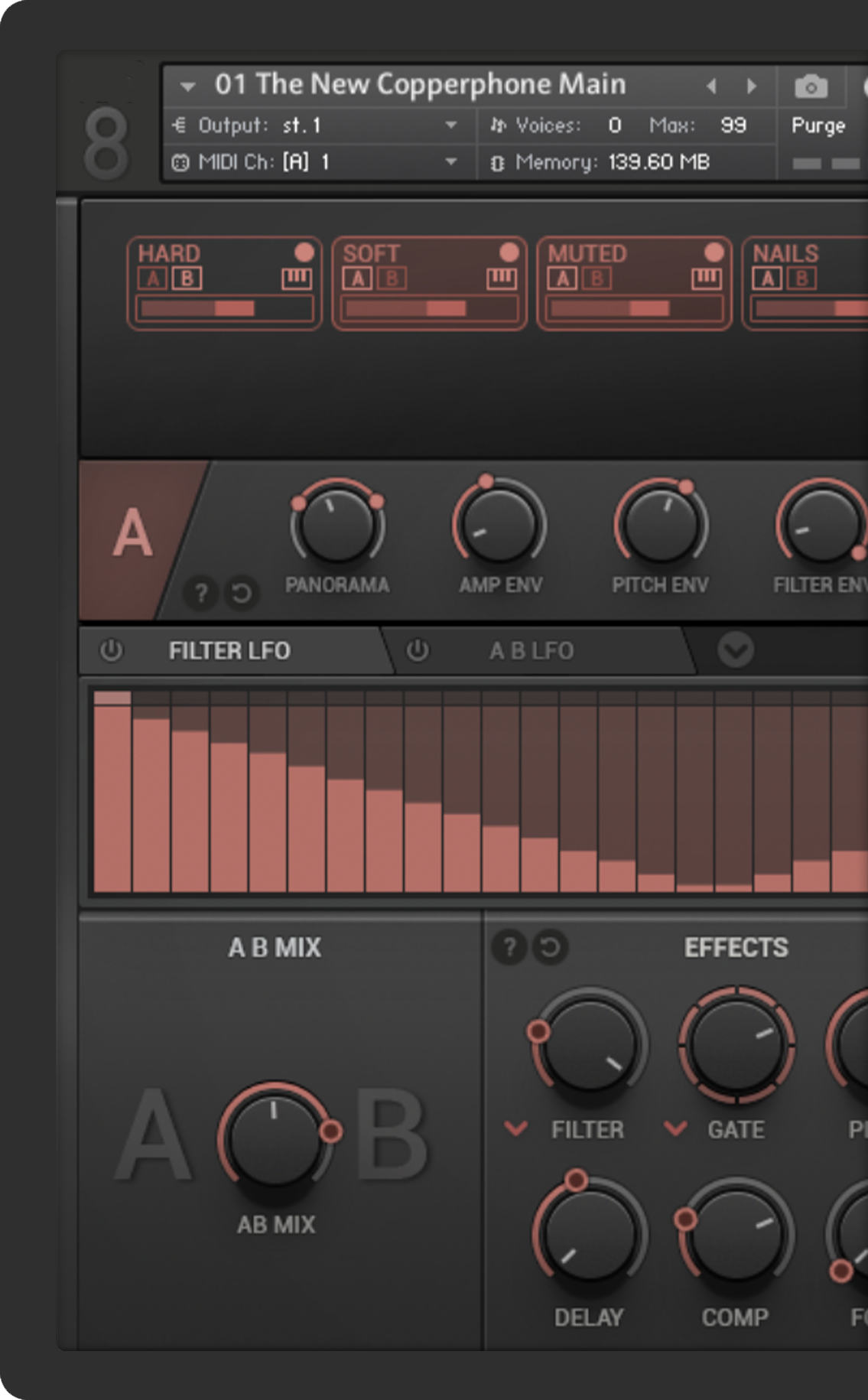 Textural Convolution Delay
Textural Convolution Delay is a new way of using convolution to create textural delays. The idea is to use non-conventional convolution impulses to augment the existing sound. In addition to the normal delay of the instrument, you also get the delay and texture of the convolution.
Hyper Flexible User Interface
The Copperphone contains two parallel FX systems. The first is our new Front-Faced FX, which allows you to control the most fundamental effects (ex. Step Based Filtering, Pitch, Delay, and our new Textural Delay). You can also go deeper with our Chaos FX system, which includes Phase Modulation, EQ, Bit-Crusher, Distortion, Dual Delays, and more!