Hybrid Rhythms
Kontakt VST / AU / AAX
Similar Cinematic Instruments Available in

 

Soundpaint
950+ Contemporary Hybrid Grooves

Advanced UI
Mix between 10 Grooves at once
Host-Tempo Synchronization
Grooves at 80, 90, 100, 110, 120, 130, & 140 BPM
CHAOS 3.3 FX ENGINE
Direct Keyboard Controls over live FX and Filter
1.83GB hard drive space
Kontakt 5.8.1

 

Full Retail

 

(or later) Required
Delivered by Download
READ MORE
READ LESS
Instant Grooves

Hybrid Rhythms is a specialized library dedicated to epic and cinematic grooves.

The library comes with over 950 epic grooves and an assortment of stems for each groove, offering you full control of each part. Everything is tempo-synced to your DAW and grooves were recorded at 80, 90, 100, 110, 120, 130 and 140 BPM.

Hybrid Rhythms is the logical extension to our Hybrid Tools and Rhythmic Aura Series. The core concept is based on a strong, epic, and modern hybrid percussive sound that will sit in the mix and do its business. The library ranges from absolutely merciless, epic grooves to subtle grooves.

Hybrid Rhythms represents a quantum leap in functionality compared to the original Hybrid Rhythms library. We rebuilt everything around a new 3D-rendered user-interface with every single feature one could dream of: a built-in articulation browser, an advanced arpeggiation and rhythm-making tool, immediate control over speed and pitch envelopes, articulation stacking, single-click reversing, tempo-syncing everything with the gate function, and mangling the sounds further through our Chaos FX Engine. It is all there and just a few clicks away.

Cinematic Groove Control
The user interface gives you everything you need on one single screen. You have a 4-Band EQ, Control over Dynamics, Attack, Release, and the internal articulation browser, allowing you to find Cinematic Grooves in an instant. There are also tempo-synced speed controls (Half Tempo, Normal, X2 Tempo), Filters, and an Advanced Gate Function, allowing you to get the Cinematic Grooves ultra-tight to your composition.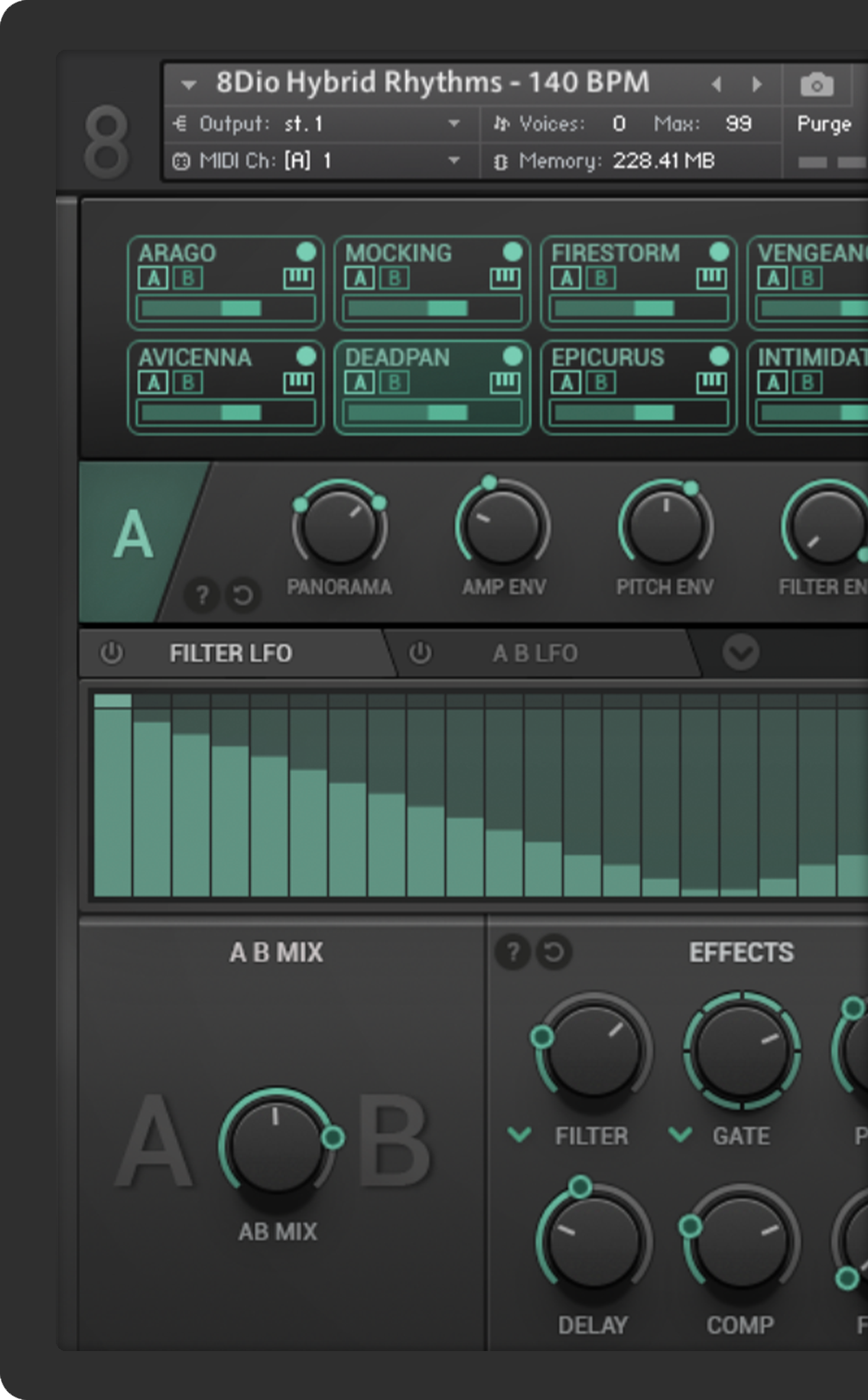 Percussive Layering and Ultra Tempo-Sync
Hybrid Rhythms unique design allows you to control different parts of the cinematic grooves by their frequency range and because everything is 100% tempo-synced, you can freely mix any groove fragment with any other. The New Hybrid Rhythms allows you to mix between 10 different grooves within a single patch.
New CHAOS FX 3.3 Engine
Our CHAOS FX Engine allows you to stack, randomize, reverse, and Chaos any patch with a single click. It is one of the most extreme features in The New Hybrid Rhythms. The CHAOS FX Engine allows you to randomize 1,500 sample parameters with one click!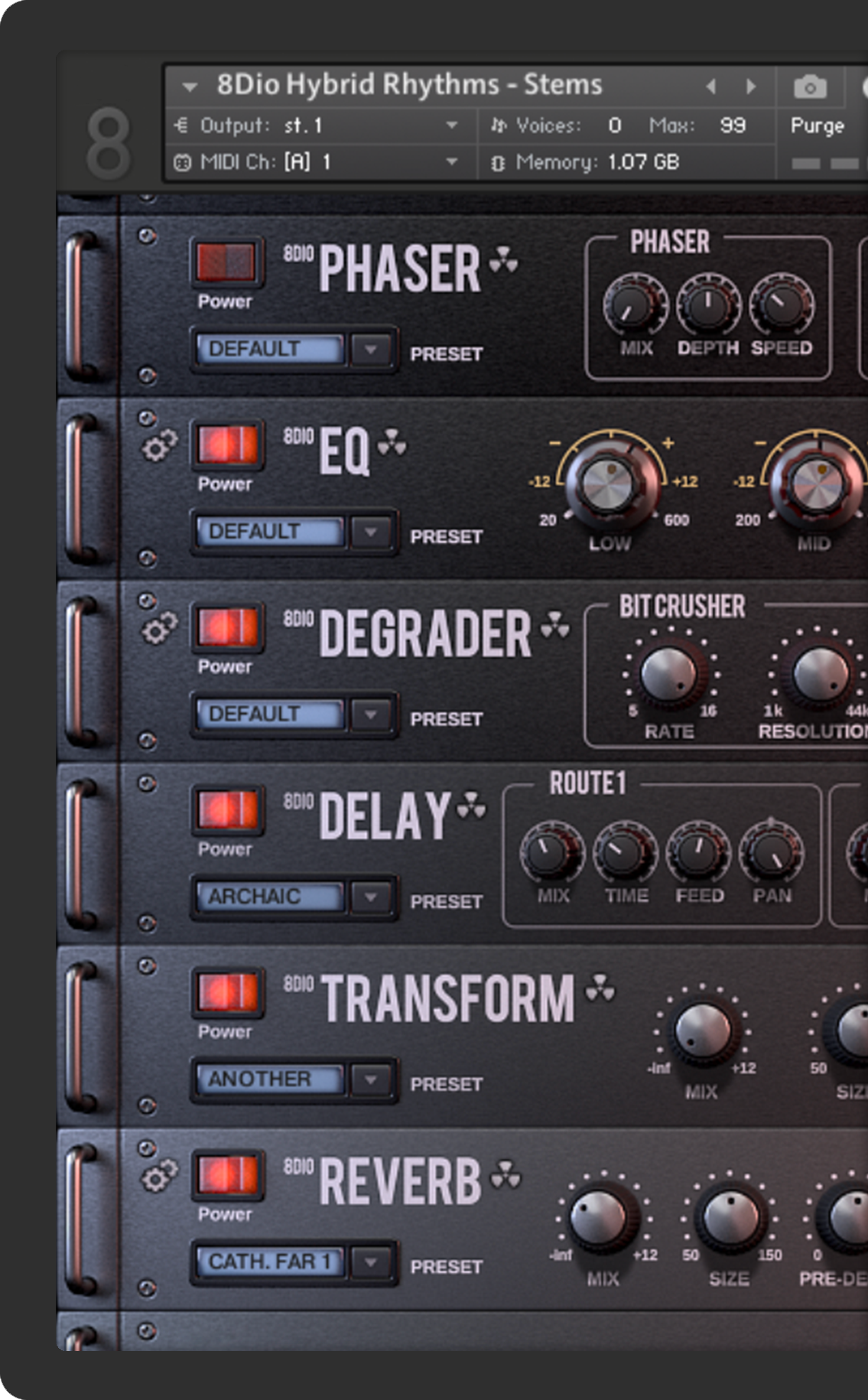 ARTS, SPECS AND REQS
Articulations:
Hybrid Rhythms Main 80 BPM
Hybrid Rhythms Main 90 BPM
Hybrid Rhythms Main 100 BPM
Hybrid Rhythms Main 110 BPM
Hybrid Rhythms Main 120 BPM
Hybrid Rhythms Main 130 BPM
Hybrid Rhythms Main 140 BPM
Hybrid Rhythms Stems High 1
Hybrid Rhythms Stems High 2
Hybrid Rhythms Stems Mid 1
Hybrid Rhythms Stems Mid 2
Hybrid Rhythms Stems Low 1
Hybrid Rhythms Stems Low 2
Custom Convolution Reverbs (40+)
Several Custom Convolution Reverb(s) / Impulses
Specifications:
20 Kontakt 4.nki files (incl. DFD files)
13 Kontakt 5 .nki files
950 samples
1.3 GB installed
24 bit / 44.1 kHz stereo .wav
Sample resolution: 44.1Khz / 24Bit stereo
Format(s): Kontakt / .wav
Chaos Effects:
FX Engine 3
Instant CHAOS (randomize over 1500 parameters)
Instant REVERSE (one click to reverse it all)
Instant RANDOM (randomize all patches)
Instant STACKING (stack any patch you want)
Instant ARP Sequencer
Delay
Degrader (Bit Crusher)
EQ
Filter
Convolution Reverb
Transform (Alternative Convolution Reverb)

Modwheel control of filter
Requirements:
Full Retail version of Kontakt 5.8.1 or later required
Not compatible with the Free Kontakt Player
Hybrid Rhythms requires 1.3GB of hard drive space
Minimum: Mac OS X® 10.4 / 10.5, G5 2.0 GHz or Intel Core Duo 2.00 GHz, 4 GB RAM or Windows® XP (32 Bit) or Windows Vista® (32/64 Bit), Pentium® or Athlon XP 2.0 GHz, 4 GB RAM. 4 GB of RAM or more is highly recommended