1971 Estonia Grand Piano
Kontakt VST / AU / AAX

33,870 Samples 12.62GB
Also Available in Soundpaint ($20) with 127 Dynamic Layers
6 Mics (Neumann UM57&184, Sennheiser MKH40, etc.)
Up to 20 Velocity Layers
5 Round Robin Repetitions
Intuitive and Advanced Interface
Advanced Chaos Effects Systems
Delivered by Download
Kontakt 5.8.1

 

Full Retail

 

(or later) Required
READ MORE
READ LESS
Dark and Rich

The 1971 Estonia Grand Piano is a comprehensively deep-sampled soviet-era Grand Piano. The Estonia Piano line is known as the secret Steinway of Eastern Europe – with a uniquely dark, emotional, and melancholic characteristic.

The Estonia Grand contains both Sustains, Staccato and Plucked articulations, which can seamlessly be tailored together based on your compositional needs. The short note staccatos were recorded with 5 RR pr. velocity layer – offering you the ability to play incredibly fast licks with clear definition on the attack of the sound. The 8Dio 1971 Estonia Grand Piano also contains our latest Chaos FX designed for sound design. We included many of our new custom Textural Convolution Delays, which gives the instrument the ability to delay textures from other non-piano sound sources.

We recorded and processed the Estonia Grand at 24-Bit / 96Khz at a meticulously run soviet era scoring stage, before downsampling to 48k for ease of streaming. The library contains 6 different types of vintage microphone stems, including Neumann UM57's, Vintage Lomo's, Sennheiser MKH40's, Aston Spirits, Neumann KM 184's and a mixed microphone position which was made by combining all microphones used in the sessions. We recorded with a 100% analogue signal flow, leaving you with an expressive and unique soviet piano.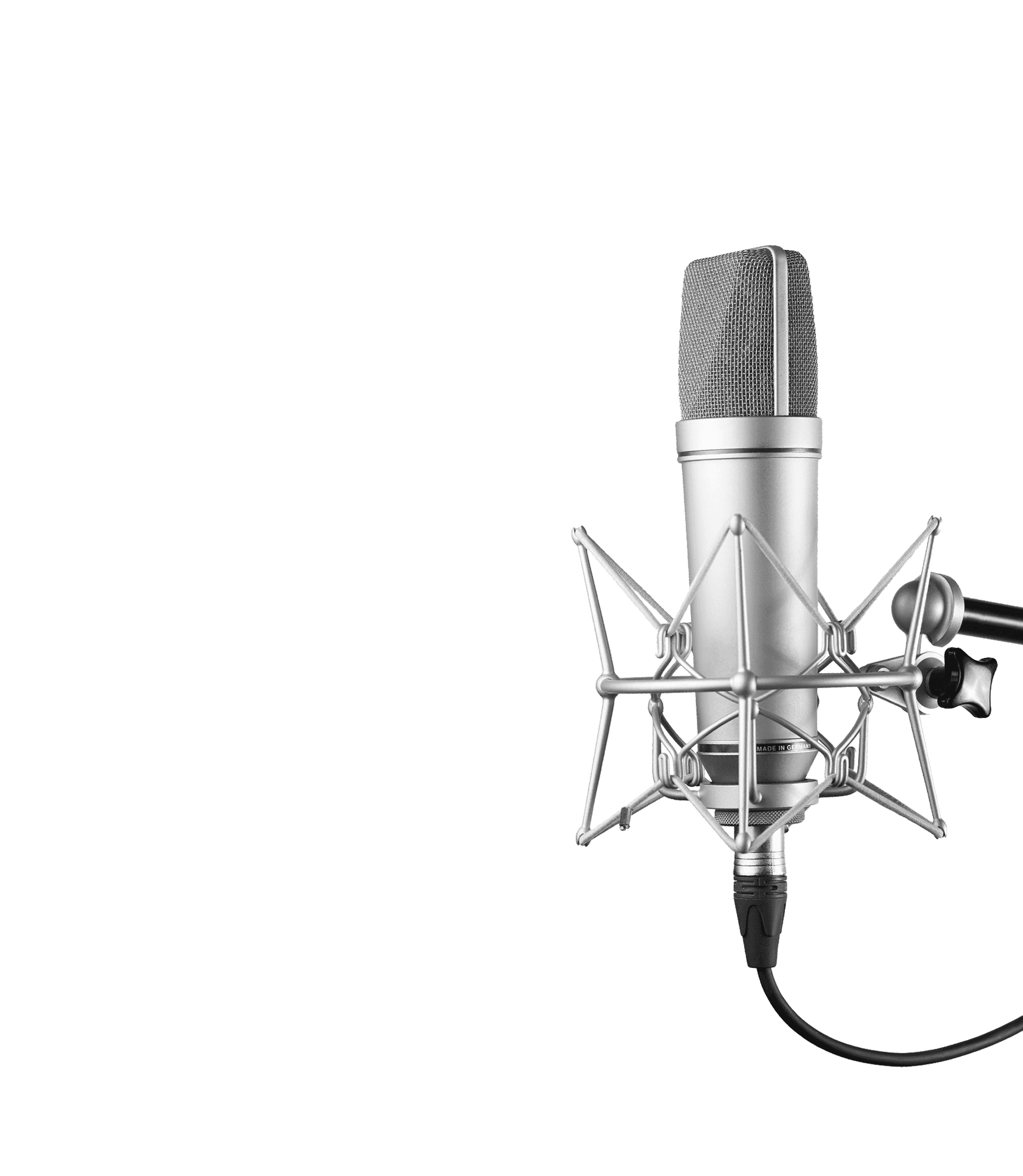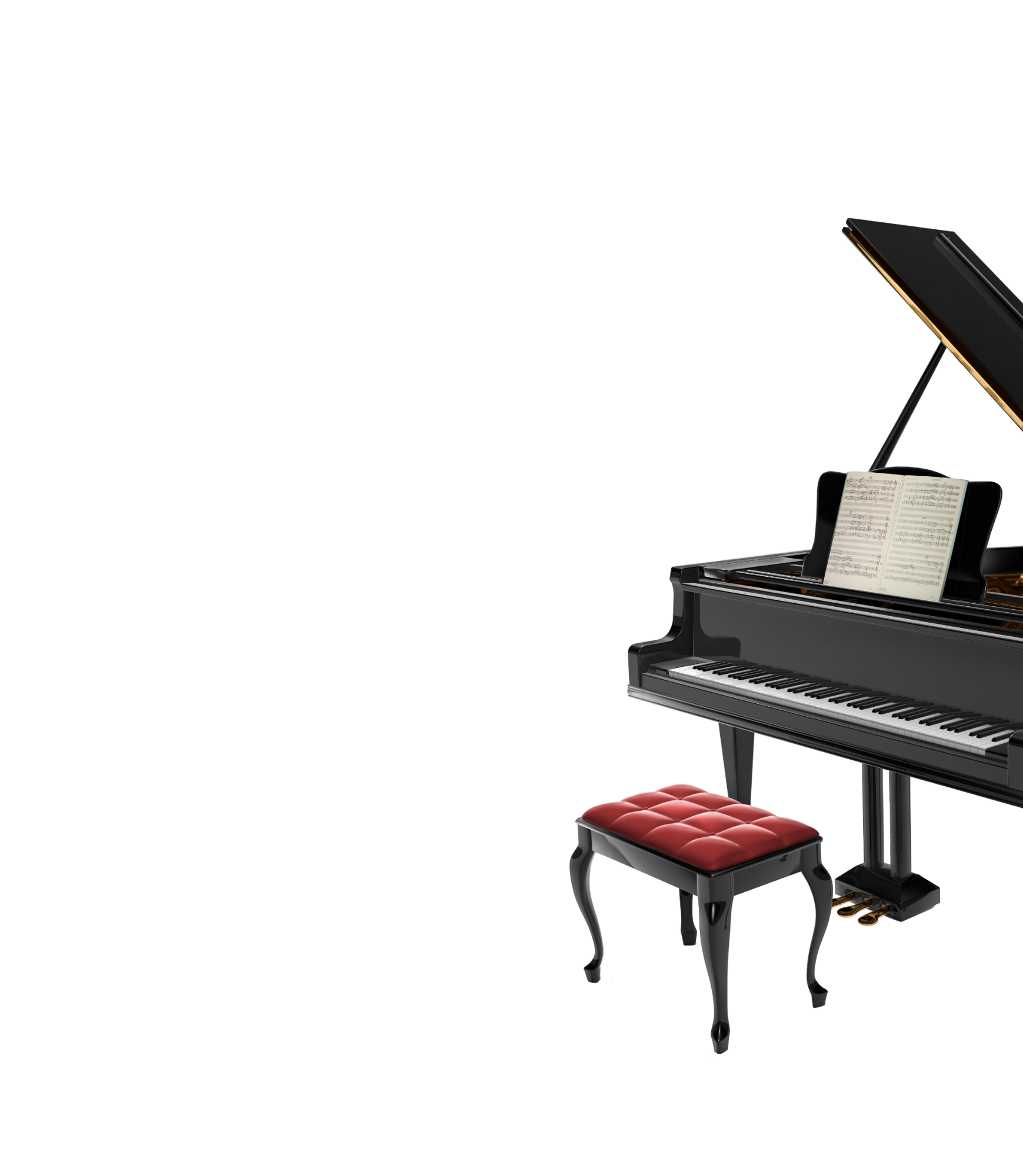 DEEP OPTIONS
The 1971 Estonia Grand Piano includes a wealth of features, allowing you to dial in precisely the sound you want. Whether it's controlling the mix of the piano with a click of a button, the overall tone, a selection of reverbs both acoustic and designed, or advanced filter functions for sound design, it all just makes sense, with no engineering experience required.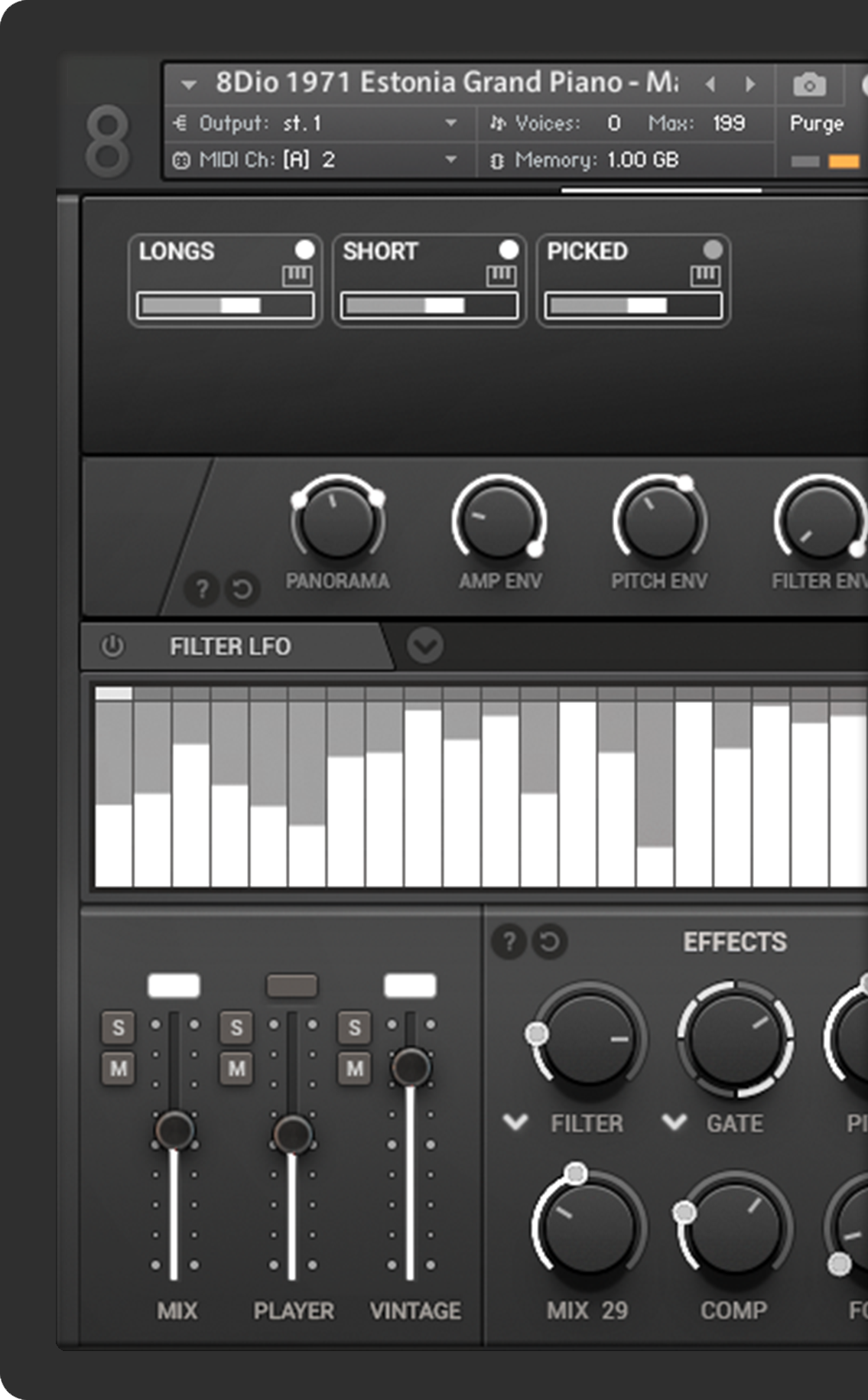 WORLD CLASS MICROPHONES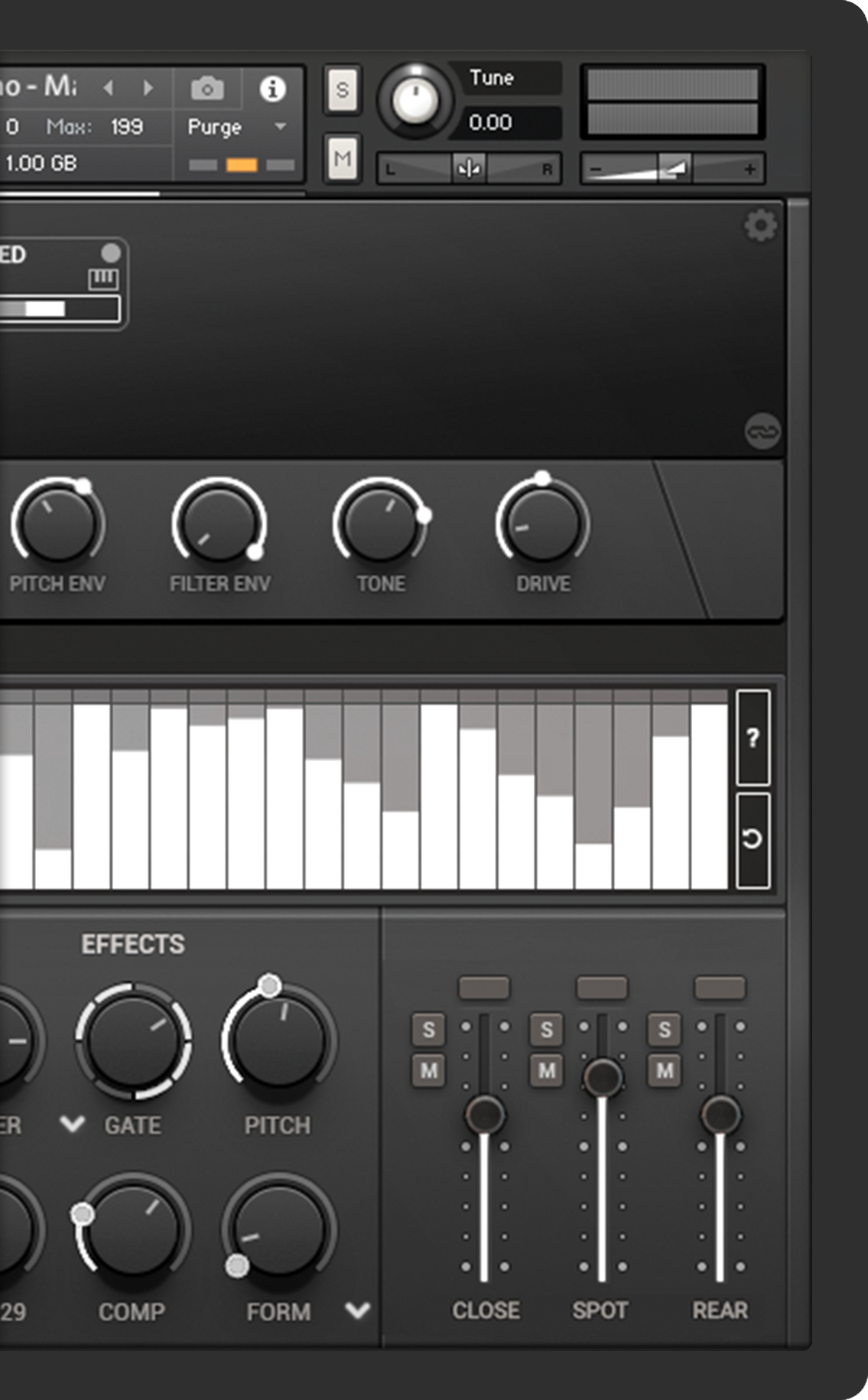 The 1971 Estonia Grand Piano gives you access to some great studio microphones, including Neumann UM 57's, KM 184's, Sennheiser MKH 40's, Vintage Soviet Lomo's, Aston's, and a sweet mixed microphone position made from them all. Engineering doesn't get finer than this!
REAL TIME EFFECTS
Estonia Grand Piano also contains a massive number of real-time effects that can be triggered via the effects page of the front faced effects macro system. We included Bit-Crusher/LOFI, Rotator, Delay, Reverb, Distortion, Phaser, and a large set of custom convolution reverbs!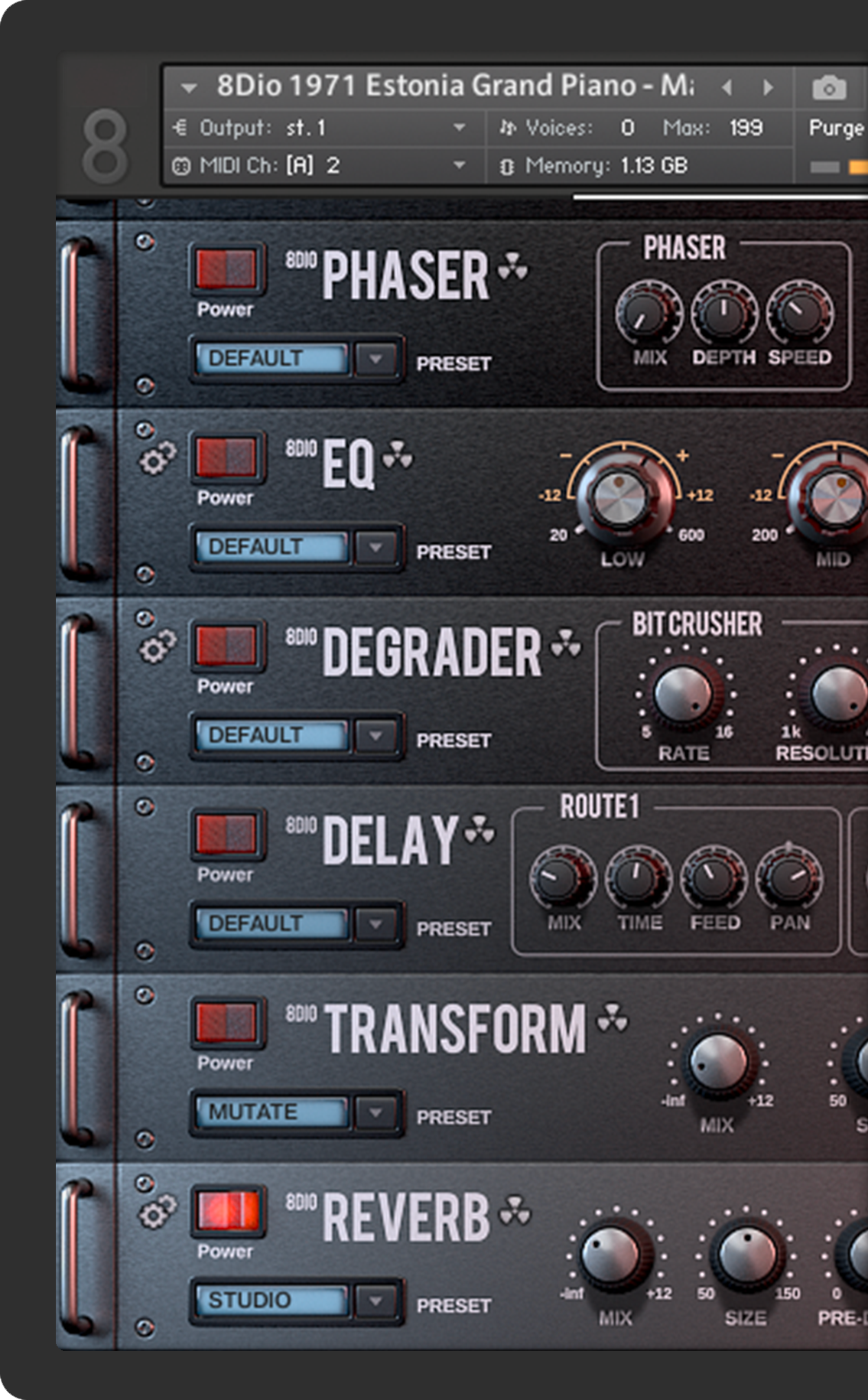 ARTS, SPECS AND REQS
Articulations:
• Sustains (up to 20 velocities)
• Staccatissimo (5 round robin)
• Picked Sustains (layered)

Presets (15):
• Brighter Piano
• Filter Mod Piano
• Forever Piano
• Gated Piano
• Modwheel Piano
• New Perspective Piano
• Picked and Sustained Piano
• Plucked Piano
• Plucked Piano 2
• Short Tropical EDM
• Swelling Piano
• Textural Delayed Piano
• Vintage Piano

Microphones:
Recorded at a large soviet era scoring stage. All microphones can be loaded/unloaded and include Volume, Solo and Mute functions:
• Mixed Microphone (processed Mix of all mics)
• Neumann™ UM 57 Microphones
• Neumann™ Km 184 Microphones
• Sennheiser™ MKH 40 Microphones
• Lomo™ Vintage Soviet Microphones
• Aston™ Spirit Microphones

Requirements:
• Full Retail version of Kontakt 5.8.1 or later required
• Not Compatible with Free Kontakt Player
• 11.8 GB / 33,870 Samples
• PC Quadcore / 2.4GZ+, 8GB ram
• MAC Quadcore / 2.6Ghz, 8GB ram