Adagietto
Kontakt VST / AU / AAX

18,735 Samples. 13GB
Recorded in Rich Church Environment
Two Neumann Mic Sets. Close & Far.
Ensemble Violins (11) and Violas (8)
Ensemble Cellos (6) and Basses (4)
Full Ensemble and Individual Section patches
3 Way Multi-Purpose Legato System
True Sordino (Muted Strings) articulations
Dynamic Arcs Normal and Sordino
Delivered by Download
Kontakt 5.8.1

 

Full Retail

 

(or later) Required
Production costs: $134,000
READ MORE
READ LESS

Ensemble String Essentials

Adagietto is a powerful, easy-to-use, full string ensemble set based on our deep-sampled and highly expressive Adagio String Series.

8Dio Adagio String Series marks the most expressive collection of deep-sampled emotional strings ever created. Adagietto is the bread-and-butter of Adagio. It just works. No hassle. Everything is neatly laid out as full ensemble patches, so you can just start composing. The new three-way legato system is based on your velocity (Emotional Slur Legato, Village Legato and Instinct Legato). The legato system is divided into each string group and contains 11 unique legato recordings for the four string groups.

Adagietto is based on Full Ensemble Strings from the Adagio collection. Full Ensemble Violin (11), Full Ensemble Viola (8), Full Ensemble Cello (6) and Full Ensemble Bass (4). The entire collection was sampled and recorded in a signature church environment with a hand-selected group of classical string players. All groups were sampled with two different microphone positions (close/far). We employed all current generation sampling techniques (ex. true legato, deep-sampled repetitions etc). New techniques were also developed to capture a higher level of emotion and humanity in the performances. The result is a passionate virtual instrument which is extremely agile to play.

11 Unique Types of Legato
Adagietto contains 11 uniquely recorded types of legato to cover all your needs! You can control the legato for each individual section, and you don't have to use keyswitches or modwheel, since we built it all into velocity. Playing softly triggers slow/portamento legato, playing moderately triggers the common Village legato, and harder velocities trigger our faster Instinct legato. It just works.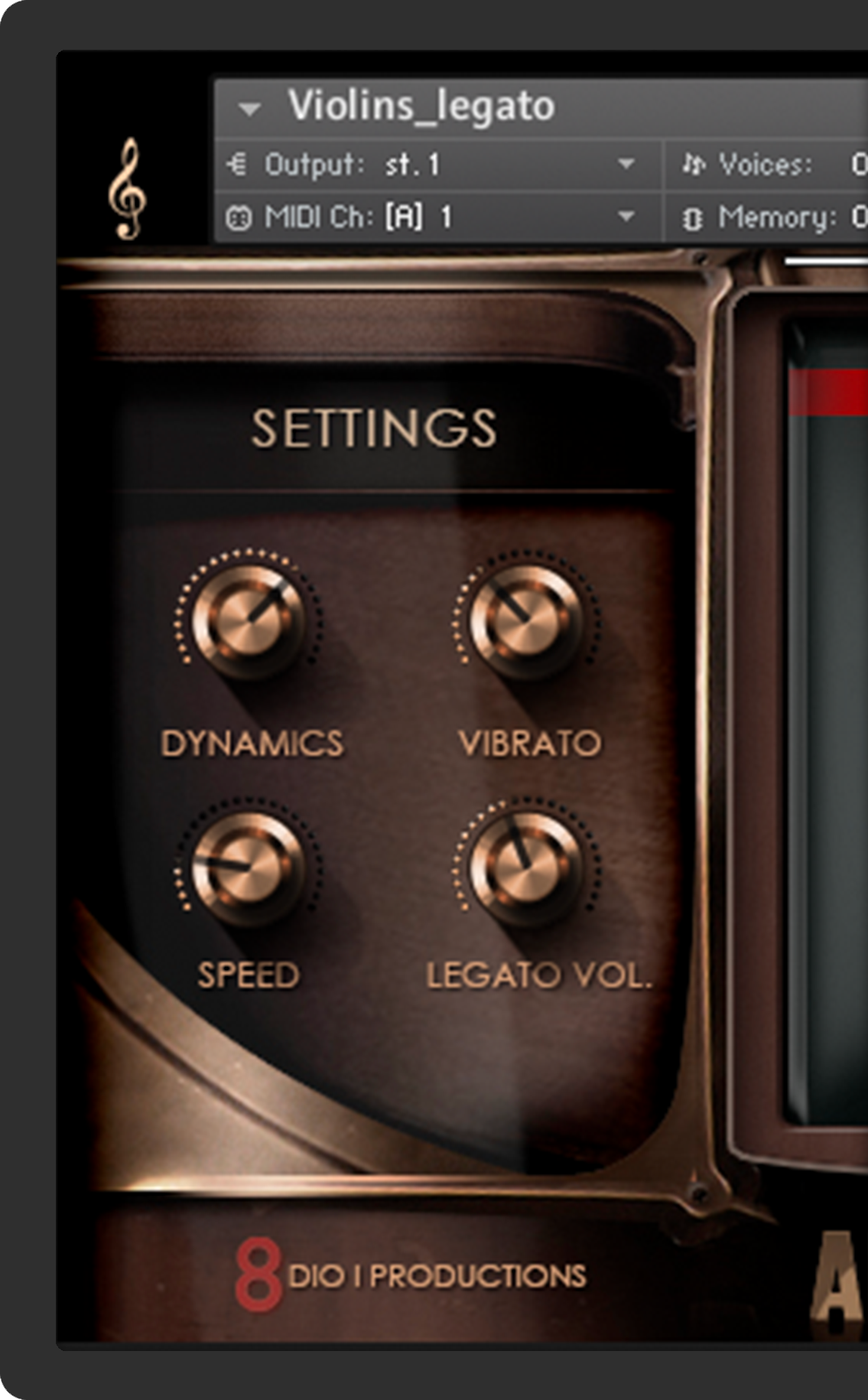 Microphone and Options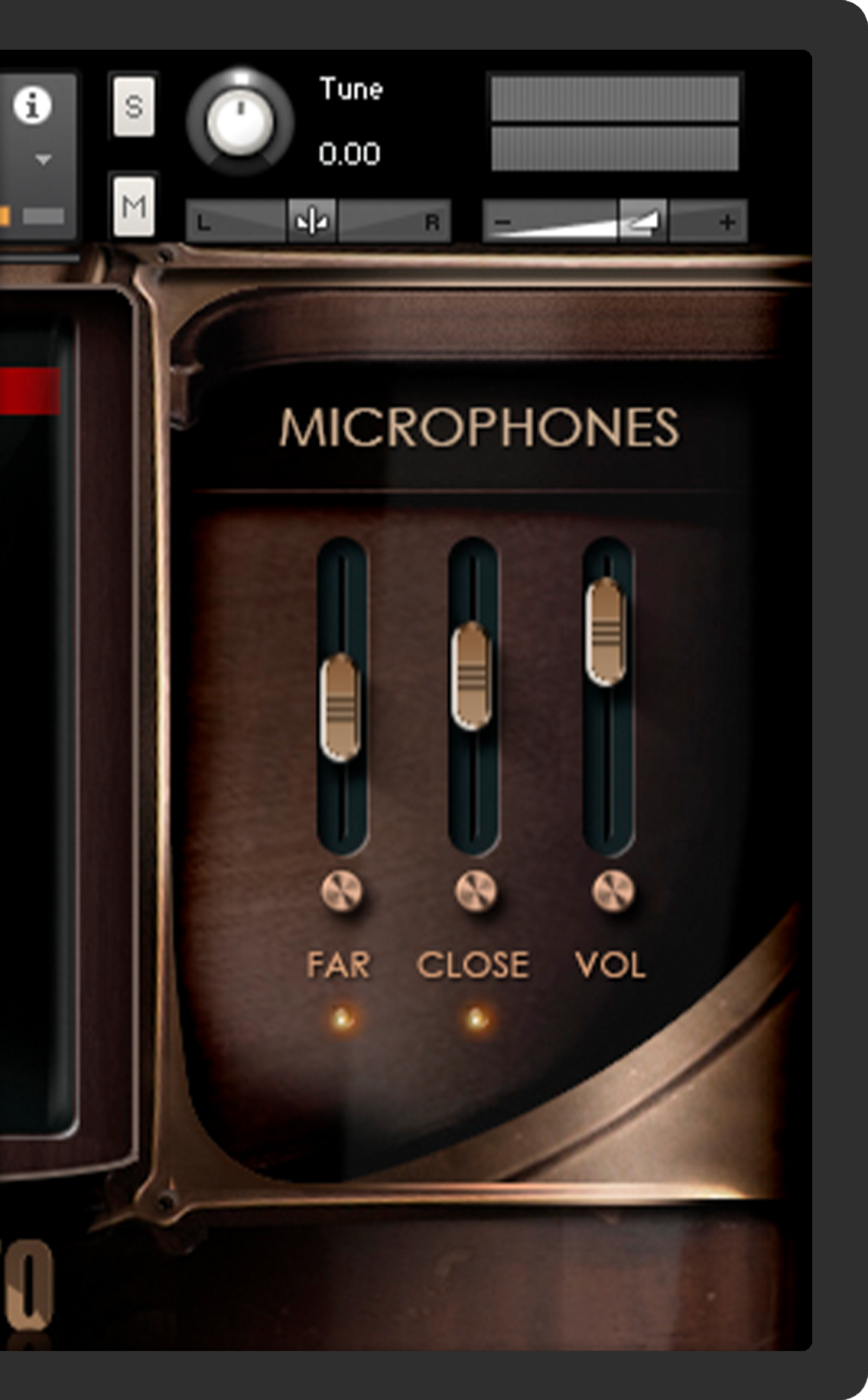 Adagietto contains two microphone positions condensed from dozens of microphones. The first microphone is close, which is a nearfield representation of the strings. The second microphone is far, which is great for a more ambient perspective. You can isolate each section (Violins, Cellos, Violas and Basses) independently or play with all the ensembles at the same time.
Control The Ensemble
Adagietto is all about Ensemble Strings. We have two sets of gorgeous ensemble sustains, both normal and sordino (muted). We include essentials like spiccato, staccato, marcato, pizzicato, Bartok pizzicato, tremolo, trills, and four sets of our unique dynamic bowings. The dynamic bowings (natural swells) come both normal and con sordino (muted).