Advanced Guitar Series Guitalele
Kontakt VST / AU / AAX

10,500+ Samples. 4.8GB
Deep-Sampled with new Solo and Strum Engines
Advanced Legato hammer on samples
Designed as intuitive and playable right off the keys
Intuitive 3D-Rendered User Interface
Chaos FX System
Delivered by Download
Kontakt 5.8.1

 

Full Retail

 

(or later) Required
READ MORE
READ LESS
The Hybrid Guitar

Welcome to 8Dio's New Advanced Guitar Series – a quantum leap in acoustic sampling. Everything is designed to be highly intuitive, easy-to-use and most importantly completely realistic. It simply just works.

The 8Dio Advanced Guitar Series: "Guitale" is a hybrid guitar-ukulele instrument with a soft and emotional tone to it. The instrument (also known as Kiku) is a crossbreed between a classical 6-string nylon guitar and a baritone ukulele.

At the core our of New Advanced Guitar Series is two parallel sample engines. The engines support each solo guitar and strum-based guitar.The idea is to let the engines do the work, while you do the driving. The solo engine is based around a variety of new recording techniques – that gives you completely realistic and fluent legato/hammer transitions on overlapping notes and a variety of additional AI triggered x-noises. The strum engine allows you to virtually create any rhythm and chord you could dream of. The engine is designed as a step-based sequencer and is incredibly easy and intuitive to use.

The end-result is the ultimate sample design for 100% authentically sounding guitars. Whether you want to play a fast acrobatic solo or create an advanced strum pattern – you can do it all.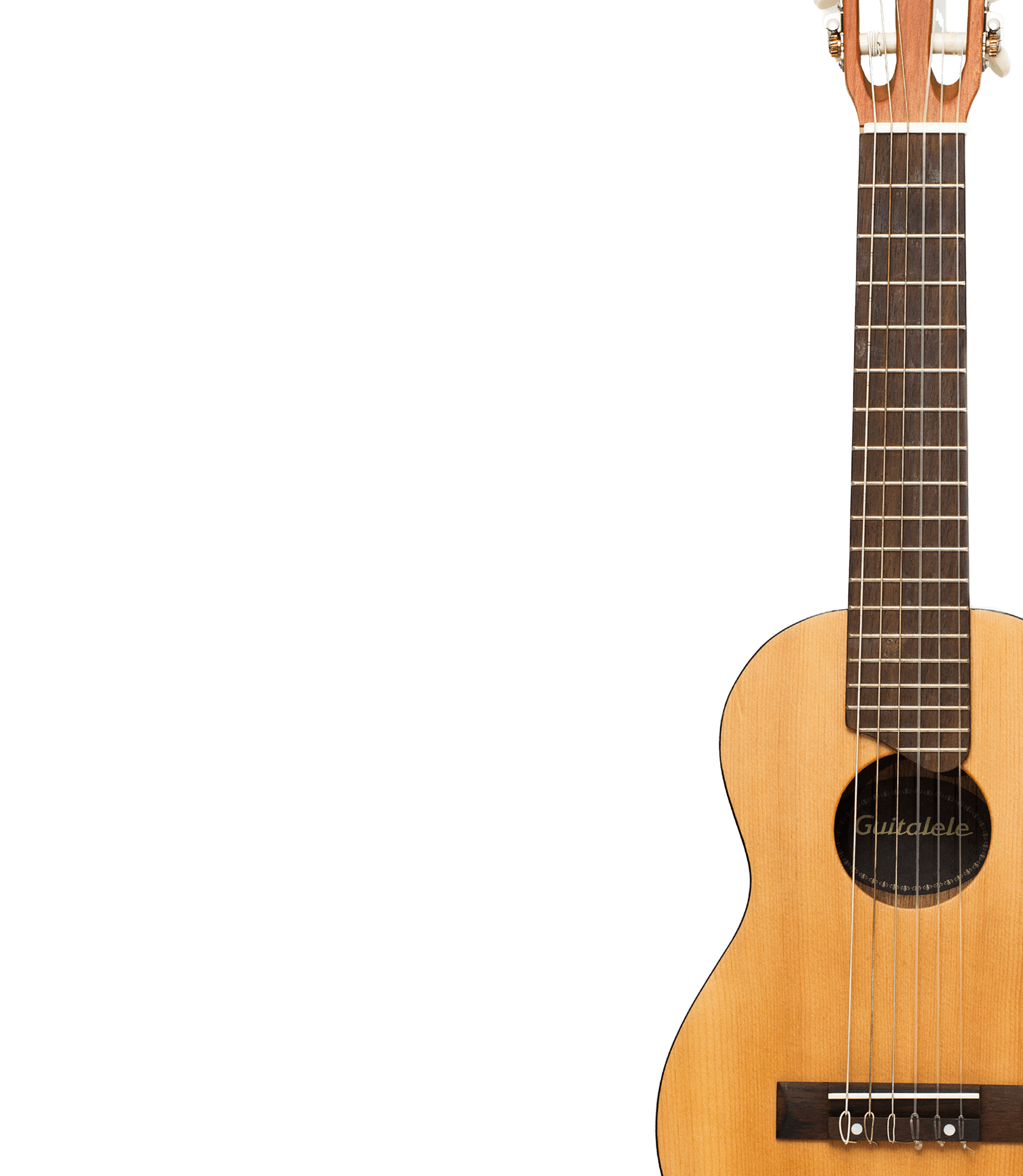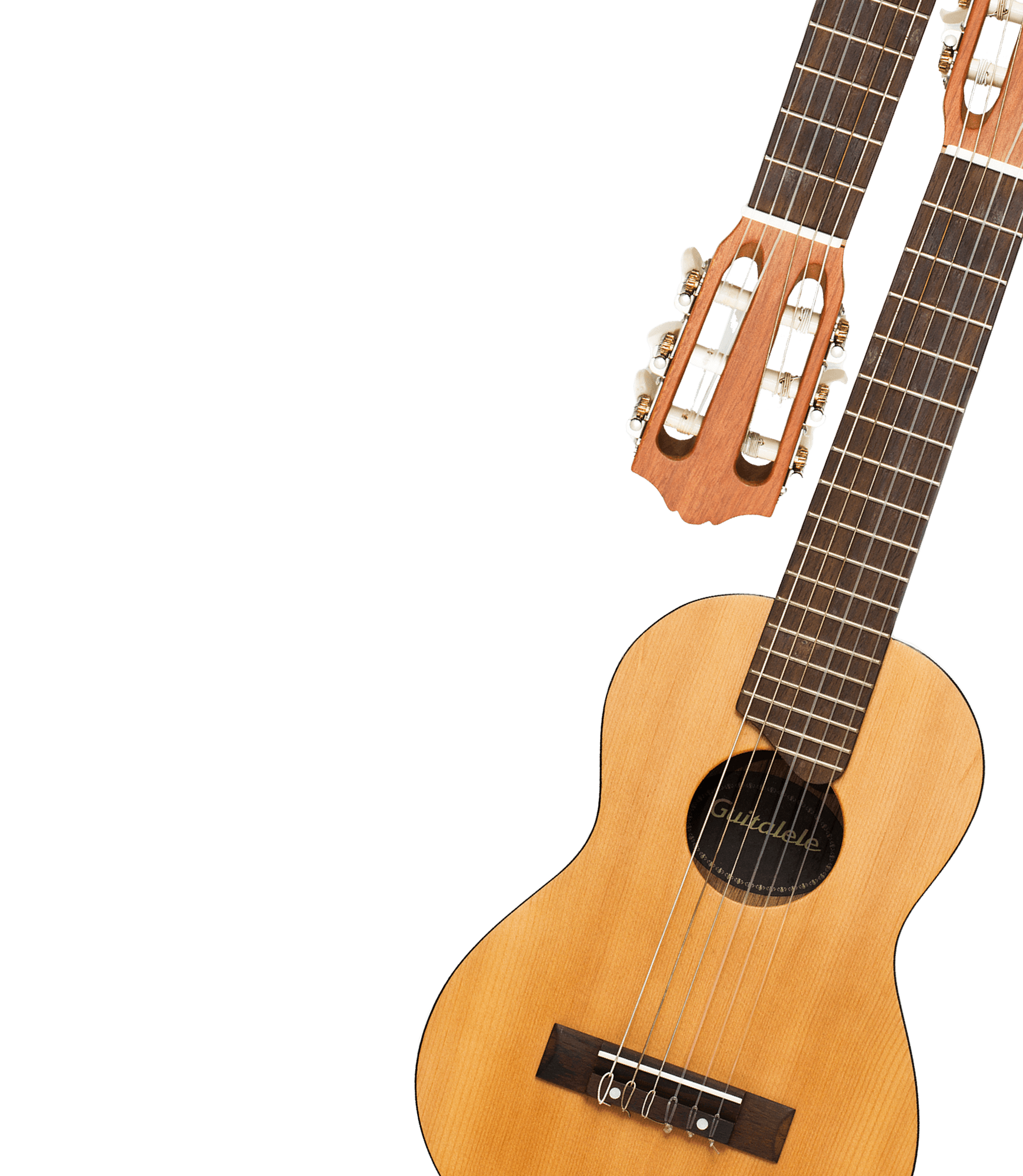 Intuitive and Advanced
The Advanced Guitar Series Guitalele is incredibly flexible, intuitive, and easy-to-use. You can literally just sit down and play it. Whether you want to control the fret noises of fingers moving across strings, adjust the volume of fingers letting go of the strings, or add real-time strums to chords using our advanced strumming engine, it is all right there at your fingertips.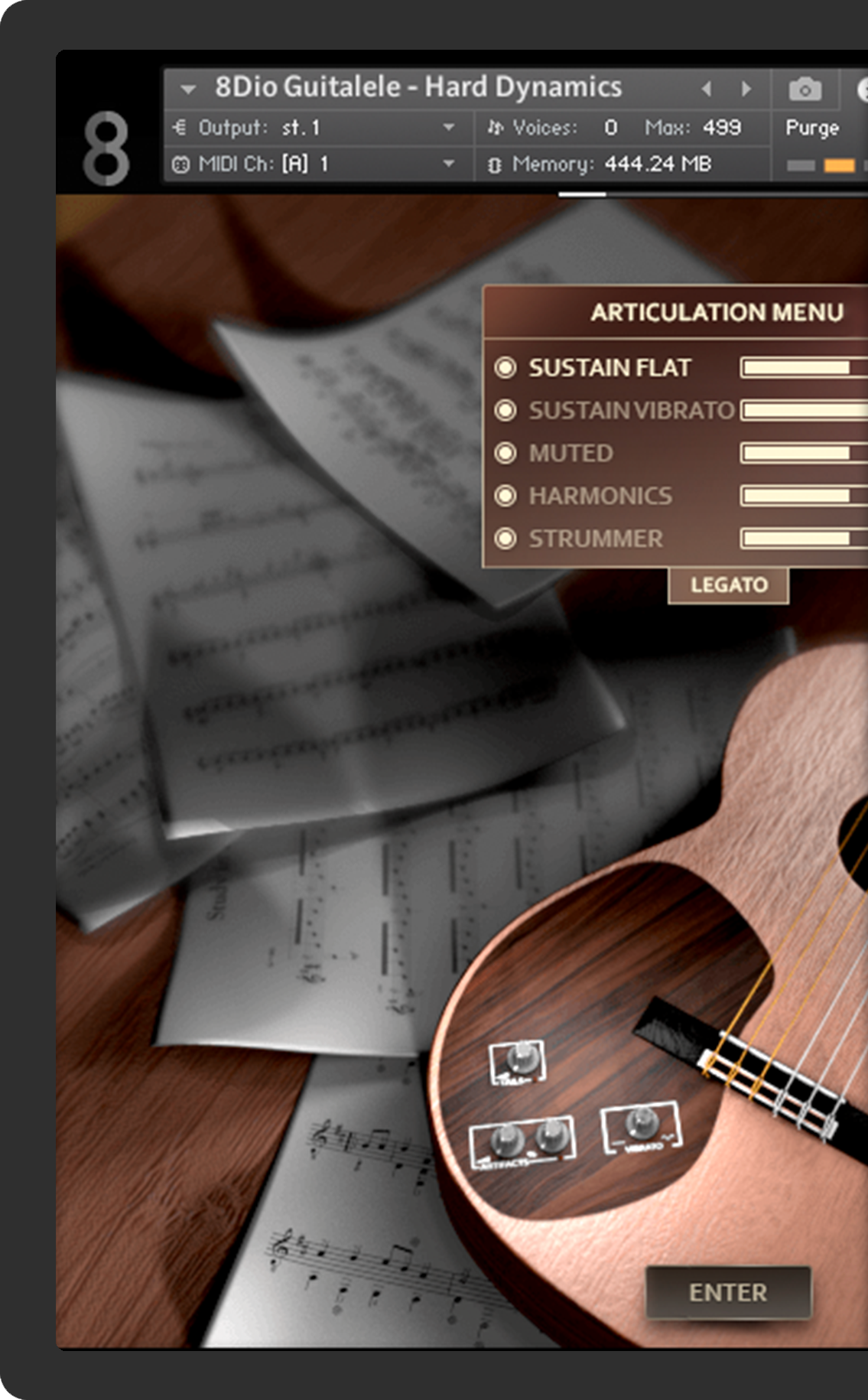 Solo Engine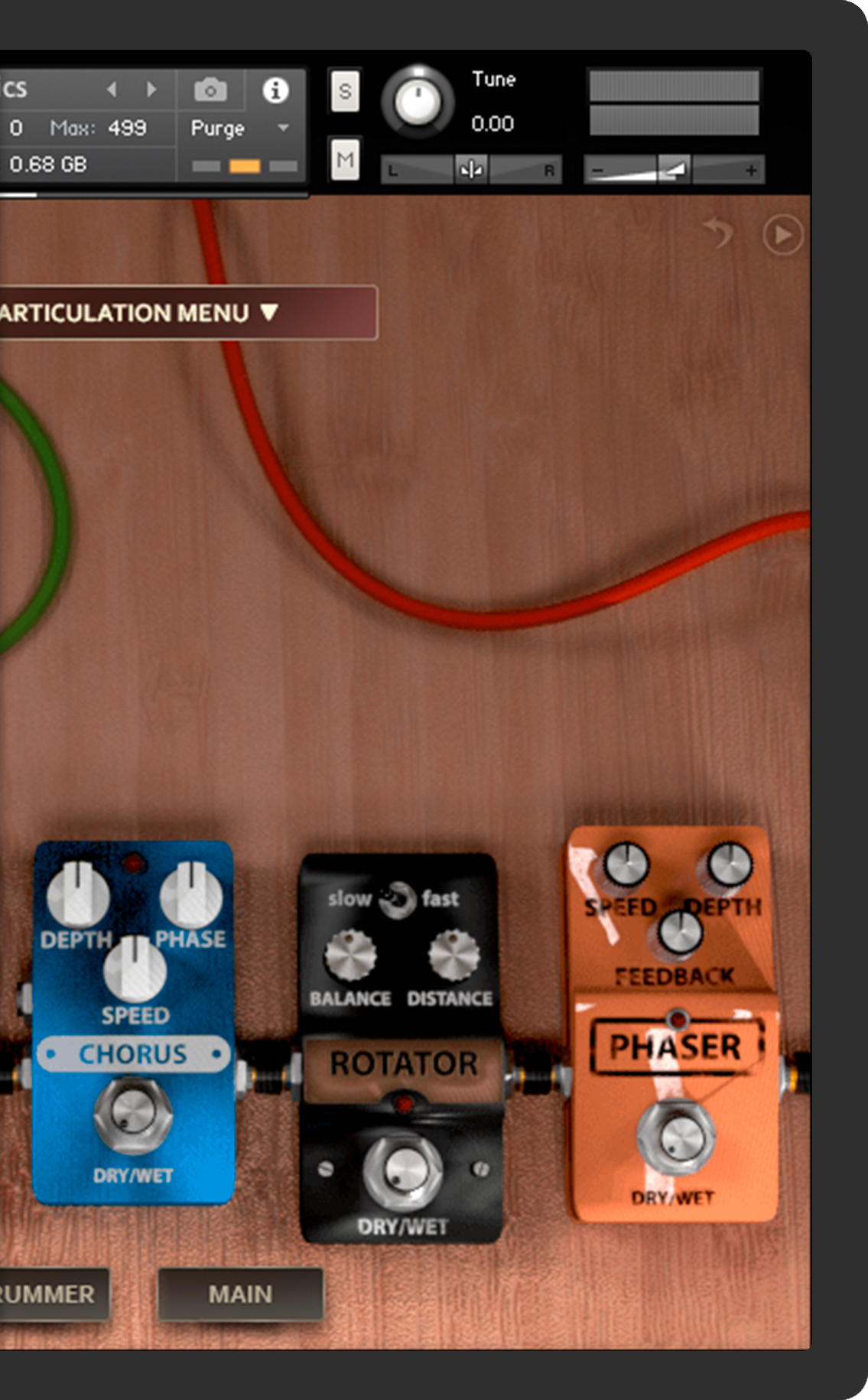 The Guitalele Solo Engine gives you a completely life-like instrument right at your fingertips. You can choose between non-vibrato sustains, vibrato sustains, muted, and harmonic articulations. The engine also gives you control over elements such as release trigger tails, x-noise fret artifacts, and control of the vibrato intensity.
Strum Engine
The Guitalele Strum Engine gives you full control over all aspects of strumming. You have control over the chord, swing, speed, rate, and steps. The strum sequencer allows you to create virtually any rhythm with any chord in any time-signature. It also contains a strum pattern library and the ability to load/save specific patterns you've created.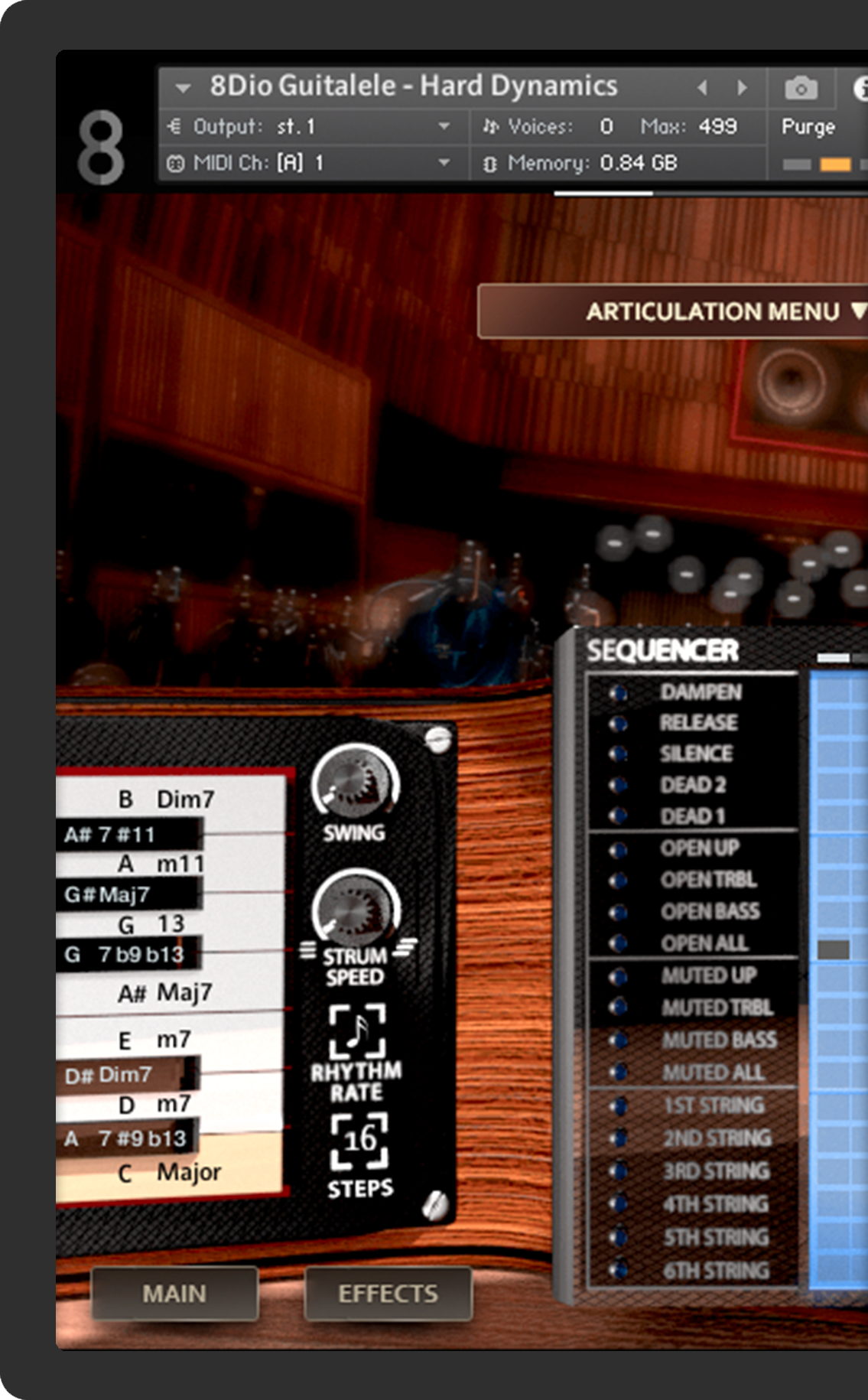 ARTS, SPECS AND REQS
Articulations:
Solo Engine
Sustain Natural
Sustain Vibrato
Muted
Harmonics

Strumming Engine
Independent String (1st)
Independent String (2nd)
Independent String (3rd)
Independent String (4th)
Independent String (5th)
Independent String (6th)
Muted Strum (All)
Muted Strum (Bass)
Muted Strum (Treble)
Muted Strum (Up)
Open Strums (All)
Open Strums (Bass)
Open Strums (Treble)
Open Strums (Up)
Non Tonal I
Non Tonal II
String Release
String Dampen
Requirements:
Full Retail version of Kontakt 5.8.1 or later required
Not compatible with the Free Kontakt Player
Advanced Guitar Series Guitalele Requires 4.8GB of hard drive space
Minimum: Mac OS X® 10.4 / 10.5, G5 2.0 GHz or Intel Core Duo 2.00 GHz, 4 GB RAM or Windows® XP (32 Bit) or Windows Vista® (32/64 Bit), Pentium® or Athlon XP 2.0 GHz, 4 GB RAM. 4 GB of RAM or more is highly recommended