Agitato Sordino Strings
Deep-Sampled Ensemble Sordino Strings
Advanced Adaptive Layered Legato
7.5GB / 12,684 Samples (lossless .ncw compression)
Recorded with Neumann Microphones in Rich Church
3 Microphone Positions (Close, Combo, Far)
Full Ensemble Violin (11), Viola (8), Cello (6), & Basses (4)
Full String Ensemble and Individual Section patches
3 Way Multi-Purpose Legato System. 
11 Uniquely Recorded Legato Types
Delivered by Download
Kontakt 5.8.1

 

Full Retail

 

(or later) Required
READ MORE
READ LESS
Advanced Sordino Legato

Agitato Sordino is the most comprehensive sample collection of expressive Sordino (Mute) Ensemble Strings on the market. It is best described as the deep and emotional sound of motion picture. The Sordino Strings have a depth, air, silk and sadness to them that you won't find with normal strings.

Agitato Sordino is based on brand new sample content. We recorded 9 new types of Sordino Legato for Violins, Violas, Cellos and Basses.

Agitato Sordino offers three different approaches to Sordino Strings. First of all we deep-sampled several layers of True Sordino Legatos, which we programmed into an incredibly flexible and playable set. Secondly we recorded all the sections individually (11 Violins, 8 Violas, 6 Cellos and 4 Basses), and thirdly we reprogrammed all the individual patches into Full Sordino Ensemble Patches for easy, fluent writing and sketching. The Full Sordino Ensemble patches include Sordino Sustains, Sordino and Sordino Dynamic Bowings.

The Agitato Expansion series addresses the most sought-after string articulations, including Grandioso Soaring Legato, Hyper-Fast Legato, True Ostinato and Soaring Sordino. Agitato was recorded in the same large and lush church as our Adagio & Adagietto series and is the logical extension to these libraries.

Agitato Sordino Legato contains a completely new legato system, which is more flexible than ever. You have full control over dynamics and expression, including the ability to link the two. In addition we have a new highly adaptive legato speed system, which really allows the legato to adapt to your compositional style and preference.

Legato
Agitato Sordino contains 9 uniquely recorded types of legato. You can control the legato for each individual section, and you don't have to use key switches or the modwheel, since we built it all into velocity. Playing softly triggers slow/portamento legato, playing moderately triggers the common expressive legato, and harder velocities trigger faster, distinct legato. It just works.
Microphone & Room
Agitato Sordino Strings contains 3 microphone positions (Close, Far, & Mixed). Everything was recorded with the best Neumann through custom pre-amps in a live church environment (the same we used for Adagio and Adagietto). We also offer output routing per microphone, so you can assign each mic to individual outputs for more heavy mixing.
Control The Sordino
Whether you want out deep-sampled sordino legatos with auto-speed detection or completely smooth sordino sustains for fast composition, everything works right off the keys. We programmed everything in two types of patches, so you can either use our Ensemble patches for fast writing or you can load the individual sections for more detailed orchestration.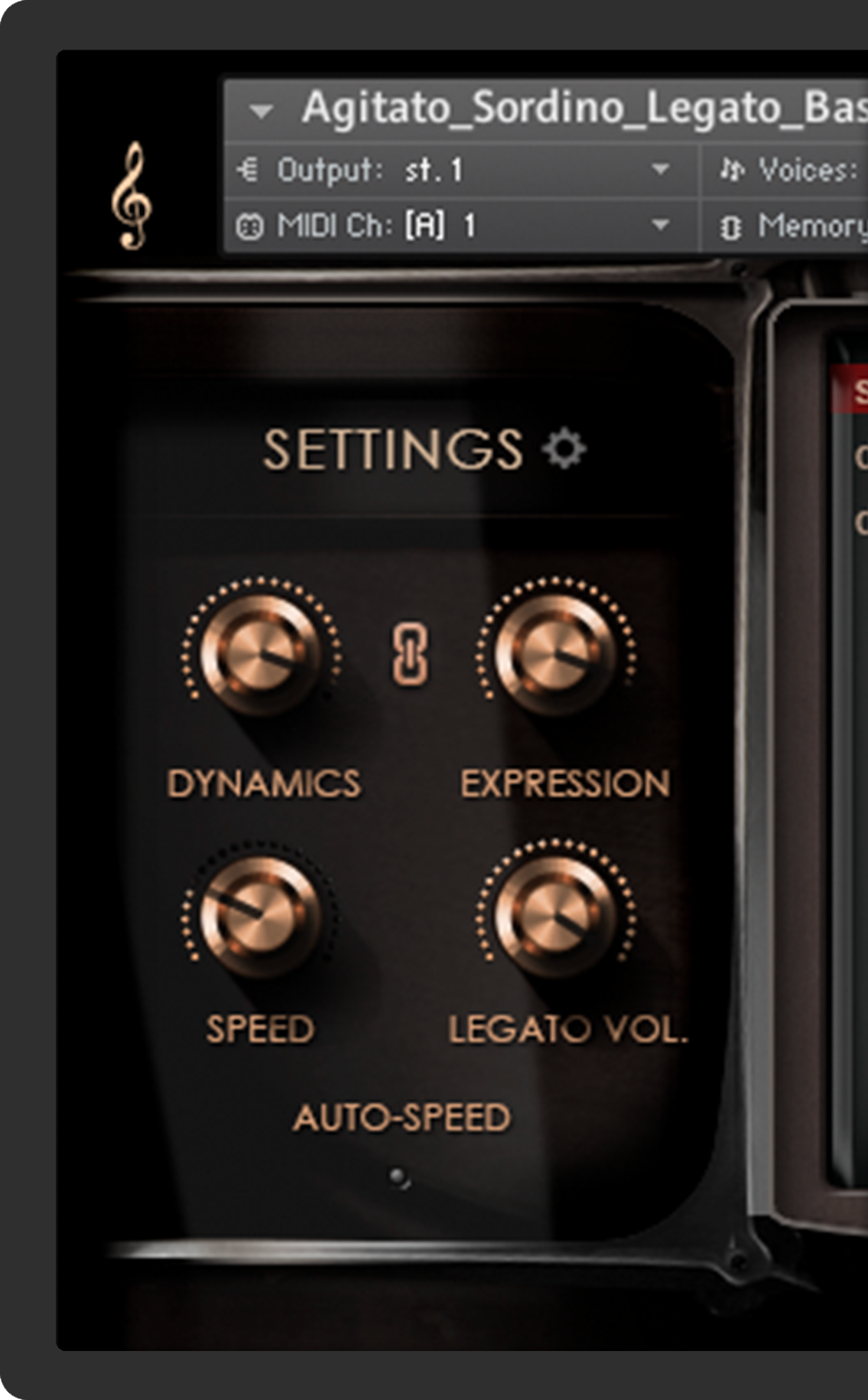 ARTS, SPECS AND REQS
Articulations:
Sordino Ensemble Legato Sections (9 different legato types) incl.:
Violin Sordino 3-Layer Multi-Purpose Velocity Based Legato: 3 Legato Types (Slur, Expressivo Normal, Expressivo Fast)
Viola Sordino 3-Layer Multi-Purpose Velocity Based Legato: 2 Legato Types (Slur, Expressivo Fast)
Cello Sordino 3-Layer Multi-Purpose Velocity Based Legato: 3 Legato Types (Slur, Expressivo Normal, Expressivo Fast)
Basses Sordino 2-Layer Multi-Purpose Velocity Based Legato: 1 Legato Types (Expressivo Fast)

Full Ensemble Articulations:
Ensemble Sordino Sustains (PP, P, MF, F) MW
Ensemble Sordino Spiccato (P/MF/F)
Ensemble Sordino Dynamic Bowing 1
Ensemble Sordino Dynamic Bowing 2

Individual Section Articulations:
Violin Section Sordino Sustains (P, MP, F) MW
Viola Section Sordino Sustains (P, MP, F) MW
Cello Section Sordino Sustains (P, MP, F) MW
Bass Section Sordino Sustains (P, MP, F) MW
Violin Section Sordino Spiccato (P, MP, F) MW
Viola Section Sordino Spiccato (P, MP, F) MW
Cello Section Sordino Spiccato (P, MP, F) MW
Bass Section Sordino Spiccato (P, MP, F) MW
Violin Section Sordino Dynbow 1 (P-M-P) MW
Viola Section Sordino Dynbow 1 (P-M-P) MW
Cello Section Sordino Dynbow 1 (P-M-P) MW
Bass Section Sordino Dynbow 1 (P-M-P) MW
Violin Section Sordino Dynbow 2 (MP-M-MP) MW
Viola Section Sordino Dynbow 2 (MP-M-MP) MW
Cello Section Sordino Dynbow 2 (MP-M-MP) MW
Bass Section Sordino Dynbow 2 (MP-M-MP) MW
Requirements:
Full Retail version of Kontakt 5.8.1 or later Required
Not compatible with the Free Kontakt Player
Agitato Arpeggio requires 8 GB of hard drive space
Minimum: Mac OS X® 10.8, Intel Core Duo 1.66 GHz, 8 GB RAM or Windows® XP (32 Bit) or Windows Vista® (32/64 Bit), Pentium® or Athlon XP 1.4 GHz, 8 GB RAM. 8 GB of RAM or more is highly recommended