8DM Animalix Volume 1 Bundle
Fully Customizable Groove Kits
3d-Based UI
50 Hardcore Trance Anthem Synths

50 Tonal Percussive Animal Synths
50 Talking Synths
6.82GB
Unique Stacking Features (stack up to 50 patches)
Advanced Pitch-Modulator
Advanced Chaos FX 3.1 System
Kontakt 5.8.1

 

Full Retail

 

(or later) Required
Delivered by Download
READ MORE
READ LESS
Unleash Your Inner Animal

8DM Animalix is an ultra-current blend of big room, progressive, and electro-house samples. The style is raw, animalistic, and uncompromised. Animalix comes with 15 custom big room kits, 50 hardcore trance anthem synths, 50 unforgettable tonal perc synths, and 50 in-demand talking synths.

8DM Animalix comes in two formats: Maschine and Kontakt. The Maschine version rocks your controller like never before, with a completely new intuitive layout, neat organization, and advanced macro controls for live manipulation. The Kontakt version utilizes all our experience from 8Dio, with our new 3.0 Chaos FX Engine, 3D rendered layout, and hyper-flexible interface. We made it easy, hyper-flexible, and with a top 40 sound right out of the box.

Disclaimer: You won't find any fillers, bad stock sounds, or weak patches here. Everything was polished and designed to match the sound of N.O.W. Unleash your animal and roar the charts.

MASCHINE
8Dio Animalix Maschine Edition is a completely new take on the Native Instruments Maschine Platform. You can create a smacking groove in seconds using our intuitive layout and color-coding or get into more specific details such as macro-controls and real-time FX. This new take on Maschine will surely win you over!
150 ULTRA-CURRENT SYNTHS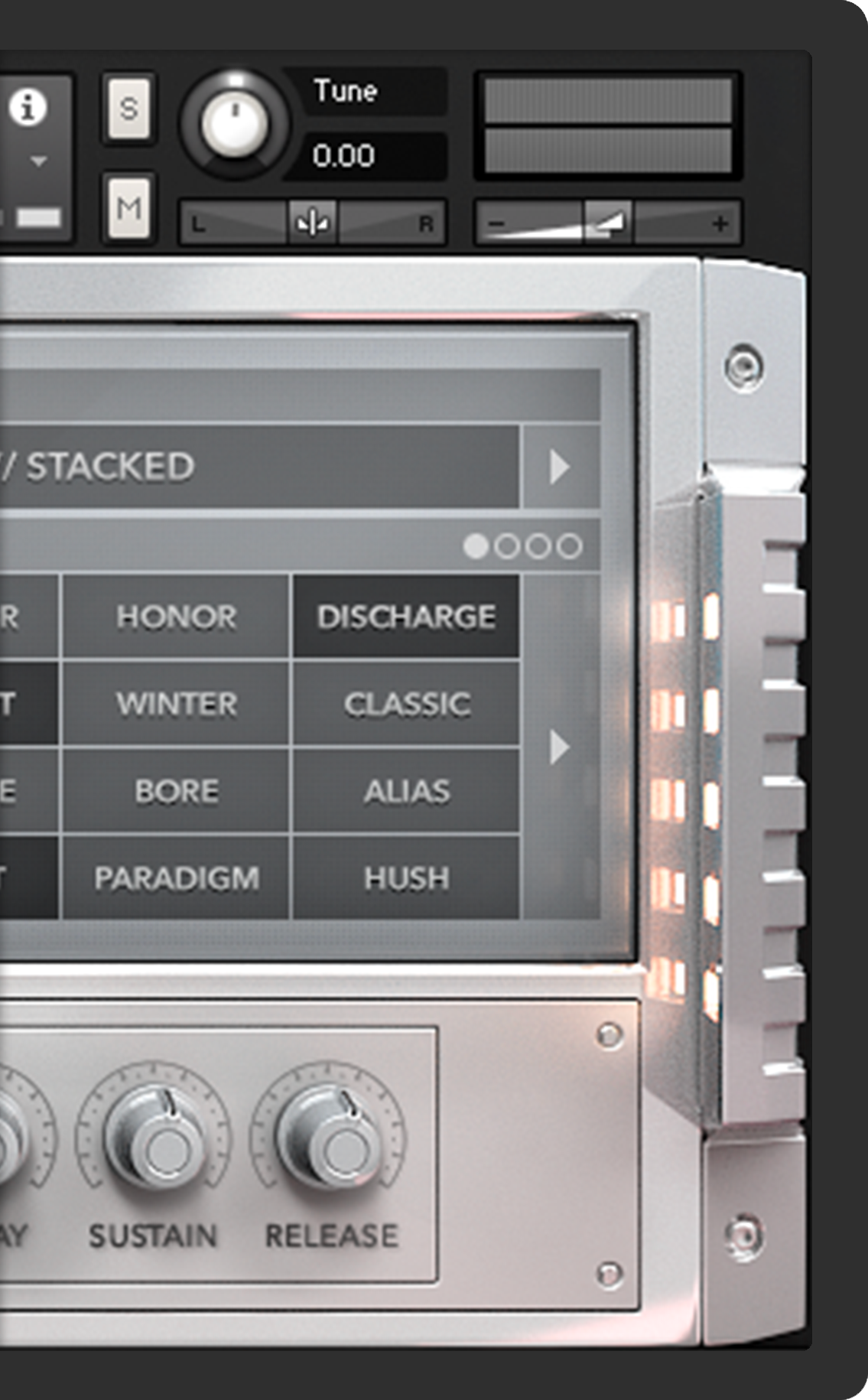 8DM Animalix comes equipped with over 150 multi-sampled synths and every patch, all designed to match the most current and popular EDM tracks. There are 50 hardcore trance anthem synths, 50 tonal trap-percussive synths, and 50 talking formant synths that can either be used as basses together with the trance anthem synths, or as standalone lead synths.
KONTAKT
8Dio Animalix Kontakt Edition utilizes all the knowledge we have from our industry-leading 8Dio sample collection. You can control everything from the keys (pitch, real-time FX), and our logical file organization makes everything extremely easy to use. We also integrated our brand-new CHAOS FX 3.0 system!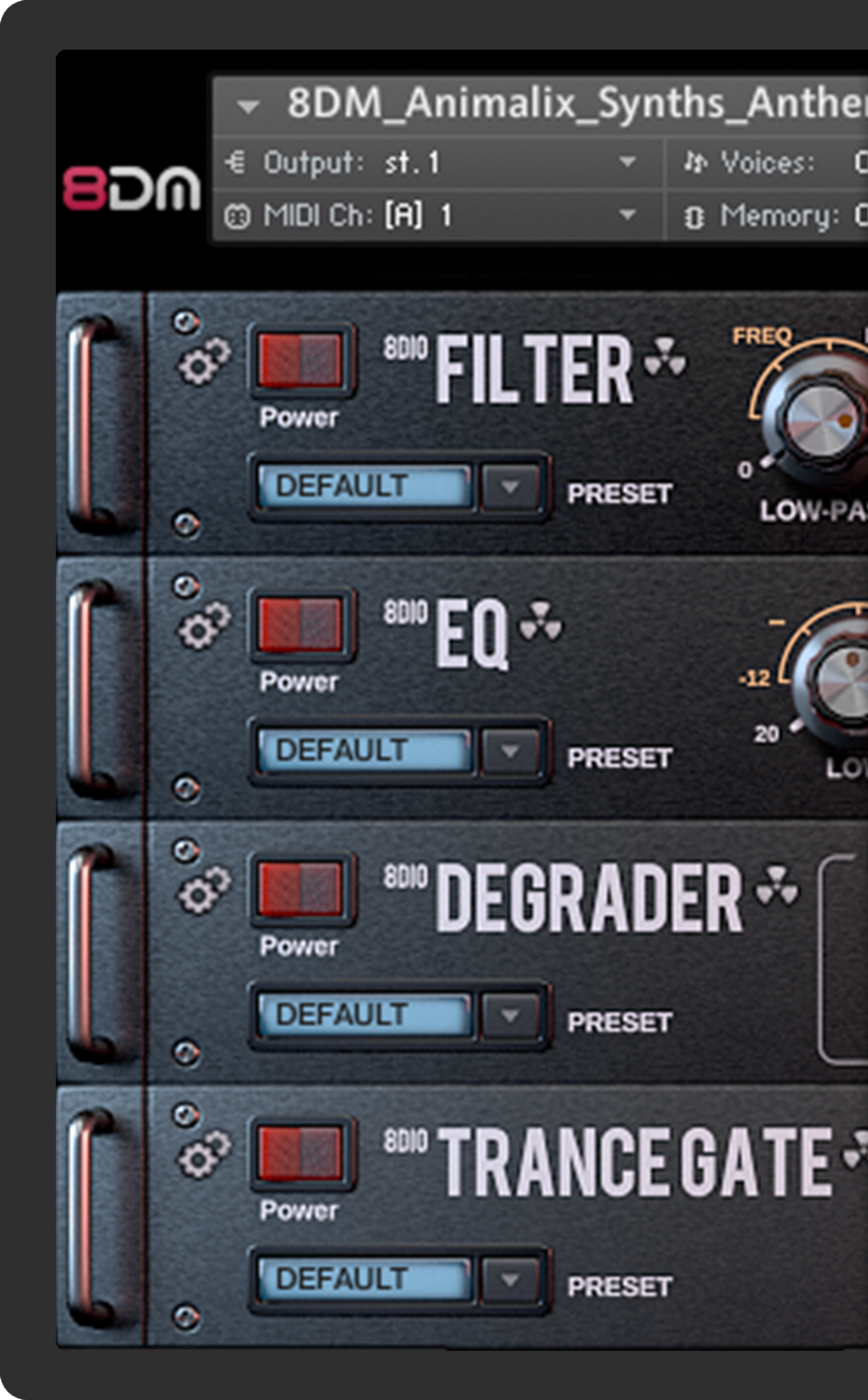 ARTS, SPECS AND REQS
Kontakt Pack:
15 Fully Customizable Groove Kits
2.697 Animalix Samples (.ncw)
EDM Chart Quality
50 Hardcore Trance Anthem Synths
50 Tonal Percussive Animal Synths
50 Talking Synths
3D Based User-Interface
Unique 8DM 3.0 FX Engine
Logical file organization
Oneshot samples & Loops
Bonus: Unique Arp added to Chaos 3.0 Engine
Requirement: Kontakt 5.8.1 (Full Retail) or later
Machine Pack:
20 Fully Customizable Groove Kits
EDM Chart Quality
2.697 Animalix Samples (.wav)
50 Hardcore Trance Anthem Synths
50 Tonal Trap-Percussive Animal Synths
50 Talking Formant Synths
High intuitive layout – all set up
Mastering Chain Already Done
Logical file organization
Oneshot samples & Loops
Bonus: 80 Maschine Project Scenes
Bonus: 16 Drum Synth Bass Drums
Requirement: Maschine 2.0 or later
8DM Maschine Video Installation Guide Here