Ostinato Strings Chapter 2
8.12GB / 8,445 Samples

Ultra Deep-Sampled String Ostinatos
Fully Tempo-Synced to DAW Tempo
Dynamic Control with Velocity & Round Robin
6 Violins, 6 Violas, 4 Cellos & 4 Basses
4 Mic Positions (Mixed, Decca, Close & Far)
Custom Browser w/ Built-In Articulation Matrix
Custom Convolution, Microphones, EQ, & Chaos FX
Delivered by Download
Kontakt 5.8.1

 

Full Retail

 

(or later) Required
READ MORE
READ LESS
Advanced Patterns

Ostinato Strings Chapter II is the sequel to our repetition-based string instrument, Ostinato Strings. This latest edition continues the series by taking the concept of deep-sampled phrase-based string repetitions and builds upon it with fifteen in-depth and articulate ostinato string figures, each one effortlessly playable and undeniably musical.

Ostinato Strings Chapter II features a dynamically arranged ensemble of 6 Violins, 6 Violas, 4 Cellos, and 4 Double Basses. Each section was independently recorded to allow for ultimate flexibility and customization in the production process. This collection of instruments perfectly captures the essence and realism of many iconic ostinato based string patterns used in modern cinema, making this latest chapter the perfect companion to any orchestral palette.

Each figure is not only available across an instrument's musical range, but is also fully host tempo synchronized. Utilizing our "poly-time" legato mode also offers you the ability to change a phrase's pitch mid-way through the pattern, allowing for an almost endless array of rhythmic and tonal possibilities.

The entire Ostinato Strings series was painstakingly captured at 96 kHz before being carefully down-sampled to 48 kHz for ease of streaming. Each recording session also featured only the very best in recording equipment, ensuring an analog signal path and carefully managed workflow. This not only preserves and enhances the accuracy and character of each instrument, but helps us to truly honor the sound of these master musicians.

Century is and always will be more than a collection of sample libraries to us. Each one tells the story of our musical journey: emotional, distinct, and undoubtedly one of the most realistic series of instruments ever launched.

From superheroes to adventurers, high-paced action to swarms of foes, Ostinato Strings helps you add the driving force and a sense of dynamic realism to any score.

Control the Sound and Room
Century Ostinato Strings offers a full ensemble string section comprised of independently conducted and recorded Violins, Violas, Celli, and Double Basses. By splitting the sections this way, we can offer complete control over each ensemble. With options such as Volume, Panning, Stereo Width and per-instrument loading, you can isolate or combine the string sections.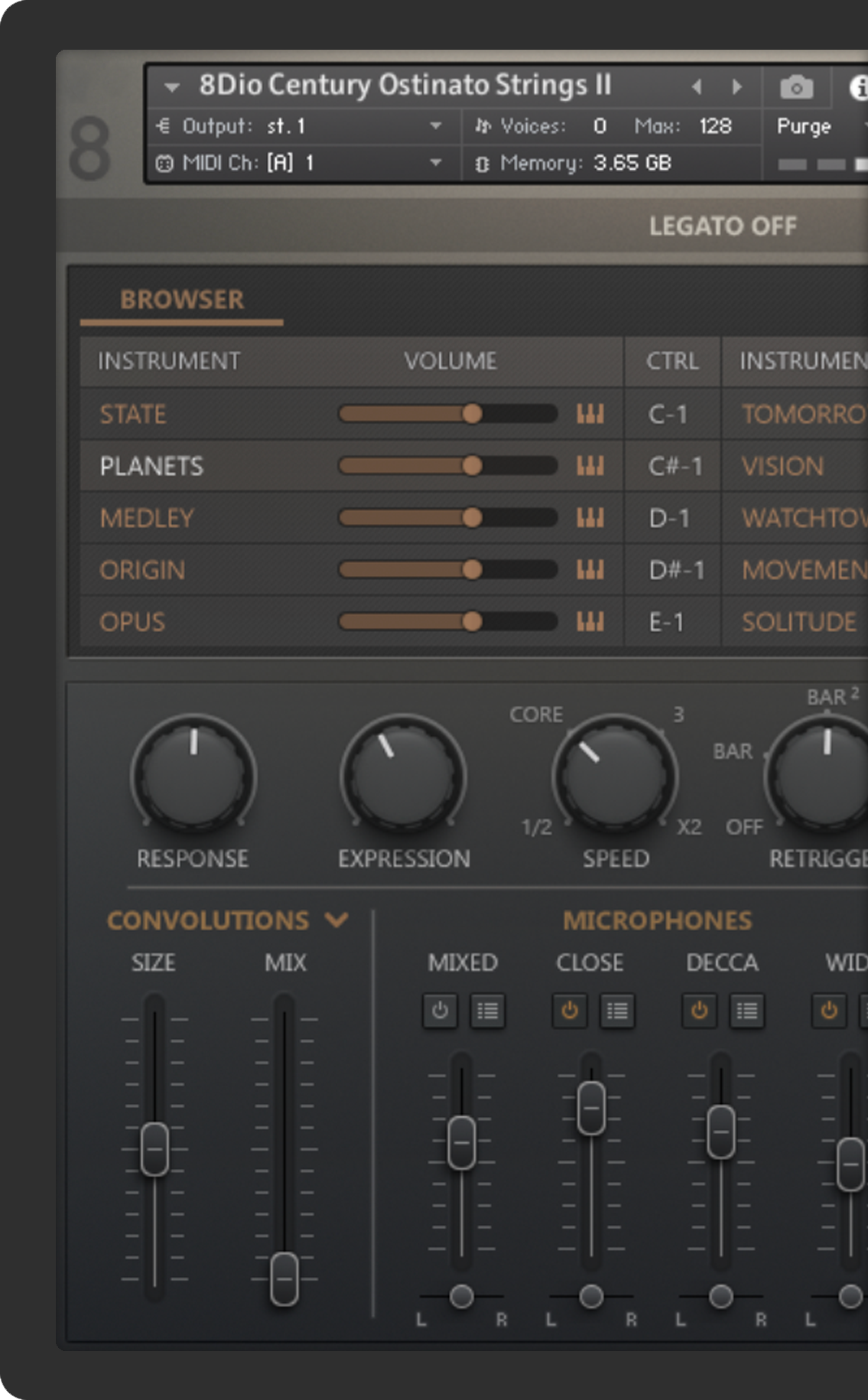 Microphone Arrays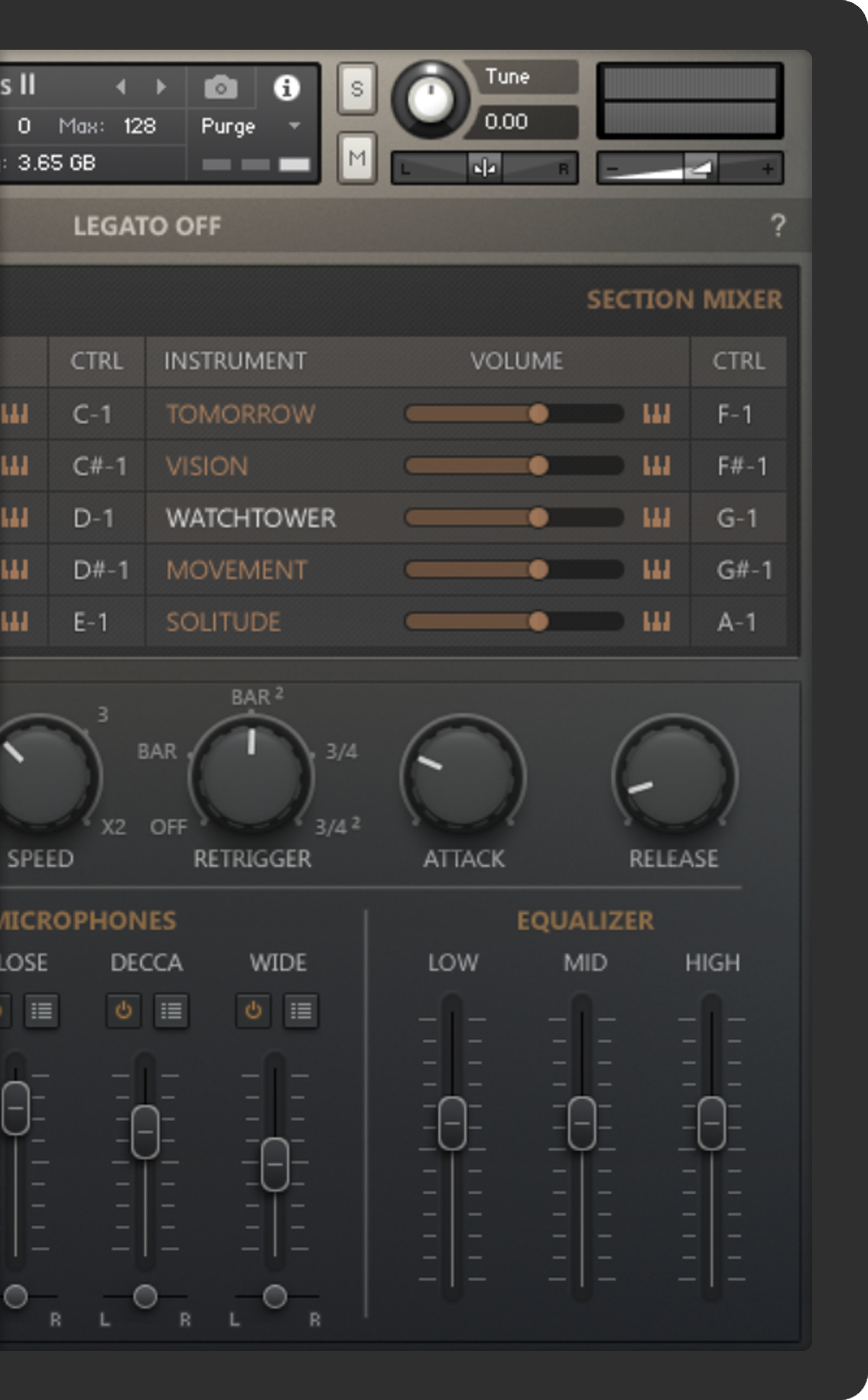 Century Ostinato Strings features four mixed arrays of carefully positioned microphones, each offering a unique perspective for your production. By default, we included our "out of the box" Mix, as well as our more direct, intimate Close Mix made from summing the players' spot microphones.
One Click to Everything
The entire Century series is specifically designed to cater to a modular workflow. The sound, stage, programming, and instrumentation allow for each library to blend seamlessly. Our Ostinato Strings Collection expands the series even further, allowing you to perform truly realistic string figures with full control of each independent section.