Christopher Youngs - Orchestral Touch
7,756 Samples / 5.92GB
7 Mic positions (Decca, Wide, 5 Spot Mics)
Curated from over 35 years of Young's lifetime work
Aleatoric Orchestral FX
Orchestral Arcs & Clusters
Short Note Effects & General FX
10 In-House Custom Presets
Reverse, Stretch and Chaos Control
Chaos Effects 4.0 with customizable FX rack
Inbuilt IR, Effects and Modulations
Delivered by Download
Kontakt 5.8.1

 

Full Retail

 

(or later) Required
READ MORE
READ LESS
Orchestral Soul

8Dio Soul Series is a new product line representing the musical spirit of highly acclaimed artists.  We are privileged and excited to begin the journey with acclaimed composer, Christopher Young (Hellraiser, Spider-Man 3, Sinister, Swordfish, Ghost Rider, The Rum Diary etc).

Christopher Young has a beautifully unique way of approaching scores – both by working with orchestras and performers, but also by weaving musical sound design and textures into his music.  We've worked with Christopher Young, curating over 35 years of recordings and sonic experiments.  The result is an incredible collection of organic textures and pro-grade scoring tools.

8Dio Soul Series: Christopher Young – Orchestral Touch is a large collection of orchestral effects – specifically composed and designed by Christopher Young. You can also purchase the Christopher Young Collection, which is a bundle containing both Orchestral Touch and Textural Worlds.

8Dio designed a new, advanced user-interface for the Christopher Young libraries – offering a wealth of novel features.  Perhaps the most prominent is our new IR-engine (impulse response engine).  The IR-engine offers you the ability to make any sample in the library into a convolution impulse.  The impulse can then be superimposed on any other sample in the library.  In addition, user-interface also includes instant stack, reverse, stretch, off-set and chaos functions. The library is also first to feature our new Chaos 4.0 system, which allows you to create any FX chains of your own choice.

Organic Textures
Christopher Young is known for his incredible versatility and use of both orchestral and non-orchestral elements into his scores. We have created two libraries to compliment both elements. The first, Textural Worlds, contains thousands of super organic scoring elements made with a vast array of playful methods and innovative recording techniques. The second, Orchestral Touch, represents thousands of unique aleatoric effects by Christopher Young.
Infinite Sound Design
The Christopher Young libraries offer infinite options for sound design. Start with over 16,000 hauntingly beautiful samples by Christopher Young. Then, add our new IR engine that allows you to make any sample into a convolution impulse. We include features like instant stacking, reversing, time-stretching, and off-set, and the new advanced Chaos 4.0 engine.
4-Part Modulation Engine and New Chaos FX 4.0
The Christopher Young libraries also contain our new 4-part modulation engine for extreme sample and effects work. The 4 modulation engines each contain their own X/Y grid, and you can assign an FX parameter to both the X/Y value. In addition, powerful functions like reverse and stack are only a click away. Everything is easy to use.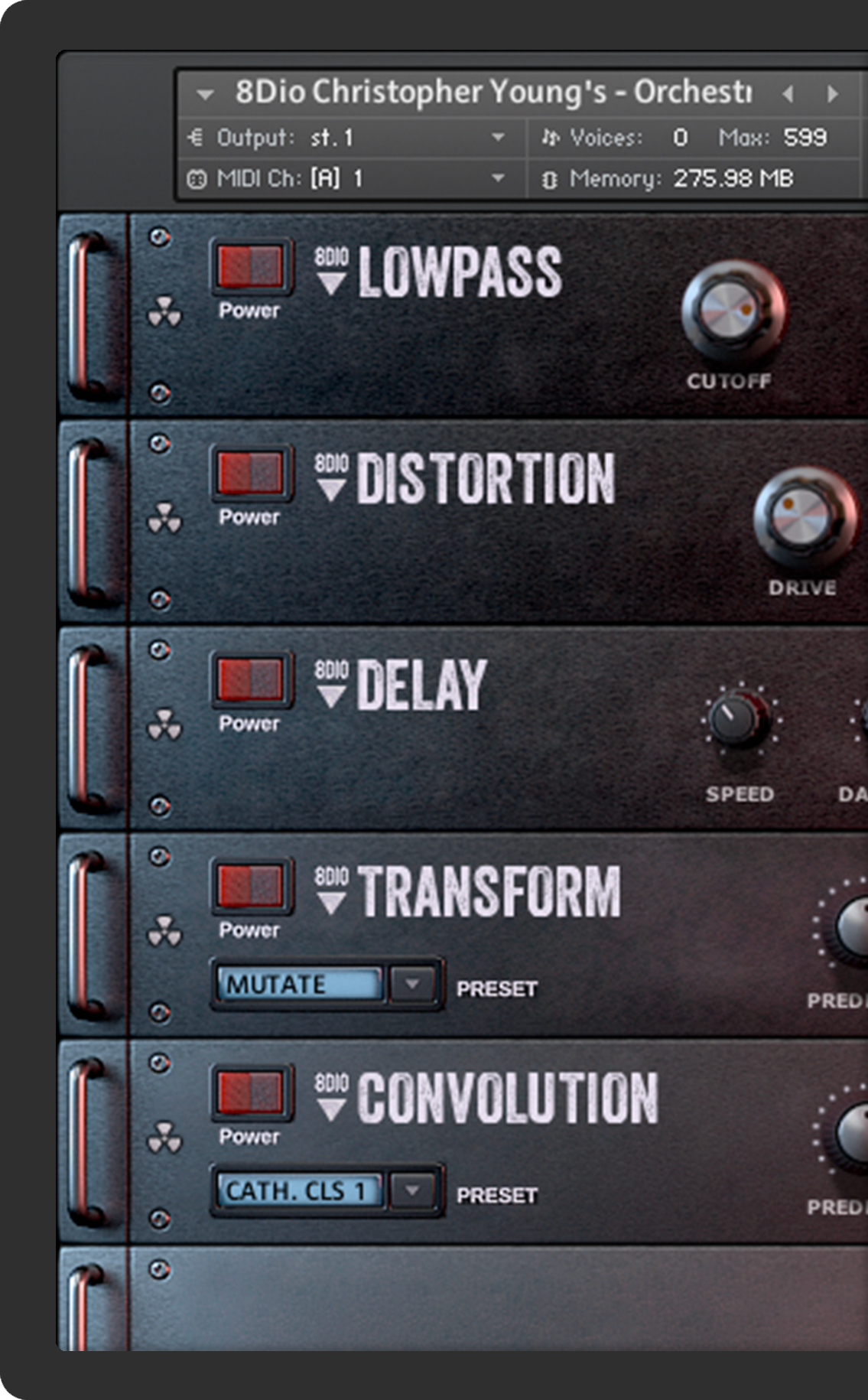 ARTS, SPECS AND REQS
Articulations:
Arcs
Arcs 1
Arcs 2
Arcs 3
Arcs 4
Arcs 5
Arcs 6

Shorts
Shorts 1
Shorts 2
Shorts 3

Effects
Presets:
Delayed Shorts
Distorted Hits
Disturbing Crescendo
Fast Buildup
Granular Crescendo (CC11 Control)
Intergalactic Sparks (CC 11 Control)
Pizziwoofer
Prepare to Launch
To Infinite
Violent Repetitions
Mic Positions:
Decca
Wide
Spot Violin 1
Spot Violin 2
Spot Viola
Spot Cello
Spot C. Bass
Requirements:
Full Retail version of Kontakt 5.8.1 or later required
Not compatible with free Kontakt Player
Minimum: Intel Core i5 or equivalent CPU. 8 GB of RAM or more is highly recommended. For TMPro Patches, i7 or equivalent is highly recommended.
Soul Series: Christopher Young Orchestral requires 5.49 GB of Hard Drive Space
8 GB of RAM or more is highly recommended