Clocks
Clocks. Tick. Tock.

Kontakt VST / AU / AAX
Similar Cinematic Instruments Available in

 

Soundpaint
780+ Unique Clock Samples / 0.13GB
Percussive Tool For Driving Motion & Rhythm
Including Both Real Clocks & Other Clocks
Chaos FX Engine
Built-In Hybrid Tools Custom 3D User-Interface
Instant REVERSE, RANDOM, STACK and CHAOS
Delivered by Download
Kontakt 5.8.1

 

Full Retail

 

(or later) Required
READ MORE
READ LESS
Tick. Tock.

"… In 2007 I bought this Stainless-Steel Egg Timer from Ikea. I sampled it with different microphones and from different distances and have used it ever since in most of my music. The "tick-tock" sound is not only a symbol of motion, rhythm, and time. But it also tends to sit in its own little frequency spectrum – not interfering with other sounds. So it's great as a subconscious pulse-machine of sorts, since it just helps accentuate and propel the rhythm. 10 years later … and we are now releasing this collection containing over 780 Tick Tock sounds, including The Ikea Egg Timer samples that started it all and tons of new sources" - Troels Folmann

8Dio Clocks is the largest collection of tick-tock timepieces. Stop Watches, Egg Timers, Wrist Watches, Grand Father Clocks and hundreds of other unique tick-tocky sound sources. The Clocks are highly effective for boosting your rhythm and adding a feeling of pace and suspense. The collection contains several hundred tick-tock sounds, so it's highly recommended to blend and layer them together. 8Dio Clocks is a sample library dedicated to the highly popular Ticky-Tack Sounds.

Tick. Tock.
8Dio Clocks is supreme for driving motion and highlighting rhythms. The library contains all the clock sounds you'll ever need, with sound-sources like the famous Ikea Egg, Vintage Alarm Clocks, Pocket Watches, Upright Clocks, Digital & Electronic Clocks, and a variety of different relay elements. We promise you a dedicated clock library with all the clock-sounds you will ever need.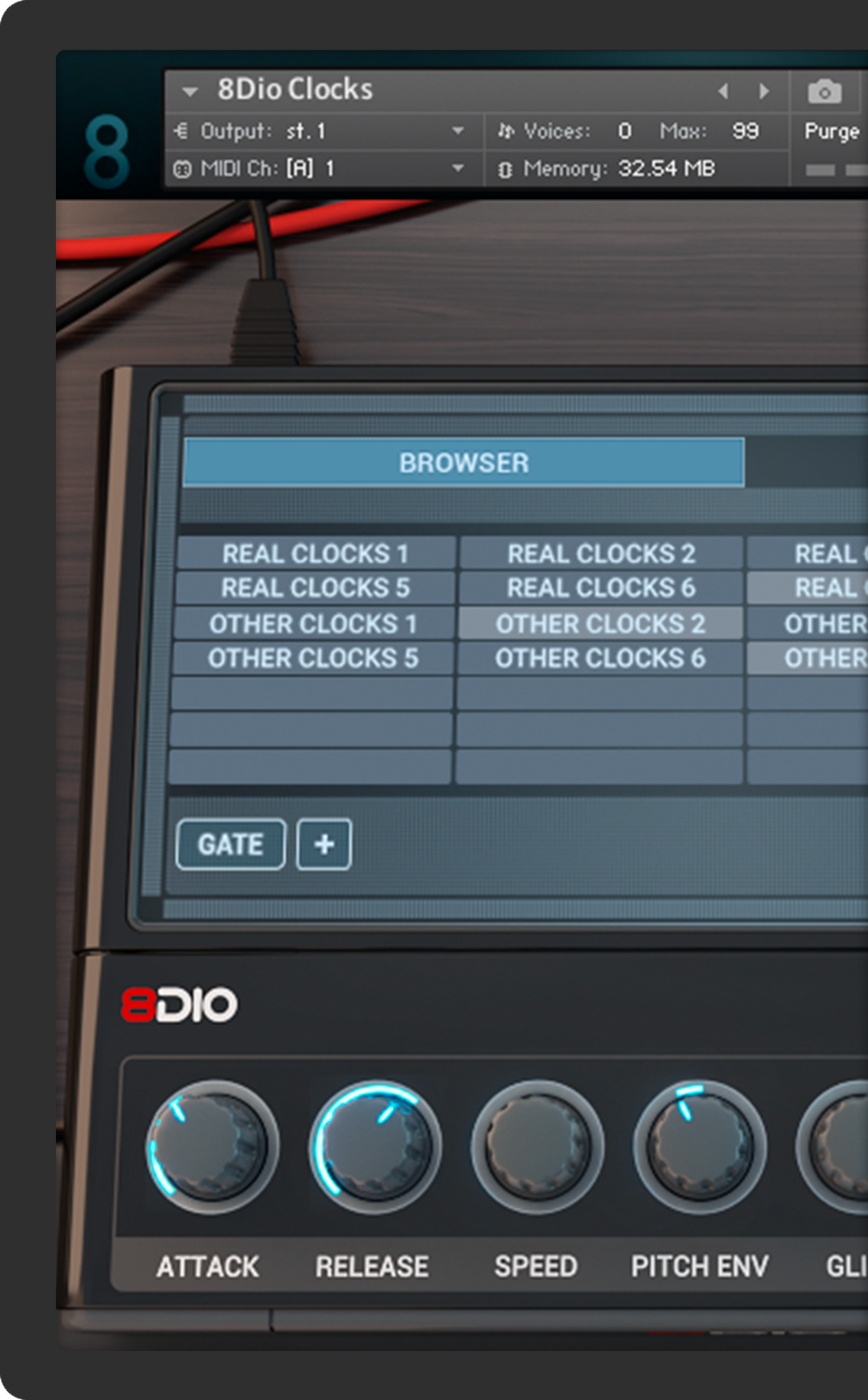 Percussive Tool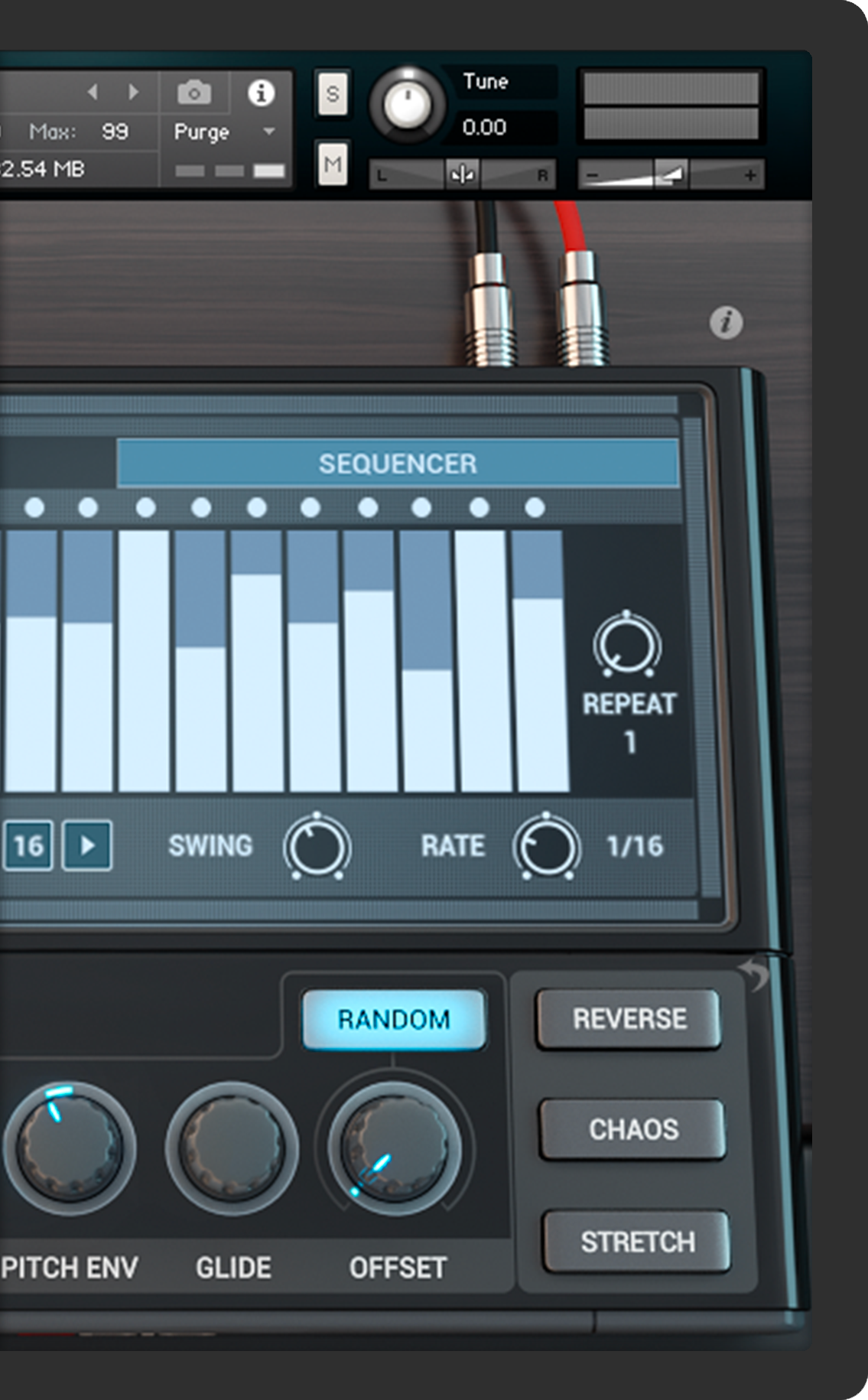 8Dio Clocks is built into our latest Hybrid Cinematic 3D User Interface, which also includes its own step-sequencer, so you can create advanced pulses by cycling through various clock sounds. It also includes our famous CHAOS FX engine, which allows you to stack several different patches together or combine them for modern drum kits and more!
The Clocks Way
Each clock sound was recorded with several Round-Robin repetitions which are laid out over the keyboard for uncompromising control over the sounds. To extend the possibilities of tick-tock effects, we added our time-tested FX Chaos Engine, with step-sequenced filters, 3-band equalizer, degrader, stereo delay, and more!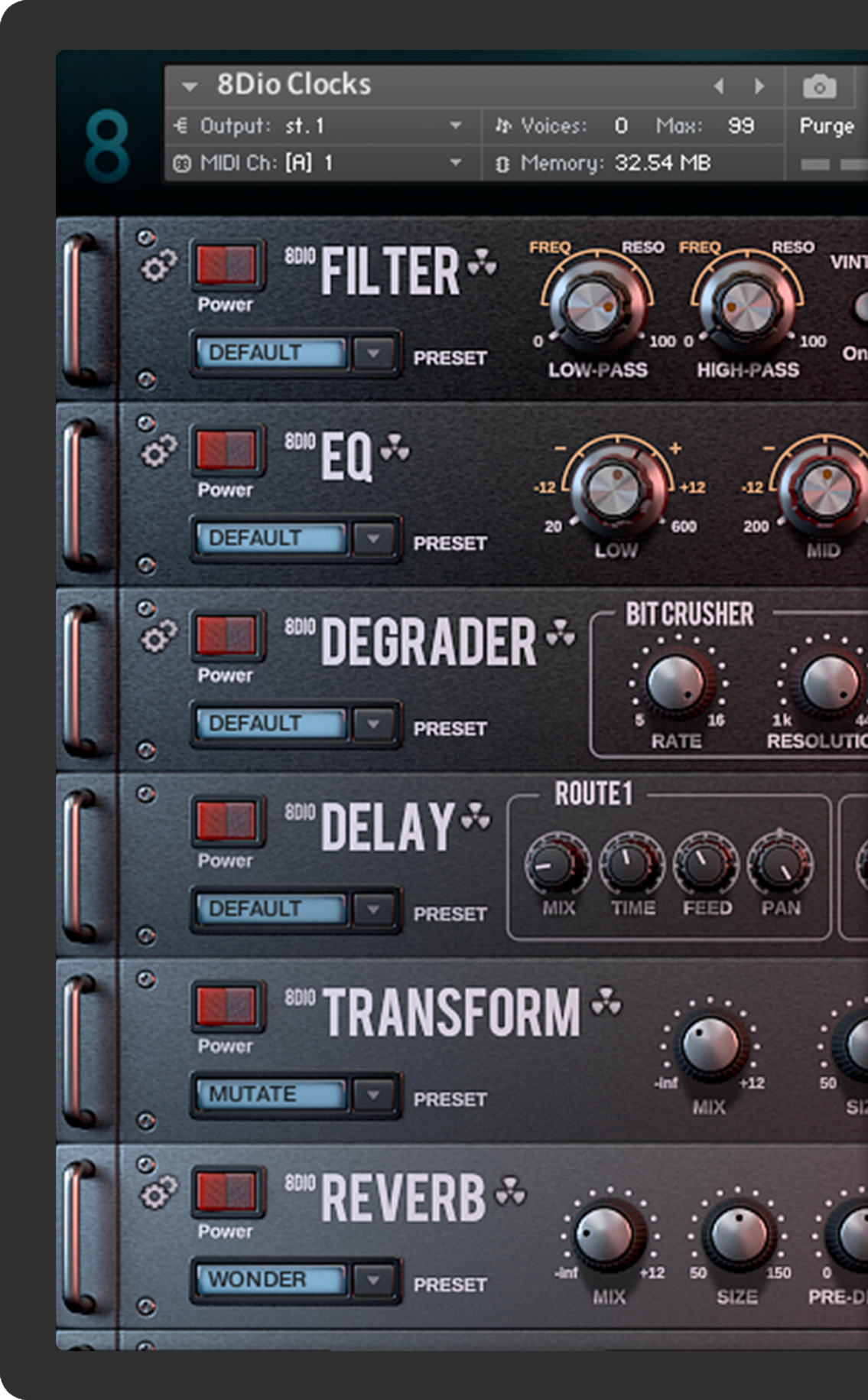 ARTS, SPECS AND REQS
Articulations:
Real Clocks
Real Clock 1
Real Clock 2
Real Clock 3
Real Clock 4
Real Clock 5
Real Clock 6
Real Clock 7
Real Clock 8

Other Clocks
Other Clocks 1
Other Clocks 2
Other Clocks 3
Other Clocks 4
Other Clocks 5
Other Clocks 6
Other Clocks 7
Other Clocks 8
Chaos FX:
Chaos FX Engine
Instant CHAOS (randomize parameters)
Instant REVERSE (one click to reverse it all)
Instant RANDOM (randomize all patches)
Instant STACKING (stack any patch you want)
Instant ARP Sequencer
Delay
Degrader (Bit Crusher)
EQ
Filter
Gate
Convolution Reverb
Transform (Alternative Convolution Reverb)

Modwheel control of filter
Requirements:
Full Retail version of Kontakt 5.8.1 required
Not compatible with free Kontakt Player
Clocks Full-Size 125MB
Runs as a stand-alone application, VST®, Audio Units plug-in, AAX® under Pro Tools
8 GB of RAM or more is highly recommended
Sample resolution: 44.1Khz / 24Bit stereo .wav, .ncw format