3 Duduks
Price: $30 (not eligible for discounts until July 6, 2024)

3 Duduks (A, Bb, & C)
2.3GB; 1,700+ Samples
4 different velocity-based legatos
Product only available as Direct Download
Kontakt 5.8.1

 

Full Retail

 

(or later) Required
READ MORE
READ LESS
Melodic Echoes. Alluring Soundscapes.

A mesmerizing collection featuring three expressive, hauntingly beautiful duduks. Immerse yourself in the captivating sounds of these meticulously sampled instruments, each possessing its own unique character and tonal nuances. With the power of layered legato, effortlessly create enchanting melodies that evoke emotions from ancient traditions to cinematic compositions. The ethereal charm of these Duduks paints a myriad of colors on your musical palette, offering a seamless blend of exotic expressions and somber emotions.

These duduks adapt to your playing style on the keys, with velocity-based layered legato, seamless dynamic expression, and total control over speed, release, and more. From subtle and soft to loud and proud, the duduks can always add something new. The captivating allure of these instruments transcends boundaries, creating truly evocative and captivating compositions.

3 Duduks
The 3 duduks in this collection are pitched in different keys - A, Bb, and C. While they have similar ranges, the timbre of each duduk is unique. The duduk in A is dark and warm, while the duduk in Bb is somewhat softer, and pure. The duduk in C has a stronger, buzzy tone.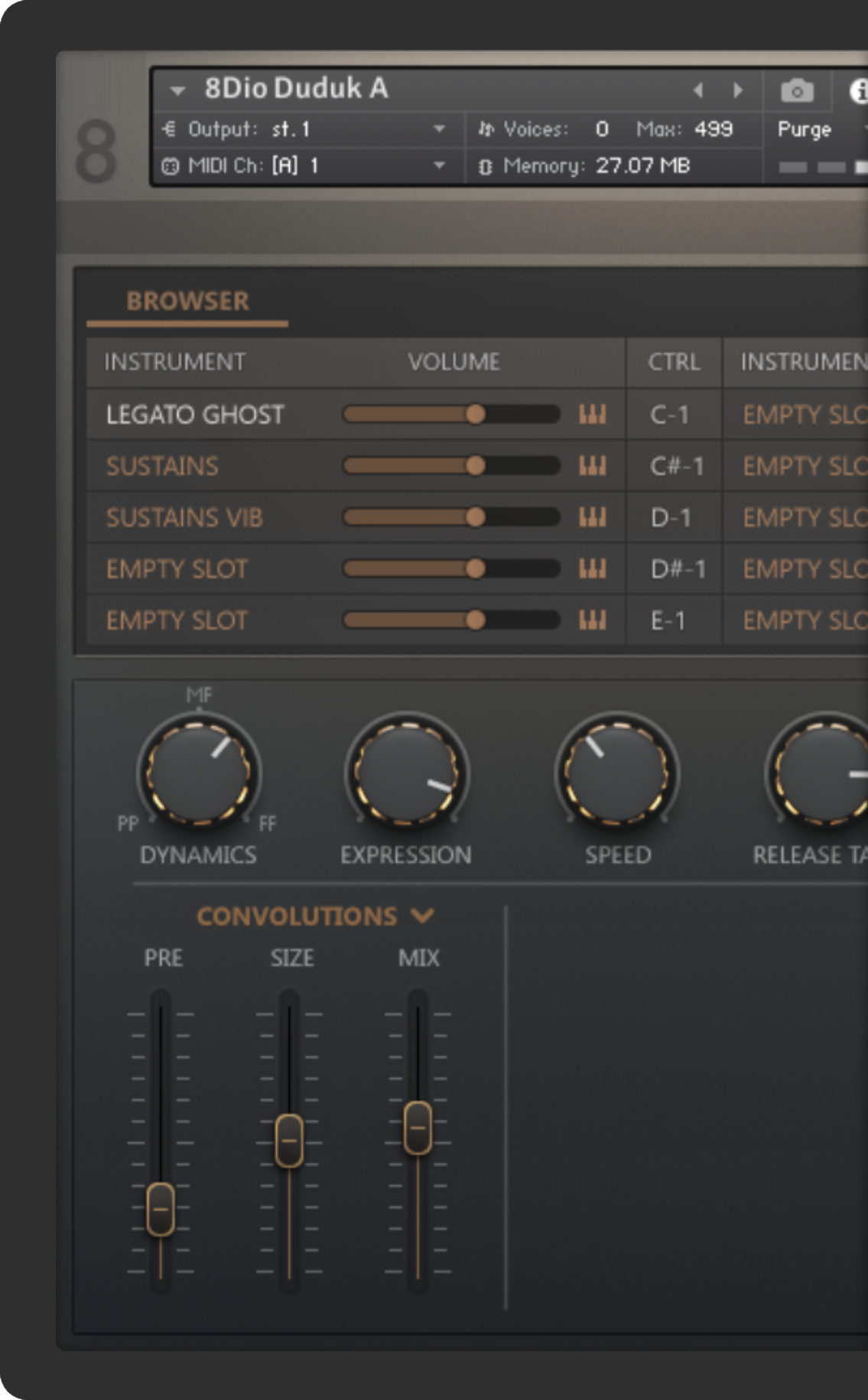 Layered Legato
The legato transitions adapt based on how you play. Lower velocities will trigger slower transitions - bends, portamentos. Medium velocities trigger standard legatos, and high velocities trigger "ghost" legatos, with an extra, slightly percussive ghost note.
Chaos Effects
Take the duduks to new sonic realms with the built-in chaos effects, including dual convolution reverbs with custom special effect impulses and much more. Use the chaos button to instantly randomize any effect and inspire new ideas.