8DM Electro House Volume 1 Bundle
Electro House Vol. 1 for Maschine 2.0

Electro House Vol. 1 for Kontakt
Electro House Vol. 1 Wav-pack
EDM Chart Quality
Logical file organization
39 Fully Customizable Groove Kits
EDM Chart Quality
413 Electro House Samples (.wav)
High intuitive layout – all set up
Mastering Chain Already Done
3.88GB
Kontakt 5.8.1

 

Full Retail

 

(or later) Required

Delivered by Download
READ MORE
READ LESS
Zappy Grooves

Electro House is one of the most dominating styles on the current EDM scene. It is undeniably cool, clear, and concise in its sound. All elements are designed to clearly stand out from each other in the mix. The end-result is a super clean sound that makes the whole world wiggle. This gives you a completely clean and polished experience. Everything is designed to match the current EDM charts, and the quality is uncompromisingly cool.

8DM Electro House Vol. 1 comes in three different formats: Maschine, Kontakt and Wavpack.

The Maschine version rocks your controller like never before, with a completely new intuitive layout, neat organization, and advanced macro controls for live manipulation. The Kontakt version utilizes all our experience from 8Dio, with our new 3.0 Chaos FX Engine, 3D rendered layout, and hyper flexible interface. The powerful Wavpack, with all the samples neatly organized for easy DAW integration, is easy, hyper-flexible and has an undeniably fresh, top-40 sound, right out of the box.

MASCHINE
8Dio Electro House Vol. 1 Maschine Edition is a completely new take on the Native Instruments Maschine Platform. You can create a smacking groove in seconds using our intuitive layout and color-coding or get into more specific details such as macro-controls and real-time FX. This new take on Maschine will surely win you over!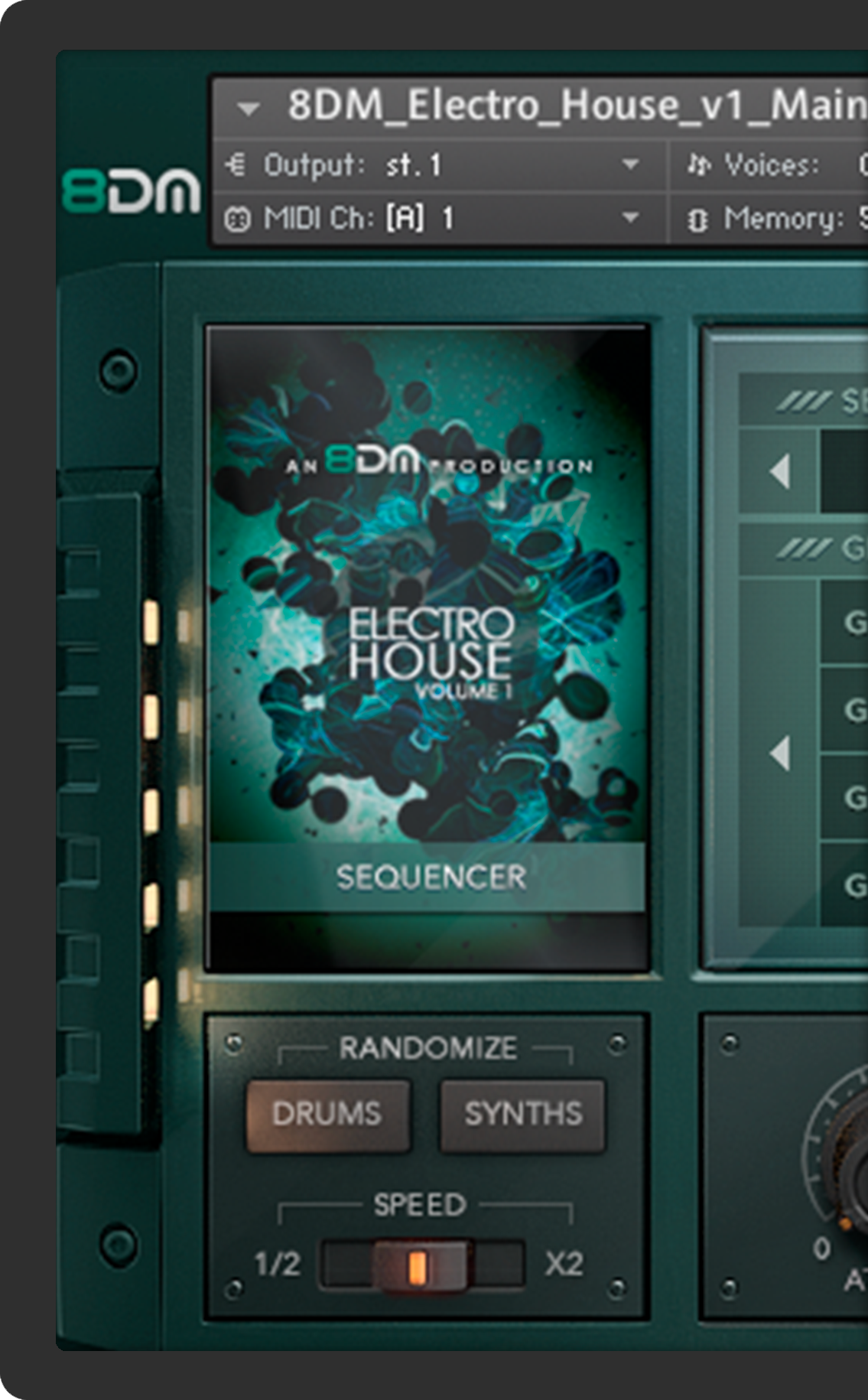 KONTAKT
8Dio Electro House Vol. 1 Kontakt Edition utilizes all the knowledge we have from our industry-leading 8Dio sample collection. You can control everything from the keys (pitch, real-time FX), and our logical file organization makes everything extremely easy to use. We also integrated our brand-new CHAOS FX 3.0 system!
WAV-PACK
8DM Electro House Vol. 1 Wav-Pack is designed for the DJ/producer that just wants the raw wave files for their own environment. We spend quite some time labeling everything correctly, so whether you need BPM information or instantly need to find a kick, snare, cymbal, bass synth, or lead synth, it's all there for immediate and intuitive access.