Emotional Guitars Pads
Cinematic Emotional Guitars

Over 2 years of production time
2.8GB
1,300+ unique looping Emotional Pads
32 Human Emotions at your fingertips
Based on the Plutchik's Wheel
Intuitive Easy To Use GUI
Stack Articulations To Create New Pads
Advanced UI with 4-part XY Effects Engine
Includes our Custom CHAOS Effects
Delivered by Download
Kontakt 5.8.1

 

Full Retail

 

(or later) Required
READ MORE
READ LESS
Instant Emotion

A couple of years ago, we wondered how we could make a library that could encapsulate the most important human emotions, those that drive us to act the way we do, what makes us human. After some research, we discovered the Plutchik Wheel, which would summarize human emotions in a wheel, relating them by proximity and similarities.

After narrowing down the project, we decided to make this library only with guitars, to try and make the musician recording these emotions CREATE them with his hands, craft every single note with his heart and not merely sound design. This is how Emotional Guitars was born – from the hands and inspiration of one musician (with a lot of guitars), to your fingertips. We loved working on this project, and we are sure it will become a swiss army knife of reaching quick results for you.

With thousands of emotions organized into 32 different articulations (Emotions) that closely follow the Plutchik's Wheel, it has never been easier to score scenes with this much of an emotional impact. Whether you need just a simple underscore or a more complex score that weaves in and out between dozens of different emotional textures, Emotional Guitars has you covered.

Emotional Guitars Pads is the first of 3 volumes, including 'Emotional Guitars: Rhythms' and 'Emotional Guitars: Multi-Samples,' which feature both rhythmic phrases, loops, and traditional multi-sampled guitars. It truly has never been this easy to score with such emotion and such accuracy. Any situation, any time.

What is Plutchik's Wheel?
Psychologist Robert Plutchik theorized that there are eight primary emotions: joy, trust, fear, surprise, sadness, anticipation, anger, and disgust. Plutchik's wheel illustrates eight primary emotions and 24 complimentary emotions. This tool not only demonstrates the emotions that relate to one another, but also show you the emotions that are polar opposites.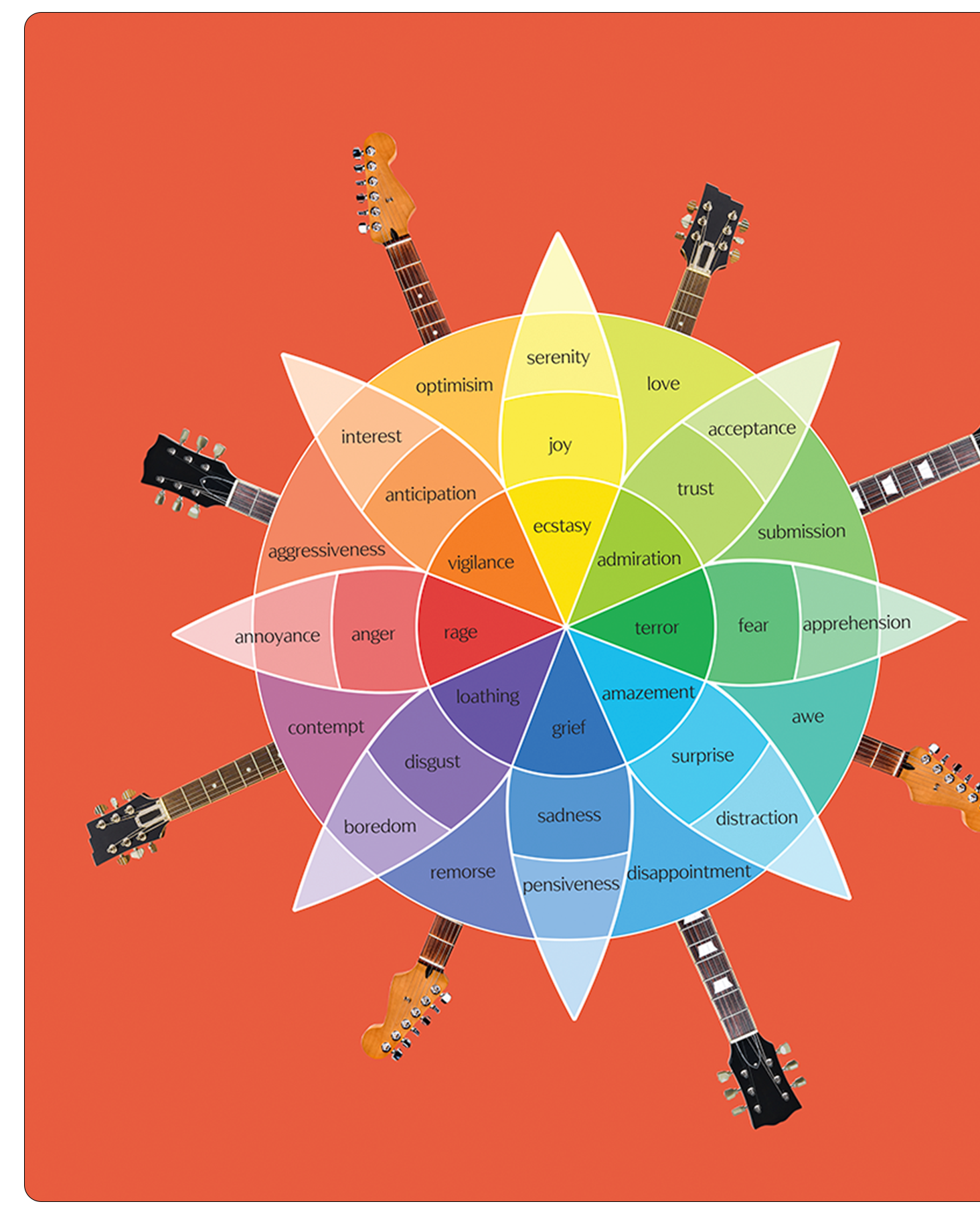 Infinite Emotional Pads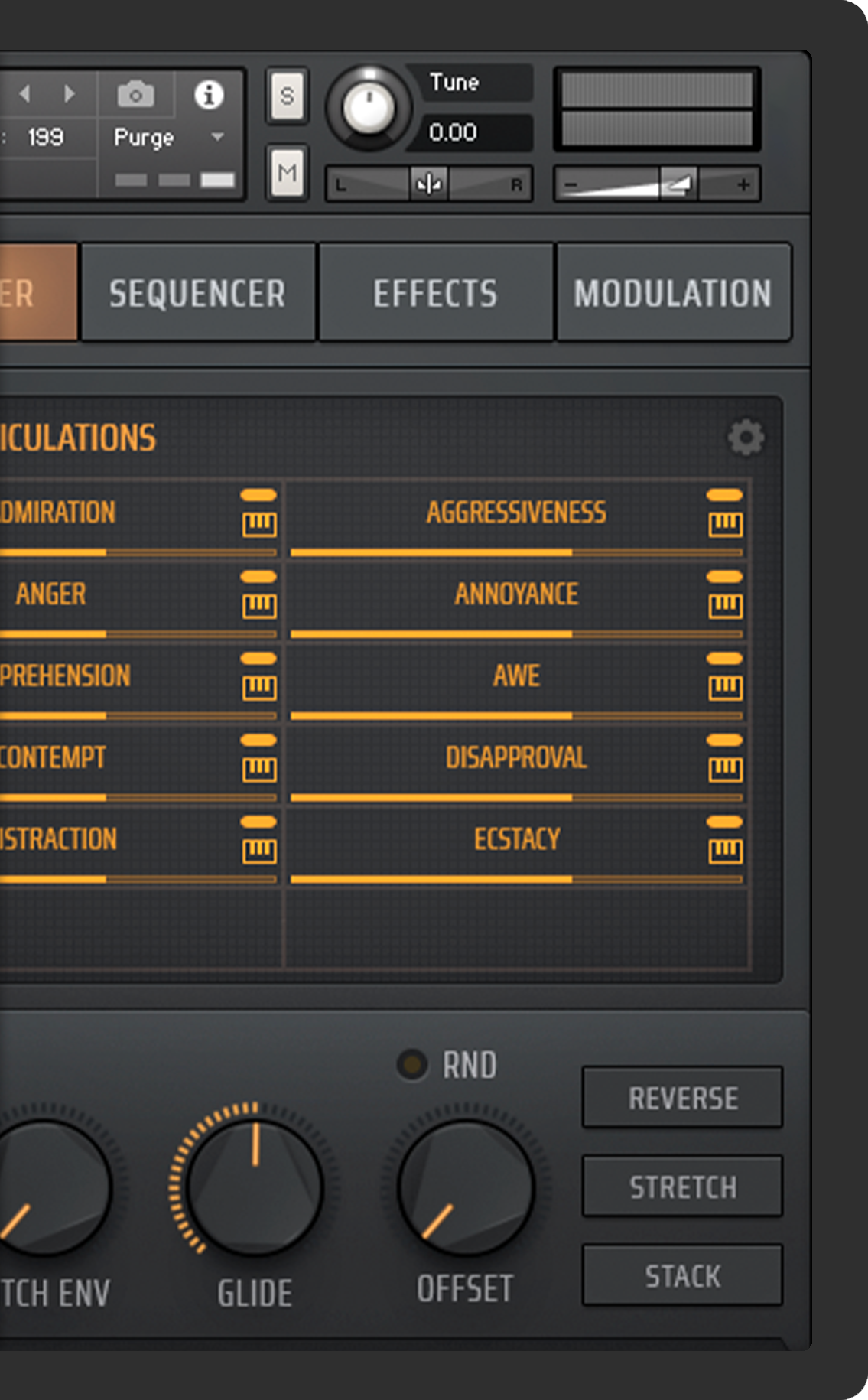 To fill the empty space or create a background palette, we created looping pads entirely with guitars. These colors will drive your listeners towards rage, serenity, distraction, and even ecstasy! These pads are designed to add to your compositions and just let your fingers go with long sustains that will colorize your music in a matter of seconds.
Infinite Combinations
Variety is key to the taste! Thanks to our unique and flexible engine, a combination of any of the emotions is possible to create that perfect tone you're looking for. Combine Love with Sadness and get a new taste, or maybe Terror and Serenity could be what you're looking for. Any set of emotions can be stacked and manipulated in infinite ways!