Epic Dhol Ensemble
Kontakt / VST/ AU / AAX

2,056 Samples / 1.19GB
Also Available in Soundpaint ($20) with 127 Dynamic Layers
Multi-sampled Dhol Ensemble
Up to 10 velocity layers / 10 repetition per layer
Loop/phrase sampled Epic Dhol Ensemble
850+ loops from 80-140BPM
Dhol Ensemble FX
Instant Front-Face FX & Textural Convolution Delay
Delivered by Download
Kontakt 5.8.1

 

Full Retail

 

(or later) Required
READ MORE
READ LESS
Epic, Piercing Dhols

The Epic Dhol Ensemble is the most comprehensive and deep-sampled collection of large-scale Epic Dhols on the market. The library is a completely remastered, redesigned, and reprogrammed edition of our original Epic Dhol Ensemble, containing over 2,000 samples, a built-in articulation browser, internal step-sequencer, front-face effects, textural convolutions, and our newest 3.3 Chaos Engine.

The library consists of a large ensemble of Punjab Dhol drums and was recorded in the same orchestral hall as our Epic Toms Ensemble. The Punjab Dhol is a double-sided barrel drum, large and bulky, producing a loud bass tone. Animal hide or synthetic skin is stretched over the open ends of the wooden barrel, covering them completely. These skins can be stretched or loosened with a tightening mechanism made up of either interwoven ropes, or nuts and bolts, which subtly alters the pitch of the drum. The stretched skin on one of the ends is thicker and produces a deep, low (high bass) sound and the other one is thinner, producing a higher sound. In contemporary Punjabi music, dhols with synthetic, or plastic treble skins are very common.

The Epic Dhol Ensemble was recorded at 10 velocity layers with 10 round robins. It contains a great variety of articulations, since each side of drum produces a different sound. Essentially, it is divided into a bass section and a snare section. We played the bass section with the traditional big wooden Dhol sticks, mallets, hands, and fingers to ensure we covered the entire range.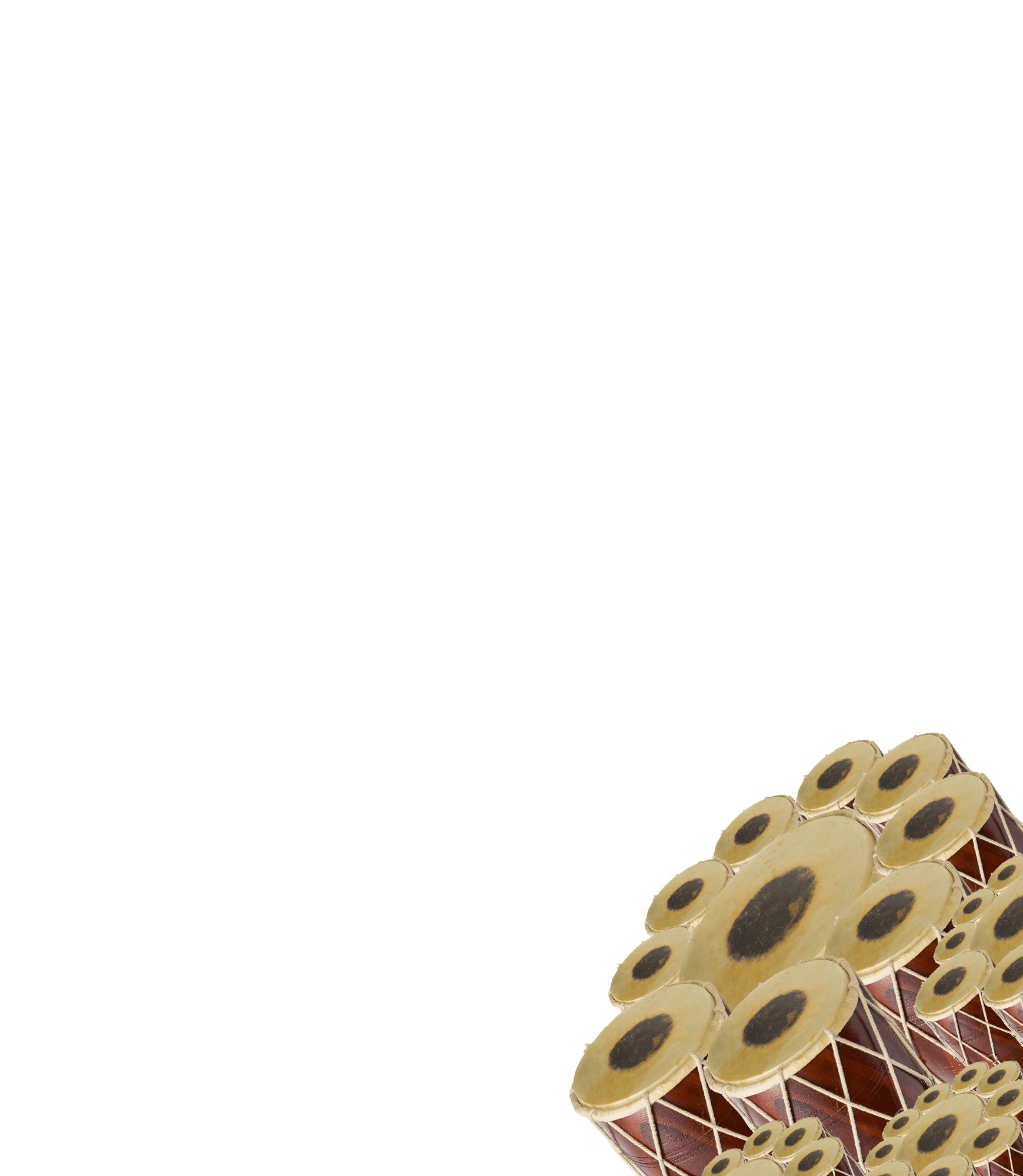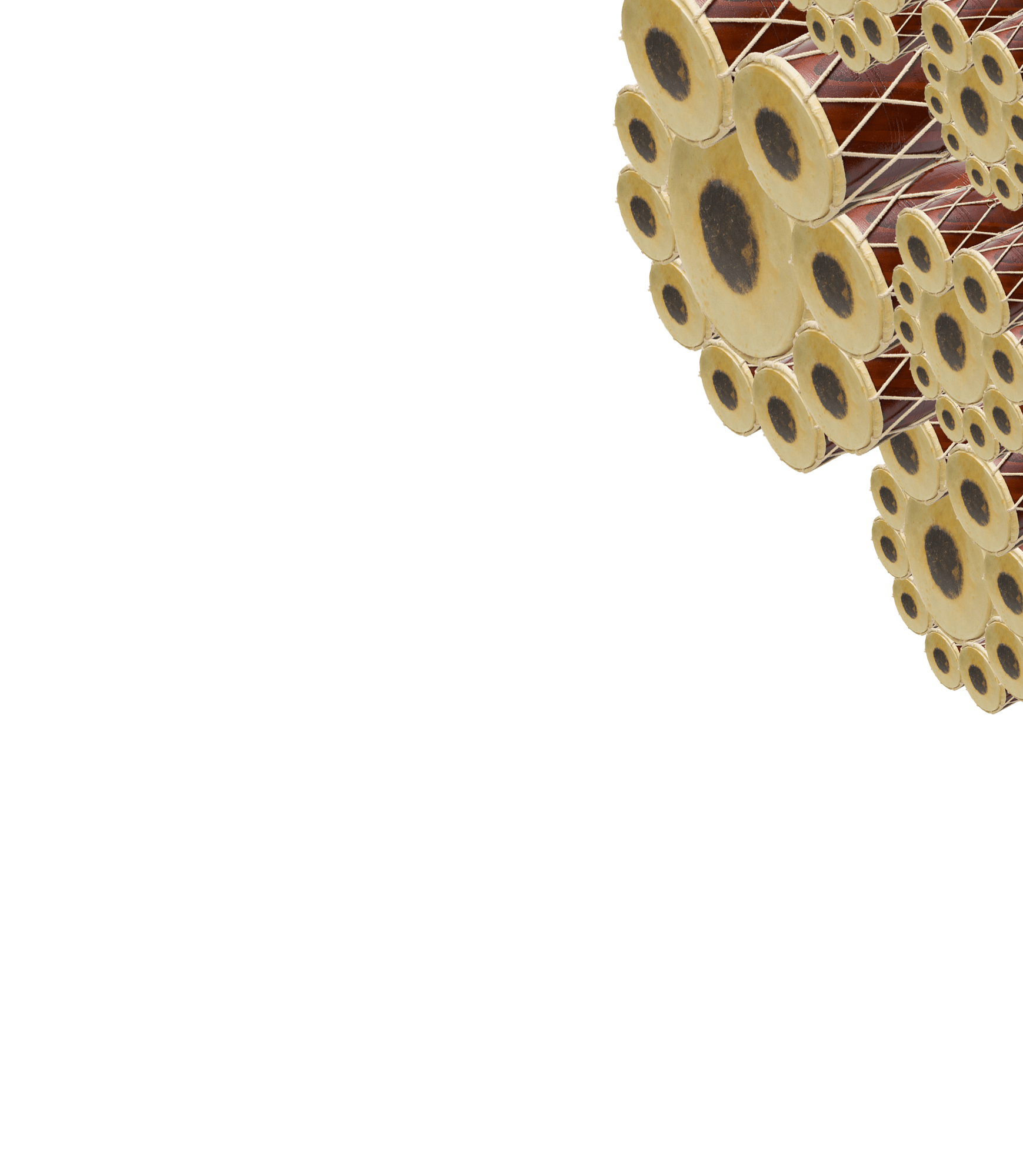 Integrated Browser
The Epic Dhol Ensemble contains an integrated browser that gives you instant access to the whole collection. The browser allows you find any articulation in the library with a single click and no extra load-time. The browser also gives you access to master articulations where you have all the Ensemble Dhols laid out on the keyboard for maximum control, ease of use, and instant fun.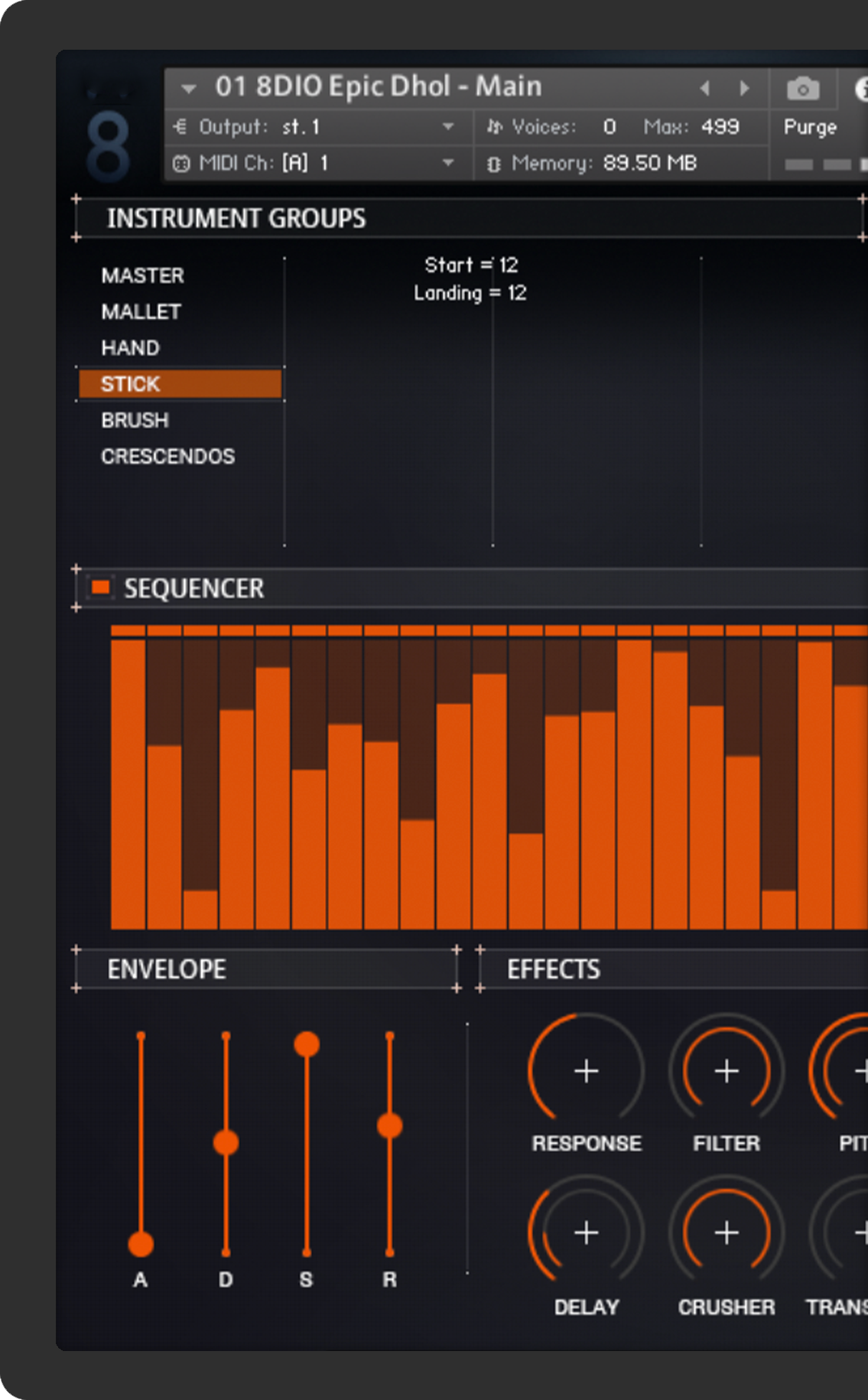 Internal Sequencing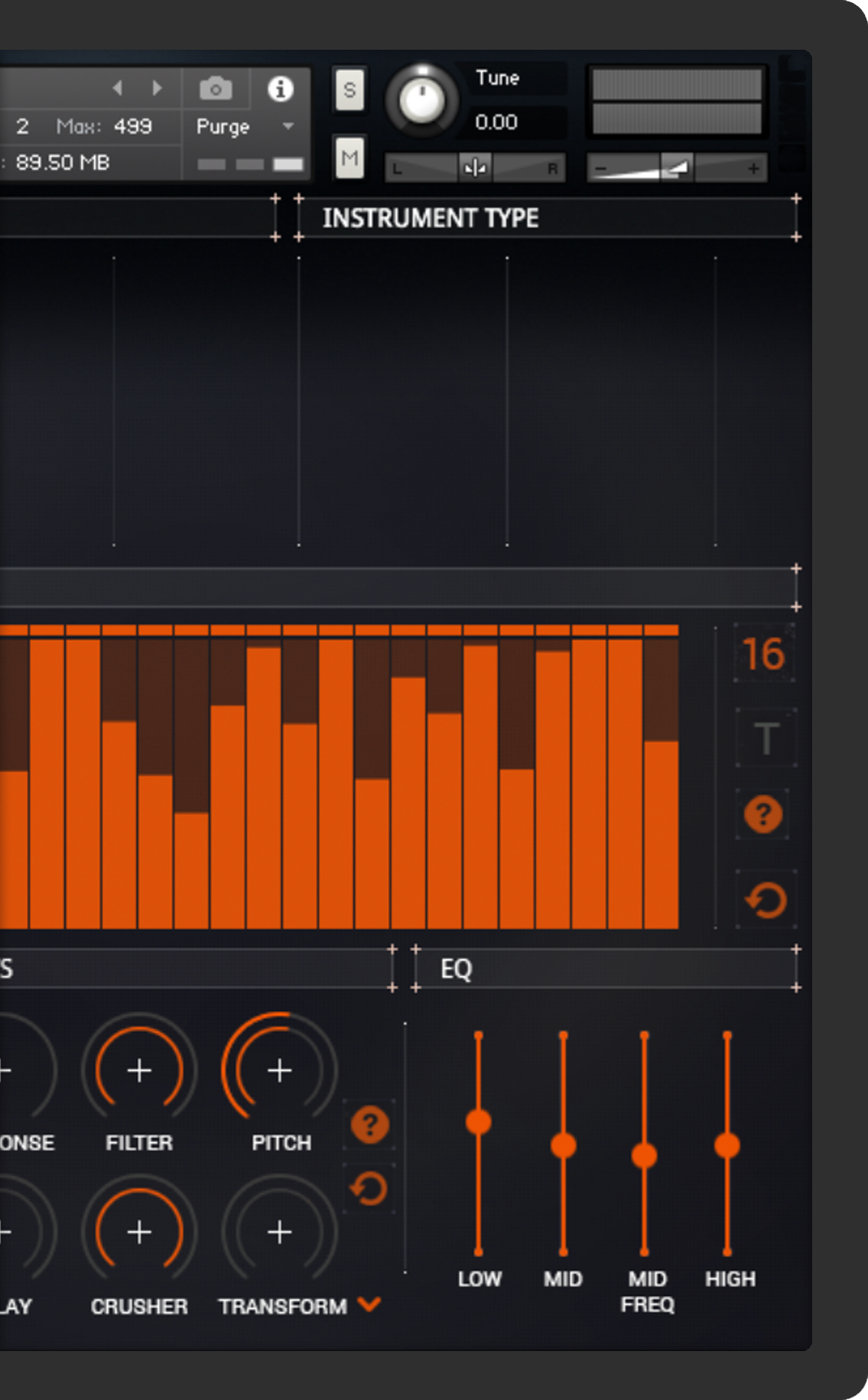 The Epic Dhol Ensemble comes with a built-in step-sequencer, allowing you to program the ensemble with ultra-precision. The step-sequencer allows you to create advanced rhythms in any signature rhythm and with velocity layering and round-robins. In addition, you can choose the tempo and even play in triplets.
Effects
The Epic Dhol Ensemble contains an entire new set of effects on the front of the user interface. You have instant control over dynamics, filters, pitch, delay, bit-crusher, and our new textural convolution delay called transform, which contains over 100 custom textural delays. You also have control over microphones and EQ on the sides of the effects section.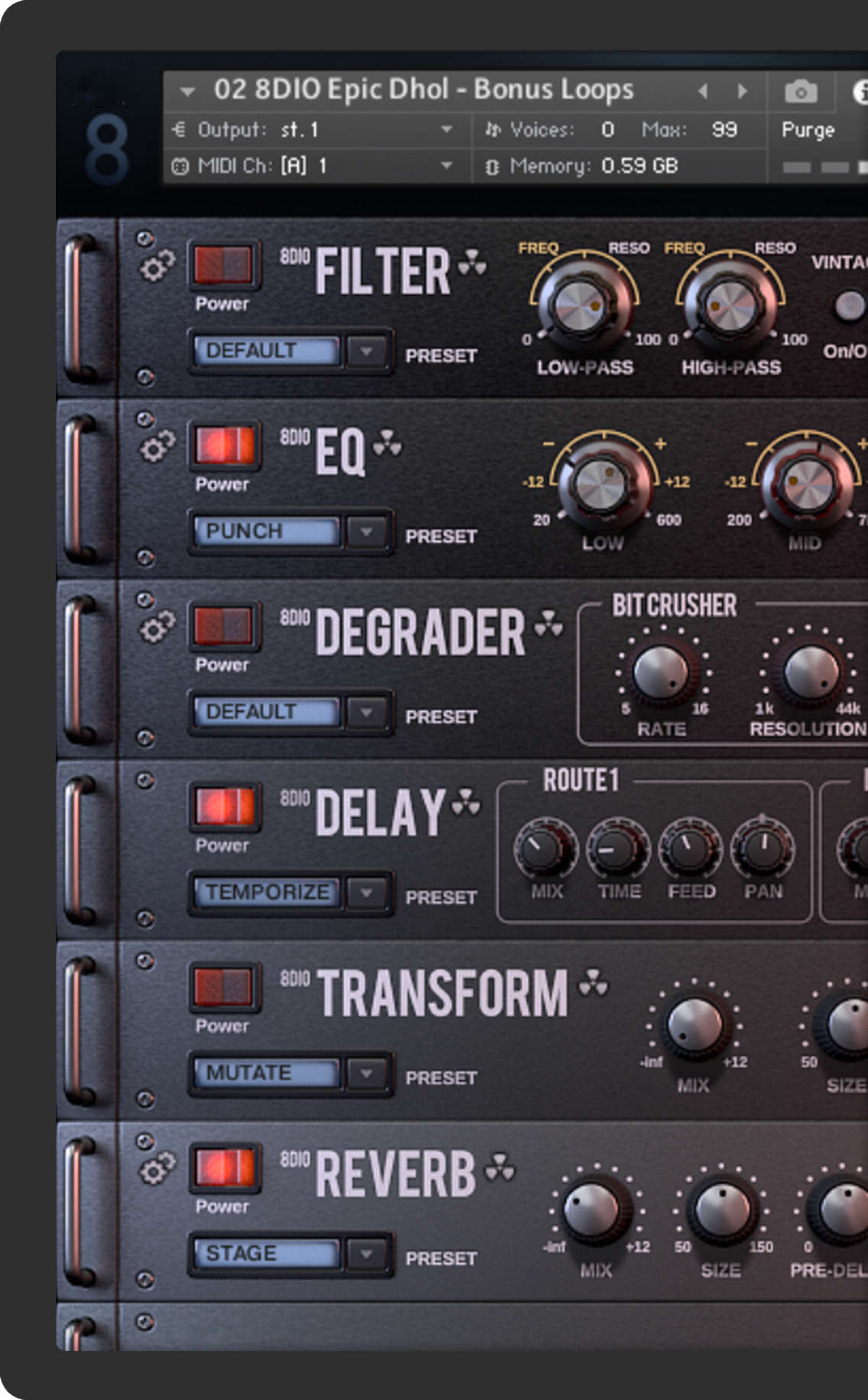 ARTS, SPECS AND REQS
Articulations:
Dhol Bass Drum w/ traditional Dhol stick (10 velocity layers – 10 round robin)
Dhol Bass Drum w/ mallet (10 velocity layers – 10 round robin)
Dhol Bass Drum w/ hands (10 velocity layers – 10 round robin)
Dhol Bass Drum w/ fingers (10 velocity layers – 10 round robin)
Dhol Body Rim Shot 1 (10 velocity layers – 10 round robin)
Dhol Body Rim Shot 2 (10 velocity layers – 10 round robin)
Dhol Snare Drum w/ traditional Dhol bamboo stick (10 velocity layers – 10 round robin)
Dhol Snare Drum w/ mallet (10 velocity layers – 10 round robin)
Dhol Snare Drum w/ brushes (10 velocity layers – 10 round robin)
874 BPM loops w/ assorted percussion
80, 90, 110, 120, 130, 140 BPM
Specifications:
2 instrument patches, 2,056 samples, 1.2GB installed
Sample resolution: 44.1Khz/24Bit .wav format
Format(s): Kontakt and .NCW (lossless compression)
Requirements:
Full Retail version of Kontakt 5.8.1 or later required
Not compatible with the free Kontakt Player
Kontakt is 32 and 64-bit compatible on both PC and MAC platforms
The Epic Dhol Ensemble requires 1.2 GB of hard drive space
Minimum: Mac OS X® 10.4 / 10.5, G5 1.8 GHz or Intel Core Duo 1.66 GHz, 1 GB RAM or Windows® XP (32 Bit) or Windows Vista® (32/64 Bit), Pentium® or Athlon XP 1.4 GHz, 1 GB RAM. 2 GB of RAM or more is highly recommended