Epic Taiko Ensemble
Kontakt VST / AU / AAX
Also Available in Soundpaint ($40) with 127 Dynamic Layers
1.15GB
100,000+ lines of custom code for new FX 3.3 system
Instant Front-Face FX & Textural Convolution Delay
Bonus: Project Midi Demo (Exploding Fist)
Multi-sampled Epic Taiko Ensemble
Up to 10 velocity layers / 10 repetitions per layer
Loop/phrase sampled Epic Taiko Ensemble
Hundreds of Loops from 80-140BPM
Assorted sounds (ex. war yells, metal perc)
Kontakt 5.8.1

 

Full Retail

 

(or later) Required
Delivered by Download
READ MORE
READ LESS
The Quintessential Epic Drums

The Epic Taiko Ensemble is the most comprehensive and deep-sampled collection of large-scale Epic Taiko on the market. The library is a completely remastered, redesigned, and reprogrammed edition of our original Epic Taiko Ensemble, containing over 2,900 samples, two microphone positions, a built-in articulation browser, internal step-sequencer, front-face effects, textural convolutions, and our newest 3.4 Chaos Engine.

The Epic Taiko Ensemble features the highly renowned Taiko Ensemble group Emeryville Taiko, lead by master Susan Horn. The recordings lasted over a week, which allowed us to capture an unprecedented amount of content. There are four main categories of samples: Multi-sampled Taiko Ensemble (10 round robin for all articulations), Live Loops, other sounds associated with Taiko (ex. ensemble screams, yells, yell-hits, percussive cannon "Tekkan"), and presets.

We sampled all the classic Taiko drums, including the booming O-daiko, Nagado Daiko, and the smaller and more snare like Shime-daiko. We also played the drums with hands and alternative stick types, capturing the most comprehensive collection of clacks made with different type of sticks and by hitting the rims of the larger Taiko drums.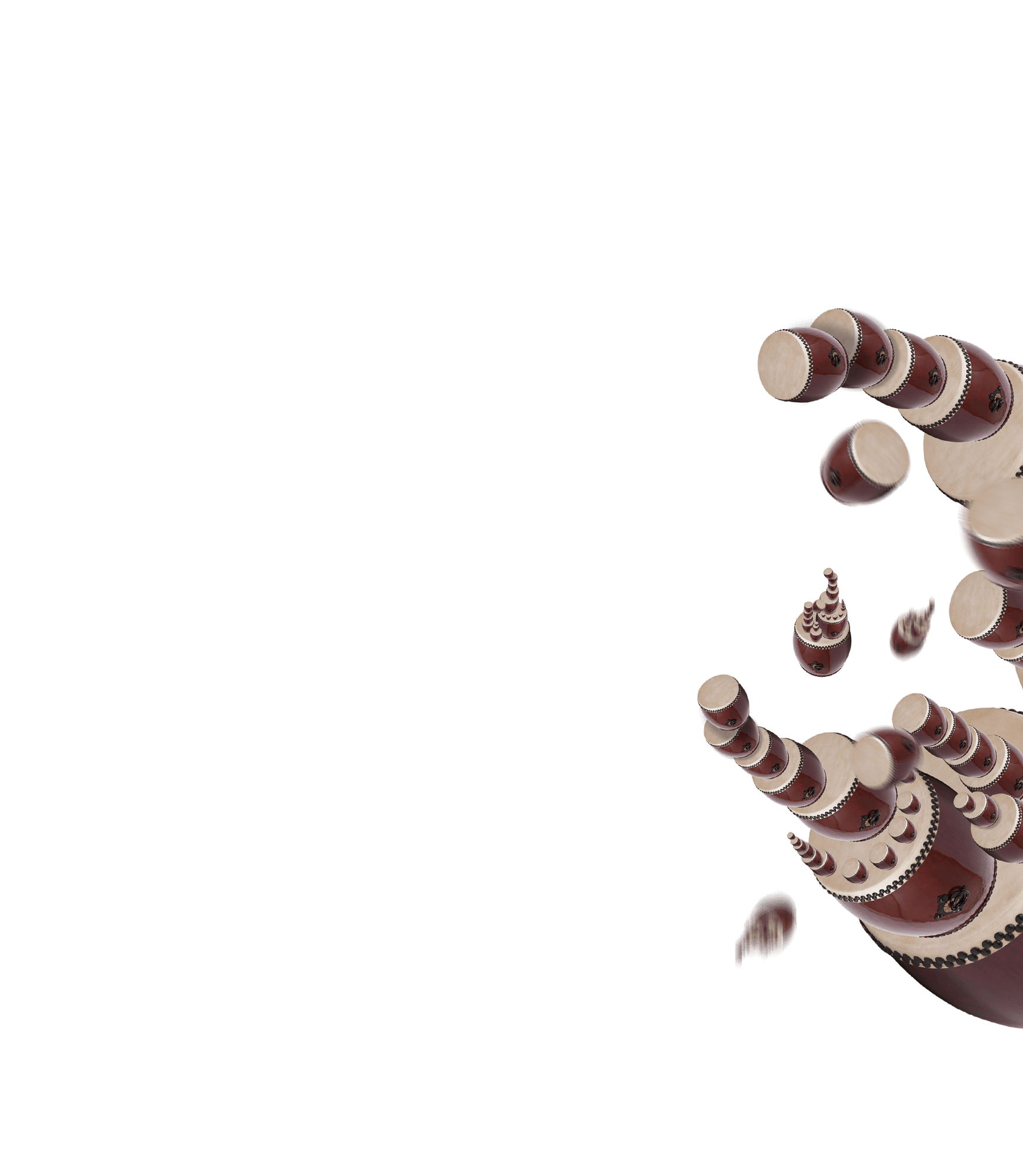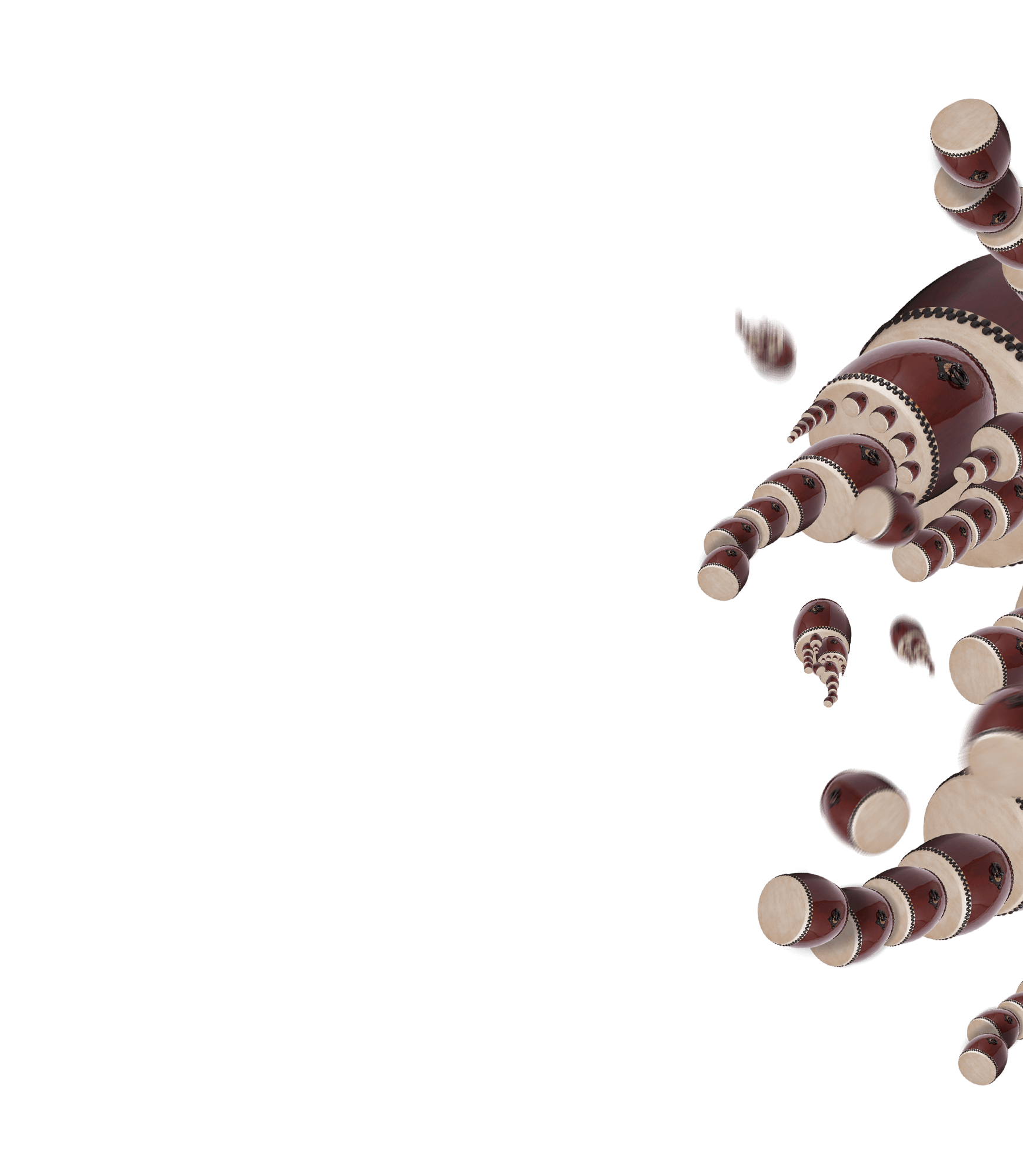 Integrated Browser
The Epic Taiko Ensemble contains an integrated browser that gives you instant access to the whole collection. The browser allows you find any articulation in the library with a single click and no extra load-time. The browser also gives you access to master articulations where you have all the Taiko laid out on the keyboard for maximum control, ease of use, and instant fun.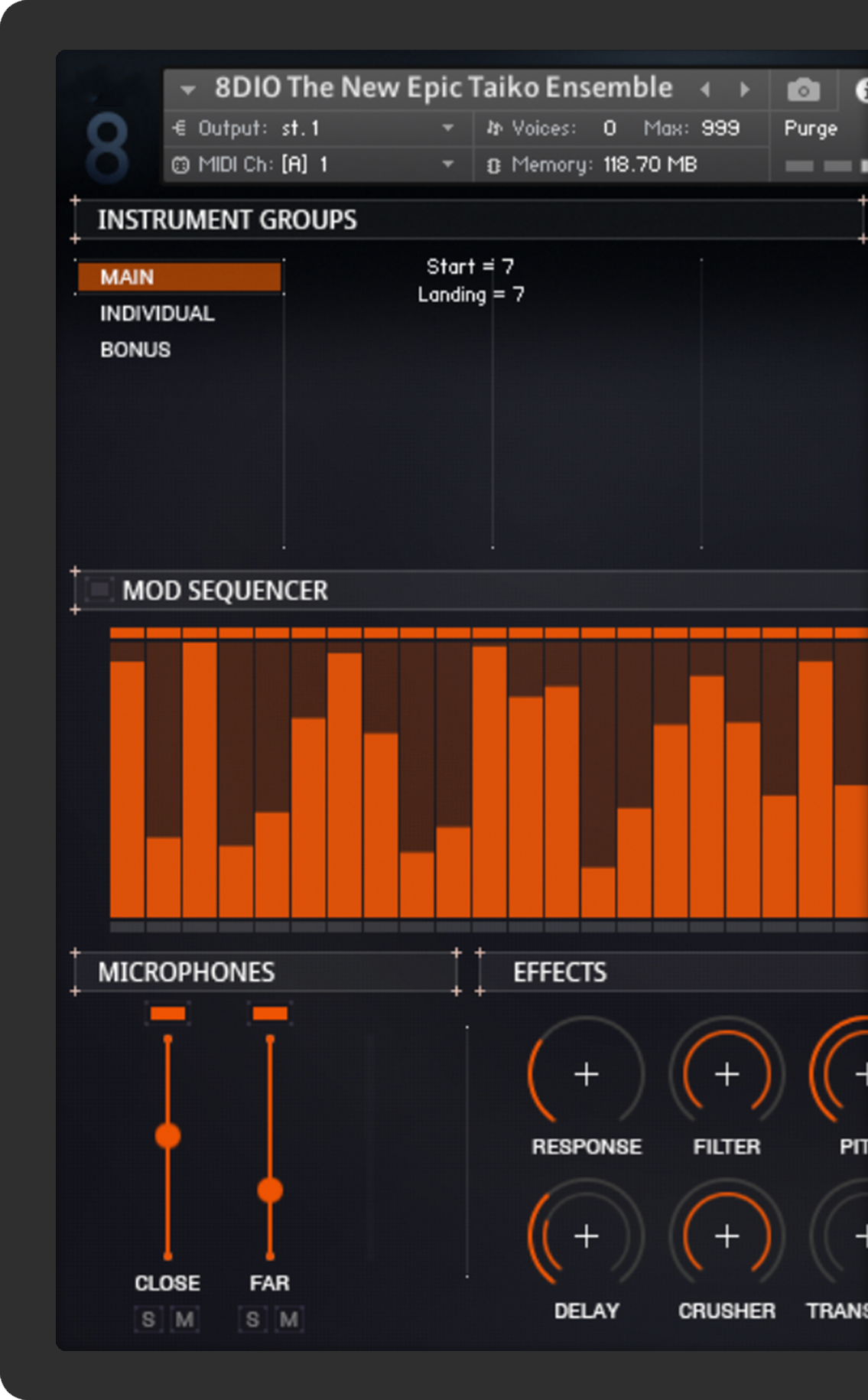 Internal Sequencing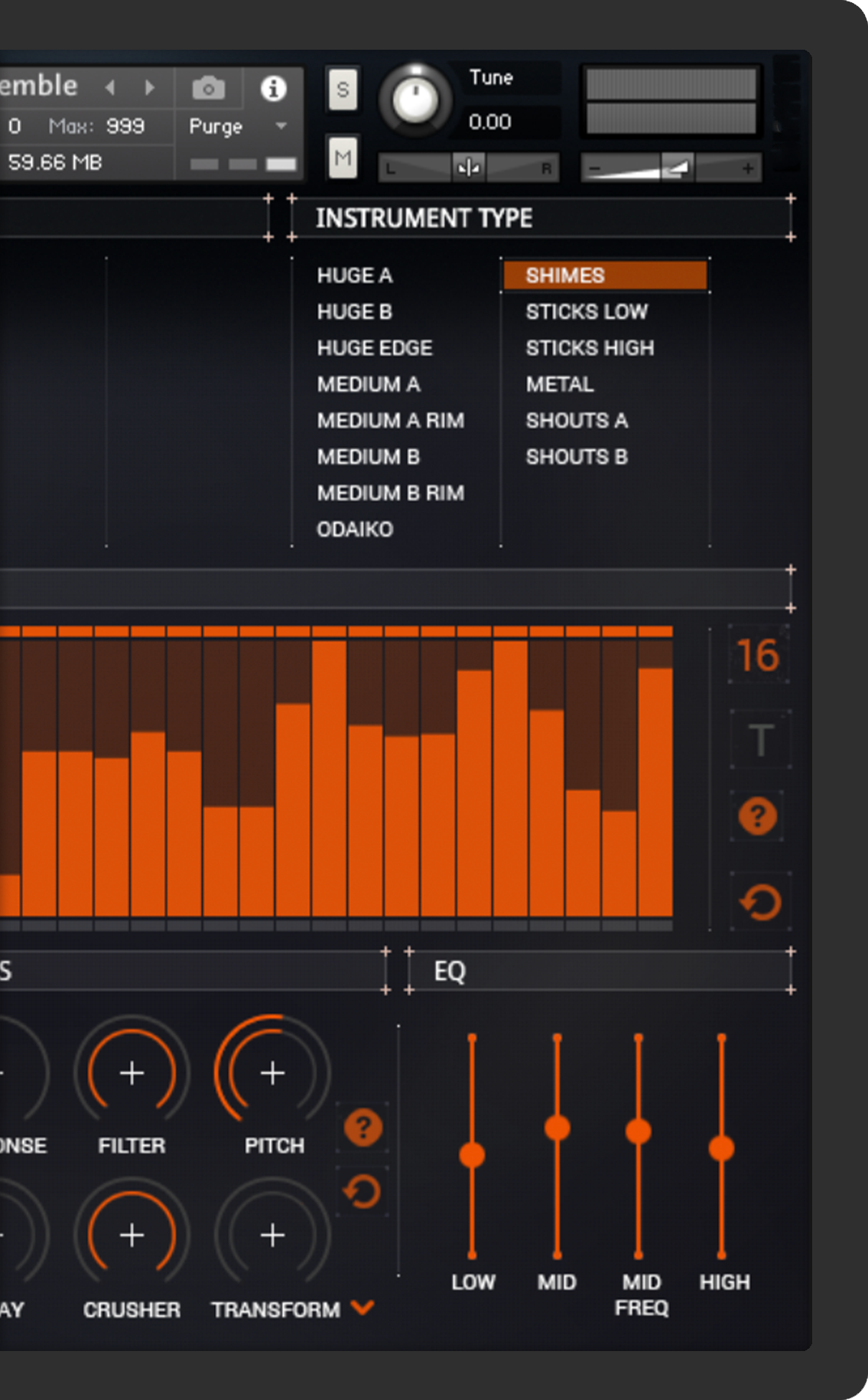 The Epic Taiko Ensemble comes with a built-in step-sequencer, allowing you to program the ensemble with ultra-precision. The step-sequencer allows you to create advanced rhythms in any signature rhythm and with velocity layering and round-robins. In addition, you can choose the tempo and even play in triplets.
Effects
The Epic Taiko Ensemble contains an entire new set of effects on the front of the user interface. You have instant control over dynamics, filters, pitch, delay, bit-crusher, and our new textural convolution delay called transform, which contains over 130 custom textural delays. You also have control over microphones and EQ on the sides of the effects section.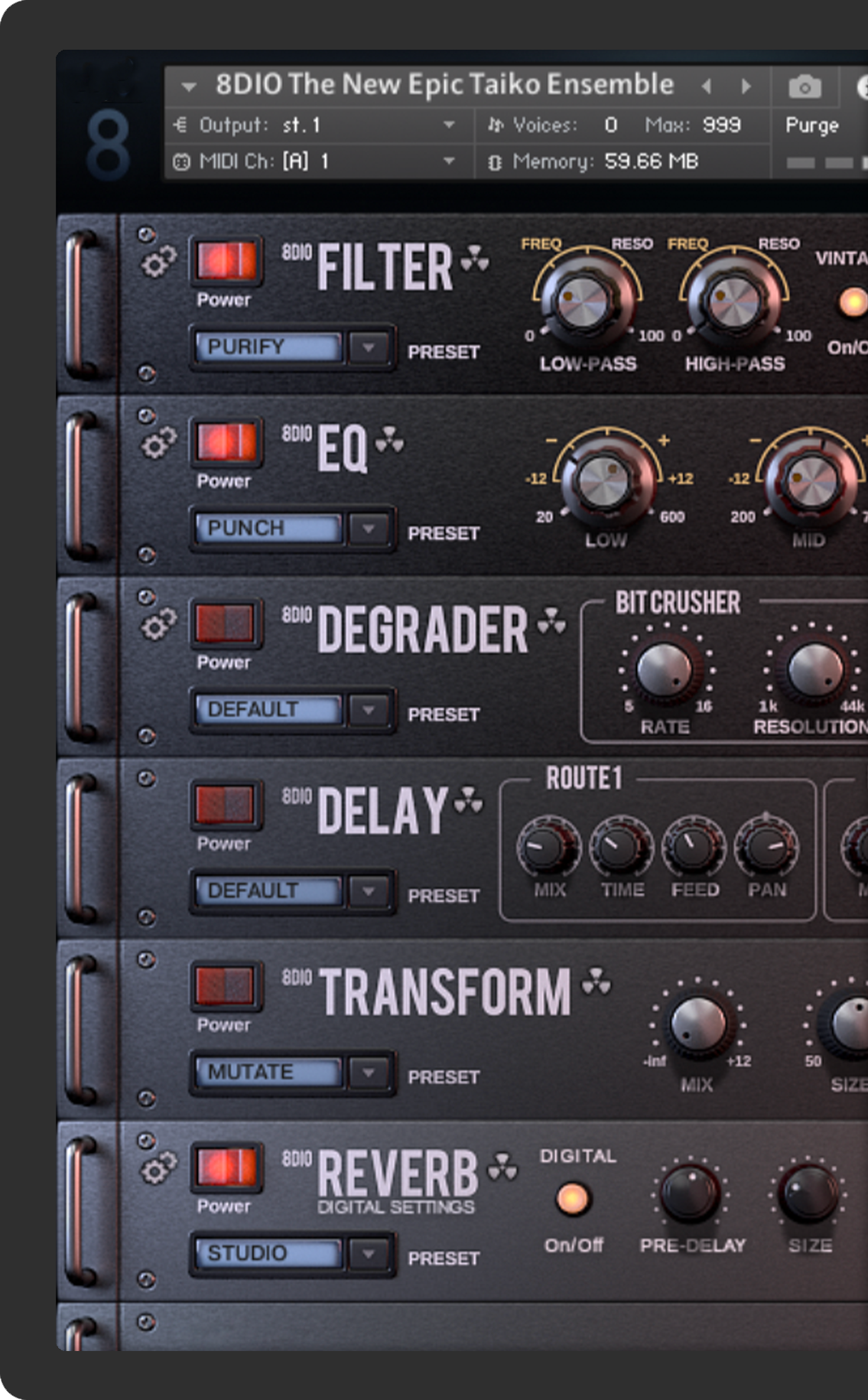 ARTS, SPECS AND REQS
Articulations:
All Epic Taiko articulations come in two microphone positions: "Close" and "Far" for optimal mix:
Taiko Ensemble Huge A / Close (10 round robin / +6 velocity layers)
Taiko Ensemble Huge A / Far (10 round robin / +6 velocity layers)
Taiko Ensemble Huge B / Close (10 round robin / +6 velocity layers)
Taiko Ensemble Huge B / Far (10 round robin / +6 velocity layers)
Taiko Ensemble Huge Edge / Close (10 round robin / +6 velocity layers)
Taiko Ensemble Huge Edge / Far (10 round robin / +6 velocity layers)
Taiko Ensemble Master / Close (10 round robin / +6 velocity layers)
Taiko Ensemble Master / Far (10 round robin / +6 velocity layers)
Taiko Ensemble Medium A / Close (10 round robin / +6 velocity layers)
Taiko Ensemble Medium A / Far (10 round robin / +6 velocity layers)
Taiko Ensemble Medium Rim A / Close (10 round robin / +6 velocity layers)
Taiko Ensemble Medium Rim A / Far (10 round robin / +6 velocity layers)
Taiko Ensemble Medium B / Close (10 round robin / +6 velocity layers)
Taiko Ensemble Medium B / Far  (10 round robin / +6 velocity layers)
Taiko Ensemble Medium Rim B / Close (10 round robin / +6 velocity layers)
Taiko Ensemble Medium Rim B / Far (10 round robin / +6 velocity layers)
Taiko Ensemble ODaiko Dble / Close (10 round robin / +6 velocity layers)
Taiko Ensemble ODaiko Dble / Far (10 round robin / +6 velocity layers)
Taiko Ensemble Shimes / Close (10 round robin / +6 velocity layers)
Taiko Ensemble Shimes / Far (10 round robin / +6 velocity layers)
Taiko Ensemble Shouts A / Close
Taiko Ensemble Shouts A / Far
Taiko Ensemble Shouts B / Close
Taiko Ensemble Shouts B / Far
Taiko Ensemble Sticks High / Close (10 round robin / +4 velocity layers)
Taiko Ensemble Sticks High / Far (10 round robin / +4 velocity layers)
Taiko Ensemble Sticks Low / Close (10 round robin / +4 velocity layers)
Taiko Ensemble Sticks Low / Far (10 round robin / +4 velocity layers)
 Edge (10 round robin / +6 velocity layers close microphone position)
Hundres of Professional Taiko Ensemble BPM matched loops
Loops recorded at 80, 90, 100, 110, 120, 130 and 140 BPM
Specifications:
11 instrument patches, 2.900+ samples, 1.1GB installed
Sample resolution: 44.1Khz/24Bit .wav format
Format(s): Kontakt and .wav
Effects:
New Front-Faced FX Macro System
Dynamic Controls
Filter Controls
Pitch and Micro-pitch Controls
Delay
Bit-Crusher
Transform (Textural Convolution Delay)

New FX Engine 3.4
Instant CHAOS (randomize over 1500 parameters)
Key and key mapping Controls
Macro Controls
Filter and Step-Based Filter
Delay
Degrader (Bit Crusher)
EQ
Filter
Convolution Reverb
Transform (Alternative Convolution Reverb)
Requirements:
Full Retail version of Kontakt 5.8.1 or laer required
Not compatible with free Kontakt Player
The Epic Taiko Ensemble requires 3.9GB HDD (compressed to 1.1GB)
Minimum: Mac OS X® 10.4 / 10.5, G5 2.4 GHz or Intel Core Duo 2.00 GHz, 8 GB RAM or Windows® XP (32 Bit) or Windows Vista® (32/64 Bit), Pentium® or Athlon XP 2.0 GHz, 8 GB RAM. 8 GB of RAM or more is highly recommended
Sample resolution: 44.1Khz / 24Bit stereo .wav format