Epic Toms Ensemble
Kontakt VST / AU / AAX

1.17GB
Also Available in Soundpaint ($20) with 127 Velocity Layers
Multi-sampled Toms Ensemble
6-10 velocity layers / 10 repetition pr. layer
Bass Drums, Toms, Rims, Octobans, Roto Toms
Rack floor toms, stick ensemble clacks
Male Vocal ensemble yells and shouts
Delivered by Download
Kontakt 5.8.1

 

Full Retail

 

(or later) Required
READ MORE
READ LESS
The Original Epic Drums

The Epic Toms Ensemble is the most comprehensive and deep-sampled collection of large-scale, epic Toms on the market. The library is a completely remastered, redesigned, and reprogrammed edition of our original Epic Toms Ensemble. The Epic Toms Ensemble contains over 2,400 samples, a built-in articulation browser, internal step-sequencer, front-face effects, textural convolutions, and our newest 3.4 Chaos Engine.

We captured a variety of powerful articulations, using a combination of high-tuned 10″ – 14″ toms, roto-toms, octabans, floor toms, bass drums, and custom-designed mega-toms. They are perfect for raging battle scenes or when you just need a loud boom. We highly recommend trying it with our Epic Dhol Ensemble, Epic Frame Drums, and Small Epic Percussion, all extensively recorded by some of the very best percussionists in the world, in a high-ceiling glass, stone, and tile hall specifically designed for sample recording.

Even though these instruments were all recorded naturally wet for realism and maximum audio quality in our epic recording hall, we have also incorporated advanced programming into every instrument patch that allows you to shape the decay of the room reverberation precisely and realistically with the mod-wheel. This allows for custom room shaping, all the way from a massive hall down to a small drum room.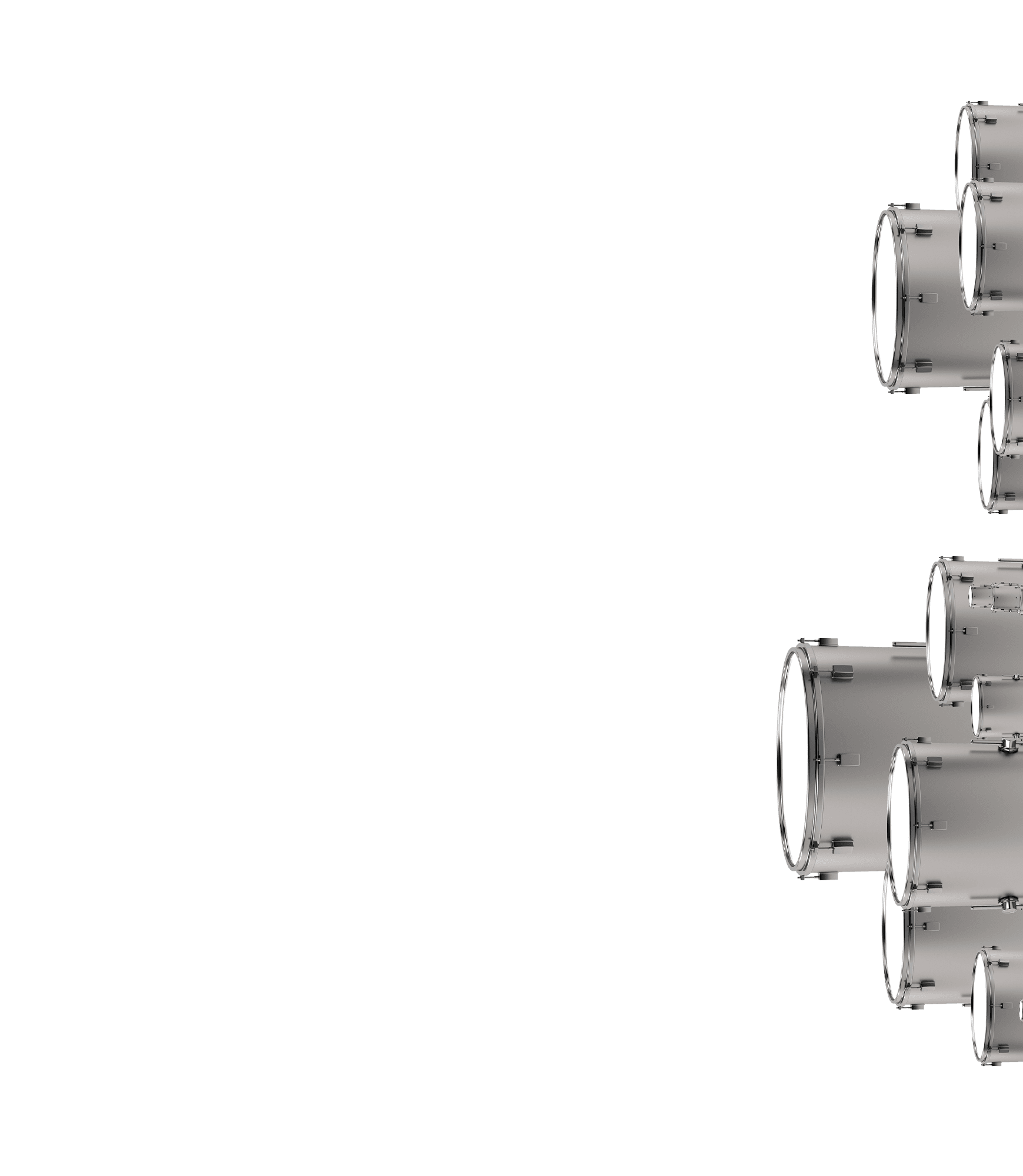 Integrated Browser
The Epic Toms Ensemble contains an integrated browser that gives you instant access to the whole collection. The browser allows you find any articulation in the library with a single click and no extra load-time. The browser also gives you access to master articulations where you have all the Toms laid out on the keyboard for maximum control, ease of use, and instant fun.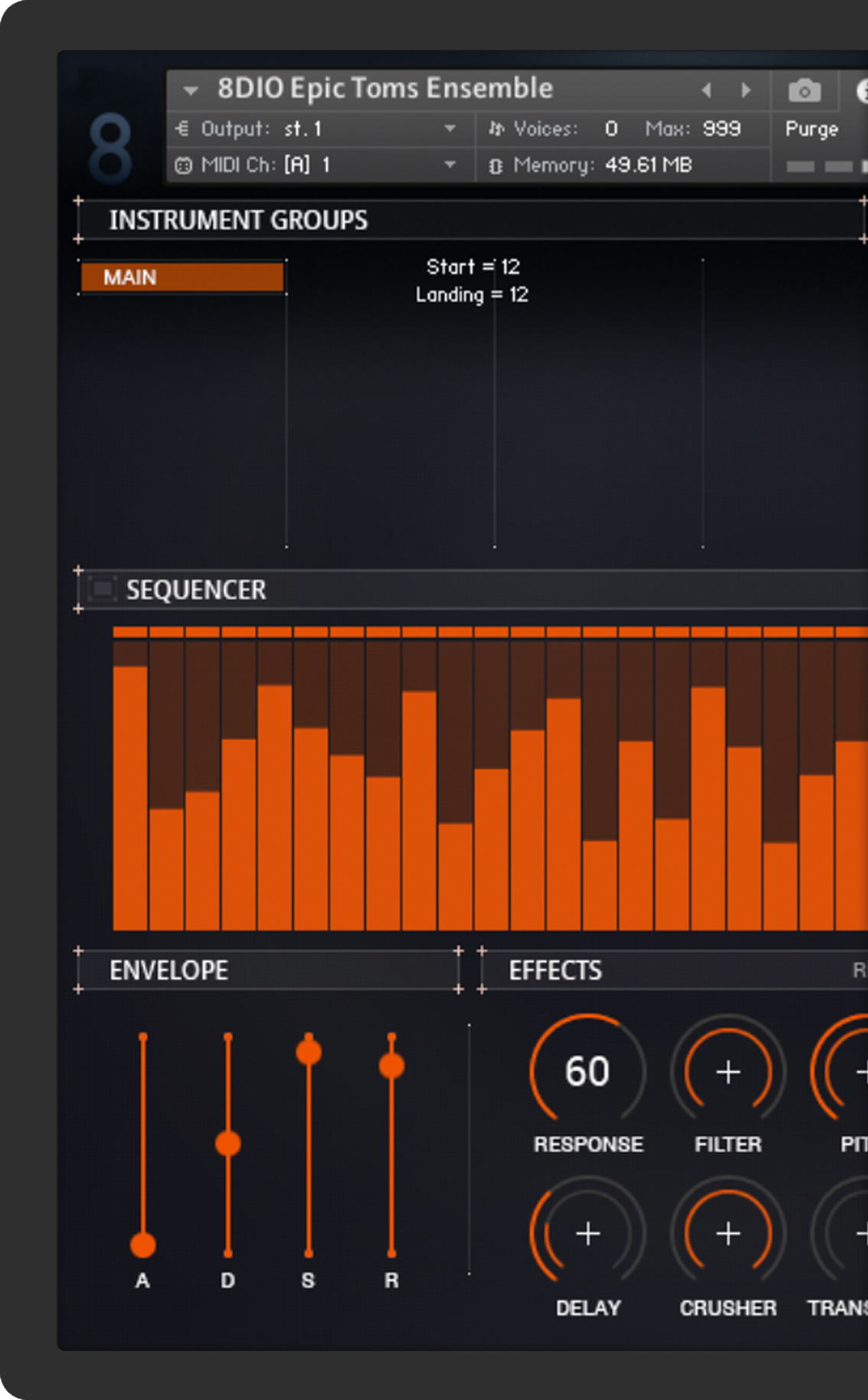 Internal Sequencing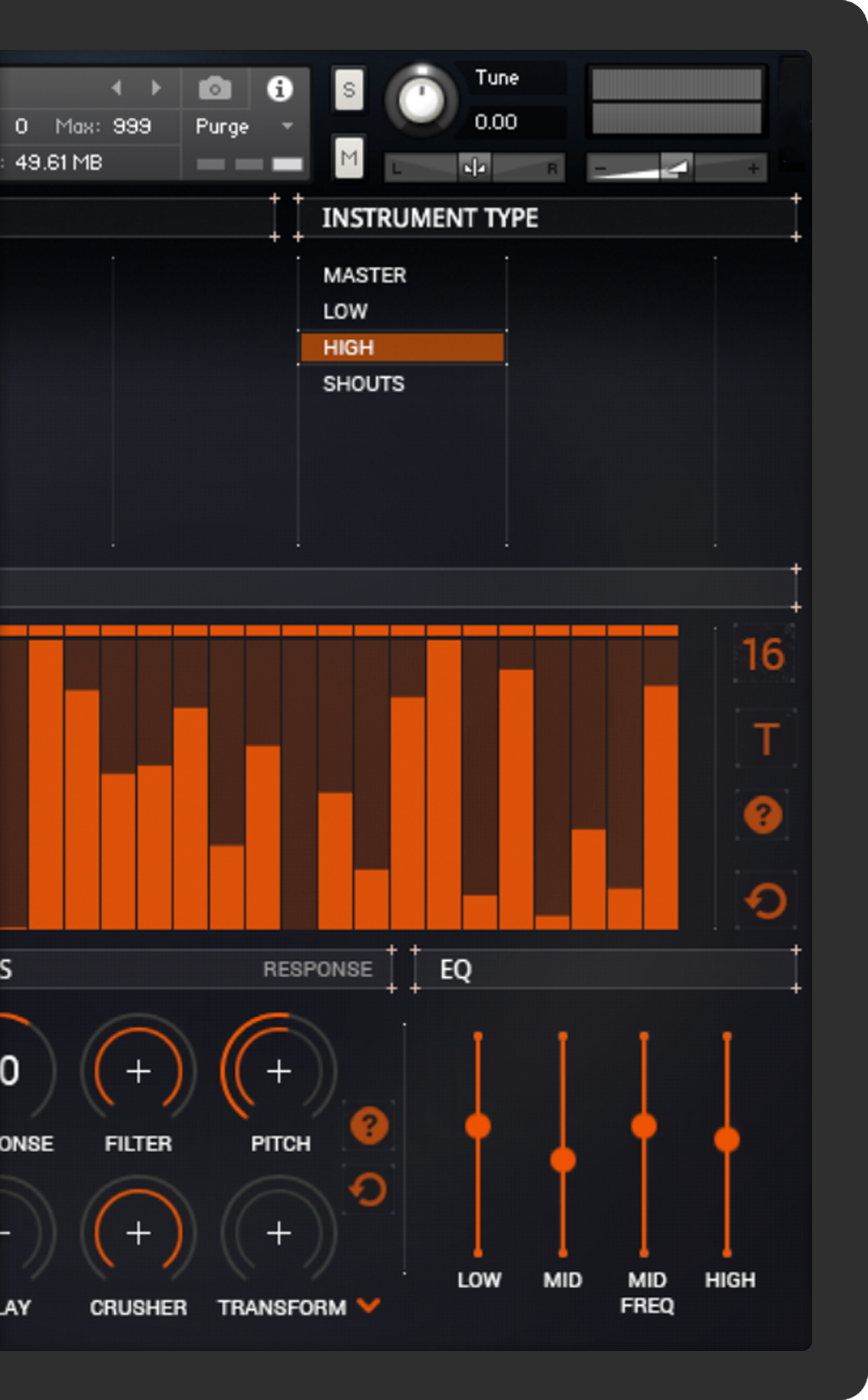 The Epic Toms Ensemble comes with a built-in step-sequencer, allowing you to program the ensemble with ultra-precision. The step-sequencer allows you to create advanced rhythms in any signature rhythm and with velocity layering and round-robins. In addition, you can choose the tempo and even play triplets.
Effects
The Epic Toms Ensemble contains an entire new set of effects on the front of the user interface. You have instant control over dynamics, filters, pitch, delay, bit-crusher, and our new textural convolution delay called transform, which contains over 130 custom textural delays. The CHAOS FX 3.4 also allows you to randomize each effect with a single click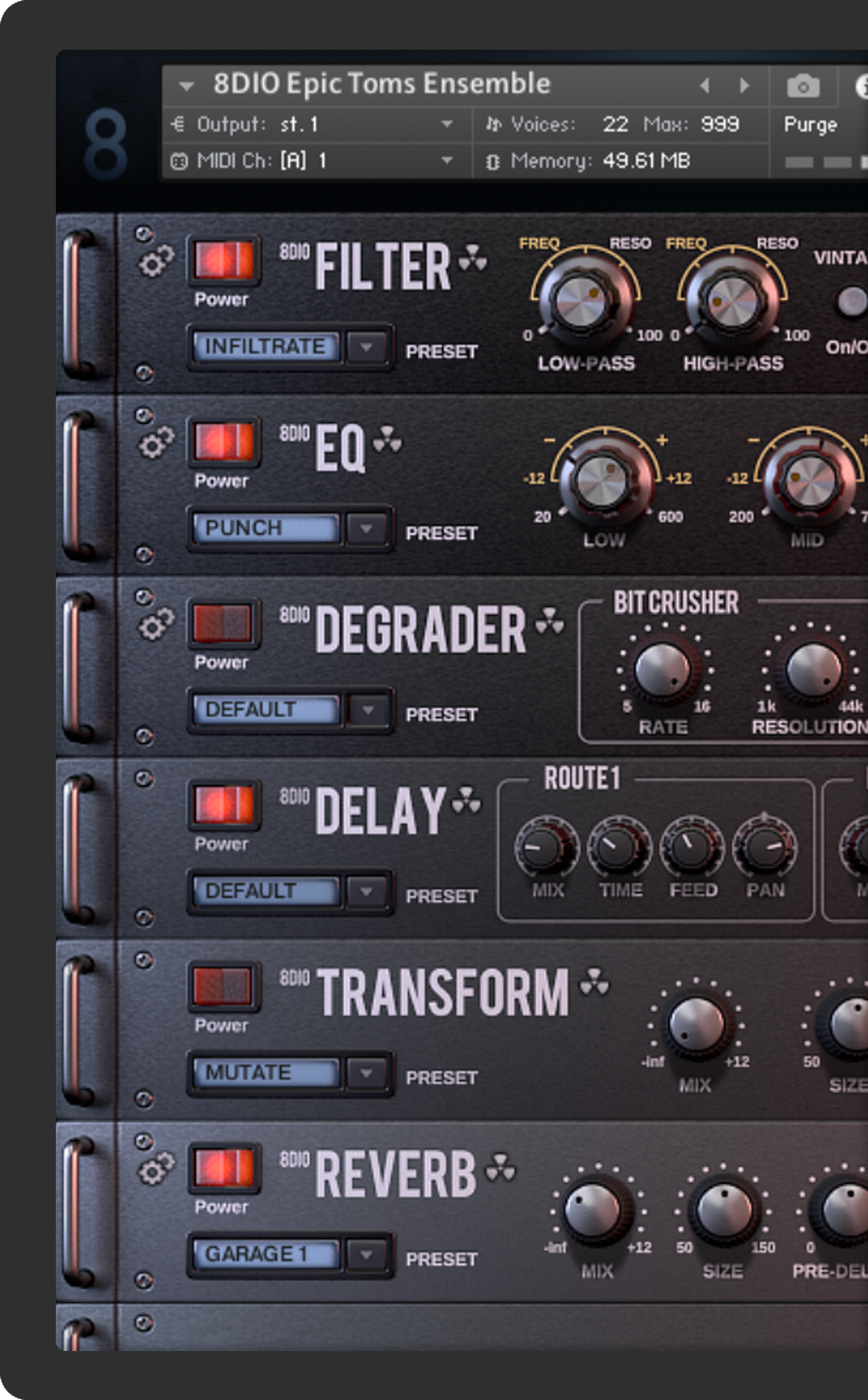 ARTS, SPECS AND REQS
Articulations:
Bass Drum ensemble: strikes, flams and loose flams, each with 7-10 velocity layers and 10x round-robin
Floor Tom ensemble: strikes and flams, each with 7-10 velocity layers and 10x round-robin
Full ensemble: strikes, 8-9 velocity layers, 10x round-robin
Full ensemble: rimclicks, 5 velocity layers, 10x round-robin
4 Octabans ensemble: strikes, 7-8 velocity layers, 10x round-robin
3 roto toms ensemble: strikes, 9-10 velocity layers, 10x round-robin
11″, 12″ & 13″ rack/floor tom ensemble: strikes, 7-8 velocity layers, 10x round-robin
Drumstick ensemble clacks: 7-8 velocity layers, 10x round-robin
Male vocal ensemble yells and shouting crescendos: each with 2 velocities and 10x round-robin
Bonus: Deeply sampled Bass Drum patch, 15-22 velocity layers, 10x round robins per layer
Bonus: Sound-designed industrial percussion fx presets
Bonus: Unique playable ambient multi-timbral drones and morphing soundscapes, all created from Epic Toms source material
Specifications:
2,400+ samples
1.6 GB
Sample resolution: 44.1Khz/24Bit stereo .wav format
Formats: Kontakt (.nki)
Requirements:
Full Retail version of Kontakt 5.8.1 or later Required
Not compatible with the Free Kontakt Player
Epic Toms requires 1.6 GB of hard drive space
Minimum: Mac OS X® 10.9, 1 GB RAM or Windows® XP (32 Bit) or Windows Vista® (32/64 Bit), Pentium® or Athlon XP 1.4 GHz, 1 GB RAM. 2 GB of RAM or more is highly recommended