Hybrid Tools Synphony Opus 1 Expansion
Kontakt VST / AU / AAX
Similar Cinematic Instruments Available in

 

Soundpaint
Industry Standard Hybrid Production Tool

9.39GB of new hybrid content
100,000+ lines of custom code for new FX 3.3 system
Instant REVERSE, RANDOM, STACK and CHAOS
Delivered by Download
Kontakt 5.8.1

 

Full Retail

 

(or later) Required
READ MORE
READ LESS
The Hybrid Orchestra - Expanded

Opus 1 is our first expansion pack to Hybrid Tools Synphony and can be used either stand-alone or together with Synphony.

Opus 1 contains a variety of new sound categories, including Mega-Horns, Sirens, Risers, Analogue Noises, Tonal Whooshes Short, Tonal Whooses Medium 1 and 2, and Tonal Whooshes Long. In addition, it contains 20 Analogue Noise Kits, 30 Cinematic Basses, 10 Synthesized Pianos and 10 Synthesized Spiccato Strings, as well as an assortment of presets.

Opus 1 contains a 3D-rendered User Interface with a variety of new controls, including Tempo-Synced Gate, Reverse, Randomizer, Speed Control, Pitch Envelope, Glide and Offset, all accessible from the front interface. Our Hybrid tools line contains a variety of exclusive features that you won't find anywhere else, including our new Chaos FX 3.3 Engine, with the ability to randomize, reverse, and blend anything you want and with a single click.

A New Hybrid
Hybrid Tools Opus is the first extension to Hybrid Tools Synphony. The library can either be used stand-alone or together with Synphony. Whether you want the newest, industry-defining Hybrid Effects (ex. New Mega-Horns, Sirens, Analog Noises, Tonal Whooshes, etc.) or Noise Based Drum Kits, Massive Cinematic Basses, Synthesized Pianos, and Synth-based Spiccato Strings, we've got you covered!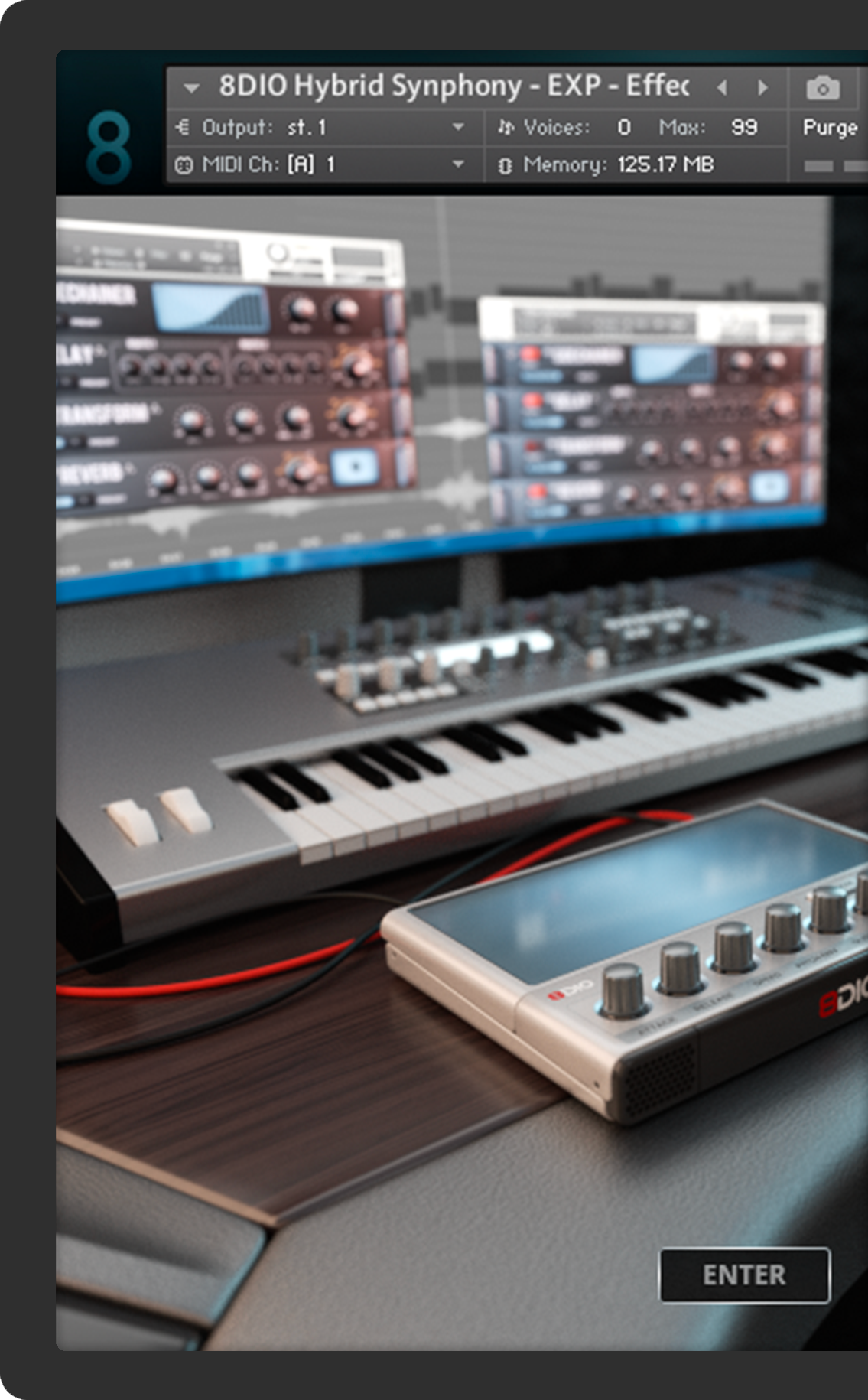 Drum Sequencer
Hybrid Tools Opus 1 contains a full-fledged drum-sequencer, with up to 4 different patterns that can be controlled in real-time and everything you would normally expect from a drum-sequencer. The powerful arpeggiator allows you to control velocity, steps, swing, rate, repetition, and more.
New Mini Browser and Reverse
Hybrid Tools Opus 1 contains a 3D mini browser that allows you to access all sounds immediately. All core banks come preloaded in the internal browser so that you can audition patches without extra load-time. You can combine patches using our stack key and reverse or randomize anything with a single click.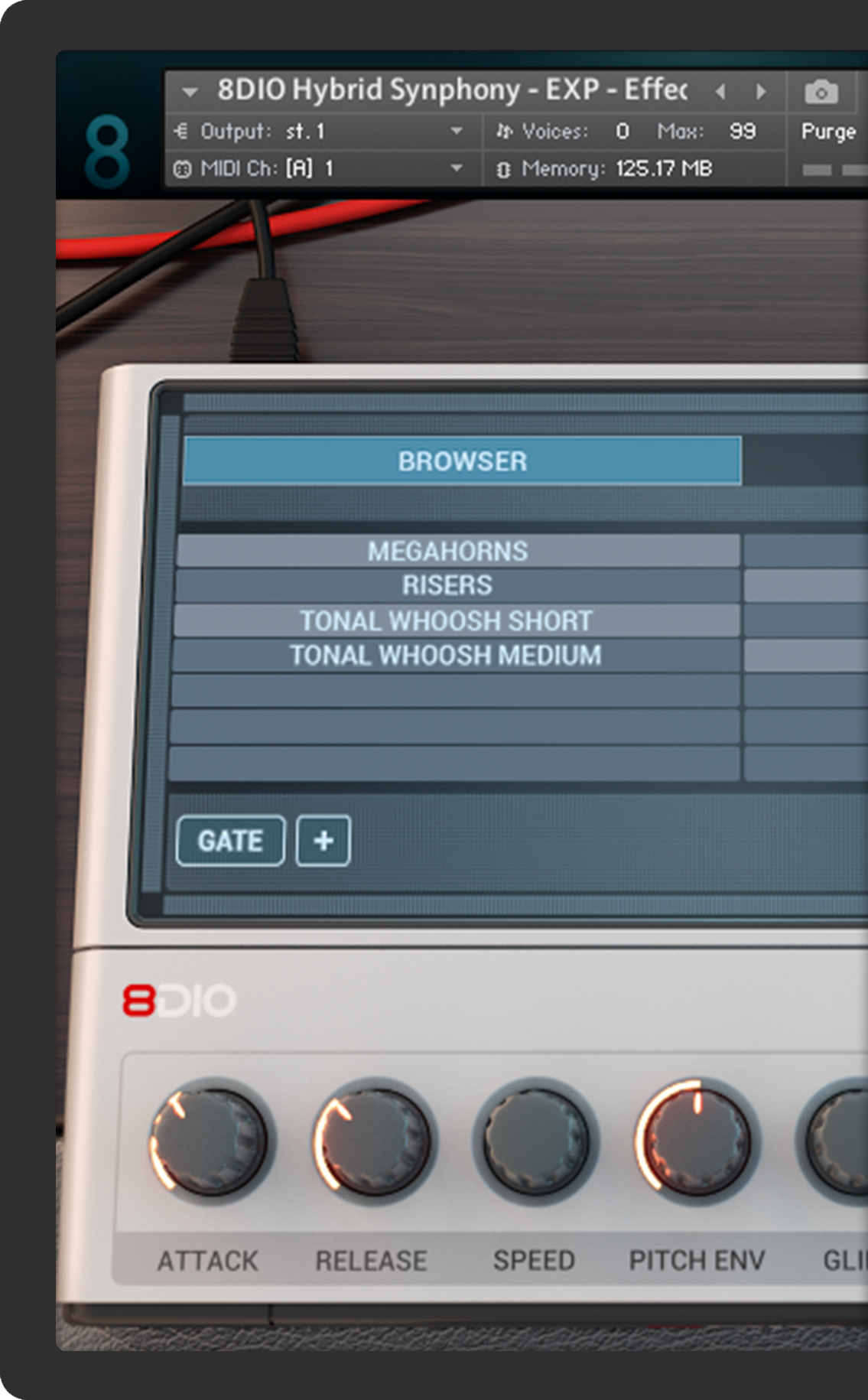 ARTS, SPECS AND REQS
Articulations:
Effects

Megahorns
Sirens
Risers
Analogue Noises
Tonal Whooshes Short
Tonal Whooshes Medium 1
Tonal Whooshes Medium 2
Tonal Whooshes Long


Cinematic Distorted Drum Kits (20 Different)

Cinematic Drum Kits Master (all combined)


Cinematic Bass Synths (30 different patches)

Cinematic Pianos (11 different patches)

Cinematic Spiccato Strings (11 different patches)

10 Additional Bonus Presets

Format(s): Kontakt .ncw (lossless compressed format)
Chaos FX:
New FX Engine 3.3

Instant CHAOS (randomize over 1500 parameters)
Instant REVERSE (one click to reverse it all)
Instant RANDOM (randomize all patches)
Instant STACKING (stack any patch you want)
Instant ARP Sequencer
Instant DRUM Sequencer
Key and key mapping Controls
Macro Controls
Delay
Degrader (Bit Crusher)
EQ
Filter
Trance Gate
Convolution Reverb
Transform (Alternative Convolution Reverb)
Step-Sequencer


Modwheel control of filter and others
Requirements:
Full Retail version of Kontakt 5.8.1 or later required
Not compatible with free Kontakt Player
Hybrid Tools Opus 1 requires 19.5GB HDD (compressed to 9.8GB)
Minimum: Mac OS X® 10.4 / 10.5, G5 2.4 GHz or Intel Core Duo 2.00 GHz, 8 GB RAM or Windows® XP (32 Bit) or Windows Vista® (32/64 Bit), Pentium® or Athlon XP 2.0 GHz, 8 GB RAM. 8 GB of RAM or more is highly recommended
Sample resolution: 44.1Khz / 24Bit stereo .wav format