Hybrid Tools
Vol. 3
Kontakt VST / AU / AAX
Similar Cinematic Instruments Available in

 

Soundpaint
Ultimate production tool for epic music & sound design
5.19GB of brand new content and 16 core sound classes
80,000+ lines of custom code for new FX 3.0 system
Instant REVERSE and CHAOS features
Booms, Drastic Lines, Drones, Epic Bends
Epic Boom Kit, Levitations, Lights
Hundreds of BPM Synced Groove Pulses
Markers, Risers, Psychological Sounds
Titanic Taikos, Tonals, Unisons, & Wooshes
Delivered by Download
Kontakt 5.8.1

 

Full Retail

 

(or later) Required
READ MORE
READ LESS
Cinematic Hybrid FX

Hybrid Tools Vol. 3 is the ultimate production tool for epic music and sound design. Our Hybrid Tools line is featured in majority of current blockbuster movies, shows and video games, used by composers such as Brian Tyler (ex. Thor, Ironman 3), Blake Neely (ex. Mentalist, Arrow), Charlie Clouser (ex. NiN, Saw Series), Richard Marvin (ex. Grimm, 6 Feet Under), Paul Haslinger (ex. Underworld Series, Tangerine Dream), Neal Acree (ex. WoW, Starcraft II, Diablo 3), and hundreds of other prominent producers and composers.

Hybrid Tools Vol. 3 contains more than 2,100 hand-crafted sonic gems, in 16 different core sound classes. In addition to a wide selection of common hybrid sounds (ex. Boomers, BPM Synced Grooves/Pulses, Drones, Risers, Wooshes), we created a variety of new sound types based on the most current and upcoming trends in the cinematic world (ex. Drastic Lines, Epic Tonal Bends, Epic Drum Kits, Levitations, Lights, Psychological Signature Sounds, and more).

All the content comes in a gorgeous 3D rendered interface, which includes a built-in mini-browser for instant access to every sound. The interface also contains our custom developed CHAOS FX 3.0 Engine and REVERSE feature. Whether you need a trance gate, step-sequencer, delays, filters, EQ, dual convolution-reverb, delays, or an extensive set of key and macro controls, we've got you covered!

Hybrid Tools 3 also comes fully integrated with META-DATA designed for Soundminer etc.

New Mini-Browser and REVERSE Feature
Hybrid Tools 3 is built around an internal mini-browser that allows you to access all sounds immediately. All 16 core sound classes come preloaded in the browser, so you can audition the entire library without having to load any extra patches. The mini-browser also contains all sub-banks (for example, we have 7 banks of wooshes and 11 banks of BPM-synced groove pulses).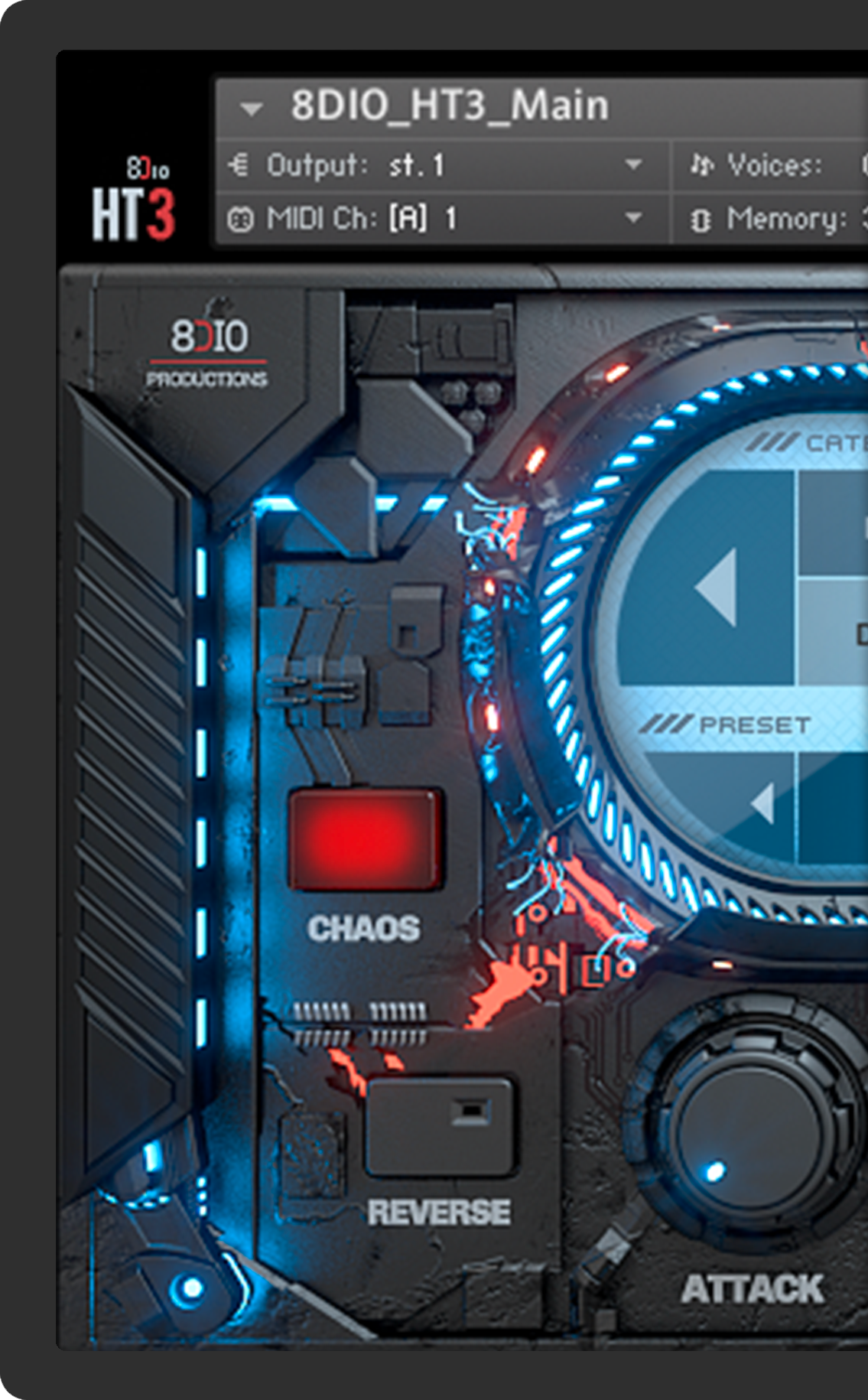 Meta-Data & Sound Miner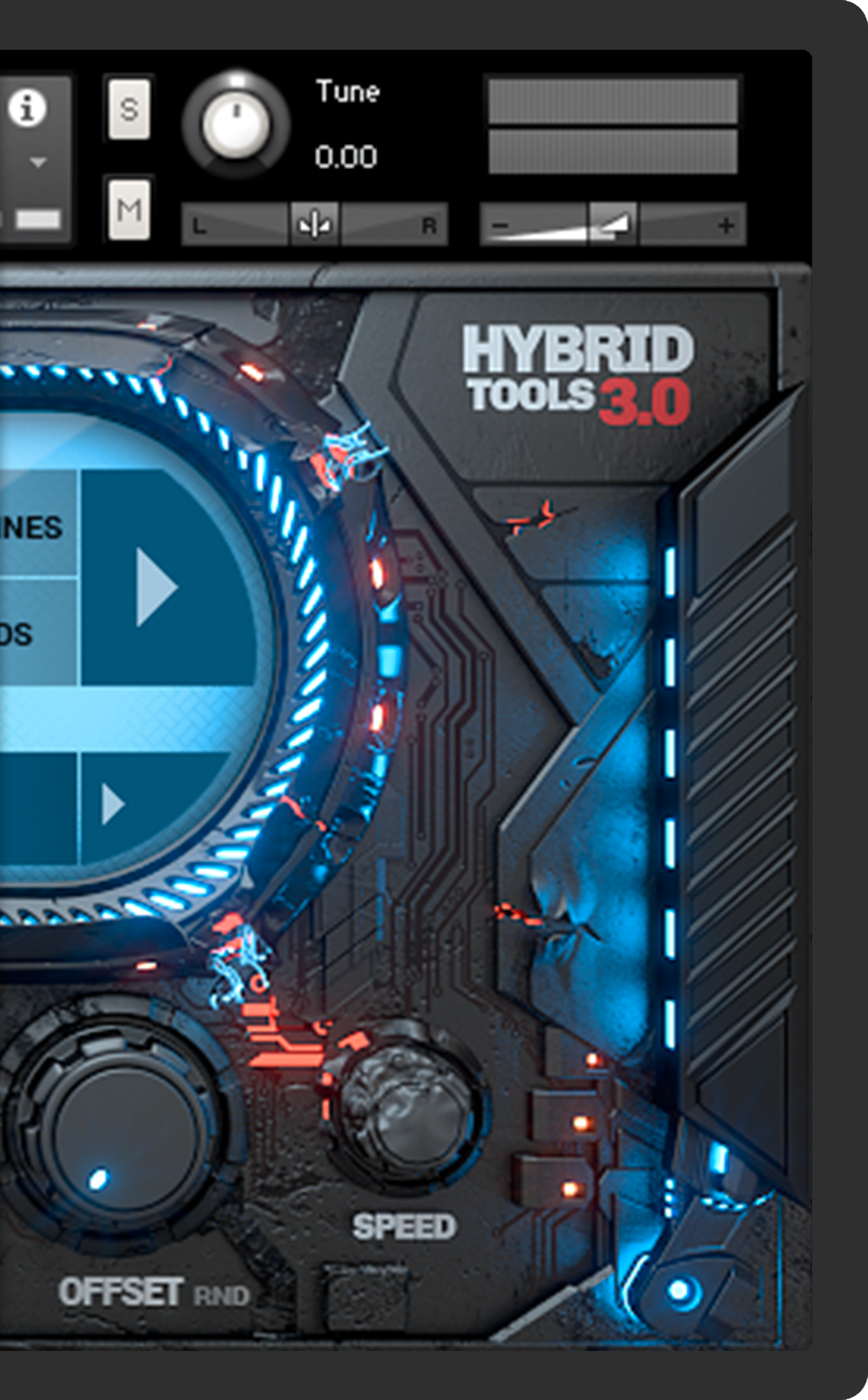 Hybrid Tools Vol. 3 comes completely meta-tagged in 44.1/24 bit open .wav format. Sound designers and editors will quickly be able to find the appropriate sounds through descriptors such as Hybrid, Cinematic, Whoosh, Fly By, Doppler, Riser, and a variety of other common tags used for sound design, movies, and trailer production.
New Chaos FX 3.0 Engine
Our New Chaos Engine 3.0 is perhaps the most extreme feature in Hybrid Tools 3. The Chaos Engine allows you randomize over 1,500 sample parameters with one click, while also randomizing our new 8Dio FX System. So, both the sample content and the assigned FX will be randomized in one glorious cocktail.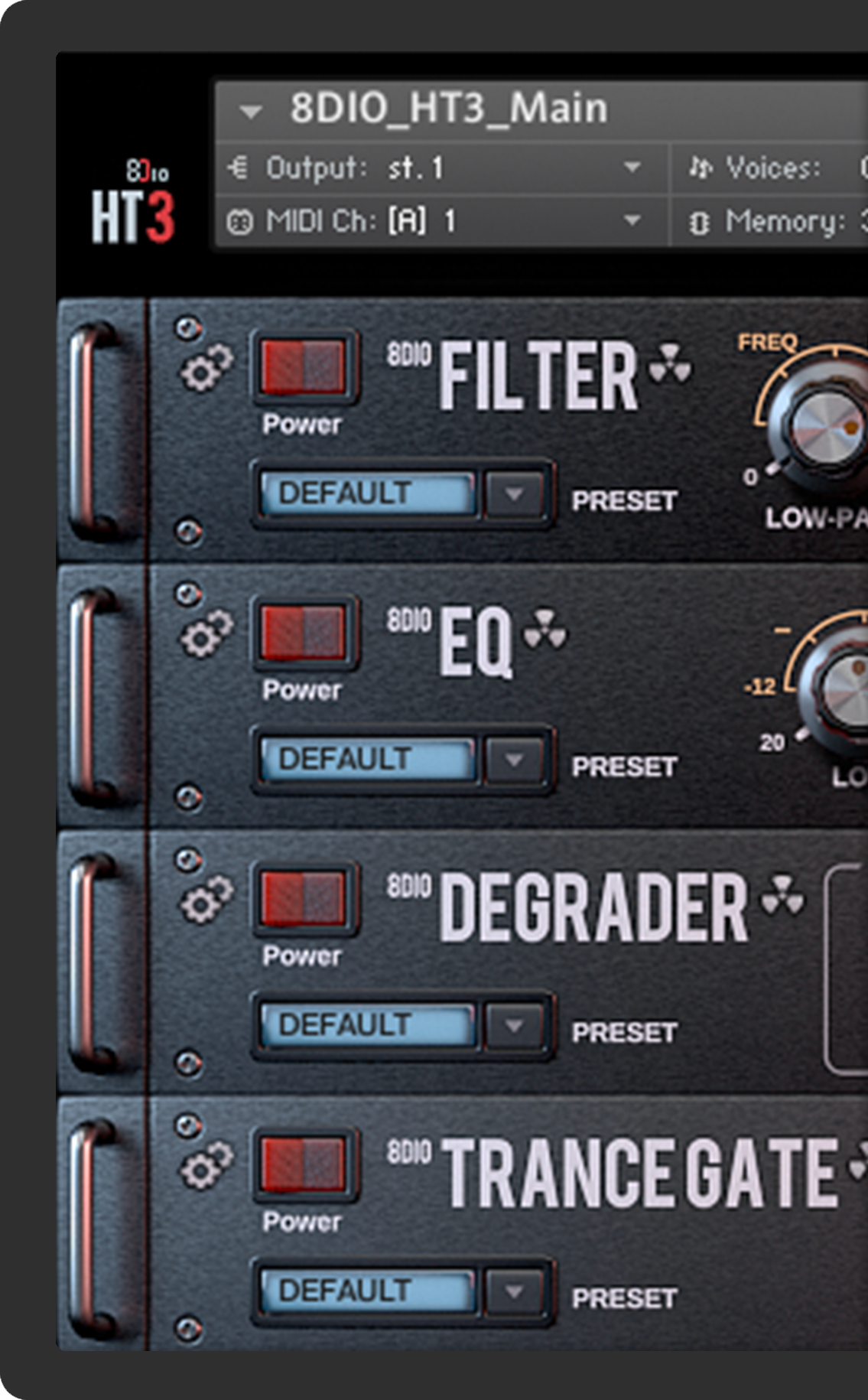 ARTS, SPECS AND REQS
Articulations:
2100+ Musical Sound Designs tailor made for hybrid compositions:

Boomers
Drastic Lines
Epic Drones
Epic Bends
Epic Boom Kit
Levitations
Lights
BPM Sync Pulses (Slow)
BPM Sync Pulses (Fast)
Markers
Risers
Psychological Sounds (aka Signatures)
Extreme Taiko Ensemble (Natural and Processed)
Tonals
Unisons
Whooses


Format: Kontakt and 24/44.1 .wav files
FX:
New FX Engine 3.0

Instant CHAOS (randomize over 1500 parameters)
Instant REVERSE (one click to reverse it all)
Key and key mapping Controls
Macro Controls
Delay
Degrader (Bit Crusher)
EQ
Filter
Trance Gate
Convolution Reverb
Transform (Alternative Convolution Reverb)
Step-Sequencer


Modwheel control of filter
Requirements:
Full Retail version of Kontakt 5.8.1 or later required
Not compatible with the Free Kontakt Player
Hybrid Tools Vol. 3 requires 5 GB of hard drive space
Minimum: Mac OS X® 10.4 / 10.5, G5 2.0 GHz or Intel Core Duo 2.00 GHz, 2 GB RAM or Windows® XP (32 Bit) or Windows Vista® (32/64 Bit), Pentium® or Athlon XP 2.0 GHz, 2 GB RAM. 2 GB of RAM or more is highly recommended
Sample resolution: 44.1Khz / 24Bit stereo .wav format