Intimate Studio Strings
45.12GB

True Deep-Sampled Studio Strings
Advanced Section Control
Up to 256 String Size Combinations
Deep-Sampled Violin(s) (1, 2, 3, 4 & 5)
Deep-Sampled Viola(s) 

(1, 2, & 3)

Deep-Sampeld Cello(s) (1, 2, & 3)
Deep-Sampled Bass(es) (1a, 1b, & 2)
Full Mixer for each instrument and section
Advanced Layered Legatos w/ dynamics
Ostinato Measured Portato, Tremolo, & Legato
Fluent Mic Control (near-field to entire studio)
Delivered by Download
Kontakt 5.8.1 

Full Retail

 (or later) Required
Production Costs: $159,000


READ MORE
READ LESS
Fully Customizable Studio Strings

Comprising of over 500 hours of sessions at Scotland's Premiere Recording Studio, Gorbals Sound, the Intimate Studio Strings series marks 8Dio's commitment to push the boundaries of advanced techniques and achieve a modern, playable, and fully customizable studio sound.

Utilizing new and unique isolation technologies, we were able to capture multiple section sizes and ensure all instruments blend seamlessly, allowing you the ability to mix and match. Including soloists and all the various ensemble sizes, there are 256 possible combinations!

Each instrument also has its own fully capable mixer with functions such as Solo, Mute, Output Routing, Volume, and Panning, all featured alongside our more advanced offerings. In addition to customizing the number of players (either from true recordings or mixed/overdubs), we also offer the new Distance Control, which seamlessly blends between an upfront, dry signal and a wider, more spacious signal.

8Dio Intimate Studio Strings gives you direct access to dozens of advanced and unique playing styles and articulations, full host tempo sync (relevant articulations only), and customizable section sizes, all in one streamlined and refined package. Studio Intimate Strings is the start of a new journey and one we hope you all join us on.

What's New?
With the newest update, you now use our "Poly-Time" articulations to play Bowed Arcs at a speed that suits your composition. We have also implemented our latest "Chordal" legato mode, a true polyphonic legato. Along with other general improvements, the new Chaos FX 4.0 includes over 140 impulse responses, stereo delays, and much more.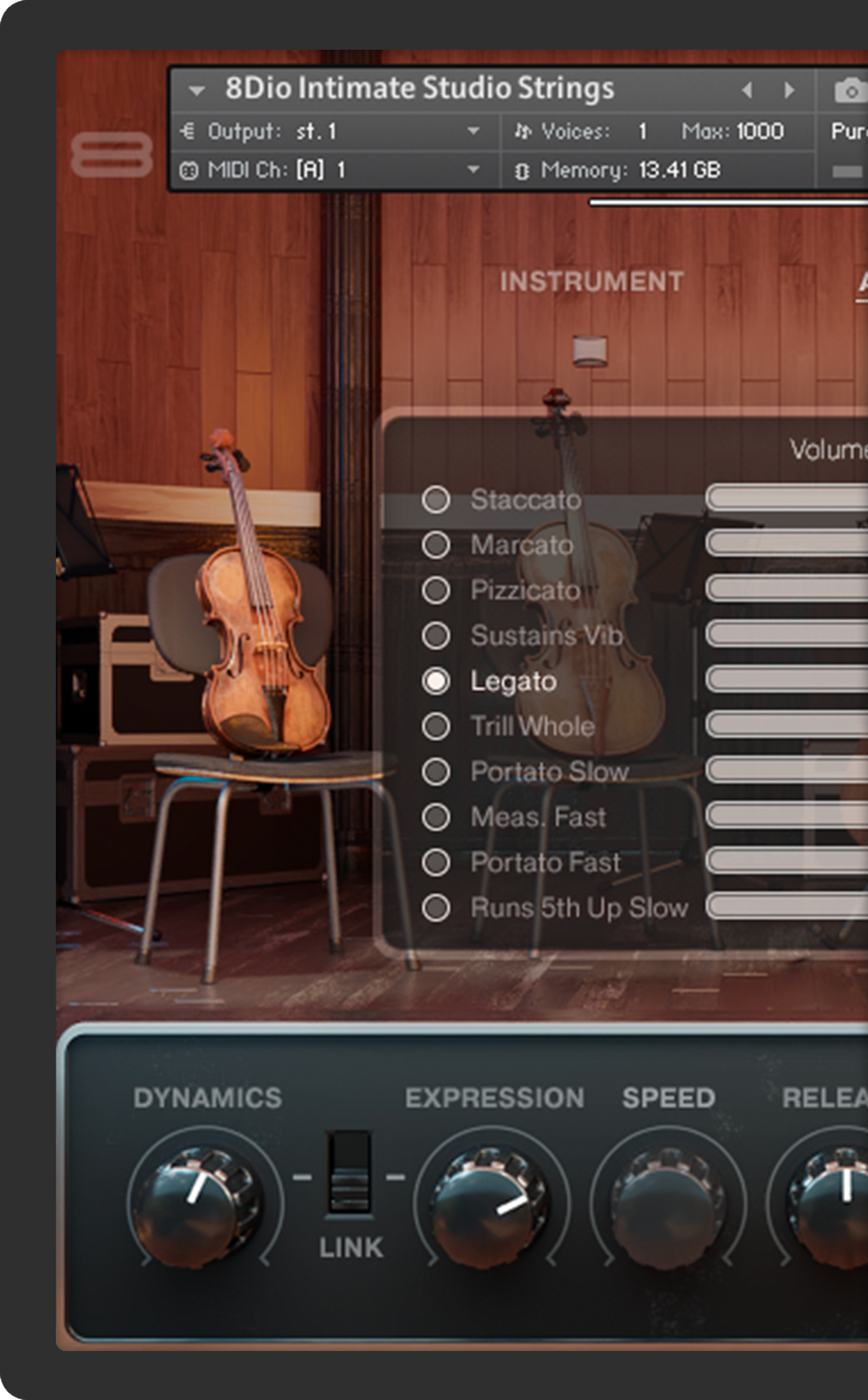 Complete Modularity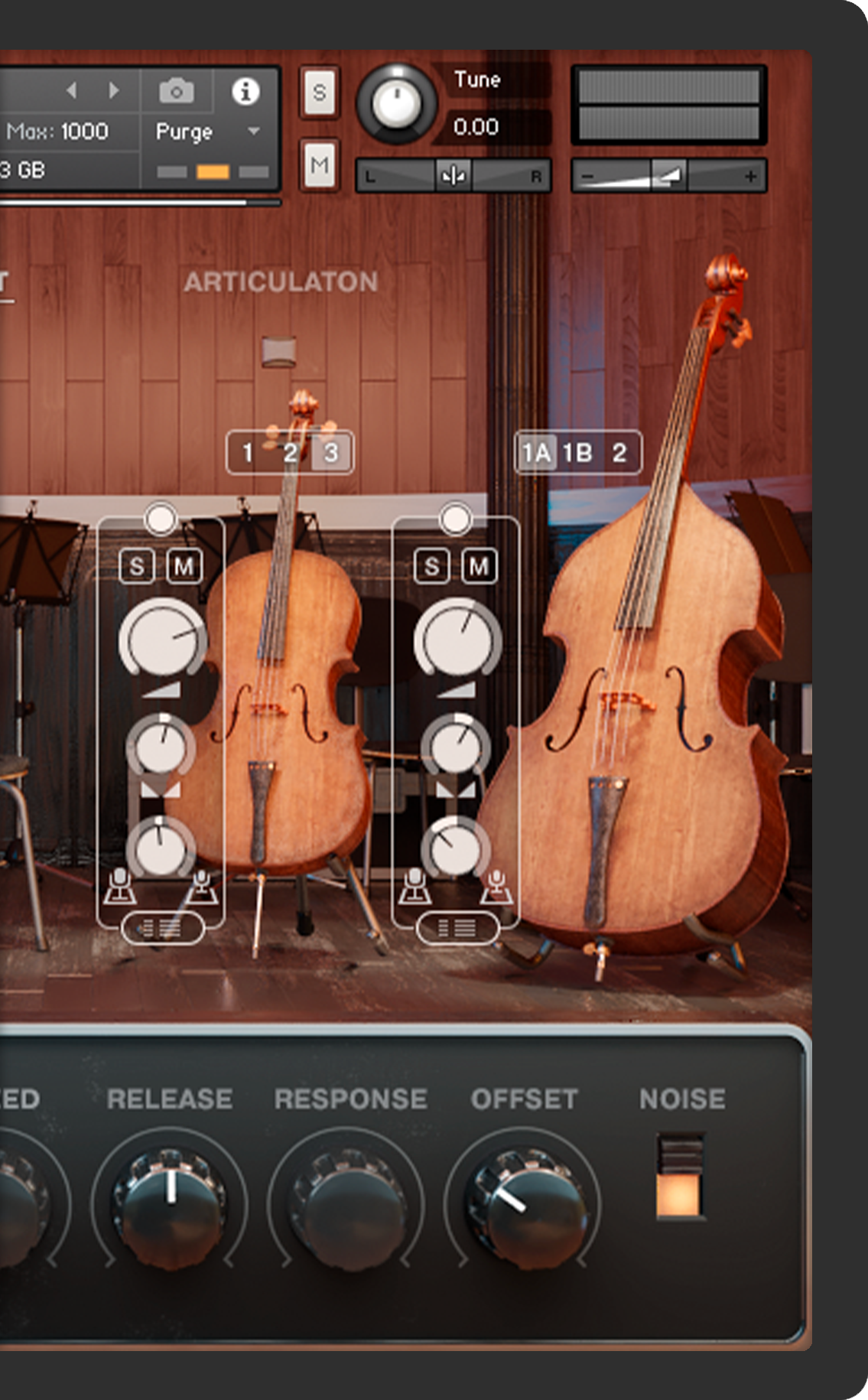 Intimate Studio Strings offers you the ability to assemble any string section you want. With 1-5 violinists, 1-3 cellists, 1-3 violas, and 1 or 2 basses, there are 256 ensemble sizes. With individual options for every section, you can adjust balance, panning, distance, and more.
Deep and Articulated
The articulation matrix in Intimate Studio Strings is based on over 500 hours of recordings. It is true deep sampling, and all articulations are symmetrical for all instruments, so you can completely blend, mix, and create your own sound.