Legion Series 66 Basses
Professional Cinematic Basses

Feat. Real 66-Piece Pro Symphonic Bass Ensemble
14,299 Samples / 15.06GB
66 Basses Sustain Types, Short Notes, & Dynamic Arcs
66 Basses Effects, Bending and Drop Notes
50 Analog Cinematic Ensemble Synths
4 Specially Built SFX Pads + Chaos FX 3.4
1 Binaural Mic & 4 Hall Mics (Mix, Decca, Wide, Far)
5 Close Spot Microphones
All patches come with DFD, TM, & TMPRO options
Delivered by Download
Kontakt 5.8.1

 

Full Retail

 

(or later) Required
READ MORE
READ LESS
The Biggest Bass Ensemble

66 Basses is the first creation in our new Legion Series, an instrument line dedicated to solving specific needs in epic cinematic music.

We gathered a 66-piece symphonic double bass ensemble, comprised of musicians from 9 countries across Europe, in our favorite modern recording hall, Zlin. In these once-in-a-lifetime sessions, all the players gave it their absolute best. It shows.

66-Basses contains all the common articulations (Sustains Types, Short Notes, Arcs, Effects, Note-Bends, etc) and a large set of new articulations (Dynamic Waves, Tuning Clusters, BPM-based Ostinatos, Bridge FX, etc).

We also spend the better part of a month on 50 uniquely crafted analog synth ensembles. The library features 10 different microphones, including a new Binural microphone that gives you a sonic VR experience of the sessions, 4 Hall-Based microphones (Mixed, Decca, Far and Wide), and 5 intimate close Spot microphones for more detailed sound.

66 Basses features a new 3D-rendered UI with a new 4-part modulation engine and a whole special section of BPM-based Ostinatos.

66 Basses cost us over $70.000 to produce and is the first of several in our Legion series. It is the dream of cinematic basses resolved. Rich, Warm, and Fulfilling.

9 Microphones and 1 Binaural
The library contains 10 different microphone positions, including our new Binural Microphone. The Neumann Binural microphones offers you 100% lifelike recordings from the sessions. The Binural mic was placed near the conductor, so you hear it from his perspective. The library also includes 4 Hall Microphones (Decca, Mixed, Far, Wide) and 5 close Spot Microphones.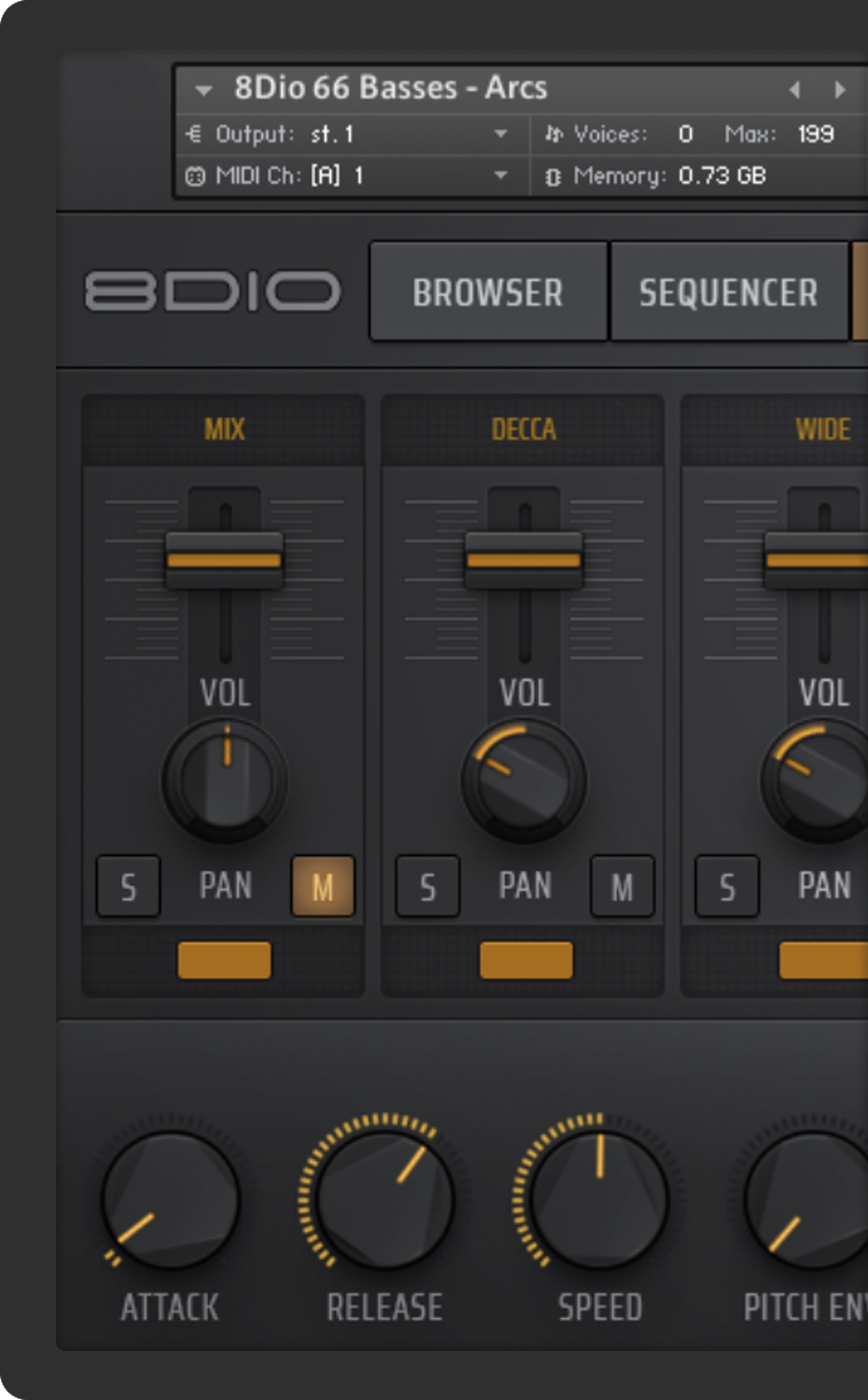 50 Custom Analog Synths
Cinematic Basses are often augmented with carefully placed analog synths. The synths help boost the subwoofer regions of cinematic basses, creating a gorgeous warmth underneath the 66 Basses. We programmed and sampled an array of analog synths and created 50 synth ensembles for the library. The stack function allows you to merge as many synths as you want.
4-Part Modulation Engine
66 Basses also includes our new 4-part modulation engine for extreme sample and effects work. Each of the four effect modules contains an X/Y Matrix grid, with X/Y parameters that can be assigned to any of the settings and mapped to any MIDI CC. The familiar Legion UI also includes Sequencer and Modulation tabs for even more CHAOS.