Misfit Toy Piano
Deep-Sampled Toy Piano
2,500 Samples / 0.31GB
Deep-Sampled Vintage Toy Piano
5 Repetition (Round Robin) Per Note
Authentic Sound of True Toy Piano
Chaos FX 3.0 New Arp & Dual Convolution Reverb
Delivered by Download
Kontakt 5.8.1

 

Full Retail

 

(or later) Required
READ MORE
READ LESS
Vintage Toy Piano

Welcome to Misfit: an unusual collection of 18 deep-sampled instruments.

After stripping the best equipment, the state-of-the-art studios, the most expensive instruments, and even the best musicians, only the soul is left. That is exactly what we wanted to explore: a human, urban, and unique product.

The Misfit Toy Piano is a delightful (2,500 sample), accurate representation of the real deal. We recorded a Vintage Toy Piano with a wealth of both velocity layers and repetitions (round robins).

The Toy Piano, also known as the (child's keyboard), is a small piano-like music instrument. Most modern toy pianos use round metal rods to produce sound. The US Library on Congress recognizes the toy piano as a unique instrument with the subject designation, Toy Piano Scores: M175 T69. The most famous example of a dedicated composition for the instrument is the "Suite for Toy Piano" (1948) by John Cage.

Misfit Toy Piano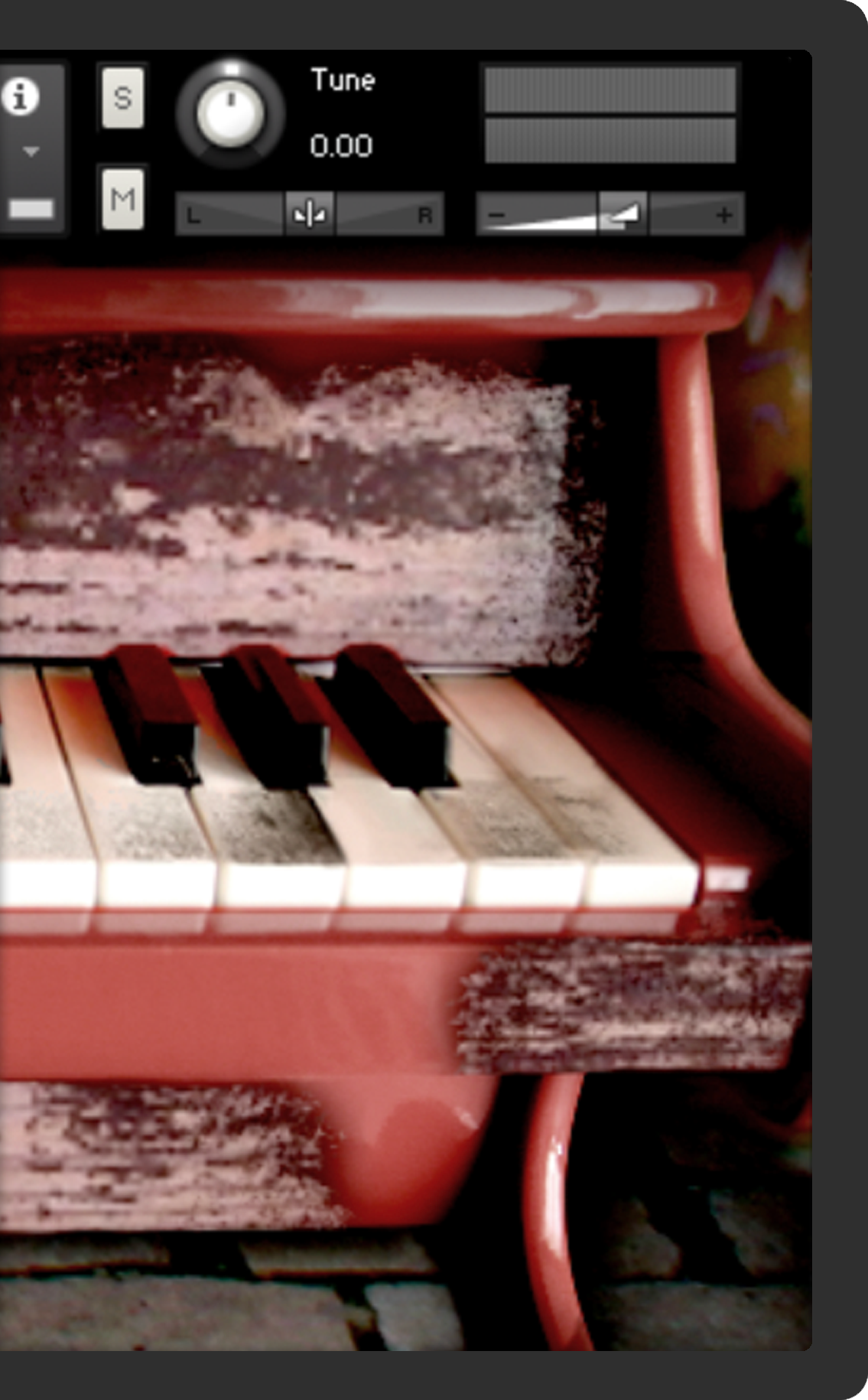 The Toy Piano has a very distinct sound, found surprisingly often in commercials, children's music, and alternative styles. So, there you have it!
Chaos FX 3.0
We wanted to make life a little more fun for you, so we added our Chaos 3.0 FX system to the Misfit collection. First, it gives you access to a variety of new FX types, including a highly sophisticated arpeggiator, dual stereo delay, and types of custom convolution reverbs, and much more!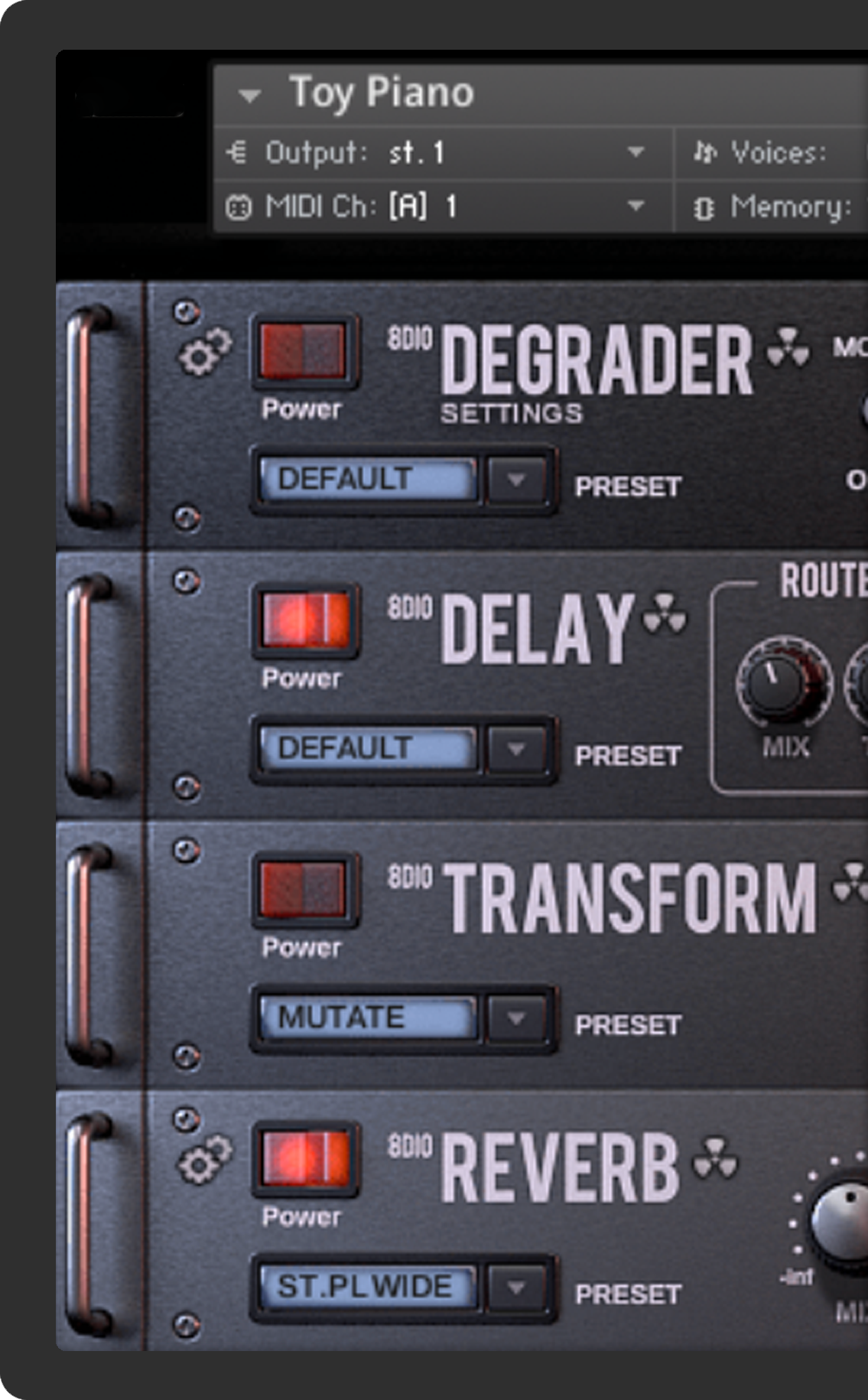 ARTS, SPECS AND REQS
Specifications:
Sustains with x 5 Round Robin
Ability to control stereo pan (widen to narrow)
Dual Custom Convolution Reverbs (+40)
Several Custom Convolution Reverb(s) / Impulses
3 Kontakt .nki file (incl. light patches)
2.500 samples
0.4 GB installed
Sample resolution: 44.1Khz / 24Bit stereo
Format(s): Kontakt / .ncw
Requirements:
Full Retail version of Kontakt 5.8.1 or later required
Not compatible with the Free Kontakt Player
Requires 0.5GB of hard drive space
Minimum: Mac OS X® 10.4 / 10.5, G5 1.8 GHz or Intel Core Duo 1.66 GHz, 1 GB RAM or Windows® XP (32 Bit) or Windows Vista® (32/64 Bit), Pentium® or Athlon XP 1.4 GHz, 1 GB RAM. 2 GB of RAM or more is highly recommended