Fire Sax
Deep Sampled Solo Saxophone with bubbly emotion

Also Available in Soundpaint ($20) with H.A.L

0.7GB / 2700 Samples

6 Deeply Sampled Polyphonic Legatos

26 Different Sustained Articulations

3 Styles Of Short Notes

7 Unique Sustained Dynamic Articulations

42 Articulations To Choose From
Advanced User Interface
Delivered by Download
Kontakt 5.8.1

 

Full Retail

 

(or later) Required
READ MORE
READ LESS
Spit Some Sonic Flames

Studio Fire Sax is the latest addition to our catalog. Utilizing recording techniques for gathering a dry and modern sound, the resulting library is an instrument that fits perfectly in any sort of Pop, Salsa or Latin music.

Thanks to our amazing soloist, we were able to capture the soul of Pop and Latin music. Each note is played with the passion that characterizes these styles, each transition has the proper requirements to join this collection that together, will help you create real compositions in a matter of minutes, and then will also allow you to expand your horizons with endless possibilities.

In contrast with other libraries, Studio Fire Sax comes from a dry recording, allowing you to skip the classical-sound reverb that generally make it difficult to fit on the latest Pop Tunes – this library is all about writing music, allowing you to have the freedom to write what you want music to communicate – Legatos, Sforzandos, Crescendos, Staccatos, we have everything you need, performed by amazing soloists, using proper Pop Mouthpieces. This is all about performing and sounding alive!

The Saxophone
This tenor saxophone was recorded in Colombia. As modern pop is characterized for its spectacular playing style, we've captured every single articulation that can fit in this type of music, including drops, staccato, glissandi of all types, crescendos, and sforzandos that will fill your tunes with lively authenticity.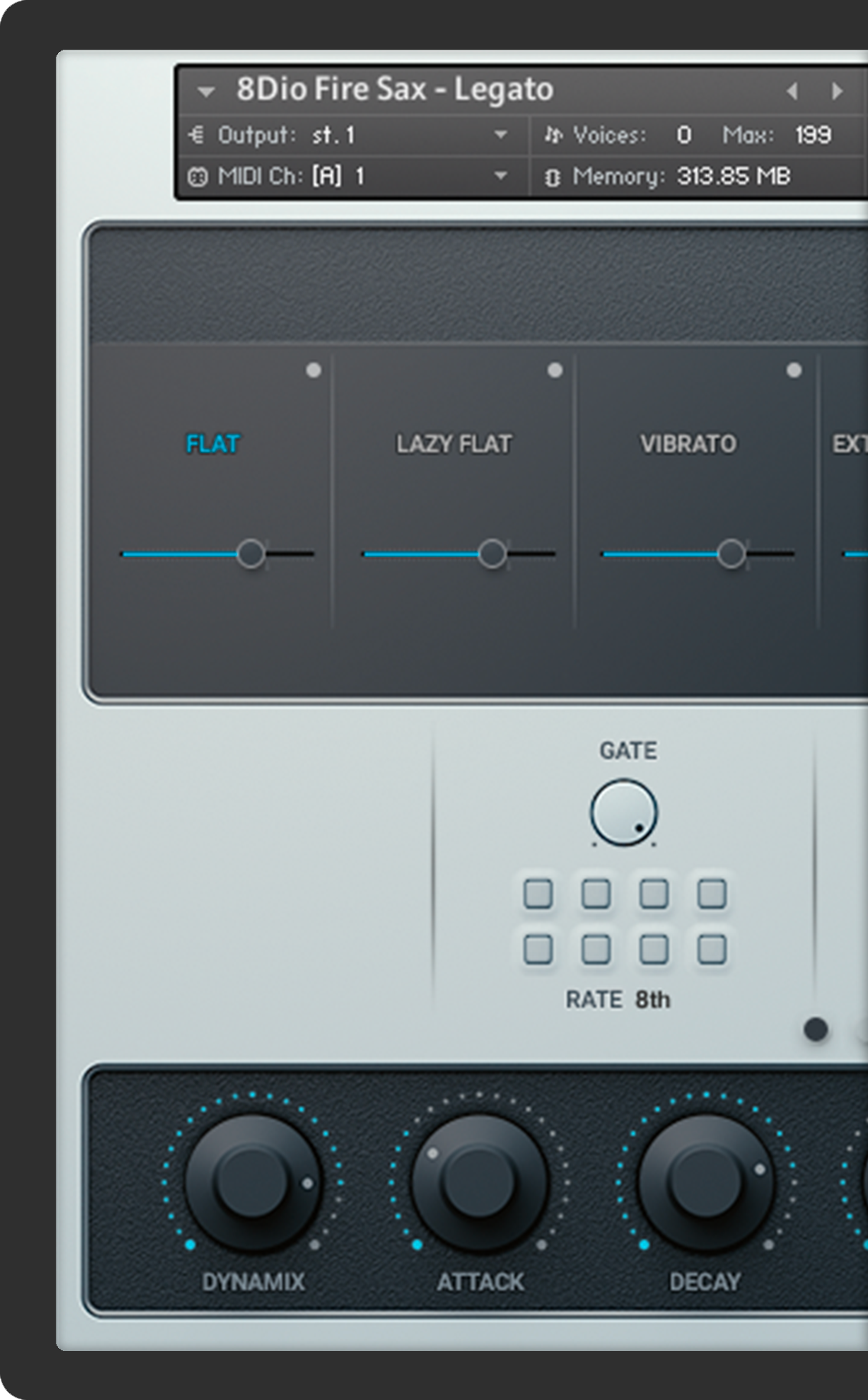 Legato
Forget about classical slow legatos recorded in halls with perfect reverbs. This library is nothing like that. Studio Fire Sax contains the fastest legatos you will ever play! Drag your fingers across the keyboard and hear real transitions at top speeds! This is the guy who will make you dance with a note, and you will never hear a livelier Sax than this.
Compatibility
We recorded the Studio Fire Sax using modern techniques for a dry sound, focusing on fast-playing types so that it can fit any Pop or Latin style. With this library, you will be able to just focus on playing, and not on constantly changing settings to make it work! We invite you to dive in this deeply sampled library and let your ideas thrive!