72 Studio Percussions
Kontakt VST / AU / AAX

35.68GB / 13,000+ Samples
3 Microphone Positions (Close, Mid, Room)
Contains 72 Different Percussion Instruments
New Patent Pending Groove Sampling™ Technique
72 Instruments and 25 Large Kits
New Front-Face FX and Mod-Sequencer
Kontakt 5.8.1

 

Full Retail

 

(or later) Required
Note: Previously known as Aura Studio Percussion

Delivered by Download
READ MORE
READ LESS
A Full Studio of Percussion

Studio Percussion Auxiliary contains 72 different instruments and 3 microphone positions that are all easily accessed from our built-in browser. The instruments cover a wide range of auxiliary percussion (ex. Congas, Bongos, Cowbells, Shakers, Maracas) to ethnic percussion (ex. Frame Drums, Timbales, Darbuka, Udu, Djembe, Doumbek, Cajon). You also have full drum kits with a large assortment of snares, bass drums, hi-hats and 11 cymbals. In addition, we included some traditional orchestral instruments (ex. Concert Bass Drum, Timpani's, 6 different Tubular Bells etc) and many other instruments.

Most instruments in Aura Studio Percussion were also recorded with two different types of mallets, sticks and brushes. Imagine playing a massive Concert Bass Drum with brushes or Bongos with sticks. Maybe you want to play the Doumbek with brushes, while creating another part with brushed Tubular Bells.

Studio Percussion Auxiliary also contains a large assortment of ensemble kits, so you can play larger assortments of different instruments at the same time. We've included 8 full drum kits in different styles (ex. Pop, Rock, Funk), 2 Ethnic Kits, 8 Tonal Kits and 7 Cinematic Ensemble Kits, including Deep Kits, Epic Kits, Shakers and Cymbal Kits etc.

It all comes with 3 microphone positions (Close, Mid, Room), each with their own distinct sound. We've also included a new dual layered FX system. The first part is our front-face FX system that gives you control over dynamics, filters, pitch and micro-pitch, delay, bit-resolution, and our new textural convolution delay. The new textural delay allows you to take over 130 new convolutions and use them as delay components, so the instrument will delay other sounds than just itself. We've also included our new Chaos FX 3.4 engine, which gives you great control over things such as EQ, Step-Based Filter, Distortion, Stereo-Delay and an additional convolution reverb.

It has always been our mantra to push forward for realism and playability. Studio Percussion Auxiliary is the first of several to utilize our proprietary Groove Sampling™ method and we really think it is going to make compositions richer and easier to create.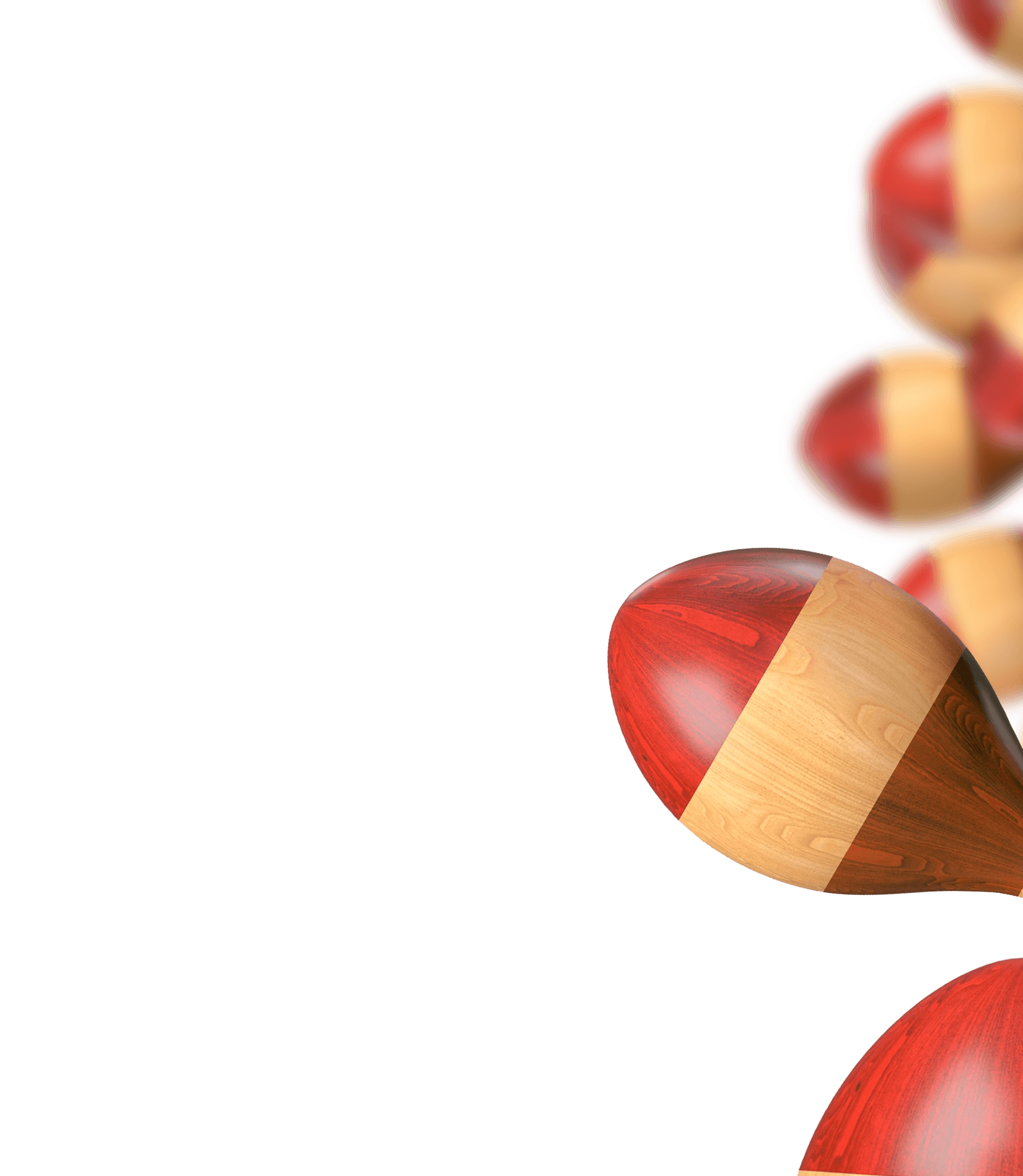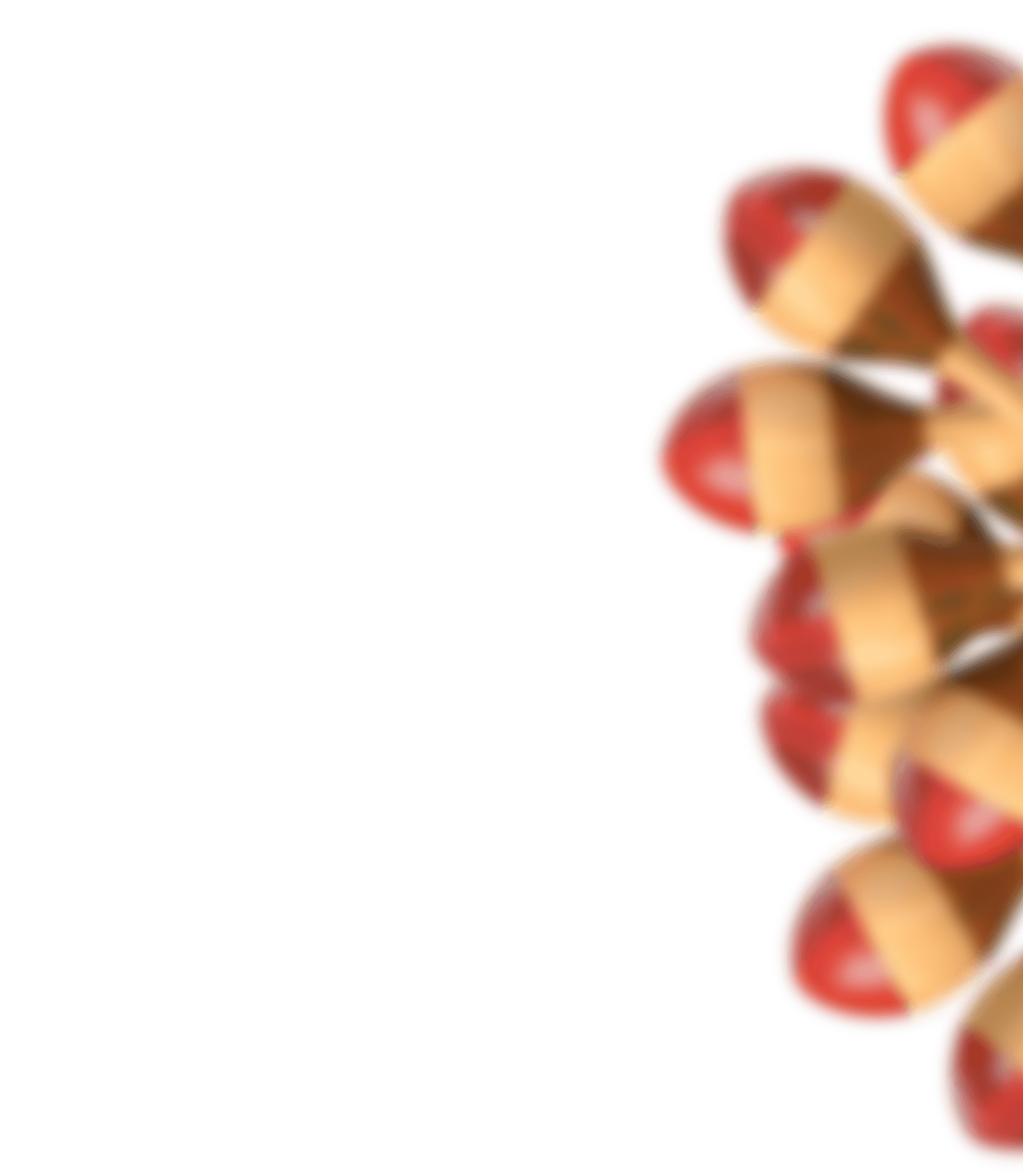 The New Groove Sampling™
The core of Studio Percussion Auxiliary is our new, patent-pending Groove Sampling techniques™. The library comes with traditional multi-samples in addition to groove samples, so you can play and mix them side by side. The Groove Samples can be controlled on your modwheel or via our new Mod-Sequencer. You will never go back after trying them!
72 Instruments in One Library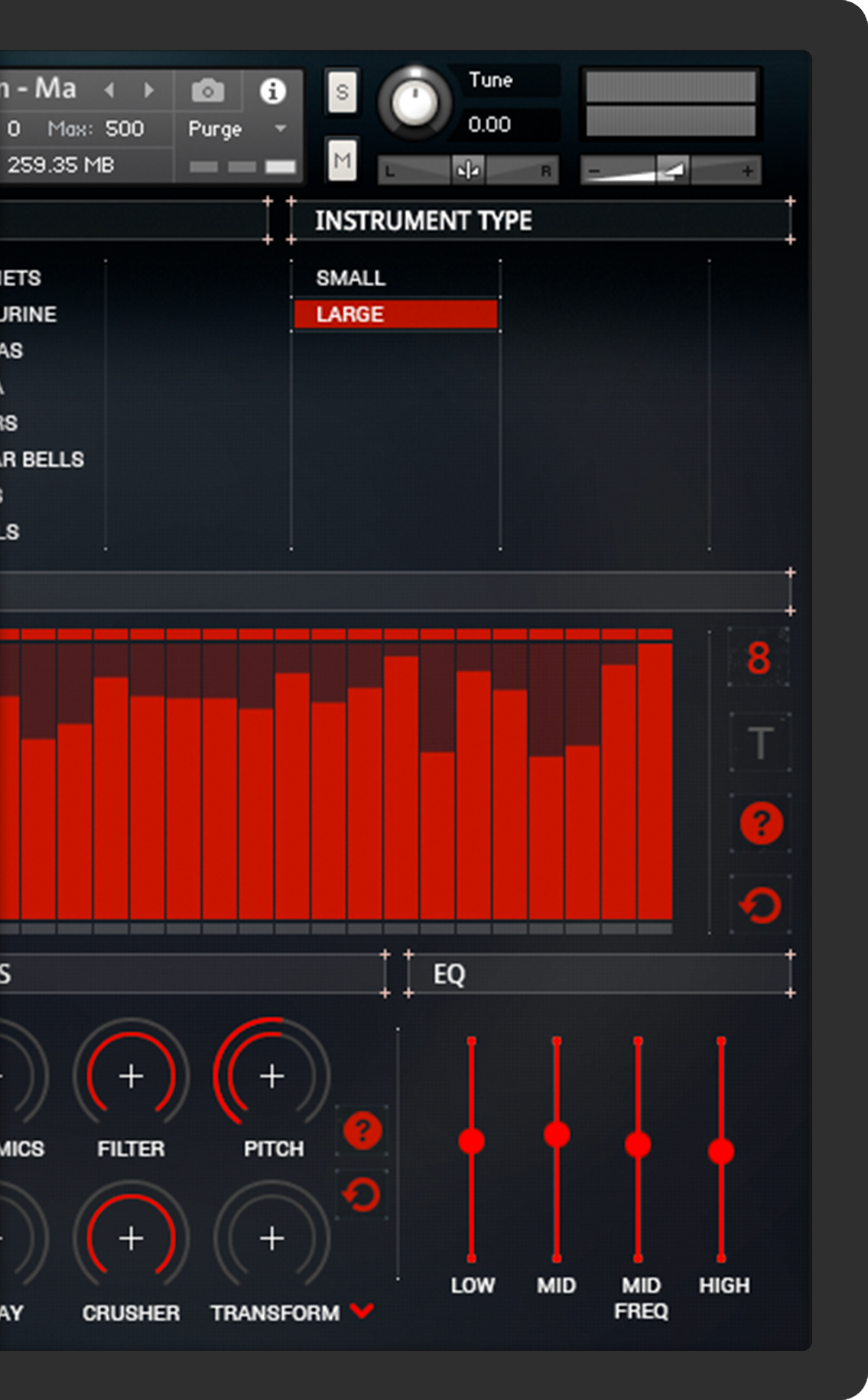 Studio Percussion contains an enormous amount of auxiliary percussion, including bass drums, snare drums, toms, concert bass drums, frame drums, timbales, darbuka, udu, djembe, doumbek, cajon, bongos, congas, cowbells, jamblocks, and so much more! Most of these contain several instruments (ex. 11 different cymbals, 14 different shakers, etc.)
Internal Browser and Textural Convolution
Studio Orchestral Percussion comes with a custom-designed browser, offering you immediate access to all the included articulations and front-facing effects with a single click. We want to simplify the journey from your first thoughts to your final creation. We also include our new Textural Convolution Delay, with non-conventional impulses.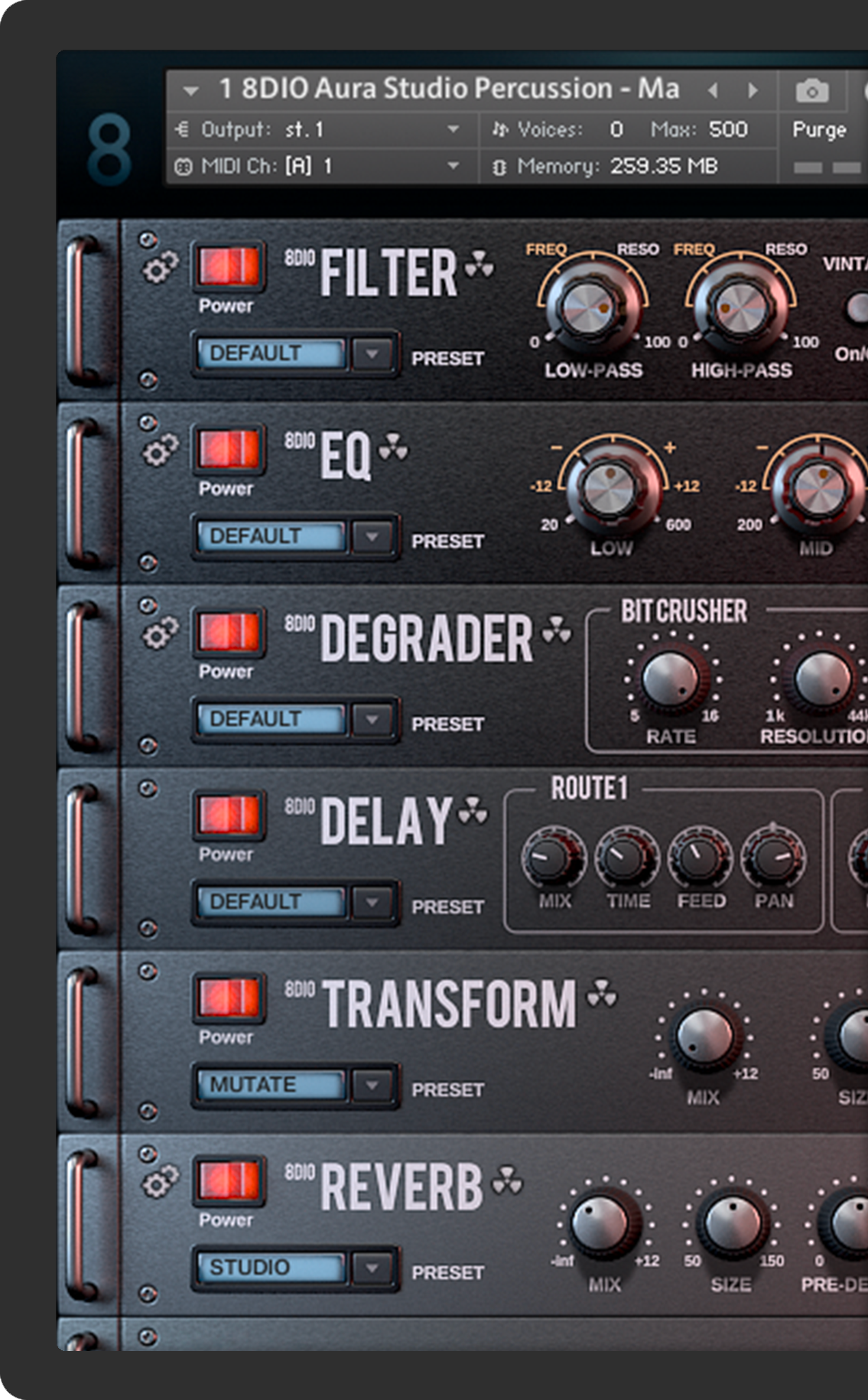 ARTS, SPECS AND REQS
Specifications:
New Advanced Aura Architecture for Ultra-Realism
Two FX Systems. Front-Face FX and Chaos FX 3.4
3 Microphone Positions (Close, Mid, Room)
130 New Textural Convolutions (Tempo-Synced to DAW)
76 Different Instruments
Internal Browser for immediate access
Multi-Samples and Groove Samples in same patch
Aura-Sample Control on Modwheel
Rhythm Sculpting Tool (MOD Sequencer)
Ability to RANDOMIZE all Front-Faced FX with a single click
Main Kit:
Kick Drum Maple 20
Kick Drum Maple 22

Snare Drums Soprano 10×5
Snare Drums Birch 13×5
Snare Drums Maple 14×5
Snare Drums Nickel 14×5
Snare Drums Steel 14×5
Snare Drums Nickel 14×5
Snare Drums Alum 14×5
Snare Drums Maple 14×6

Toms Birch 10
Toms Birch 12
Toms Birch 14
Toms Maple 8
Toms Maple 14

Concert Bass

Frame Drums Small
Frame Drums Large

Timbales Small
Timbales Large

Timpani Small
Timpani Large

Darbuka

Udu

Djembe

Cajon

Bongos Small
Bongos Large

Congas Small
Congas Large

Cowbell Mini
Cowbell Small
Cowbell Medium
Cowbell Large

Jamblocks Small
Jamblocks Medium
Jamblocks Large

Castanets

Tambourine

Maracas

Cabasa

Shakers 1
Shakers 2
Shakers 3
Shakers 4
Shakers 5
Shakers 6
Shakers 7
Shakers 8
Shakers 9
Shakers 10
Shakers 11
Shakers 12
Shakers 13
Shakers 14

Tubular Bells 1
Tubular Bells 2
Tubular Bells 3
Tubular Bells 4
Tubular Bells 5
Tubular Bells 6

Hi Hats 12
Hi Hats 13
Hi Hats 14

Cymbals Splash 12
Cymbals China 14
Cymbals Crash 14
Cymbals Crash 15
Cymbals Crash 16
Cymbals Crash 17
Cymbals China 18
Cymbals Dry Ride 20
Cymbals Medium Ride 20
Cymbals Rivet Ride 20
Cymbals Finger Cymbal
Bonus:
Drum Kits Funk Kit
Drum Kits Rock Kit 1
Drum Kits Rock Kit 2
Drum Kits Country Kit
Drum Kits Pop Kit
Drum Kits Big Kit
Drum Kits Extreme Kit
Drum Kits Reggae Kit

Ethnic Kits Latin Kit
Ethnic Kit Mid East Kit

Tonal Kit Tubular Kit
Tonal Kit Jam Block Kit
Tonal Kit Doumbek Kit
Tonal Kit Tom Kit
Tonal Kit Tom Brush Kit
Tonal Kit Cow Bell Kit
Tonal Kit Bell 1 Kit
Tonal Kit Bell 2 Kit

Ensemble Kits Snare Menu
Ensemble Kits Boom Menu
Ensemble Kits Shaker Menu
Ensemble Kits Cymbal Menu
Ensemble Kits Deep Kit
Ensemble Kits Epic Kit
Ensemble Kits Epic Kit Al
Requirements:
Full Retail version of Kontakt 5.8.1 or later required
Not compatible with free Kontakt Player
Studio Percussion Auxiliary requires 54GB of hard drive space
Minimum: Mac OS X® 10.4 / 10.5, G5 2.4 GHz or Intel Core Duo 2.00 GHz, 8 GB RAM or Windows® XP (32 Bit) or Windows Vista® (32/64 Bit), Pentium® or Athlon XP 2.0 GHz, 8 GB RAM. 8 GB of RAM or more is highly recommended