Studio Percussion Suspended Tonal
49 Suspended Tonal Instruments

3 Truly Independent Mic Positions (Close, Mid, Room)
28.34 GB / 11,000 Samples
Multiple Mallet Types
Multi-Samples with Round Robin And Dynamics
Recorded 8ths, 16ths, & 32nds (tempo-synced)
Direct download / Cloud Server System
Delivered by Download
Lossless compression at 24 bit / 48 kHz
Kontakt 5.8.1

 

Full Retail

 

(or later) Required
READ MORE
READ LESS
49 Tonal Instruments in the Air

8Dio Studio Suspended Percussion is a collection of 49 new, deep-sampled instruments with a twist! All the instruments were recorded in suspension. By letting the instruments hang in free air, they can vibrate fully. Even heavy objects like Concrete Bricks, Large Glass Plates, and Gas Canister will fully vibrate and become much more musical. We recorded every instrument with various (ex. Brushed, Felt, Traditional, Hand) and everything was recorded both as multi-samples and with our new, patented Groove-Sampling method.

Groove Samples allows you to play the instruments in ways you cannot with traditional multi-samples, with completely fluent and natural sound. They were recorded at various tempos and will sync with your host. There is really nothing like them around and this patent pending method is proprietary to 8Dio's sample collections.

We also recorded everything through an extensive microphone array, resulting in three core microphone positions (Close, Middle, and Room).

Studio Suspended Percussion is designed around playability and ease-of-use. All articulations and playing styles are easily accessible from our built-in browser system and just a single click away.

With our dual-layer effects, you have direct access to a trance gate, filters, pitch, delay, compression, and our textural convolution delay. We have also included our new Chaos FX engine, which gives you control over things such as EQ, Phasing, distortion, stereo delay, and an additional convolution reverb.

The New Groove Sampling™
The core of Studio Suspended Percussion is our new, patent-pending Groove Sampling techniques™. The library comes with traditional multi-samples in addition to groove samples, so you can play and mix them side by side. The Groove Samples can be controlled on your modwheel or via our new Mod-Sequencer. You will never go back after trying them!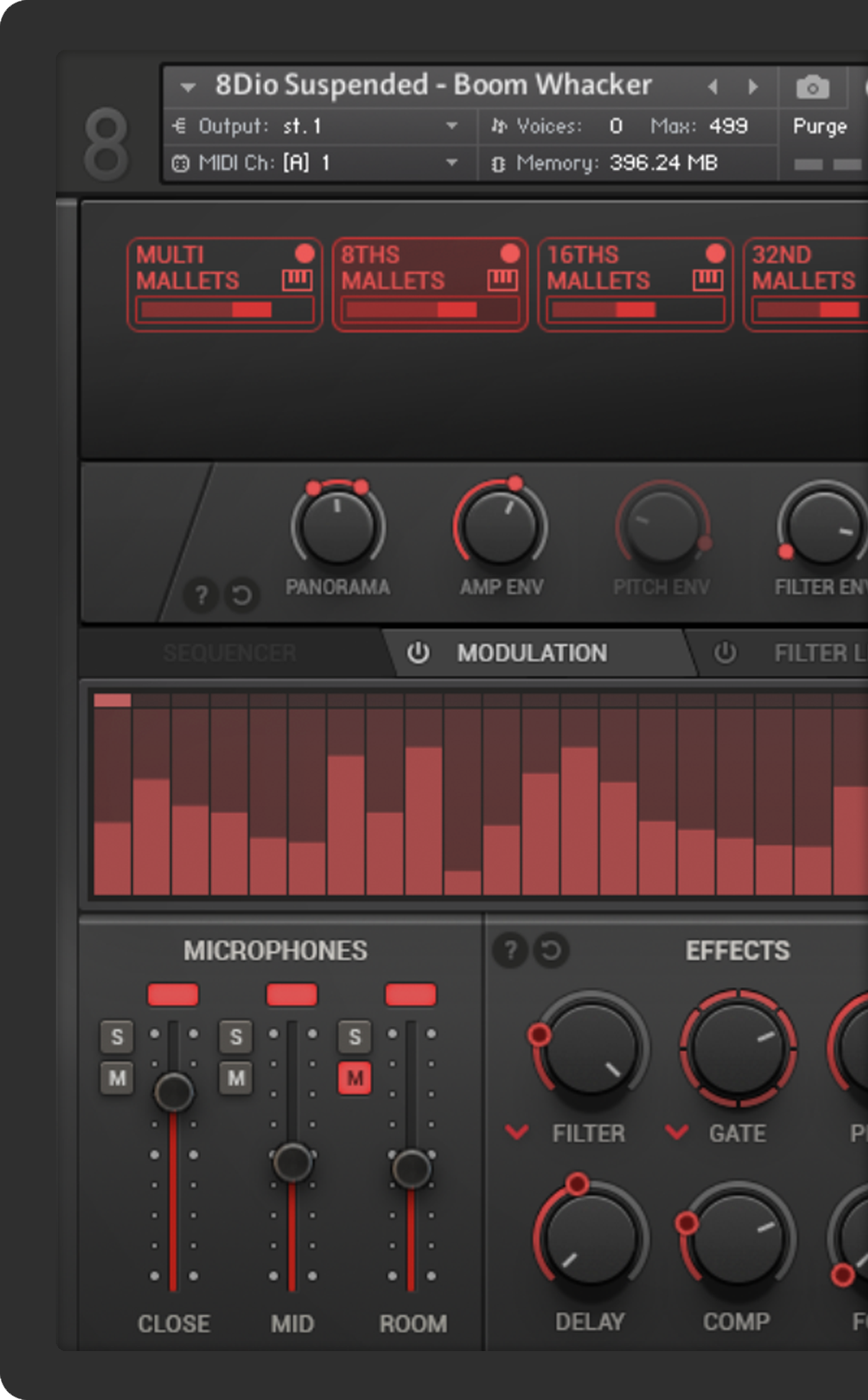 49 Instruments in One Library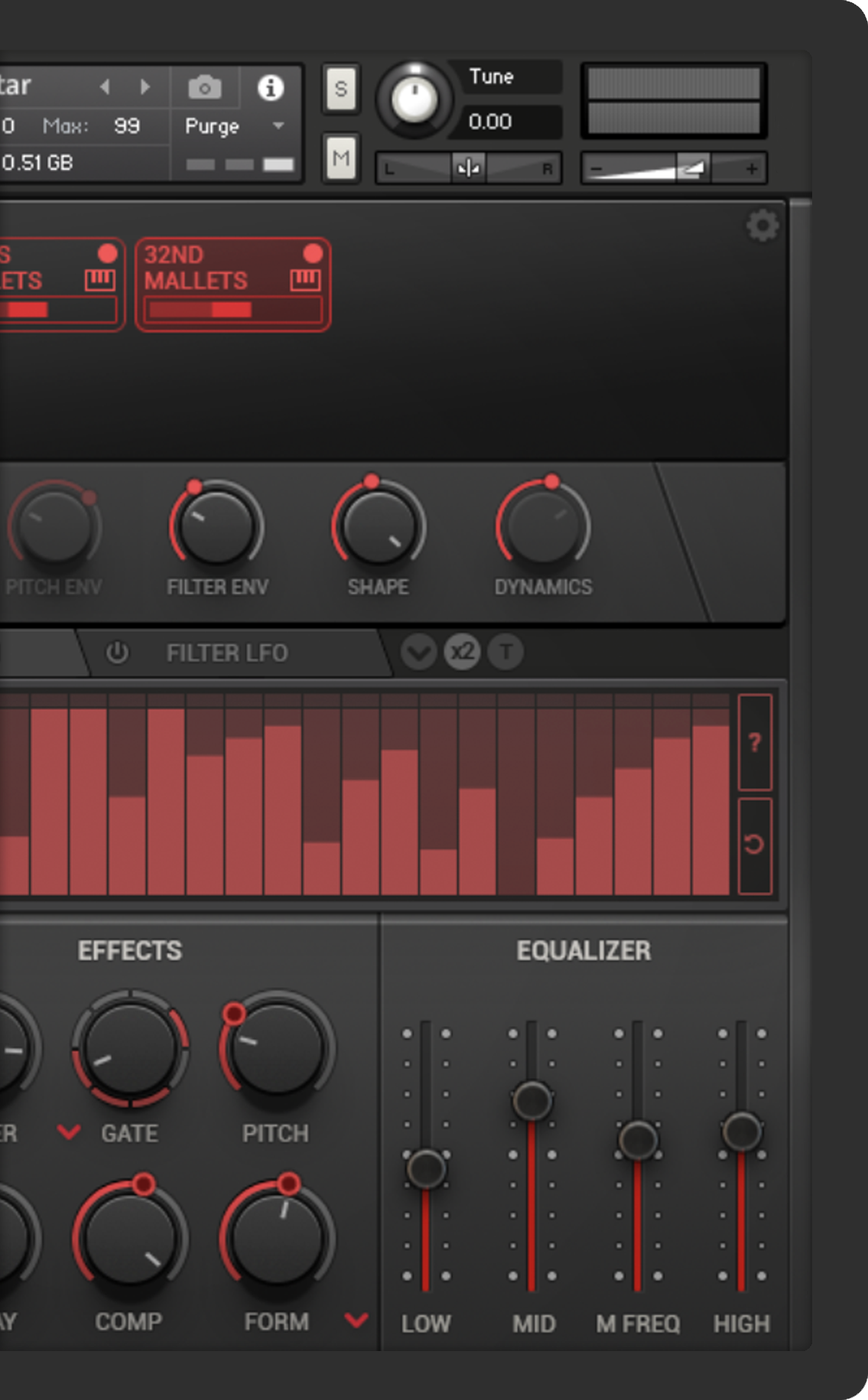 Studio Suspended Percussion contains 49 tonal, orchestral instruments (Wooden Blocks, Drum Shells, Glass Tubes, Porcelain Dishes, Bricks, Tiles, Vases, Bowls, Slate, and items suspended in water). All the instruments were hand-picked and designed with ease and playability in mind, shortening the distance from thought to creation.
Built-in Browser
Studio Suspended Percussion Tonal comes with a custom, built-in browser, offering you instant access to all the included articulations. Every instrument in this collection was designed this way because we wanted to simplify the journey from your first thoughts to your final creation.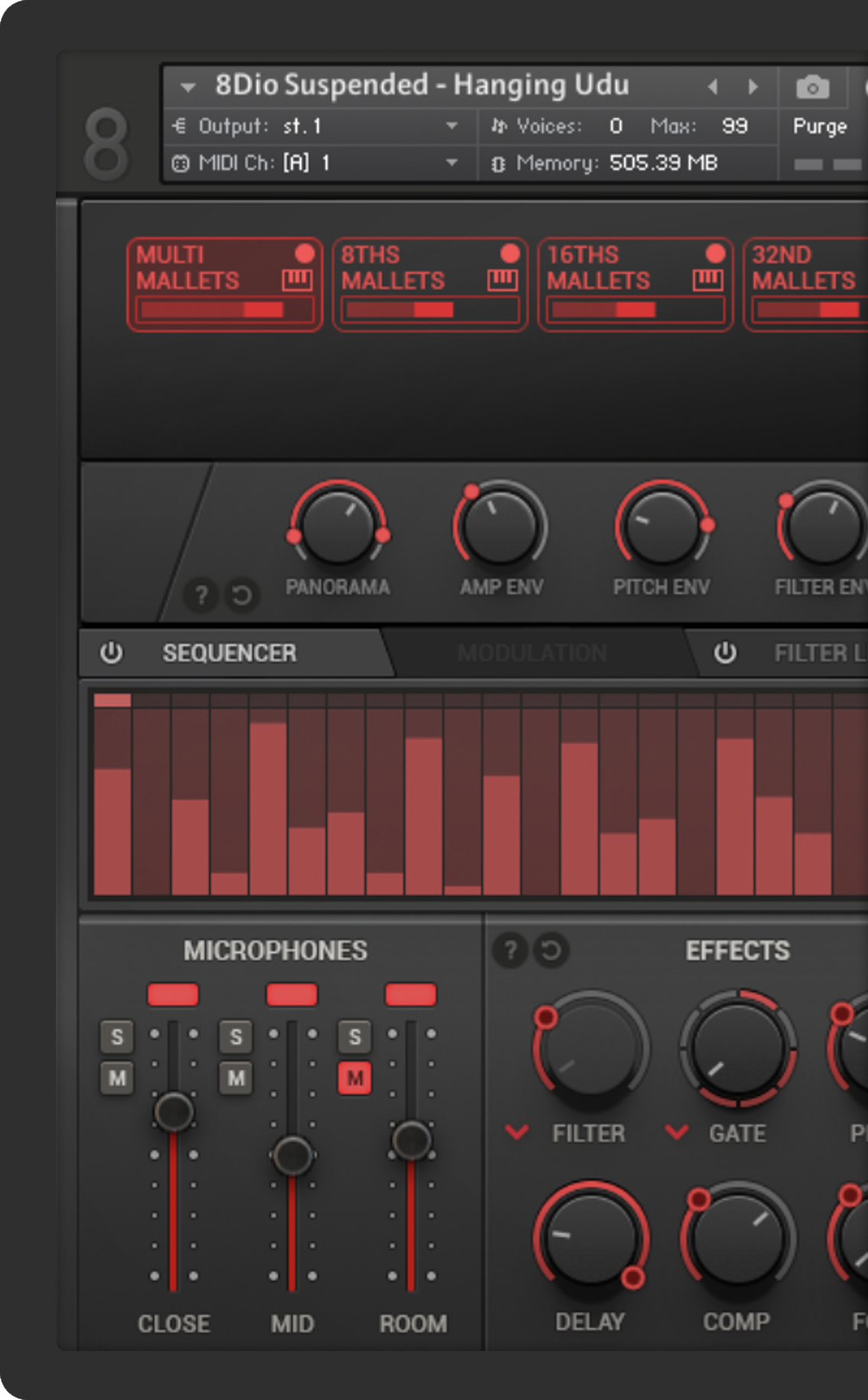 ARTS, SPECS AND REQS
Articulations:
Multi Samples
Up to 4 Mallet Types with round robin repetitions

Mallet Type 1
Mallet Type 2
Mallet Type 3
Mallet Type 4

Up to 5 Dynamic Layers

Auras
Fully Tempo Synced

8th notes
16th notes
32nd notes

Up to 5 Dynamic Layers
Instruments:
4×2 wood
4×4 wood
Boom Whacker
Breeze Block
China Cup
Coffee Pot
Cotton String
Cut Glass Bottle
Drum Shell
Drum Shell with Spring
Electric Guitar
Fire Brick
Floor Tile (my fav)
Frame Drum
FX Cymbal
Gas Cannister
Glass Tube
Half Clay Pot
Half Small Pot
Hanging Trumpet
Hanging Udu
Large ceramic bowl
Large Dish in water
Large flash plate
Large glass
Large metal bowls
Large plant pot
Large plate
Large vase
Long metal hammered dish
Low Pipe
Nylon chord
Red brick
Roof tile
Rubber band
Ships Bells
Short Pipe
Slate
Small bowl in water
Small bowl
Small glass
Small plant
Small thick glass panel
Small vase in water
Small vase
Small wine glass in water
Tennis racket
Thai cymbal
Thunder Tube
Wicker Basket
Xylophone note
Zilbel in water
Specifications:
New Advanced Aura Architecture for Ultra-Realism
Two FX Systems. Front-Face FX and Chaos FX
3 Microphone Positions (Close, Mid, Room)
Textural Convolutions (Tempo-Synced to DAW)
Deep-Sampled Custom Instruments
Internal Browser for immediate access
Multi-Samples and Aura Groove Samples in same patch
Aura-Sample Control on Modwheel
Rhythm Sculpting Tool (MOD Sequencer)
Ability to RANDOMIZE all Front-Faced FX with a single click
Requirements:
Full Retail version of Kontakt 5.8.1 or later required
Not compatible with free Kontakt Player
Studio Suspended Orchestral requires 28.34 of hard drive space
Minimum: Mac OS X® 10.9, 8 GB RAM or Windows 7, Windows 8 or Windows 10. A minimum 8 GB of RAM or more is highly recommended for affective streaming
Sample resolution: 48Khz / 24Bit stereo