Studio Clavinet
Kontakt VST / AU / AAX

84,900 Samples / 19.23GB
8 available stems (Neumann u87, Coles, Neve, etc.)
AKG featured mics on 2 vintage pristine amplifiers
2 Pro-Grade Reverbs (Bricasti and TC)
3 Authentic Analog D.I Signals and Tape versions
Sustains, Staccato, & Prepared Articulations (ex. Muted)
Intuitive and Advanced 3D Controls.
Advanced Chaos Effects Systems
Delivered by Download
Kontakt 5.8.1

 

Full Retail

 

(or later) Required
READ MORE
READ LESS
Piano Meets Electric Guitar

The illustrious Clavinet is no stranger to modern music or, indeed, sampling. We here at 8Dio took this iconic instrument and sampled it in such detail that it will never need to be sampled again (84,900 samples to be exact). The Studio Clavinet is similar to a piano in appearance and performance, but its sound is more like a rich and powerful electric guitar. This is partly due to the size, positioning and length of the strings and bridge used, as well as the 2 individual pick ups, which can be soloed, combined, and inverted. All of this has been meticulously sampled and crafted into the 8Dio Studio Clavinet.

The Studio Clavinet was carefully recorded & processed at 24bit / 96k at Scotland's Premiere Recording Studio, Gorbals Sound, through an extremely special custom Neve desk, then carefully down sampled to 48k for ease of streaming. The sustain samples were captured with all available pick up options and at multiple dynamics, allowing you to customize the sound in incredible detail.

The Studio Clavinet also includes full control over velocity response, resonance and release triggers, pedal volume, analog noise control, and full ADSR controls. From biting leads to soft melodic lines, the 8Dio Studio Clavinet truly knows how to bring the funk.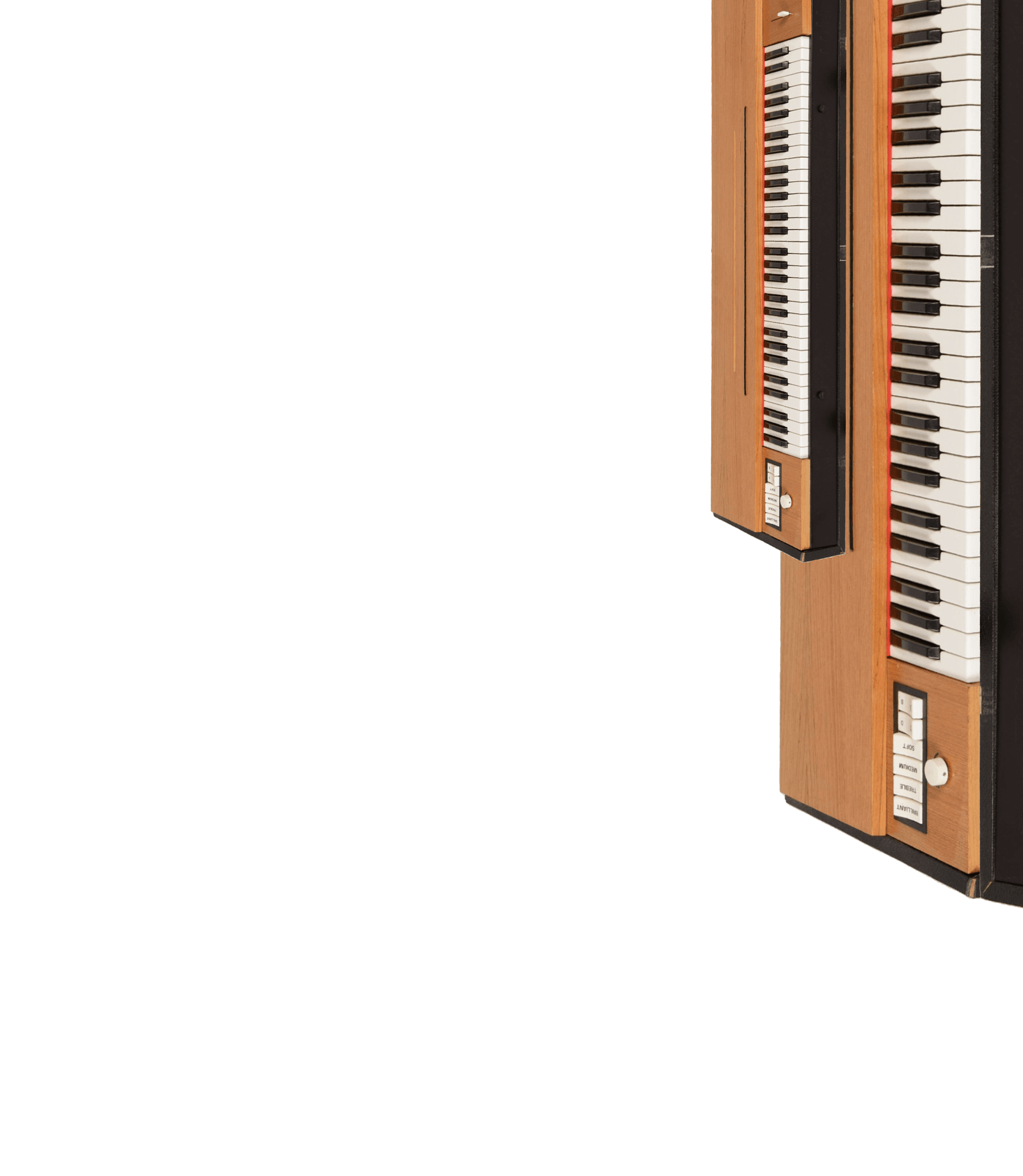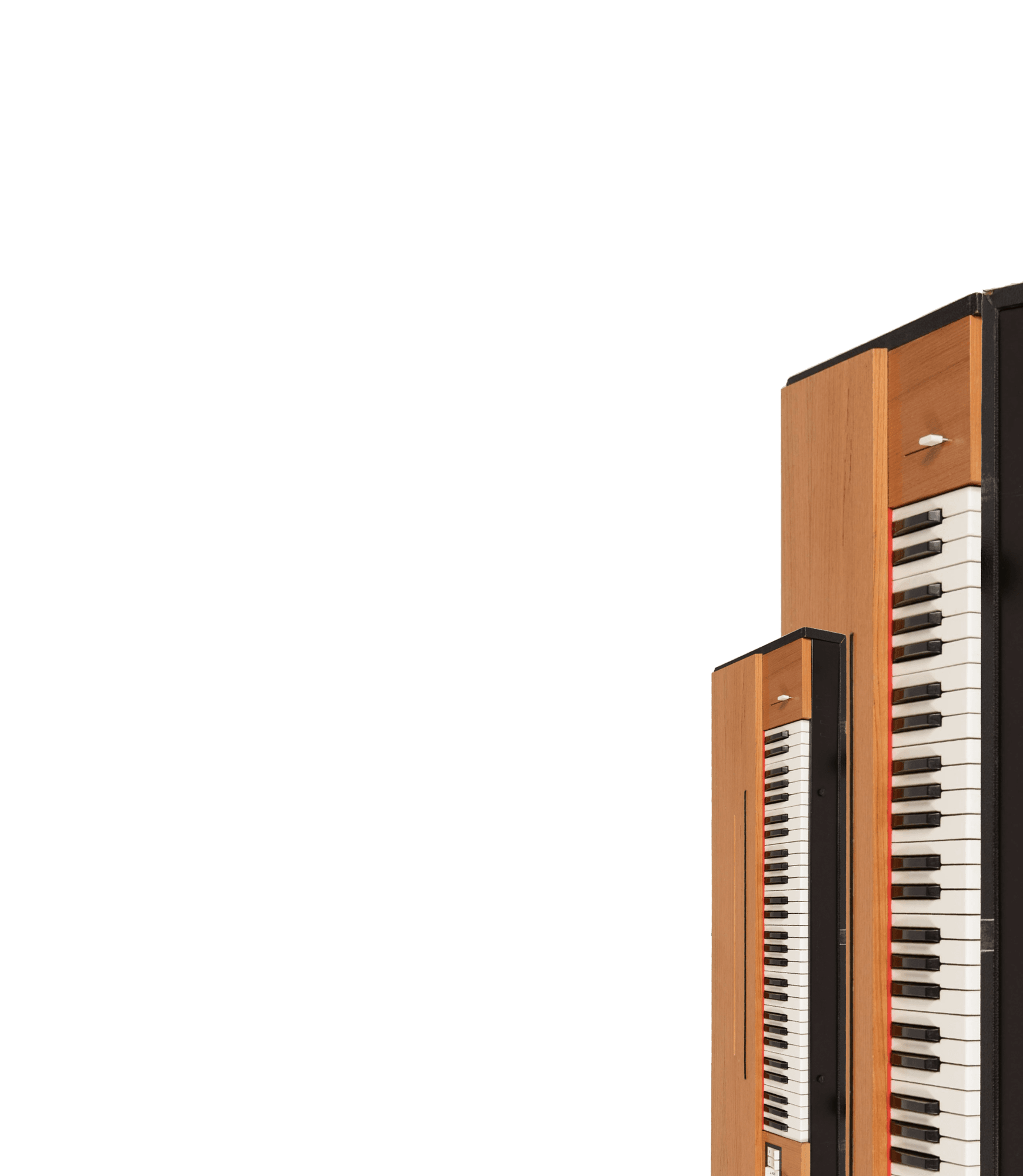 Deep Options
What sets the Studio Clavinet apart from competitors is not just the great recordings, programming, or stunning lay-out, but also the wealth of features that allow you to dial in precisely the sound you want. You can control the dynamic feel of the piano with a single click, resonance, Pick Ups, phase relationship, ADSR, or even the sounds of fingers on the keys.
Superior Reverbs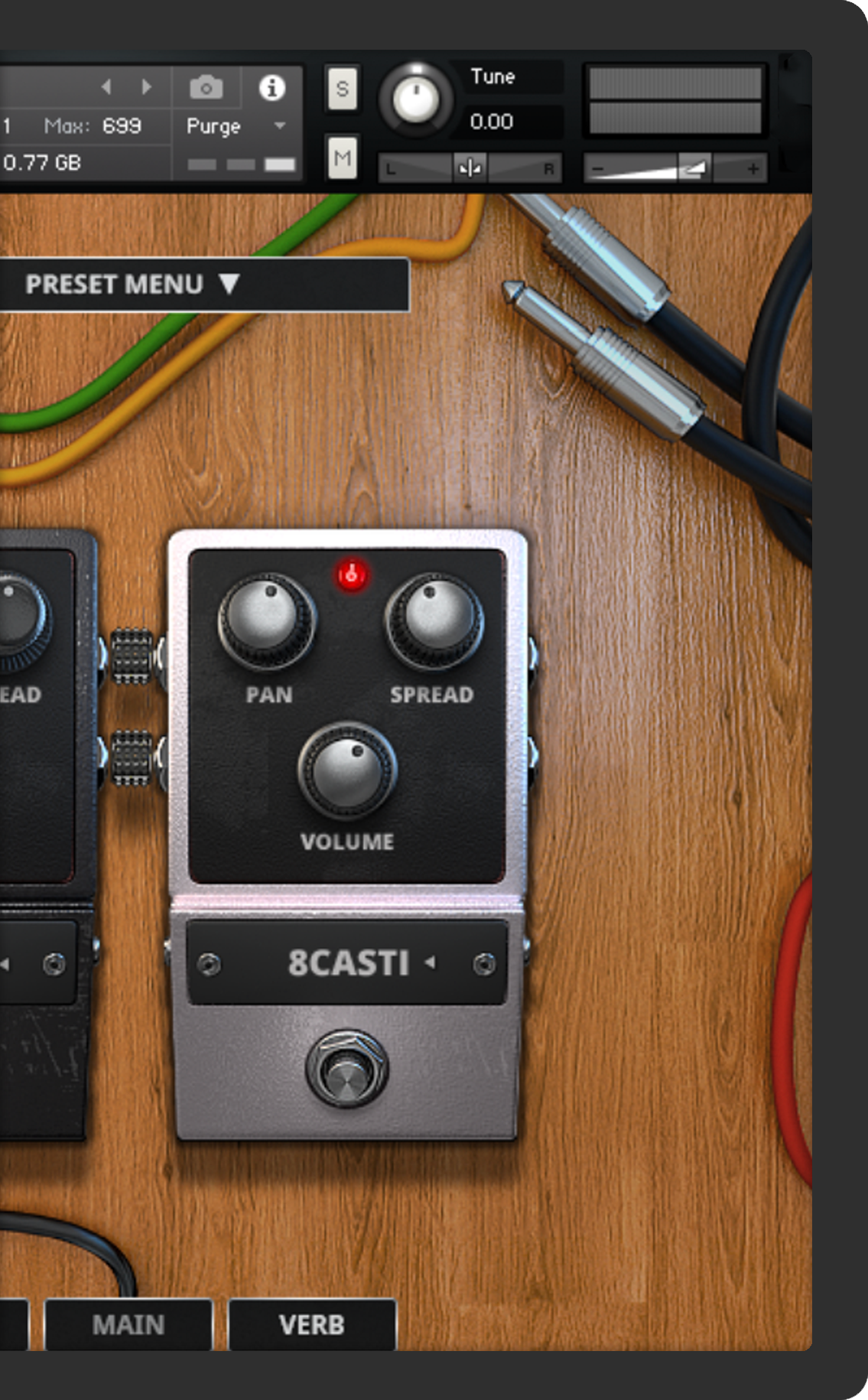 We sampled the Studio Clavinet through two of the best studio reverbs in the world: TC6000 and Bricasti. The reverbs can be activated with a single click and gives you instant access and control over the two reverbs that have defined studio reverbs more than anything else.
World-Class Microphones
The Studio Clavinet gives you access to the best studio microphones, including Neumann u87's, KM 184's, Neve SE Ribbons, Royers, and AKG 414's, all pointing to 2 vintage and pristine amplifiers. Along with the mixed microphone option, you have access to DI Clean, DI Crush and DI Warm.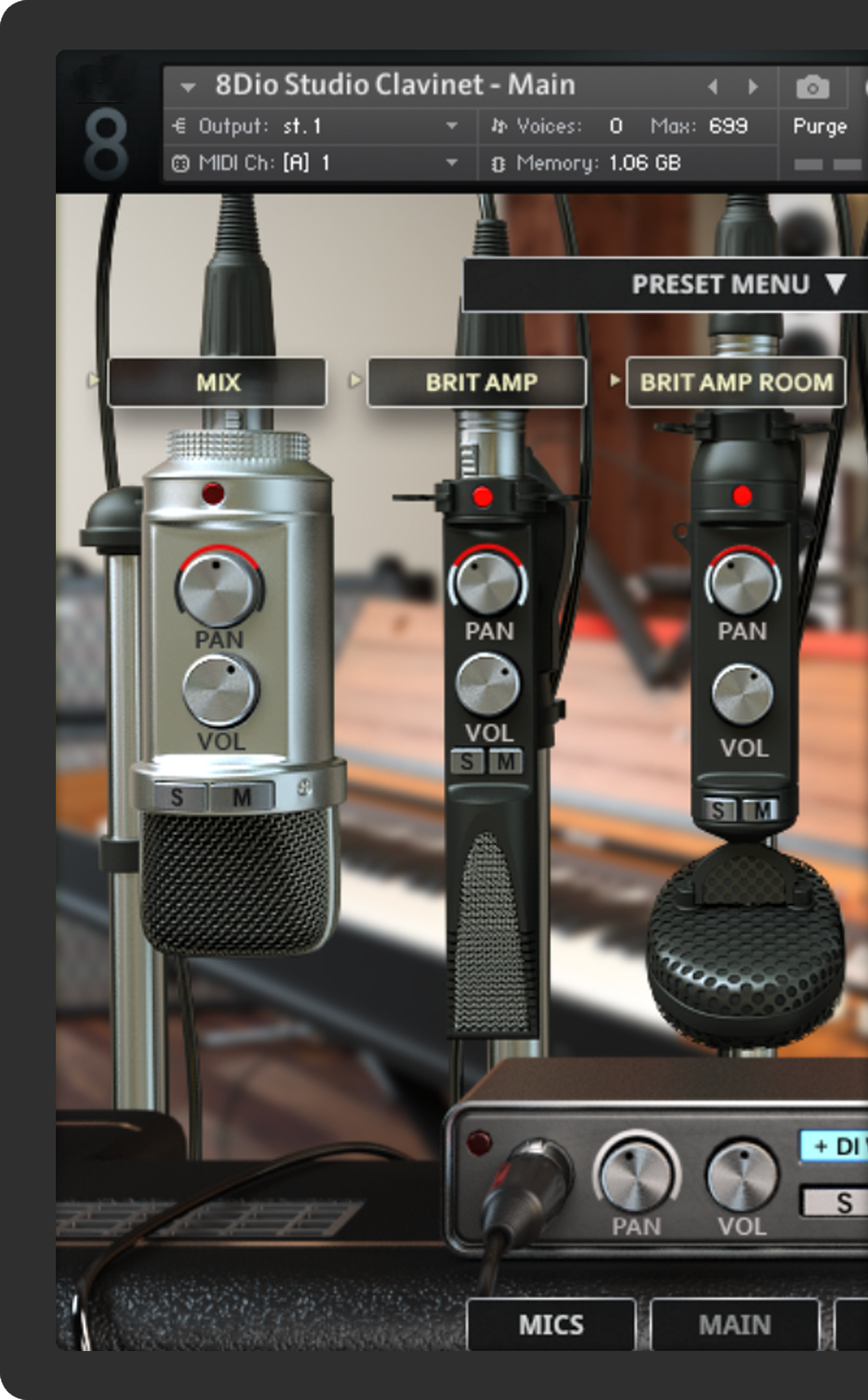 ARTS, SPECS AND REQS
Articulations:
Main Articulations:
Sustains
Staccato (with round robin)

Prepared Articulations:
Muted Sustains
Muted Staccato
Strum Effects

Presets (21)
Microphones:
Recorded in Scotland at the famous Gorbals Studio with all microphone positions recorded through a custom NEVE desk. All microphones can of course be loaded/unloaded and include Volume, Stereo Spread, Pan, Solo and Mute functions:
Mixed Microphone (Sweet processed Mix of all mics)
Neumann™ u87 Microphones
Neumann™ Km 184 Microphones
Coles™ 4038 Microphones
Neve™ SE Ribbon Microphones
AKG™ 414  Microphones
Royers R-121s Microphones
Vintage VOX Amplifier
Pristine MESA Boogie Amplifier
3 Individual D.I Signals

Two additional pro-grade reverb options:
TC6000™ (incl. On/Off, Pan, Spread, Volume)
Bricasti™ (incl. On/Off, Pan, Spread, Volume)
Recording gear:
The Vintage Studio Clavinet was recorded through a custom Rupert Neve Desk with 100% analogue Neve pre-amp signal flow. The sounds were then processed through the following physical hardware units:
Manley™ Vari Mu Compressor
Original Urei™ 1175 (Pre-Universal Audio)
Original DBX 160™
Neve™ 33609 Compressor
Bricasti™ M7
TC Electronics™ 6000
Vintage VOX Amplifier
Pristine MESA Boogie Amplifier
3 Individual D.I Signals
Options:
Uniquely sampled Pick Up selections
Live Keyswitch, CC, & Auto Detect Controls over the core articulations
Live Velocity Mapper and Dynamics Response Control
Sympathetic Resonance Control
Release Triggers of Hammer Action
C,D,A,B Controls
True Noise & Room Tone from the untouched signal chain
Click, Stacked and Key Control
ADSR Controls
Requirements:
Full Retail version of Kontakt 5.8.1 or later required
Not Compatible with Free Kontakt Player
19.02GB / 84,900 Samples
PC Quadcore / 2.4GZ+, 8GB ram
MAC Quadcore / 2.6Ghz, 8GB ram
19.1 GB free space