Studio Vintage Hammond Organ
Kontakt VST / AU / AAX

Also Available in Soundpaint ($30) with 127 Dynamic Layers
40,500 Samples / 15.33GB
2 available stems, for spot and room
Mics include Neumann u87, Coles, Neve, etc.
AKG mics on 2 vintage and pristine Leslie Cabinets
2 Pro-Grade Reverbs (Bricasti and TC).
2 Authentic Analog D.I Signals
Sustains, Staccato, Spiccato, Percussion (with RR)
Intuitive and Advanced 3D Controls
Advanced Chaos Effects Systems
Delivered by Download
Kontakt 5.8.1

 

Full Retail

 

(or later) Required
READ MORE
READ LESS
Hybrid B2-B3

8Dio Studio Vintage Series represents the most comprehensively deep-sampled collection of vintage keyboards, recorded at Scotland's Premiere Recording Studio: Gorbals Sound. The 8Dio Studio Vintage Organ is no exception, being a faithful representation of our very own B2 – B3 Hybrid Hammond® Organ.

While many other attempts at capturing factory standard Hammonds® in the past featured heavily on the Direct signal (D.I). We instead purposely chose to record the Organ in its natural state, using vintage and immaculately maintained Leslie cabinets. In fact, we used two independent Leslies (and blew up a third): one to capture the genre defining rotations at all speeds, and another with a modified motor to record the pure unhindered tone of the Leslie itself.

Both Leslies are available within the 8Dio Vintage Organ. "Analog" highlights the natural acoustics of the Hammond® Leslie and its expressive spinning states. "Modelled" demonstrates the static, non-spinning, pure timbre of the Leslie cabinet, with a virtual rotation applied. This allows you to choose the tone and workflow that best suits you.

It has been our mission to push sampling forwards in our entire vintage keys range. From realism to playability 8Dio Studio Vintage Organ offers the best of all worlds.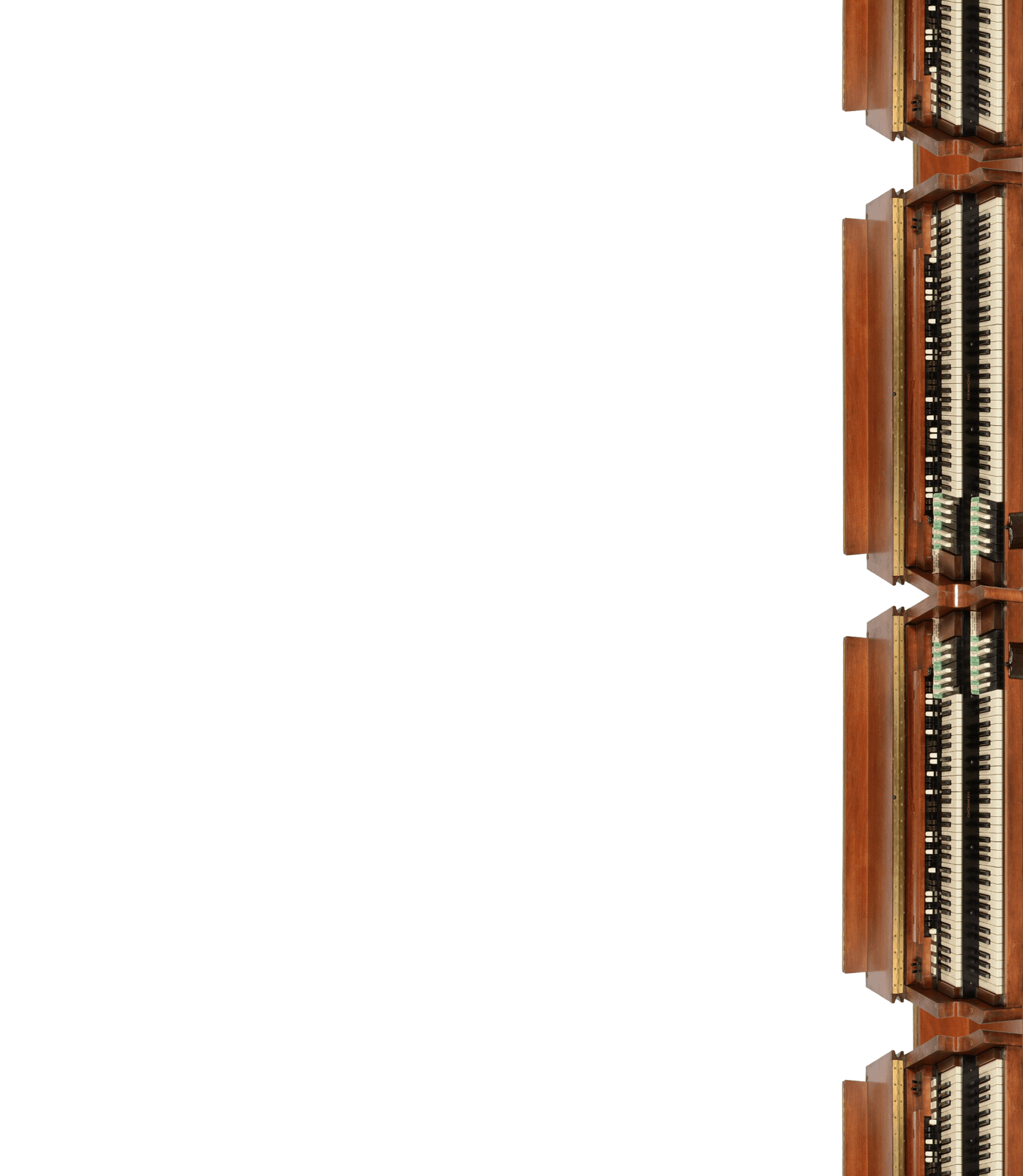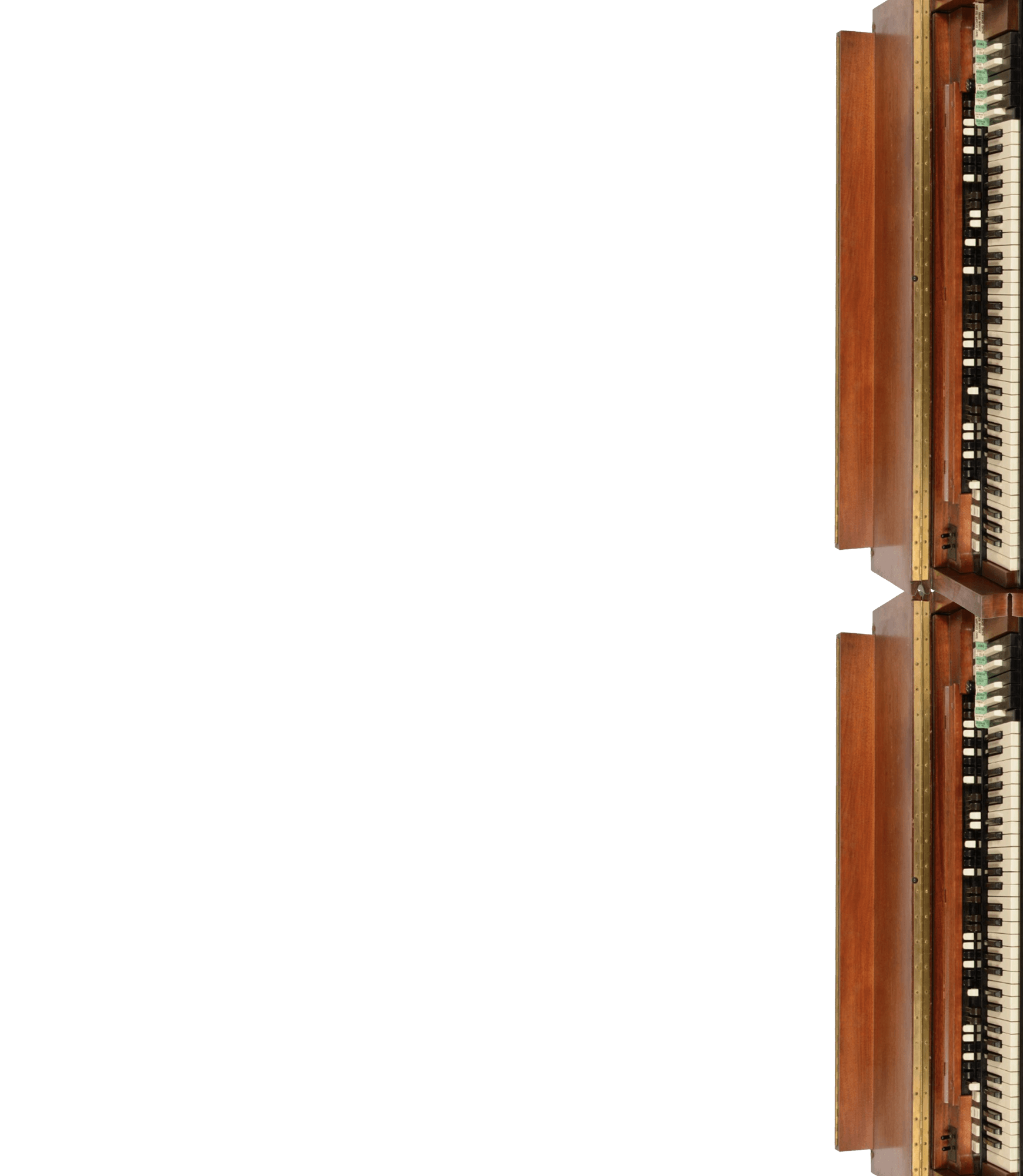 Deep Options
What sets the Hammond® Vintage Organ apart from competitors is not just the great recordings, programming, or stunning lay-out, but also the wealth of features that allow you to dial in precisely the sound you want. You can control the mix of draw bar tones, the percussion settings, the internal effects, and even the choice of Leslie cabinets and spinning modes.
Superior Reverbs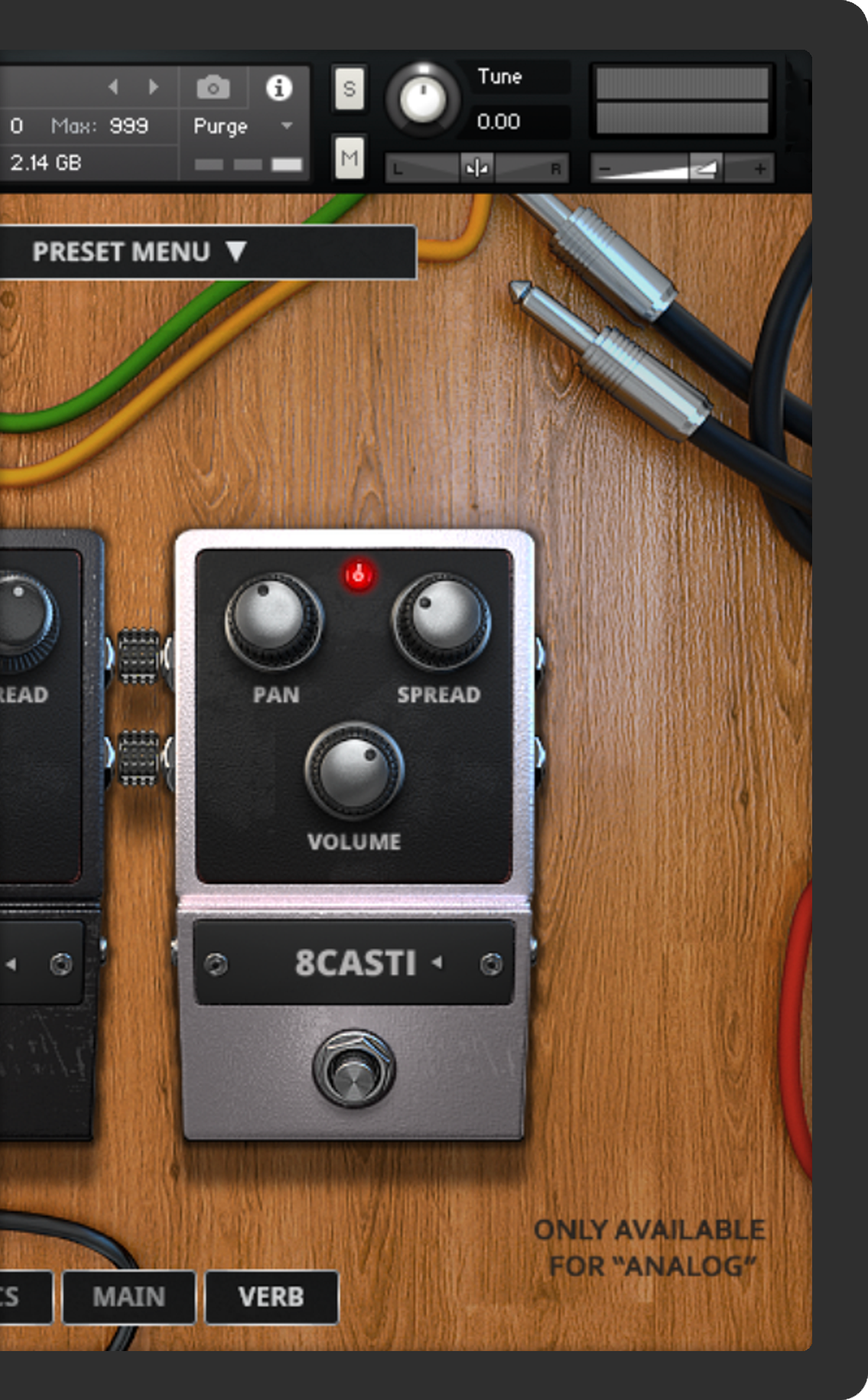 We sampled the Hammond® Organ through two of the best studio reverbs in the world: TC6000 and Bricasti. We sampled the Hammond® using a pristine signal path designed by some of the world's best engineers.
World-Class Microphones
The Hammond® Vintage Organ includes Neumann u87's, KM 184's, Neve SE Ribbons, Royers, and AKG 414's, all pointing to two independent Leslie Cabinets. Along with the mixed microphone options, you also have true vintage DI Crush and DI Warm channels.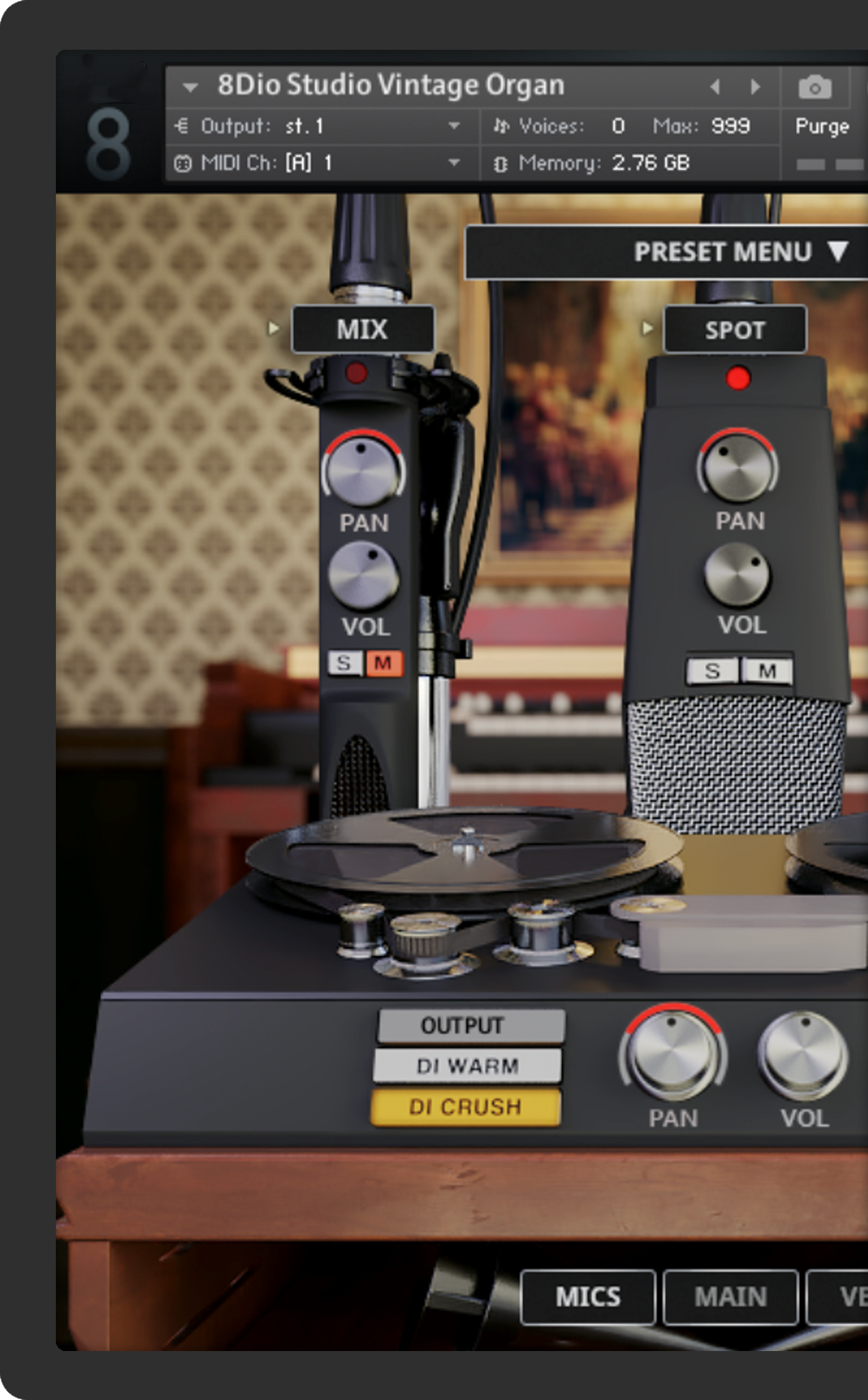 ARTS, SPECS AND REQS
Articulations:
Sustains
Staccato (with Round Robin Repetitions)
Spiccato (with Round Robin Repetitions)
Microphones:
Recorded at Scotland's famous studio, Gorbals Sound, with all microphone positions processed through a custom NEVE desk. All microphones can of course be loaded/unloaded and include Volume, Stereo Spread, Pan, Solo and Mute functions:
Mixed Microphone (Sweet processed Mix of all mics)
Spot Mix Position
Room Mix Position
Used microphone include, Neumann™ u87, Neumann™ Km 184, Coles™ 4038, Neve™ SE Ribbon, AKG™ 414, Royers R-121s
Vintage Leslie Cabinet (Spinning Slow & Fast)
Vintage Leslie Cabinet (Static with modelled spinning)
2 Individually processed analog D.I Signals

Two additional pro-grade reverb options:
TC6000™ (incl. On/Off, Pan, Spread, Volume)
Bricasti™ (incl. On/Off, Pan, Spread, Volume)
Recording gear:
The Vintage Hammond ® Organ was recorded through a custom Rupert Neve Desk with 100% analogue Neve pre-amp signal flow. The sounds were then processed through the following physical hardware units:
Manley™ Vari Mu Compressor
Original Urei™ 1175 (Pre-Universal Audio)
Original DBX 160™
Neve™ 33609 Compressor
Bricasti™ M7
TC Electronics™ 6000
2 Individual D.I Signals
Options:
Uniquely sampled Leslie Cabinets
Truly analog spinning modes with captured speed intervals
Modelled spinning options also available for the best of both worlds
Independent Speed controls
True internal effects
Live Key switch & CC Controls over the core articulations
True Noise & Room Tone from the untouched signal chain
Advanced percussion options
Fully capable drawbar mixer
Requirements:
Full Retail version of Kontakt 5.8.1 or later required
Not Compatible with Free Kontakt Player
15 GB / 40, 500 Samples
PC Quadcore / 2.4GZ+, 8GB ram
MAC Quadcore / 2.6Ghz, 8GB ram