Symphonic Shadows
Kontakt VST / AU / AAX

Also available in Soundpaint ($50) with 127 dynamic layers
7,141 Samples / 4.53GB
3 Advanced Mic Positions (Mixed, Spot 1 & Spot 2)
3 Separate Sections (Strings, Brass & Woodwinds)
Custom Browser w/ Built-In Articulation Matrix
Custom User-Interface w/ Built-In FX and Sequencers
Custom Convolution, Microphones, EQ and Chaos FX
63 Presets, including DFD and Time Machine Patches
Delivered by Download
Kontakt 5.8.1

 

Full Retail

 

(or later) Required
READ MORE
READ LESS
The Dark Side of the Orchestra

Symphonic Shadows is a library born in the shadows of nightfall: a dark orchestral library containing over 7,000 unique aleatoric effect samples.

The library comes with three orchestral sections. First, the fiery tones of a 40-piece String Orchestra (12, 10, 8, 6, 4), with an isolated 10-Piece Low String Section (6 Cellos and 4 Basses). Next, the piercing sound of an 11-piece Brass Ensemble (4 Horns, 2 Trumpets, 3 Trombones and 2 Bass Trombones). Last, but by no means least, a sonic hurricane in the woodwind ensemble containing a piccolo flute, alto flute, 2 flutes, 2 clarinets, and 2 bassoons.

Symphonic Shadows follows the aleatoric tradition we established with our CAGE (Concert Aleatoric Group Effects) libraries. The two can cruise side by side. However, Shadows is more than just orchestral samples. It lives in the twilight zone between conventional sampling and musical sound design. All the content was designed around our custom user interface, allowing for fast, intuitive, and powerful sound design.

The majority of the library comes with three microphone positions: Room, Spot 1, and Spot 2. All articulations and playing styles are easily accessible from our built-in browser system and just a single click away.

We've also included a new dual-layered FX system, the first of which is our front-face system, which gives you control over a trance gate, filters, pitch, delay, compression, and our new textural convolution delay. We have also included our new Chaos FX engine, which gives you control over things such as EQ, phasing, distortion, stereo delay, and an additional impulse reverb.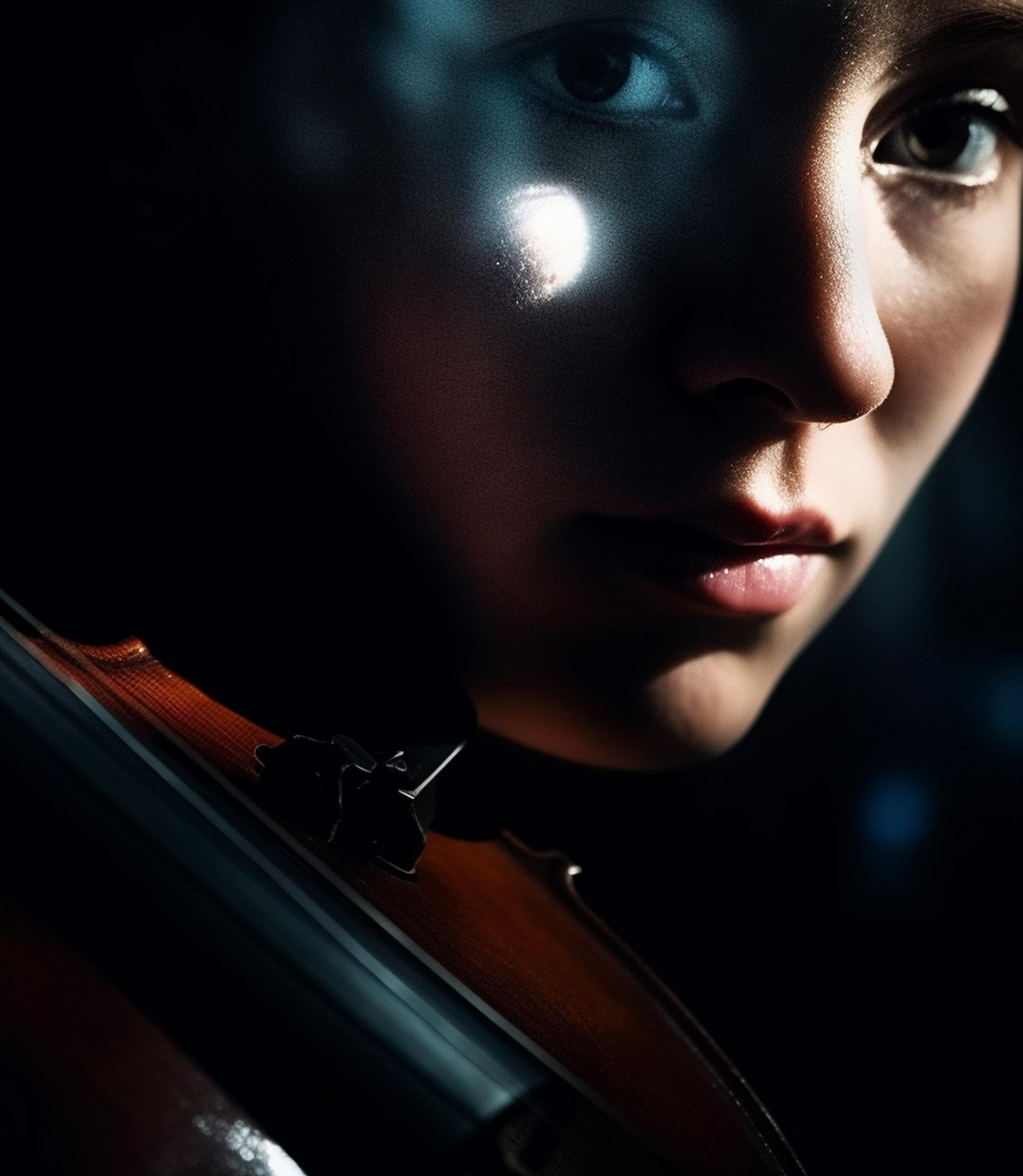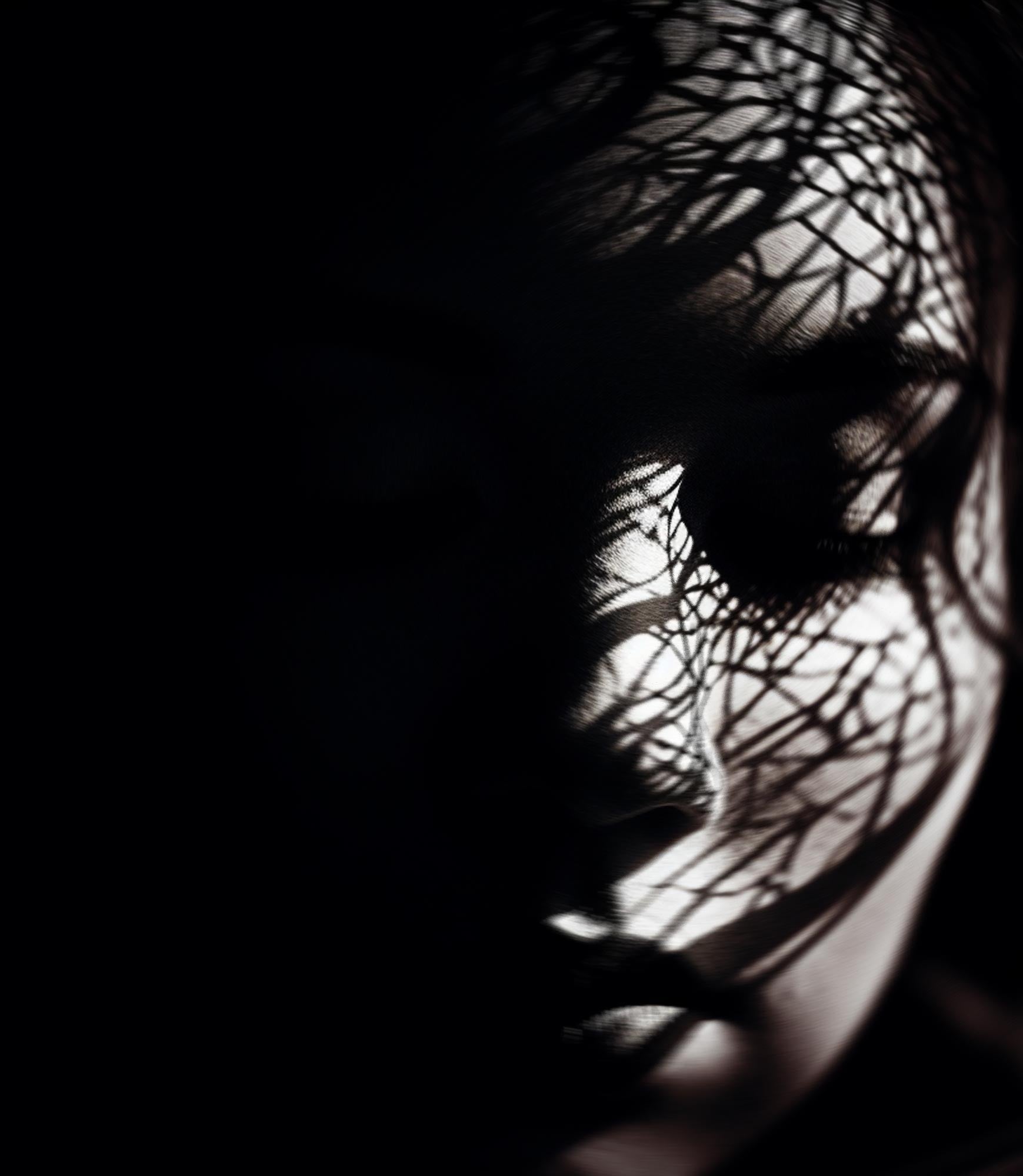 Strings, Brass, and Woodwinds
Symphonic Shadows contains over 7,100 aleatoric FX samples spread out over string, brass, and woodwind ensembles. The effects have a wild, gritty, and organic quality and are designed to sit well with any orchestral library. The patch banks come in many descriptive categories, such as agitated, bends, bursts, clusters, dystopic, erratic, evolving, fierce, frantic, fury, kinetic, mayhem, panic, pulse, savage, scatter, and shocked, to name a few.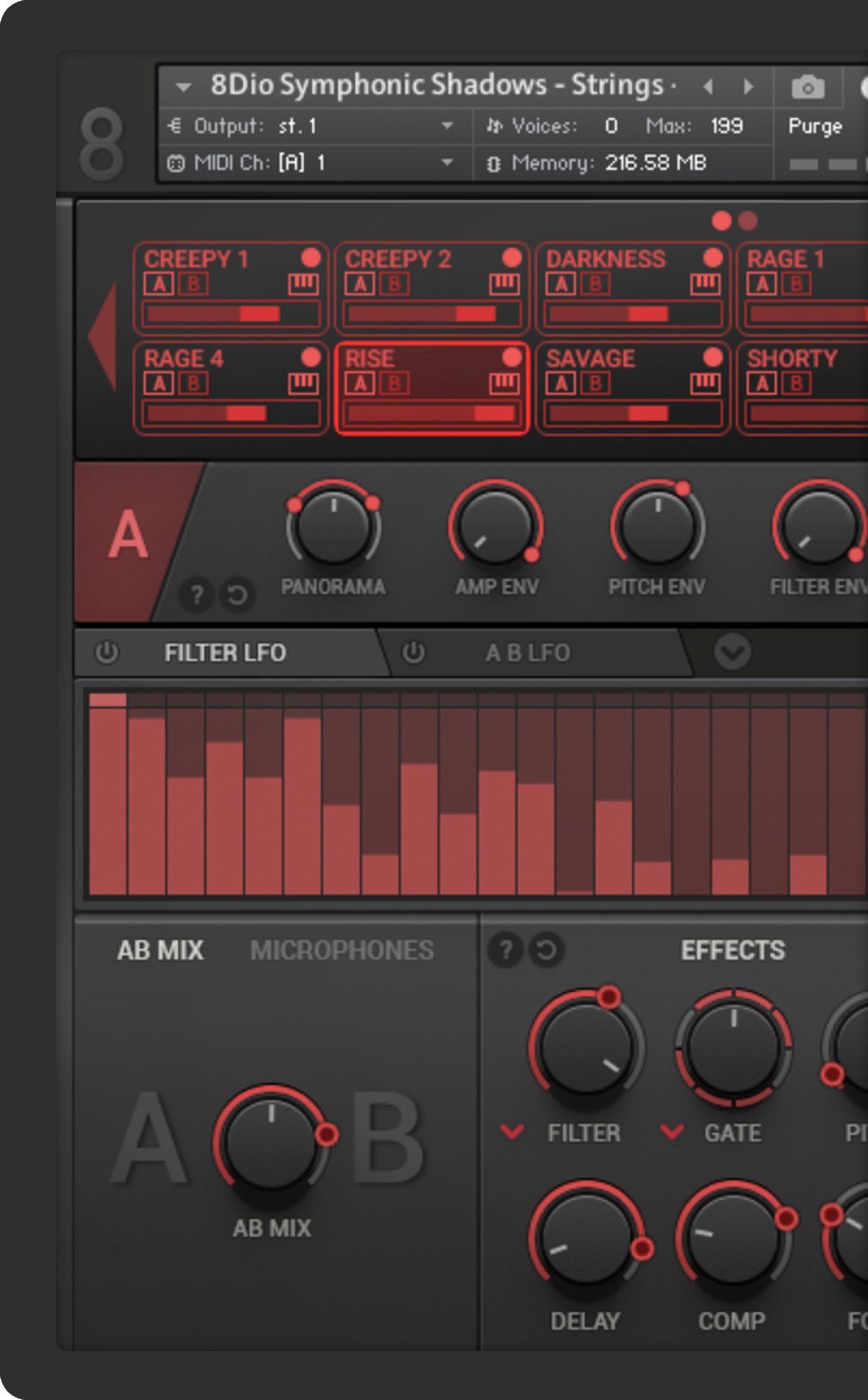 User Interface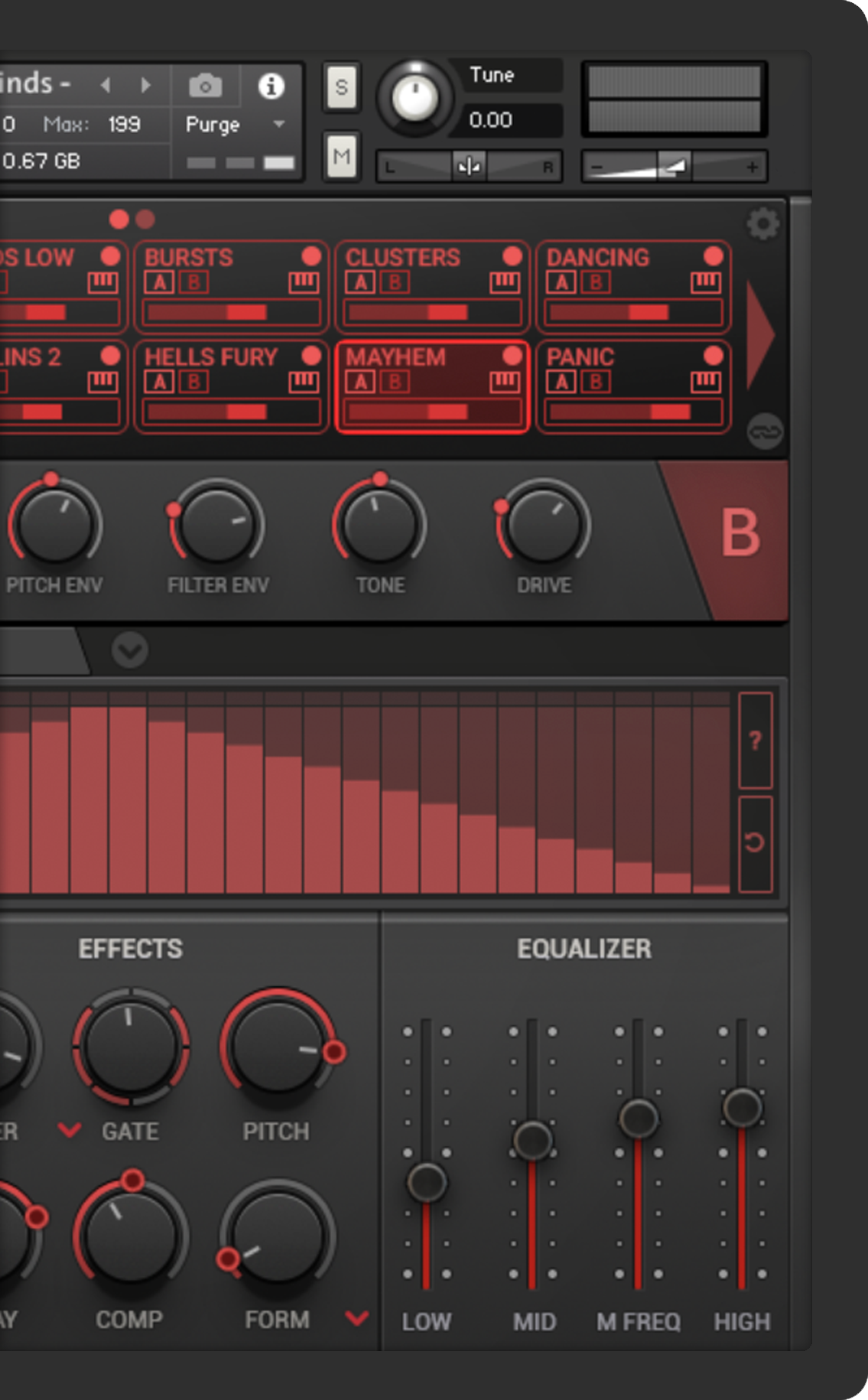 Symphonic Shadows comes with a custom, built-in browser, offering you access to any articulation with a single click. All string, brass, and woodwind patches in this collection are created this way. We want to shorten the distance between your thought and your creation.
New Chaos FX
Symphonic Shadows contains two parallel FX systems. The first one is our new front-faced FX, which allows you to control the most fundamental effects from the front panel (dynamics, filters, pitch, delay, crusher, and our new textural delay). You can also go deeper with our new Chaos FX system.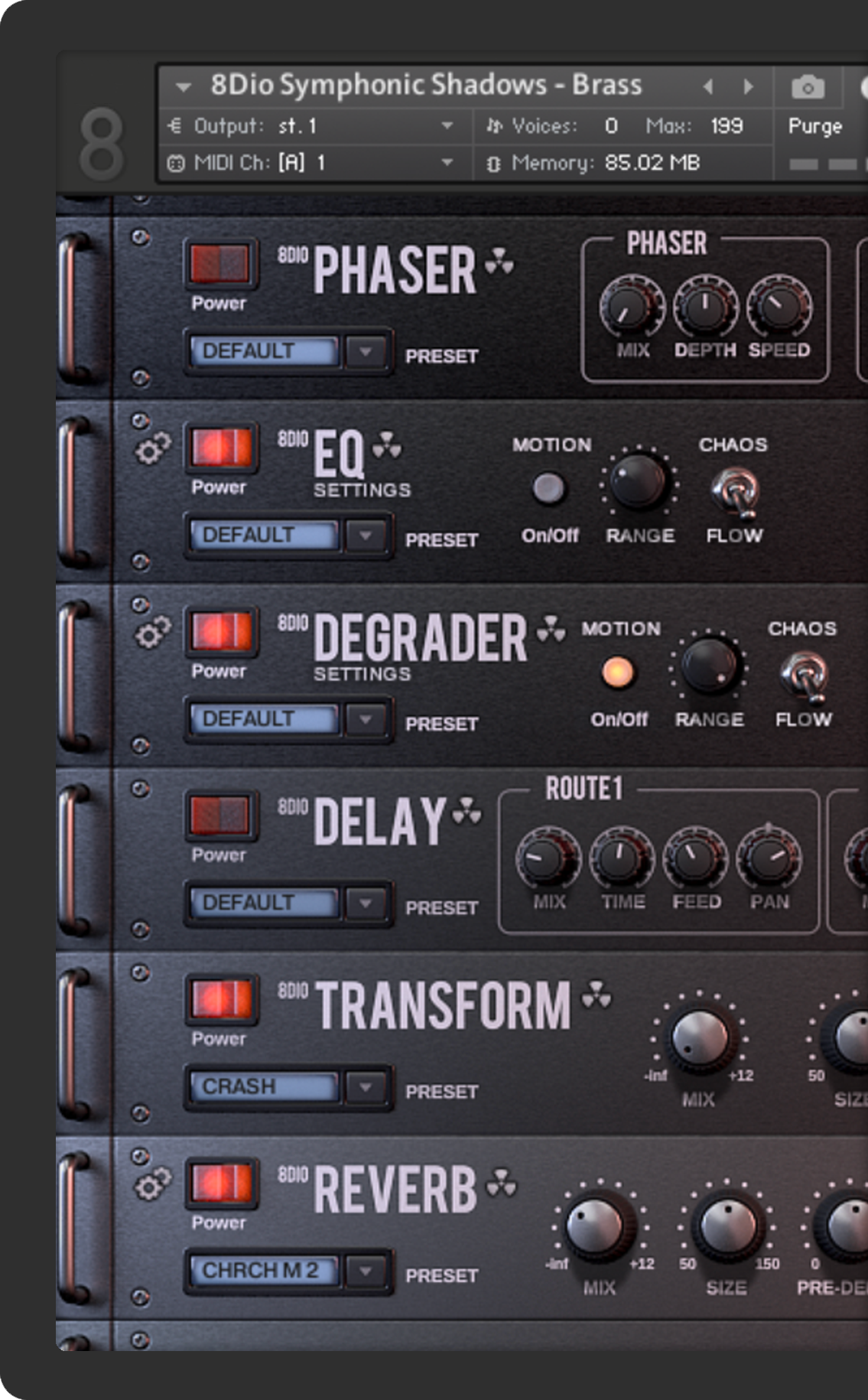 ARTS, SPECS AND REQS
String effects:
Ensemble String Short Note Effect Banks:
Cuts 1
Cuts 2
Cuts 3
Filthy 1
Filthy 2
Filthy 3
Filthy 4
Psycho 1
Psycho 2
Rips 1
Rips 2
Rips 3
Rips 4
Rips 5
Rips 6
Rips 7
Savage 1
Savage 2
Savage 3
Savage 4
Shrieks 1
Shrieks 2
Squeal

Ensemble String Long Note Effect Banks:
Damage
Devolve
Freaky
Hades 1
Hades 2
Havoc
Hellish 1
Hellish 2
Shocked
Tragic
Trills
Twisted 1
Twisted 2
Twisted 3

Ensemble String Risers Effect Banks:
Creepy 1
Creepy 2
Darkness
Rage 1
Rage 2
Rage 3
Rage 4
Rise
Savage
Shorty
Softy
Wicked 1
Wicked 2

Ensemble String Downer Effect Banks:
Falling 1
Falling 2
Havoc
Hell Falls 1
Hell Falls 2
Hell Falls 3
Psycho
Spooky
Vicious
Wicked 1
Wicked 2

Ensemble String Short Note Perc Effect Banks:
Pizzicato
Col Legno
Bartok
Bart
Clique 1
Clique 2
New Wave
Plucky
Rubber
Spring
Trance 1
Trance 2
Trance 3
Zap

Ensemble String Bonus Effect Banks:
Sustains (Octaves)
Tremolo (Octaves)
Brass effects:
Ensemble Brass Short Note Effect Banks:
Pierce 1
Piece 2
Growling
Soft Rips
Tickle 1
Tickle 2

Ensemble Brass Long Note Effect Banks:
Chaotica 1
Chaotica 2
Chatter 1
Chatter 2
Dystopia 1
Dystopia 2
Pulsing
Growling
Scattered

Ensemble Brass Risers Effect Banks:
Dystopic
Erratic
Evolving
Pierce 1
Pierce 2
Growling 1
Growling 2
Kinetic
Pulse
Rise
Savage 1
Savage 2
Scatter 1
Scatter 2
Shock 1
Shock 2
Woodwind effects:
Ensemble Woodwinds Short Note Effect Banks:
Animated 1
Animated 2
Frantic
Furioso 1
Furioso 2
Bouncing

Ensemble Woodwinds Long Note Effect Banks:
Agitated
Bends High
Bends Low
Bursts
Clusters
Dancing
Franctic
Goblins 1
Goblins 2
Hells Fury
Mayhem
Panic
Rolling
Tension 1
Tension 2
Whirling
Whistler 1
Whistler 2
Presets:
Core DFD Presets:
Symphonic Shadows Strings Long
Symphonic Shadows Strings Short
Symphonic Shadows Strings Risers
Symphonic Shadows Strings Downers
Symphonic Shadows Strings Bonus Longs
Symphonic Shadows Strings Perc Synth
Symphonic Brass Strings Long
Symphonic Brass Strings Short
Symphonic Brass Strings Risers
Symphonic Shadows Woodwinds Short
Symphonic Shadows Woodwind Longs

Core Time-Machine Tempo-Synced Presets:
Symphonic Shadows Strings Long
Symphonic Shadows Strings Short
Symphonic Shadows Strings Risers
Symphonic Shadows Strings Downers
Symphonic Shadows Strings Bonus Longs
Symphonic Shadows Strings Perc Synth
Symphonic Brass Strings Long
Symphonic Brass Strings Short
Symphonic Brass Strings Risers
Symphonic Shadows Woodwinds Short
Symphonic Shadows Woodwind Longs

Sound Design Strings Presets:
Cycling
Dream Pad
Gated Pad
Gated String Riser
It Follows
Lost Souls
Pulsar
Rise
Sci-Fi Riser
Shock
Trance Gate
Underworld

Sound Design Plucked Presets:
Dance Hall
Hustle
Kalimba
Play Lower Octaves
Power Stack 1
Power Stack 2
Stacked Delays
Steel Drum
Trance Seq

Sound Design Brass Presets:
Afterlife
Alien Radio
Close Encounters
Death Wish
Digirips
Godzilla 1
Godzilla 2
Hall of Madness
Hells Bellows
Low and Eerie
Ripper
Scanner
Sizzler

Sound Design Woodwind Presets:
Abstract
Animated
DEvolved
Kaleidioscope
Liftoff
Out of This World
Shrieks
Twisted
Requirements:
Full Retail version of Kontakt 5.8.1 or later required
Not Compatible with Free Kontakt Player
4.2GB of harddrive space
PC Quadcore / 2.4GZ+, 8GB ram
MAC Quadcore / 2.6Ghz, 8GB ram