The Bible of Salsa Bundle
The Deepest-Sampled Pop, Latin & Salsa Collection Ever

41.24GB / 53,000+ Samples
Fire Trombone Also Available in

 

Soundpaint

 

($20)
5 Deep Sampled Instrument Categories
Brass, Baby Bass, Piano, & Vocals
11-Piece Percussion Section
Lively, Bubbly Polyphonic Brass Legatos
Polyphonic Phrase Legatos
Multiple Rhythmic Variations Sampled in 22 Substyles
Brand New Advanced User Interface
Delivered by Download
Kontakt 5.8.1

 

Full Retail

 

(or later) Required
READ MORE
READ LESS
The Bible of Pop, Latin, & Salsa Bundle

We traveled to Cali, Colombia, the self-proclaimed "World Capital of Salsa," to record the most in-depth Salsa collection ever produced and push the limits of modern sampling. Surrounded by stellar musicians and the amazing energy Latino artists have, we spent months recording what would become this jewel that is "The Bible of Latin & Salsa." Our trip to Colombia was well worth it, as we managed to capture the authentic Sabor that can only be heard in places where an artform is more than a hobby, but life itself. We heard salsa, learned salsa, lived salsa, and created one of our proudest achievements.

The Bible of Latin & Salsa is the only collection you will ever need to dive deep into this masterpiece and rich style of music. With this collection you can go as far as you want: score a tune in a couple of minutes with prepared rhythms, phrases, bass lines, unison brass, choirs, or dive deeper with the sampled brass and percussion sections.

Every instrument throughout the collection was recorded by the same players, at the same studio, with the same settings, ensuring that no matter which patch you choose, all instruments will have the same timbre. This allows you to go back and forth between volumes, cherry picking those stellar lines that will be the bricks of your tune.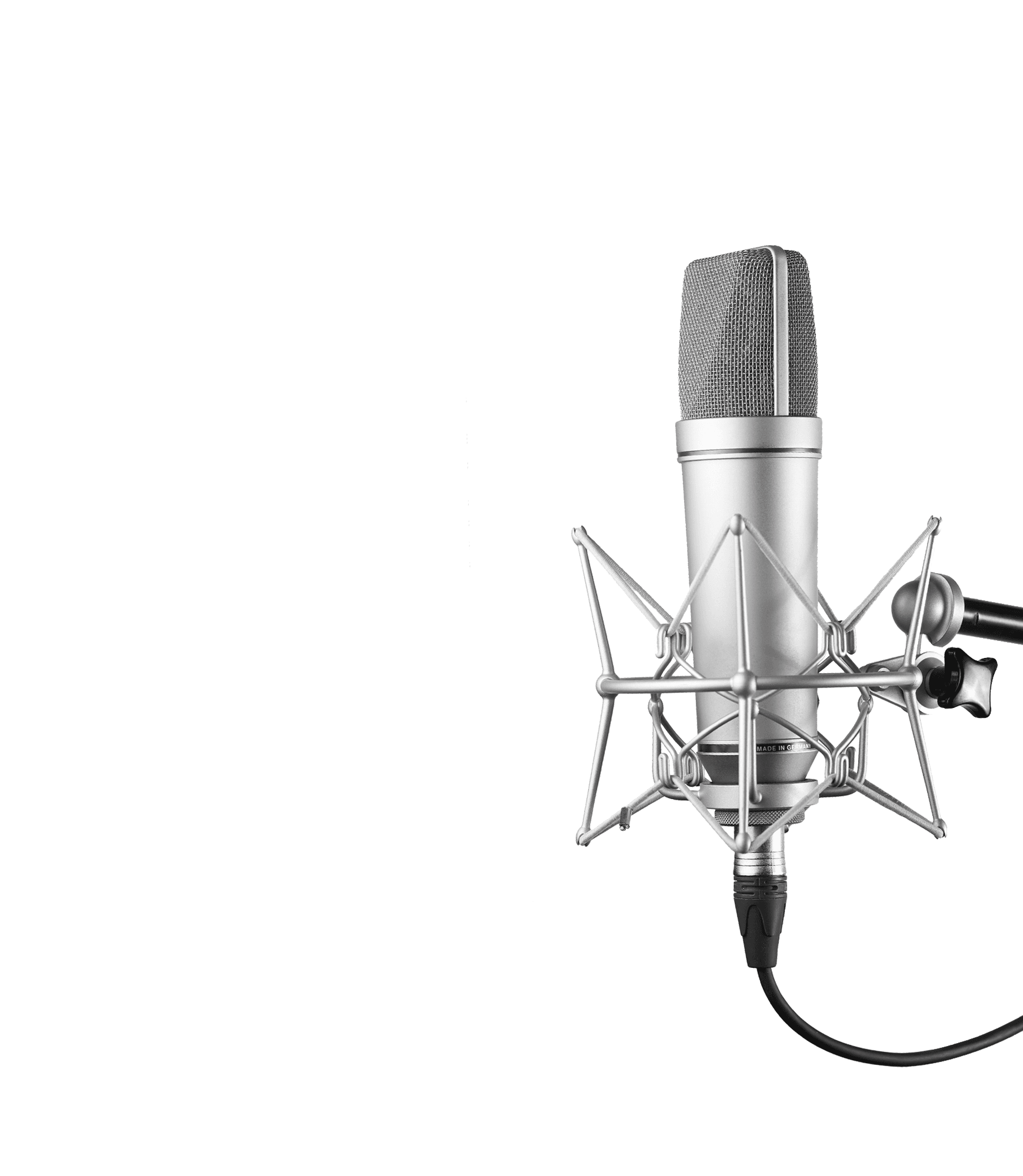 Sub Styles
The Bible of Pop, Latin, & Salsa contains more than 20 rhythmic sections that explore this wonderful type of music. We have son, classic salsa, heavy salsa, and any substyle you can ever think of, played with perfection. Choose any instrument from dozens of percussions, bass, or even a piano and build the perfect rhythmic section for your tune.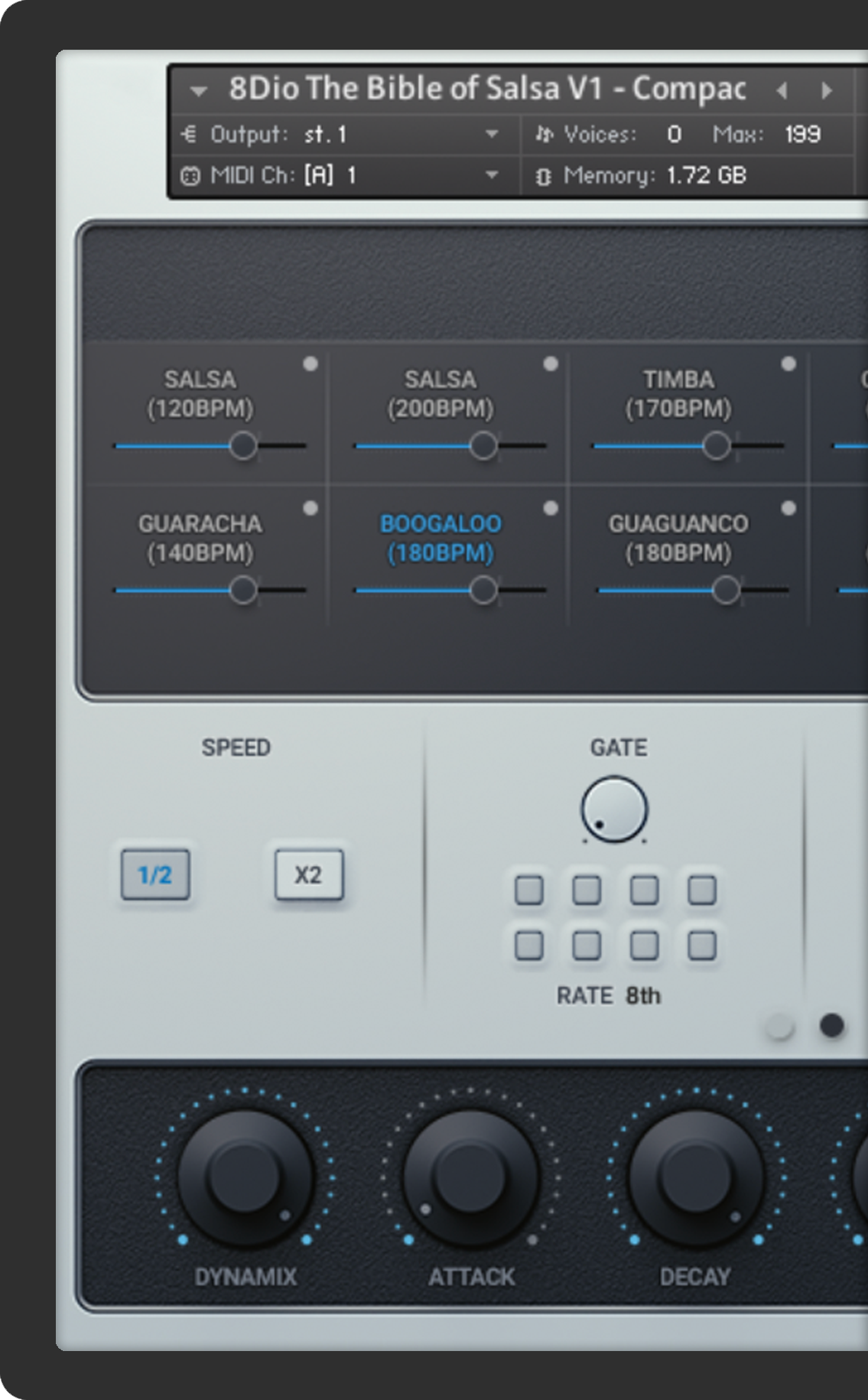 Cherry-pick your sound
With all the instruments available in this bundle, you can cherry-pick which instruments sound and which don't… Well – you got it! Although The Bible of Salsa was recorded with all instruments simultaneously, we isolated every one of them so that you can choose which ones you want to play with!
User Interface
With a new genre of instruments comes a brand new GUI! All the essential controls are accessible right on the front page: Dynamics, Sample Offset, ADSR, Tuning, Speed, Gate, and Polyphonic Legato (where available). If you need more Sound Design options, we have you covered with our popular 4-Part X/Y Effects Engine and Chaos effects.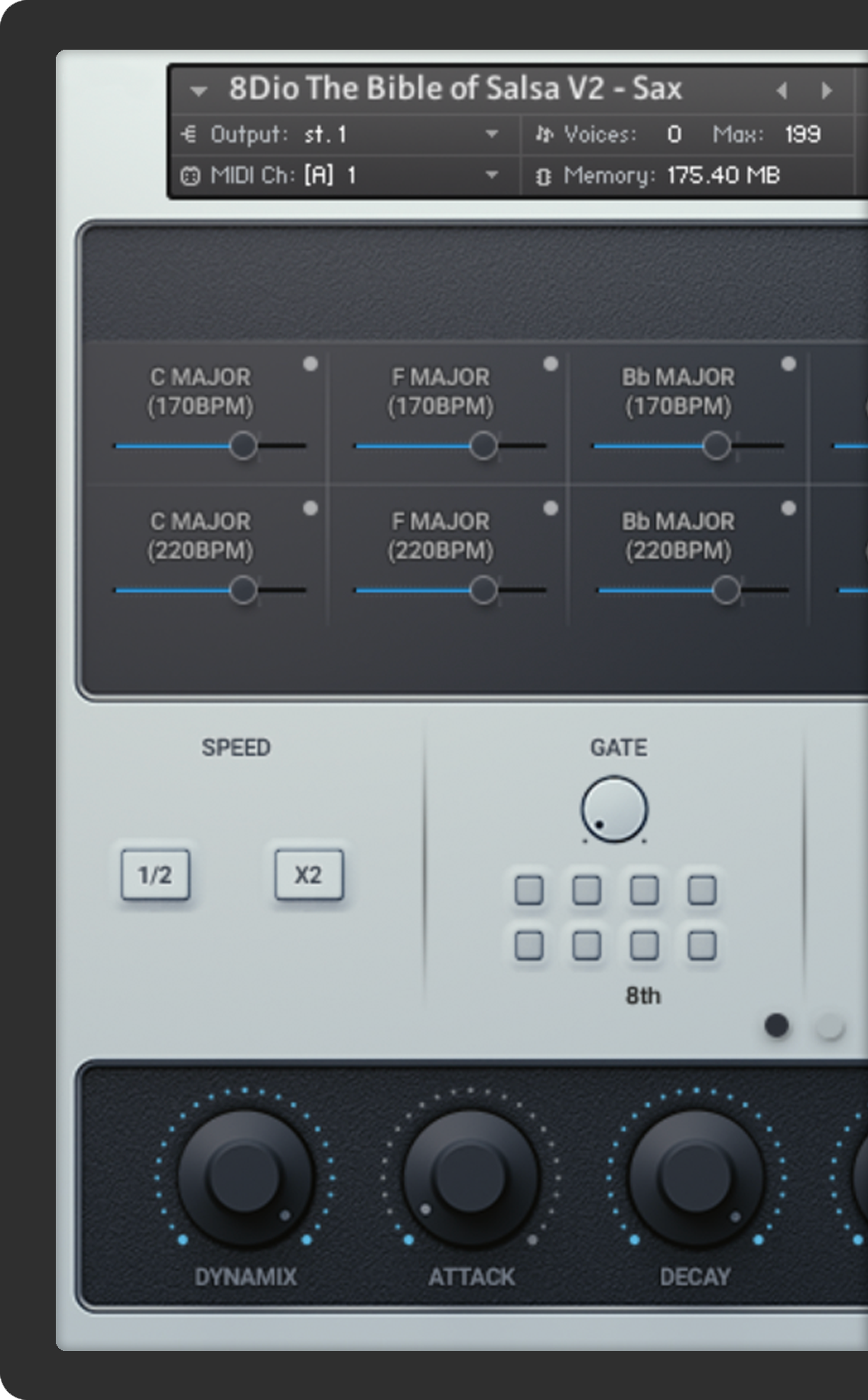 ARTS, SPECS AND REQS
Volume 1 Instruments:
Baby Bass Phrases:
Salsa Cascara (120 BPM)
Salsa Mambo (120 BPM)
Salsa Cascara (200 BPM)
Salsa Mambo (200 BPM)
Timba Cascara (170 BPM)
Timba Mambo (170 BPM)
Timba Bomba (170 BPM)
Timba Moña (170 BPM)
Guarcha Cascara (140 BPM)
Guarcha Mambo (140 BPM)
Boogaloo Cascara (180 BPM)
Plena Cascara (240 BPM)

Tenor Saxophone Phrases:
C Major (170 BPM)
F Major (170 BPM)
Bb Major (170 BPM)
F Minor (170 BPM)
Bb Minor (170 BPM)
C Major (220 BPM)
F Major (220 BPM)
Bb Major (220 BPM)
F Minor (220 BPM)
Bb Minor (220 BPM)

Trombone Phrases:
C Major (170 BPM)
F Major (170 BPM)
Bb Major (170 BPM)
F Minor (170 BPM)
Bb Minor (170 BPM)
C Major (220 BPM)
F Major (220 BPM)
Bb Major (220 BPM)
F Minor (220 BPM)
Bb Minor (220 BPM)

Trumpet Phrases:
C Major (170 BPM)
F Major (170 BPM)
Bb Major (170 BPM)
F Minor (170 BPM)
Bb Minor (170 BPM)
C Major (220 BPM)
F Major (220 BPM)
Bb Major (220 BPM)
F Minor (220 BPM)
Bb Minor (220 BPM)

Phrases Unison:
Salsero
Candela
Baila
Cantando
Fiesta
Queloque
Llevalo
Chaca Chaca
Salson
Movimento
Buelta
Ocho
A Tiempo
Maraquero
Figura
Creando
Sonero
Teso
Niche
Africando
Compleja
Esplit
Asi Noma
Parranda

Piano Phrases:
Salsa Cascara (120 BPM)
Salsa Mambo (120 BPM)
Salsa Cascara (200 BPM)
Salsa Mambo (200 BPM)
Timba Cascara (170 BPM)
Timba Mambo (170 BPM)
Timba Bomba (170 BPM)

Piano Chord Types:
Major Root Position
Major 1st Inversion
Major 2nd Inversion
Major 6/2nd Inversion
Minor Root Position
Minor 1st Inversion
Minor 2nd Inversion
Minor 6/2nd Inversion
Dom 7 Root Position
Dom 7 1st Inversion
Dom 7 2nd Inversion
Major 7 1st Inversion
Major 7 3rd Inversion
Major 9th 3rd Inversion
Minor 7 (b5) 1st Inversion
Minor 7 (b5) 3rd Inversion
Dom 9 Root Position
Dom 9 1st Inversion
Dom 9 2nd Inversion
Minor 7 3rd Inversion
Minor 9th 3rd Inversion
9/13 3rd Inversion

Vocal (Traditional and Nasal):
Salsero Muevete
Vamospa La Fiesta
Ay Que Se Biene Mi Gente
Que La Fiesta
No Pare Jamas
Vamonos Pa Cali A Gozar

Percussion (assorted by instruments or by rhythm):
Bongos
Cajon
Clave
Congas
Cowbell
Cowbell Large
Drums
Guiro
Maracas
Shekere
Timbal

Rhythms:
Bolero
Boogaloo
Columbia
Guaguanco
Guaracha
Plena
Salsa Slow
Salsa Fast
Salsa Choque
Timba
Yoruba
Volume 2 Instruments:
Baby Bass:
Salsa Romantica
Salsa Clasica
Salsa Pesada
Guajira
Salsa Groove
Salsa Moderna
Son Cubano
Tenor Sax, Trumpet, Trombone:
C Major (170BPM)
C Minor (170BPM)
F Major (170BPM)
F Minor (170BPM)
Bb Major (170BPM)
Bb Minor (170BPM)
C Major (220BPM)
C Minor (220BPM)
F Major (220BPM)
F Minor (220BPM)
Bb Major (220BPM)
Bb Minor (220BPM)

Brass Phrases in Unison:
Olvidate
Guajiro
Casino
La Rueda
Mijita
Despacito
Mi Casa
Perfecto
Compai
Revolucion
Sonero
Amigo
Tato
Urbano
Jangueando
Hagale
Parce
Asere
De Rumba
Figura
Sincopado
Con Clase
Caminando
Arena

Piano Phrases:
Salsa Romantica
Salsa Clasica
Salsa Pesada
Salsa Groove
Salsa Moderna
Son Cubano
Chord Types:
Major Root Position
Major 1st Inversion
Major 2nd Inversion
Major 6/2nd Inversion
Minor Root Position
Minor 1st Inversion
Minor 2nd Inversion
Minor 6/2nd Inversion
Dom 7 Root Position
Dom 7 1st Inversion
Dom 7 2nd Inversion
Major 7 1st Inversion
Major 7 3rd Inversion
Major 9th 3rd Inversion
Minor 7 (b5) 1st Inversion
Minor 7 (b5) 3rd Inversion
Dom 9 Root Position
Dom 9 1st Inversion
Dom 9 2nd Inversion
Minor 7 3rd Inversion
Minor 9th 3rd Inversion
9/13 3rd Inversion

Voice (available in Traditional and Nasal styles):
Salsa, Salsa
No, no, no, no
Baila Salsero
Baila Rumbero

Percussion (assorted by instruments or by rhythm):
Bongos
Clave
Congas
Cowbell
Cowbell Large
Drums
Guiro
Maracas
Shekere
Timbal

Rhythms:
Africa
Danzon
Guajira
Merenzongo
Pilon
Salsa Clasica
Salsa Groove
Salsa Moderna
Salsa Pesada
Salsa Romantica
Son Cubano
Volume 3 Instruments:
Brass (Tenor Saxophone, Trumpet and Trombone)
Shorts:
Sustains Dynamic:
Glissando Up
Glissando Down Long
Glissando Down Short
Crescendo Short
Crescendo Mid
Crescendo Long
Sforzando

Sustains:
Flat p
Flat mp
Flat mf
Flat f
Vibrato p
Vibrato mf
Vibrato f
Extreme Vibrato
Flutter Tongue
Trill ½
Trill whole
Legato
Flat
Lazy Flat
Vibrato
Extreme Vibrato
Mult-Staccato
Short Staccato
Ornaments
Bend Down
Bend Octave
Grupetto
Grupetto Fast
Chromatic Raise
Ornament ½
Ornament Whole

Polyphonic Legato:
Flat
Lazy Flat
Vibrato
Extreme Vibrato
Mult-Staccato
Short Staccato

Percussion
Congas (Conga, Tumba, Quinto, Requinto):
Abierto
Cerrado
Quemado
Bajo Palma
Bajo Dedo
Companeo
Quemado Apagado
Borde
Flam
Rafaga
Crescendo
Decrescendo

Timbal
Low and High

Abierto
Apagado
Rim
Cascara Abiero
Cascara Cerrado
Crosstick
Flam
Rafaga
Crescendo
Decrescendo

Snare
Abierto 
Cerrado
Rim
Crosstick
Flam
Rafaga
Crescendo
Decrescendo

Cowbell
Cha
Cha Apagado
Salsa Abierto
Salsa Apagado
Jamblock

Cymbal
Bongos (Male and Female)
Abierto
Cerrado
Quemado
Bajo Palma
Bajo Dedo
Campaneo
Martillo
Rim
Flams
Rafagas
Radetres
Crescendo
Decrescendo

Drums
Kick
Floor Tom
Hi-Hat

Closed
Open-Closed
Splash

Cajon
Bass Open
Bass Muted
High Right
Side Left
Ride Right
High Left
Crescendo
Decrescendo

Maracas
Open
Dry
Radedos
Hitting
Dragging
Crescendo
Decrescendo
Roll
FX

Cowbell
Co abierto
Co Cerrado
Ti
Base Cerrado

Large Cowbell
Co Abierto
Co Cerrado
Ti Abierto
Ti Cerrado
Base Abierto
Base Cerrado

Shekere
Fingers
Circling
Back and Forth
Low Hit
Doppler Hit
Crescendo
Decrescendo
Trill
Noise

Guiro
Fast
Lazy Fast
Lazy Slow
Slow Up
Slow Down

Clave
Requirements:
Full Retail version of Kontakt 5.8.1 or later required
Not compatible with the free Kontakt Player
Minimum: Intel Core i5 or equivalent CPU. 8 GB of RAM or more is highly recommended. For TMPro Patches, i7 or equivalent is highly recommended.
The Bible of Latin & Salsa: Bundle requires 40 GB of Hard Drive Space