Adagio - Violins 2.0
Kontakt VST / AU / AAX

19,518 Samples. 15GB
Deep-Sampled Orchestral Violins
3 Section Sizes: Ensemble (11), Chamber (6) & Solo (1)
3 Microphone Positions (Mixed, Close, Far)
Fluid Velocity Layered Legatos
Varying types of Short Notes with up to 8 repetitions
Custom Browser with Built-In Articulation Matrix
Custom Convolution, EQ & other Chaos FX
Delivered by Download
Kontakt 5.8.1

 

Full Retail

 

(or later) Required
READ MORE
READ LESS
Ensemble, Chamber, & Solo Violins

Starting with the Violins, this newly reworked volume brings you the latest improvements in programming and workflow previously found only in our critically acclaimed Century Series. The update includes the familiar and easy to use Century interface, remastered articulations, a powerful articulation matrix, integrated mixing capabilities, and for advanced real-time processing, our Chaos Effects.

With the new advanced Articulation browser, you can create your very own matrix of custom playing styles to suit your compositional needs. You can easily balance each articulation and assign each style its own dedicated Key-switch or Midi CC. Whether you are building a template and need to separate the long and short articulations; building performance-based patches out of the dozens of playing styles; or creating a custom set of patches needed for your specific arrangement, Adagio gives you the power to shape this iconic sound to your workflow.

Say goodbye to Multis. With the update to Adagio, you will find various remastered layered Legato articulations made from 11 independent styles of lyrical Legato.

These Legatos have been completely reworked and redesigned to make expressive string writing completely effortless. The new legatos now adapt to the way you play, a softer velocity will trigger a more passionate set of Legato transitions, whereas playing more intensely triggers Legatos with a stronger transition.

The Adagio series was recorded in a beautiful church environment and contains three main groups of master violinists: Full Ensemble Violins (11 Players), Small Ensemble or Chamber Violins (3 Players) and a Solo Virtuoso Violinist (1 Player). Each section was sampled to capture the raw emotions and true expression within each string ensemble. Every articulation has been extensively sampled, including a total of 11 individual legato techniques, each with up to three times round robin, and a wealth of dynamic short notes including multiple styles of Spiccato. Each articulation is sampled with movement and character; the natural expression in each sample makes for a truly authentic playing experience that will be instantly noticeable in your next production.

The New Legatos
We have included 2 distinct Legato types within the update to Adagio, each containing up to 3 responsive layers and 3 round robin repetitions. Legato I is made from our Agitato Strings, inspired by the soaring melodic styles of Williams and Mancini, designed to sit at the front of your orchestrations. Legato II is from our first recording sessions of Adagio and has a much smoother and less pronounced sound, ideal for multipurpose string writing.
Adaptable, Intuitive, Effortless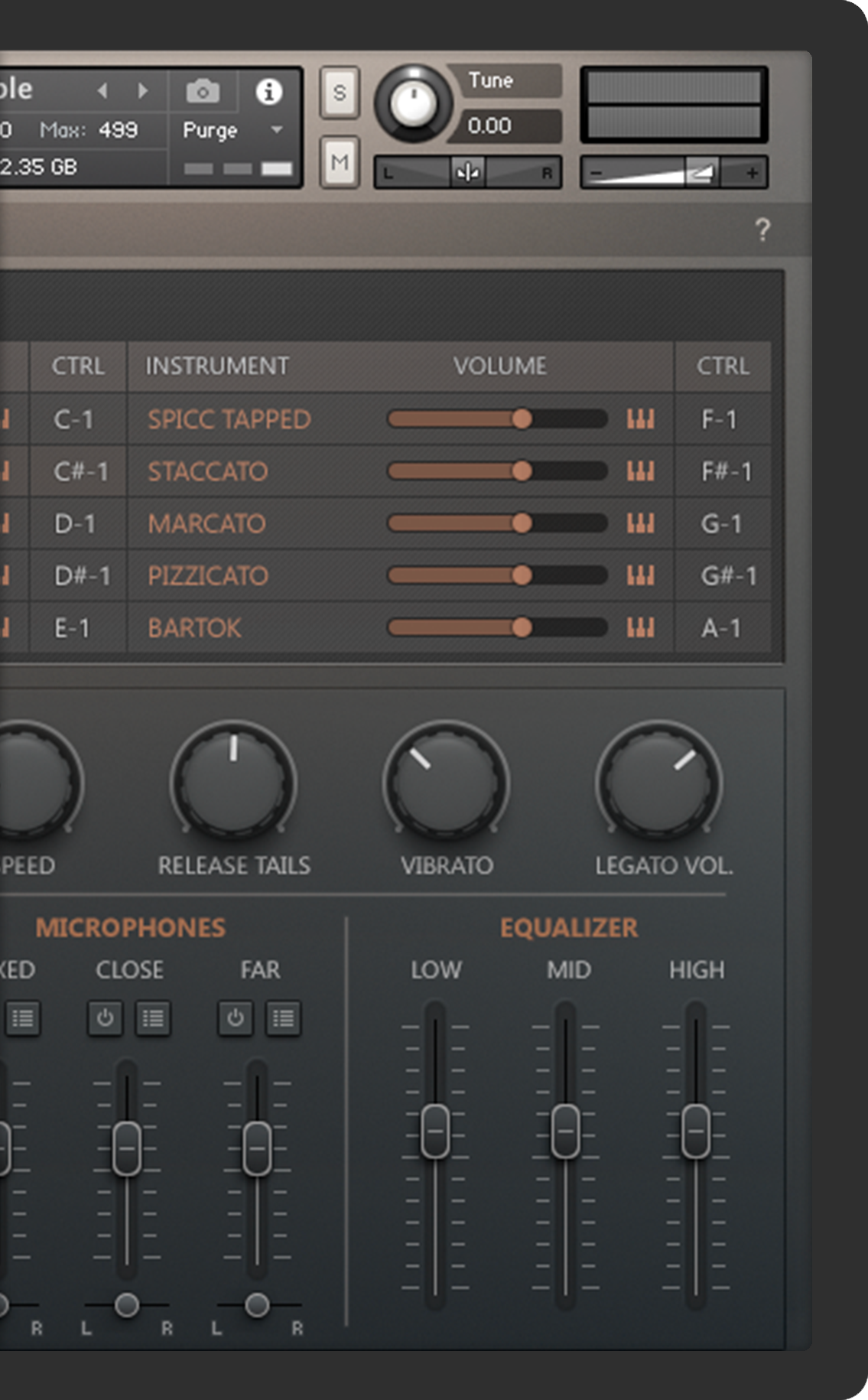 Adagio has been redesigned so that each iconic and expressive instrument can be used out-of-the-box for instantly professional-sounding results. The fully customizable articulation matrix gives you direct access to any articulation Adagio has to offer. We also include independent patches for each articulation, so you can customize the instrument to best suit your workflow.
Microphones
We recorded Adagio Strings with a vast array of expertly placed microphones allowing us to best capture each ensemble. We created 3 independent mixes, giving you ultimate flexibility over the sound of your ensemble (Mixed, Close, Far). The Mixed Microphone position offers a beautiful combination of both the Close and Far perspectives for a perfectly balanced sound.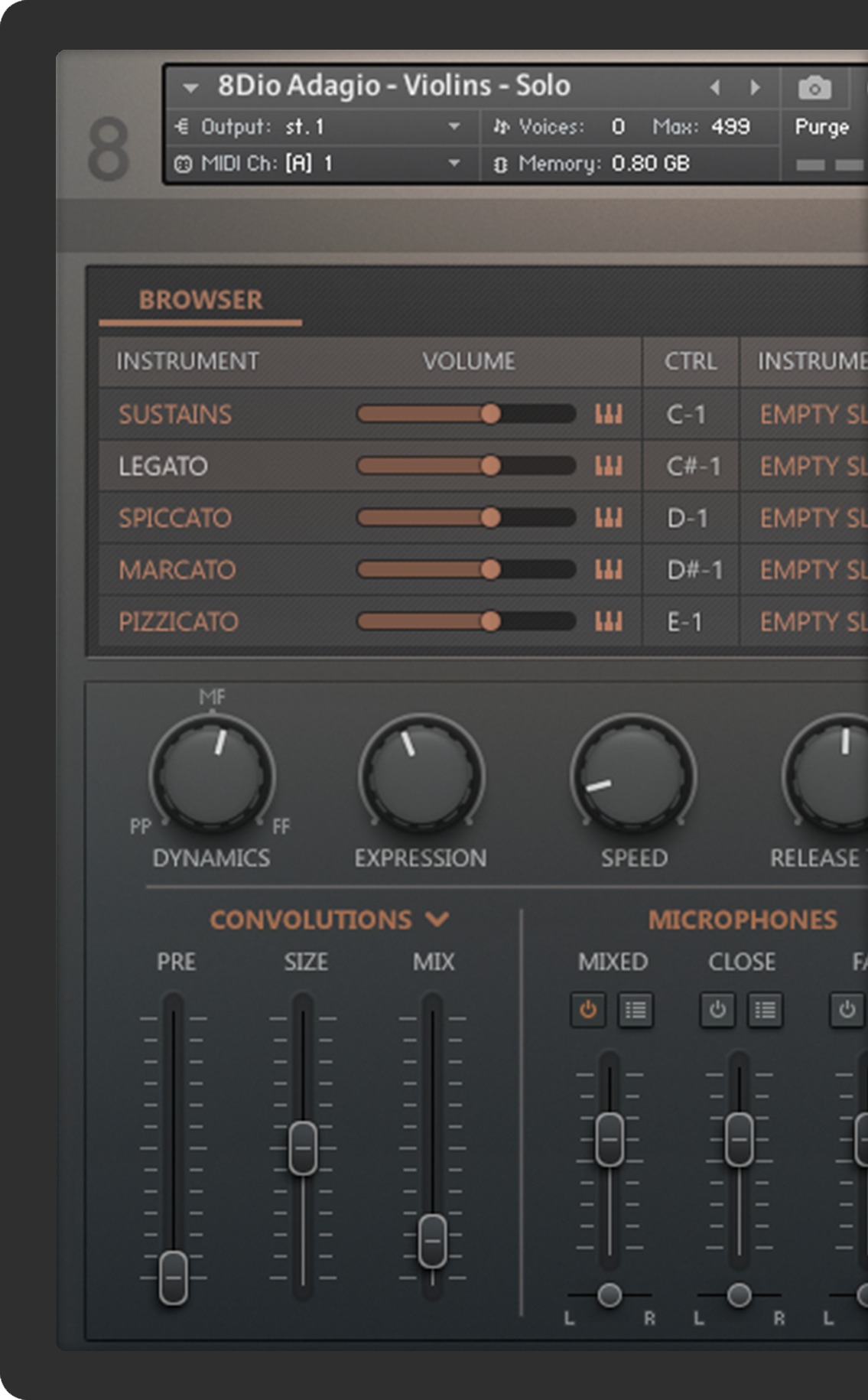 ARTS, SPECS AND REQS
Articulations:

Ensemble Violins:
• Sustains
• Legato I w/ 3-layered legato (Slur, Normal, Fast)
• Legato II w/ 3-layered legato (Slur, Normal, Fast)
• Arc Control
• Arc Long
• Tremolo
• Trills Minor 2nd (Half-Step)
• Trills Major 2nd (Whole-Step)
• Spiccato Feathered
• Spiccato Tapped
• Staccato
• Marcato
• Pizzicato
• Bartok Pizzicato


Ensemble Violins Sordino (Muted):
• Sustains Muted
• Legato Muted with Expressive Layering
• Arc Control Muted
• Arc Long Muted
• Spiccato Muted


Divisi / Chamber Violins:
• Sustains
• Legato I with Expressive Layering
• Legato II
• Arc Control
• Spiccato Feathered


Solo Violin:
• Sustains
• Legato
• Spiccato Feathered
• Marcato
• Pizzicato


Bonus Ambiences:
• Bank I
• Bank II
Anthology/Legacy Owners:
Important: To all original Adagio owners. We highly recommend keeping your original version of Adagio Violins since projects using them may not continue to work. This update is designed to live side by side with the original Adagio library.
For upgrade details please get in touch with our support staff via our live chat on 8Dio.com or email at support@8dio.com.
Requirements:
Full Retail version of Kontakt 5.8.1 required
Not compatible with the free Kontakt Player
Minimum: Intel Core i5 or equivalent CPU. 8 GB of RAM or more is highly recommended. For TMPro Patches, i7 or equivalent is highly recommended.
Adagio Violins requires 14 GB of Hard Drive Space