The Bible of Salsa Volume 1
First Volume in The Bible of Pop, Latin & Salsa

19.6GB / 11,077 Samples
5 Deep Sampled Instrument Categories
Brass, Baby Bass, Piano, Vocals, & Percussion
Multiple Rhythmic Variations Sampled in 11 Substyles
Polyphonic Phrase Legatos
Brand New Advanced User Interface
Recorded in the Capital of Salsa, 'Cali Colombia
Delivered by Download
Kontakt 5.8.1

 

Full Retail

 

(or later) Required
READ MORE
READ LESS
The Bible of Pop, Latin, & Salsa Volume 1

We traveled to Cali, Colombia, the self-proclaimed "World Capital of Salsa," to record the most in-depth Salsa collection ever produced and push the limits of modern sampling. Surrounded by stellar musicians and the amazing energy Latino artists have, we spent months recording what would become this jewel that is "The Bible of Latin & Salsa."

This First Volume contains thousands of tempo-synced rhythmic patterns, improvised phrases and multi-sampled phrases in unison specifically tailored towards Salsa music and its many, many sub-styles including Timba, Guaracha, Bolero, Boogaloo, Guaguanco, Yoruba, Columbia, Slow Salsa, Fast Salsa, Choque and Plena.

Each Brass, recorded in amazing detail, provides thousands of custom phrases to create the perfect Salsa song. The piano rhythmic patterns (montunos) have a huge range of chord choices played in root position along with the most common inversions for this type of music. The beauty of sampling independent phrases is that you can get real performances from real players with the touch of a key.

A four-voices choir was recorded with each of the voices isolated, giving you perfect control over each of them. An authentic Baby Bass was recorded both amped and through DI-box, playing all the rhythms for ease of use. Press one key and get the perfect 'tumbao.' Each instrument also includes real multiple dynamic layers and a wealth of essential controls, giving you the ultimate flexibility over each phrase. A new standard for phrase-based sampling.

Instruments
Volume 1 contains 19 phrase/rhythmic-based instruments separated into five categories (Baby Bass, Brass, Percussion, Piano, and Vocals). The Brass contains Tenor Saxophone, Solo Trumpet, Solo Trombone, and a Unison Ensemble. Our massive percussion section includes Bongos, Cajon, Conga (5 types), Large and small cowbells, Drums, Guiro, Maracas, Shekere, and Timbales.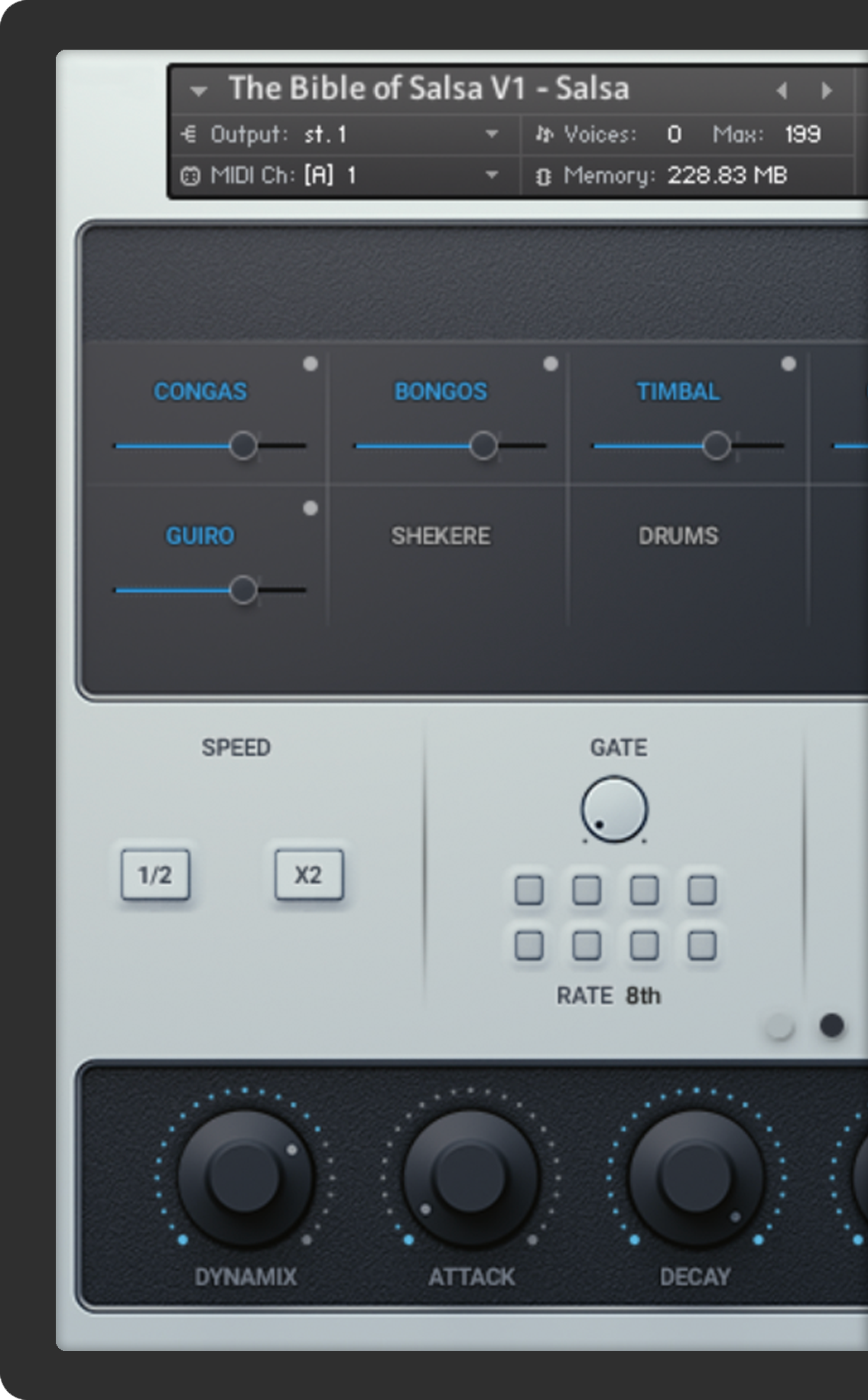 Sub Styles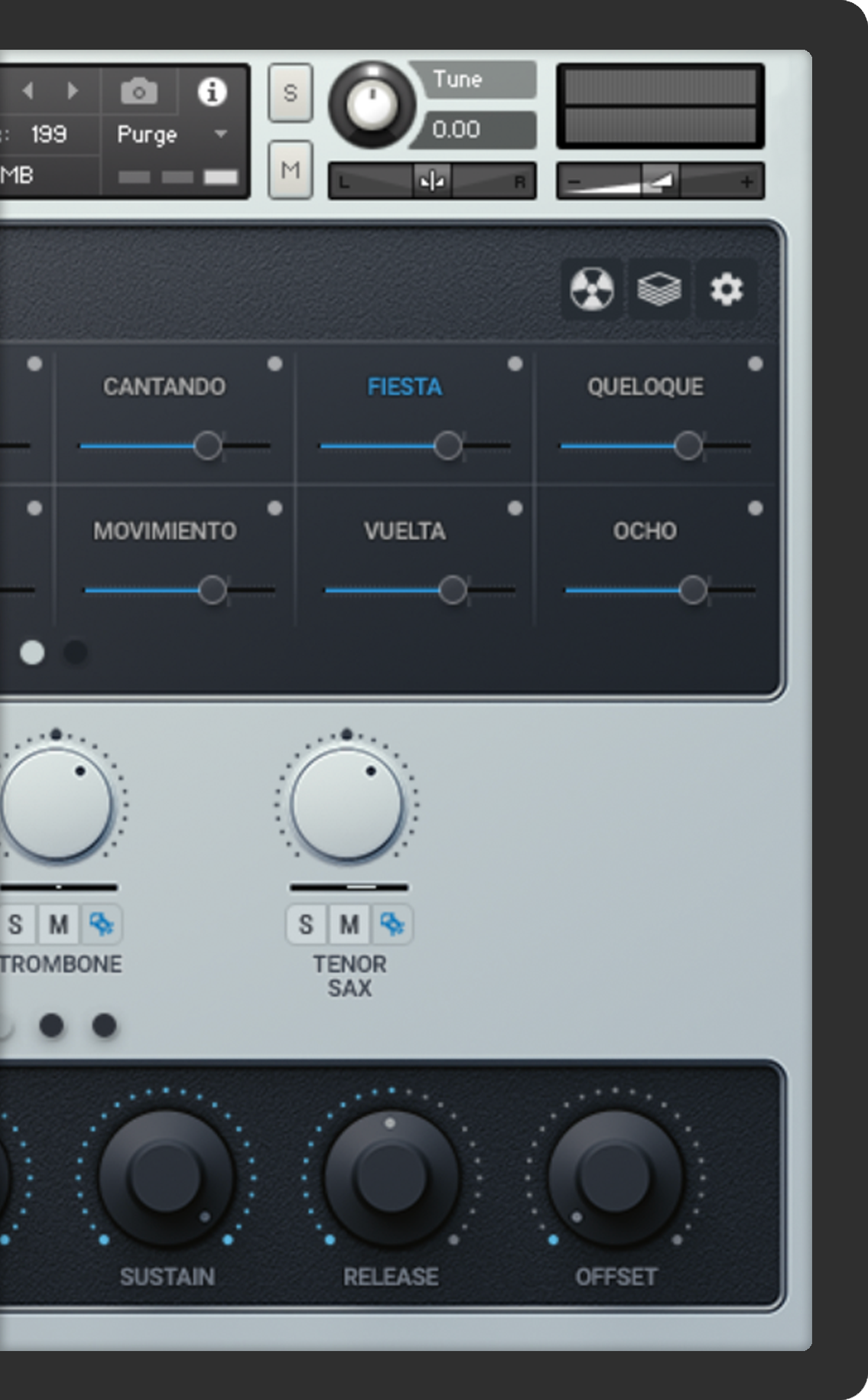 The challenge we face as sample developers when capturing ethnic instruments or genres is authenticity. Eleven different sub-styles, including Salsa (slow and fast), Timba, Guaracha, Bolero, Boogaloo, Guaguanco, Yoruba, Columbia, Salsa Choque, and Plena are included in this first Volume. Each of these styles offers an entirely different pallet of complex patterns!
Phrases
Each of the Brasses contains thousands of custom phrases recorded in two tempos and six keys (3 major, 3 minor). Because all the phrases are improvised, they all are unique. We also included unison phrases. These phrases can be manipulated in an infinite number of ways, as each of the instruments is isolated, offering independent control.